The road goes on forever.
We thought the Moneymaker Tour was ending its run at Talking Stick in Scottsdale, Arizona. But Seminole Hard Rock Hotel & Casino, in Hollywood, Florida just outside Miami called Chris and said, "Wanna come down here and throw an $86 party?"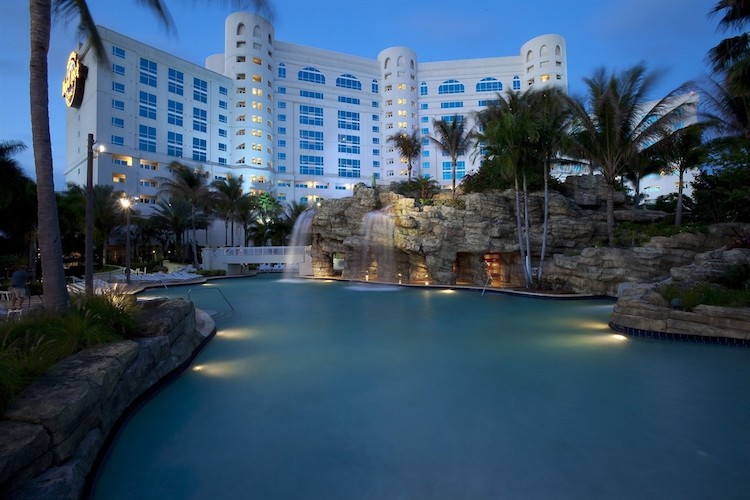 You had us at "swimming pool"
So get November 9th through 11th on your calendar right now. Friday the 9th and Saturday the 10th are Day 1 qualifiers. Players making it through a Day 1 will converge on Day 2 and play down to a single winner who will, of course, receive a Platinum Pass. And just to be clear: this is not a satellite. There are the usual cash payouts – it's just that there's that little $30,000 bonus up top.
While you're at it, you might circle Tuesday, November 13th as well. The Hard Rock and PokerStars are throwing a charity tournament to support Feeding South Florida. Here's a sobering fact from their website: over 700,000 people in south Florida don't know where their next meal is coming from. If you are fortunate enough to be able to place "cracked aces" on your list of worries, here's an opportunity to share that good fortune with the community. You'll have a 100% chance of feeling good about what you're doing and building your karmic energy. You'll also have a non-zero chance of winning your share of more than $50,000 in cash and prizes. Including a Platinum Pass.
Finally, if you're participating in the Hard Rock's Rock 'N' Roll Poker Open from November 14-27, every entry you purchase gets you a ticket into a drawing for (oops, we did it again) a Platinum Pass.
Unfortunately, the Moneymaker Tour party does end, and it's ending at the Seminole Hard Rock Casino and Hotel in Hollywood, November 9th-11th. "Last licks", as the Little League kids put it. Here's Chris's personal pitch to get you down there:
In case that schedule doesn't work for you (or you want to maximize your shots at the Pass), here are the remaining dates on the Moneymaker PSPC Tour:
Live! Casino/Hotel in Baltimore, Maryland. October 10-14 (Day 1 qualifiers October 10-13).
Run It Up Reno in Reno, Nevada. October 23rd (one-day event)
Talking Stick in Scottsdale, Arizona. October 31 – November 2 (Day 1 qualifiers October 31 and November 1).
Seminole Hard Rock Casino and Hotel in Hollywood, Florida. November 9-11 (Day 1 qualifiers November 9-10).