Just when you think you've seen it all…
We got down to six players here at the Live! Casino/Hotel stop of the Moneymaker Tour. Othniel Joseph had all the chips. To be specific, 18.5 million of 29.2 million in play. After some table banter, they decided to stop the clock and discuss a deal. That's when things turned a bit weird. [1] Othniel said he had no interest in the Platinum Pass, but a giant stack of $100 bills would be of significant interest to him.
They did an ICM calculation and figured out that Othniel was (obviously) going to get the lion's share of the loot. Further negotiations settled on each of the remaining five to give him a few shekels from their share, and Othniel would walk away from the table. The remaining five play for the Pass. Tournament Director Jason Heidenthal smiled and shook his head as he took Othniel's chips out of play, "Never seen this before, but then, we've never had an indivisible $30k package up top, either."
PokerStars Utility Collaborator Garry Gates and I spoke to Othniel afterwards just to ask why he didn't want to go to the Bahamas. "Man, I got work commitments and stuff. And honestly, my loose style of play – I'd never last in a deep stack long structure event where I only had one bullet."
It's neither our place nor our business to question another man or woman's life utility, so congratulations to Othniel Joseph on winning the most money.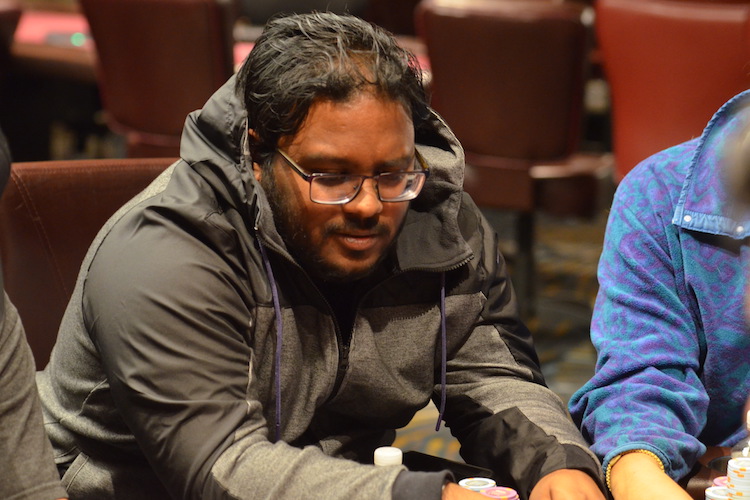 You won't be seeing this guy in the Bahamas; he wanted it that way.
We'll update the blog with payouts and the ultimate winner as soon as we have them.
[1] "When the going turns weird, the weird turn pro." — Hunter S. Thompson