There was never any doubt in my mind that we were going to get over 1,000 entries into the Moneymaker PSPC Tour qualifiers here at Lucky Chances. The fans didn't disappoint, firing a total of 299 bullets and taking the total number of entries to 1072. So 107 people will open bags of chips tomorrow [1] for the grand finale, where we'll play down to somebody who will win about $17k (details coming shortly) and the very coveted Platinum Pass.
Chris himself is still in the running, which is fairly miraculous. He started 30 minutes before late registration closed and (we're not making this up) was randomly seated next to the man who was the Day 1 chip leader in the 2003 WSOP main event, and ultimately finished 20th. His name is Bryan Watkins – the fellow sitting next to him said, "This guy is a legend around here – he wins all the money in the tournaments." Chris for sure remembered him – "You're a cop, aren't you?"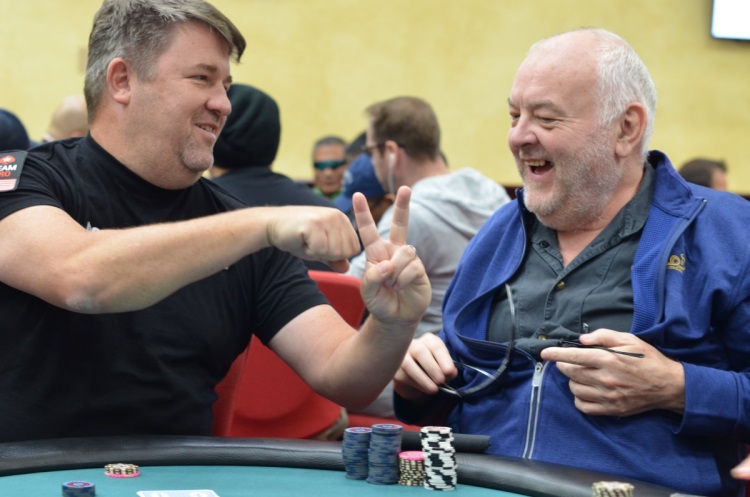 15 years? Has it really been *that* long?
Shortly after that picture was taken, Chris ripped his stack in and did not win the hand. He was headed for the re-entry table when they counted down the stacks…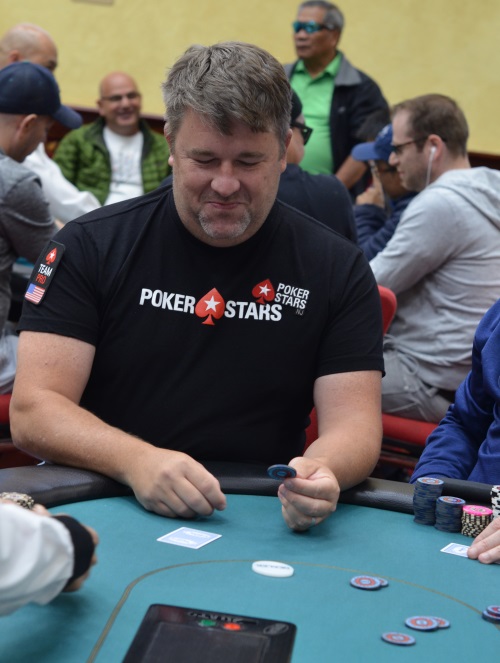 Somebody check behind me and ensure I still have a chair, too.
If you followed us at Stones in Sacramento, you'll recognize this guy, Junior Merafuentes. He finished second (yes, second) for a nice $5k payday, but basically one river card short of a Platinum Pass. He's back in action here and looking healthy to reach Day 2 tomorrow.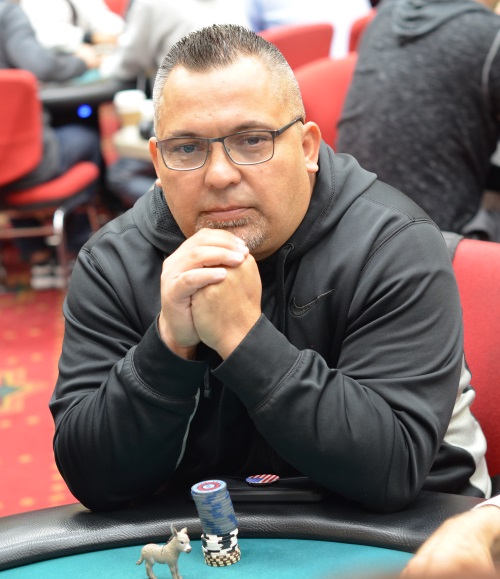 One river card short of a Platinum Pass, but he's back for more
This is Junior's wife. She played in the event today and I got a chance to talk to her a little. She wasn't at Stones during the final table "But I followed it on the live stream." "Wait – you were getting the news an hour delayed?" "Yeah, I didn't want to bother him during he event." That's nerves of steel right there. She's on the rail live this time, hoping Junior makes it to Day 2.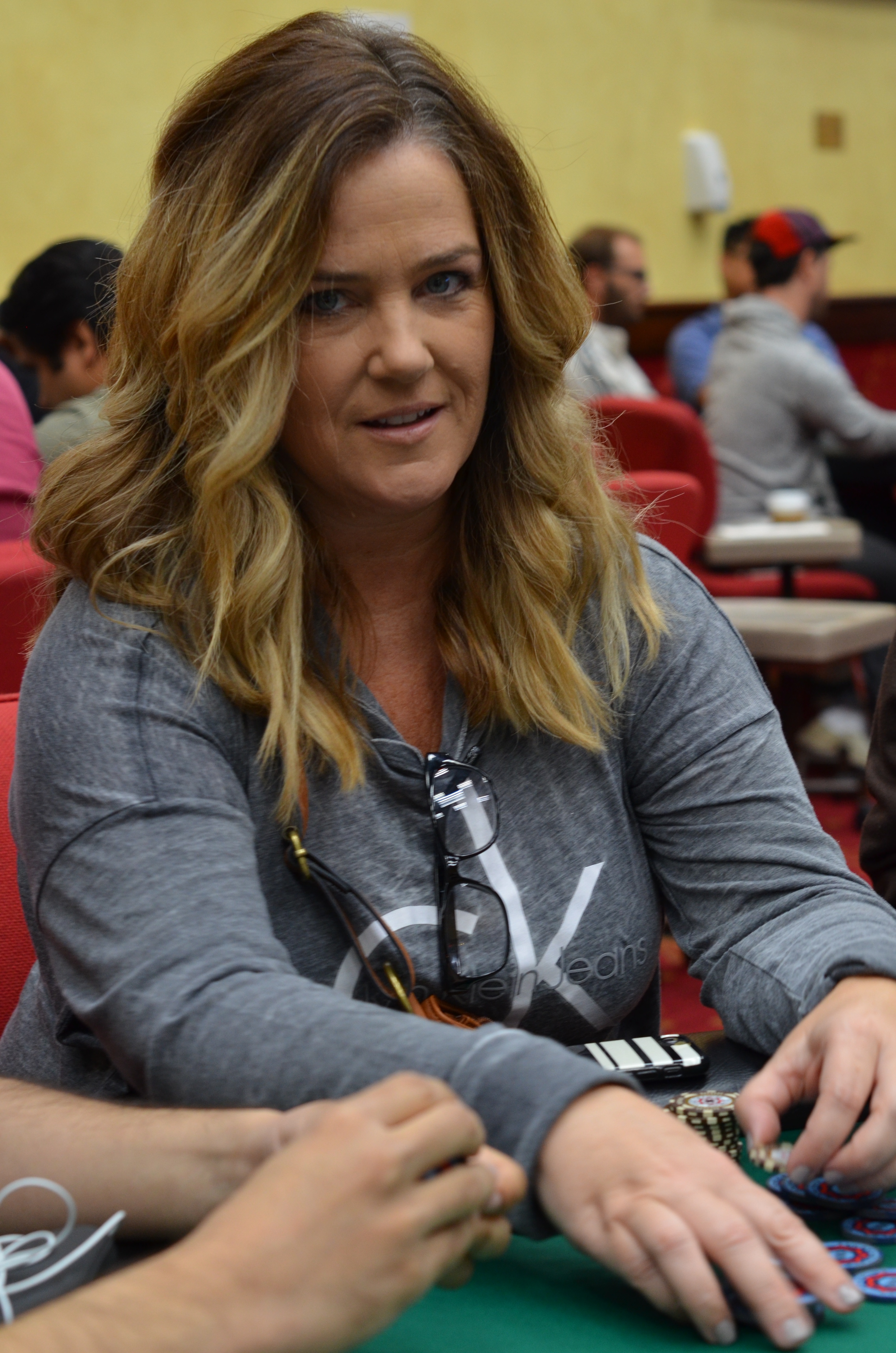 One of us has got to get both of us to the Atlantis
This is Tom West. Tom and I got into a spirited debate about an appropriate min-cash at the PSPC. I think we agreed to disagree about that, but we violently agreed about paying deep (Tom suggested 18%, which I liked). I love debating arcane points of poker structure with people; thank you Tom.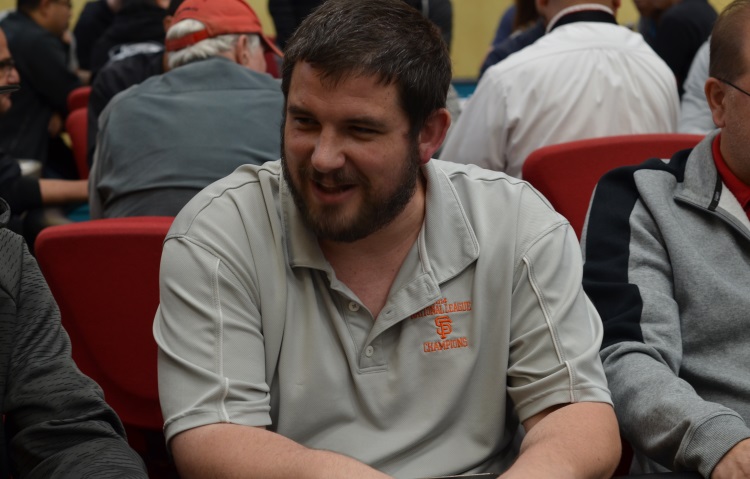 $40k min-cash at PSPC, for sure.
Finally, a shout-out to Matt Vaughan, who's helping us document the whole party this weekend. Matt is a popular poker vlogger (if you don't know the term, look it up). You can follow him on YouTube, where he chronicles his life as a professional poker player and all-round nice guy. Unfortunately for Matt, he didn't last very long in the tournament today, but that gives him more time to create content for his vlogger audience.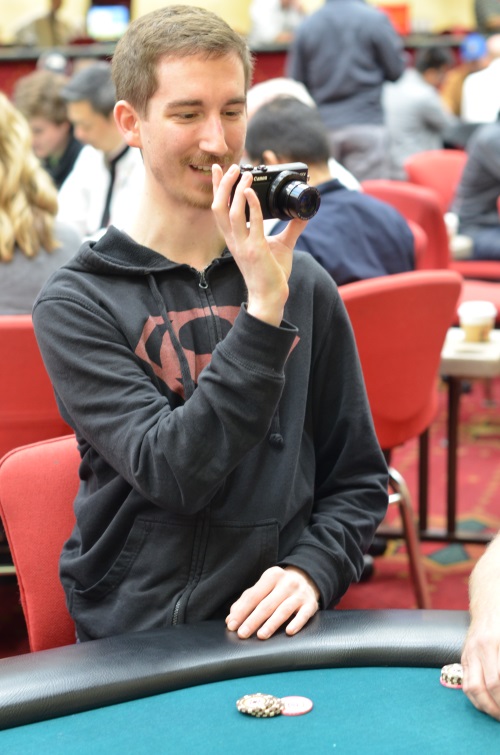 Smile and say "Bahamas"
Quick update with more to follow: we just burst the bubble with a double knock-out, so we'll have 106 players coming back tomorrow. Chris Moneymaker is, in fact, one of them.
Chip update:
Thomas Haury – 187k
Dino Anicete – 158k
Luis Jacques – 158k
James Smith – 146k
Gary Chau – 141k
Marcus Newbury – 123k
Chris Moneymaker – 115k !!!
Joseph Butler – 112k
Irina Butorina – 111k
Nipun Ajmani – 106k
[1] Probably. Anybody who qualifies a second time will only take their largest stack in.