I jumped in the Uber at BWI airport and confirmed we were on our way to the Live! Casino/Hotel, just outside Baltimore; all was in order. My driver glanced in the rearview mirror. "You in the military?" I get some unusual questions sometimes but not usually that one; I guess it's the shaved head look. I told him I was pretty much the furthest thing from a military person. "You look like the guys I worked with in Afghanistan – I'm from there; I was a translator for the American military for five years."
More about that in a minute – let's detour over to the Live! Casino where the Moneymaker Tour is in a rolling boil (an appropriate phrase given that we're in the crab capital of the U.S.). We're in the thick of one of the most populous areas of the country and the poker player base is huge; Director of Poker Mike Smith says we may hit 1500 entries.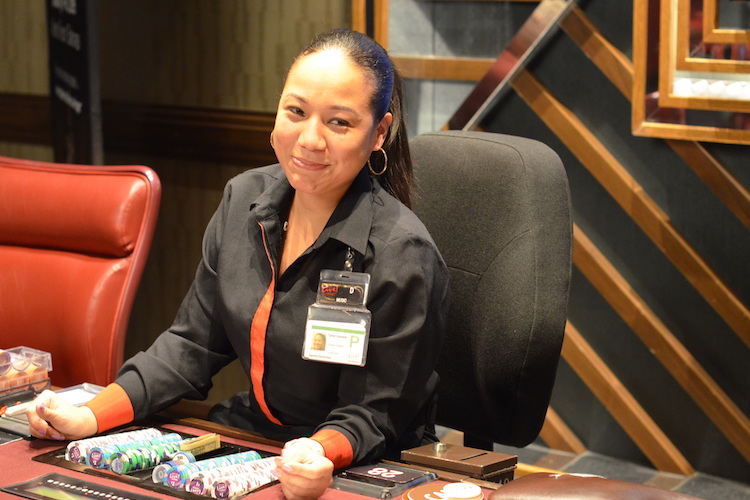 Nothing like a smiling dealer on a Saturday morning of the Moneymaker Tour
At least two of those entries belong to this guy, who registers at the desk like every guy and gal. It's one of the more charming things about him. [Update: about to be a third bullet going in]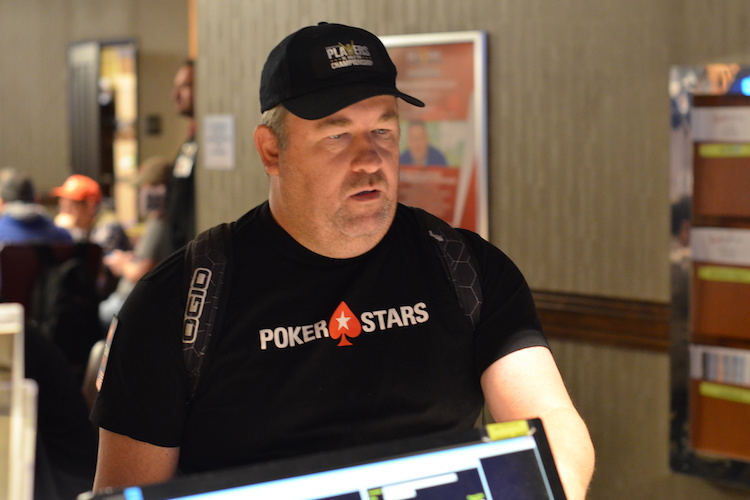 Yes, I have been up here before; thank you for the reminder.
Here's my favorite image from the tournament so far. Look at this spectrum of ages, colors, and genders; this is poker at its best, a place where everybody can gather and enjoy a silly card game together on a level playing field. Level playing fields are too rare these days.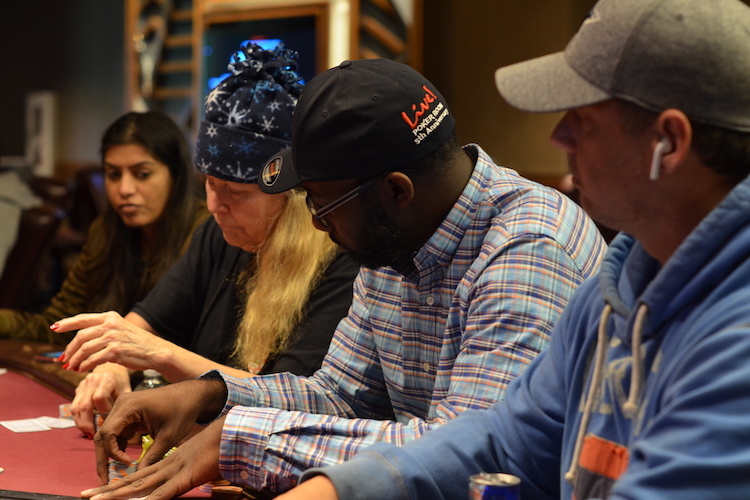 "Do you like my hat?" "I do. What a hat!"
Which brings me back to my Uber driver, Naqibullah. I can't even imagine what it was like living in Afghanistan, attached to the American military. Naqibullah can, and it's clear that he fully appreciates how nice it is to interpret slow traffic as a fender bender rather than the aftermath of an IED or an armed checkpoint (on one side or the other). He told me, "My family is in here. My daughter was born in here – she's an American citizen!" The smile filled the rearview mirror.
Like most of us, he just wanted a place where his daughter could chase her own personal rainbow. Maybe she'll sit down at a poker table in a few years, adding her own spice to the menudo of this game. Whether she does or doesn't, I'm glad she's adding that spice to this menudo we call the U.S.
---
Postscript: As I got out of the car, I asked Naqibullah if I could take his picture for the blog. He hesitated; I immediately withdrew the request. Memories can be long.