Registration for the Moneymaker Tour $86 event has just closed here at the Casino Arizona Poker Room at the Talking Stick resort, outside Phoenix, Arizona; we came just a basketball team shy of hitting 900 entries.
One thing that happened just before registration closed: Chris Moneymaker strolled in direct from the Phoenix airport (as in, his suitcase is sitting next to me as I write this). He got in literally on the last break in which you could register. In the first three hands post-break, he doubled up twice and then busted a person.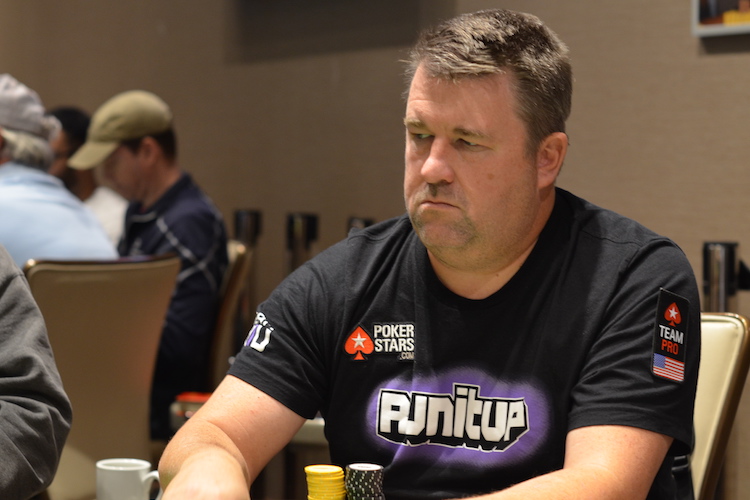 Maybe it's the t-shirt
Walking around the tables, I saw Kyle Wiener, fresh from Run It Up Reno. I didn't know him, but complimented him on his hoodie. "That's nothing – look at the t-shirt." Ah, the legendary "Peaking" t-shirt. Very strong, Kyle.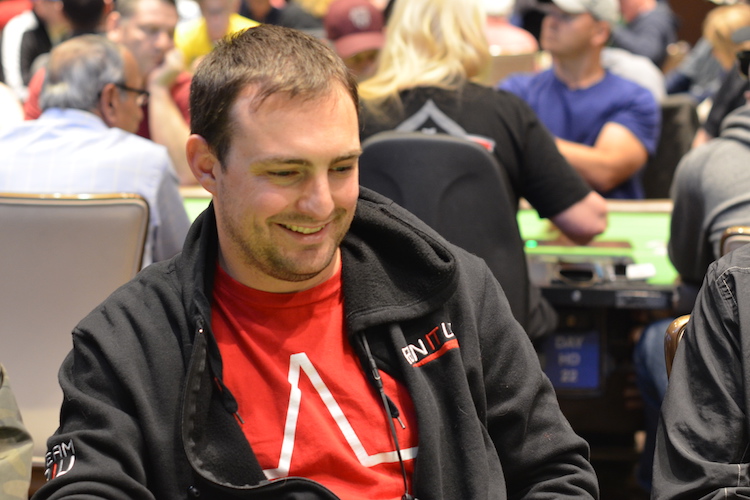 Bringing some Reno Run (It Up) Good to Arizona.
Sadly, this woman is already out of the tournament, because I was rooting for her solely on the awesomeness of her hoodie. They're out of frame, but her fingernails matched. She may not have cashed, but she's taking home the PokerStars Blog Team Best Hoodie award.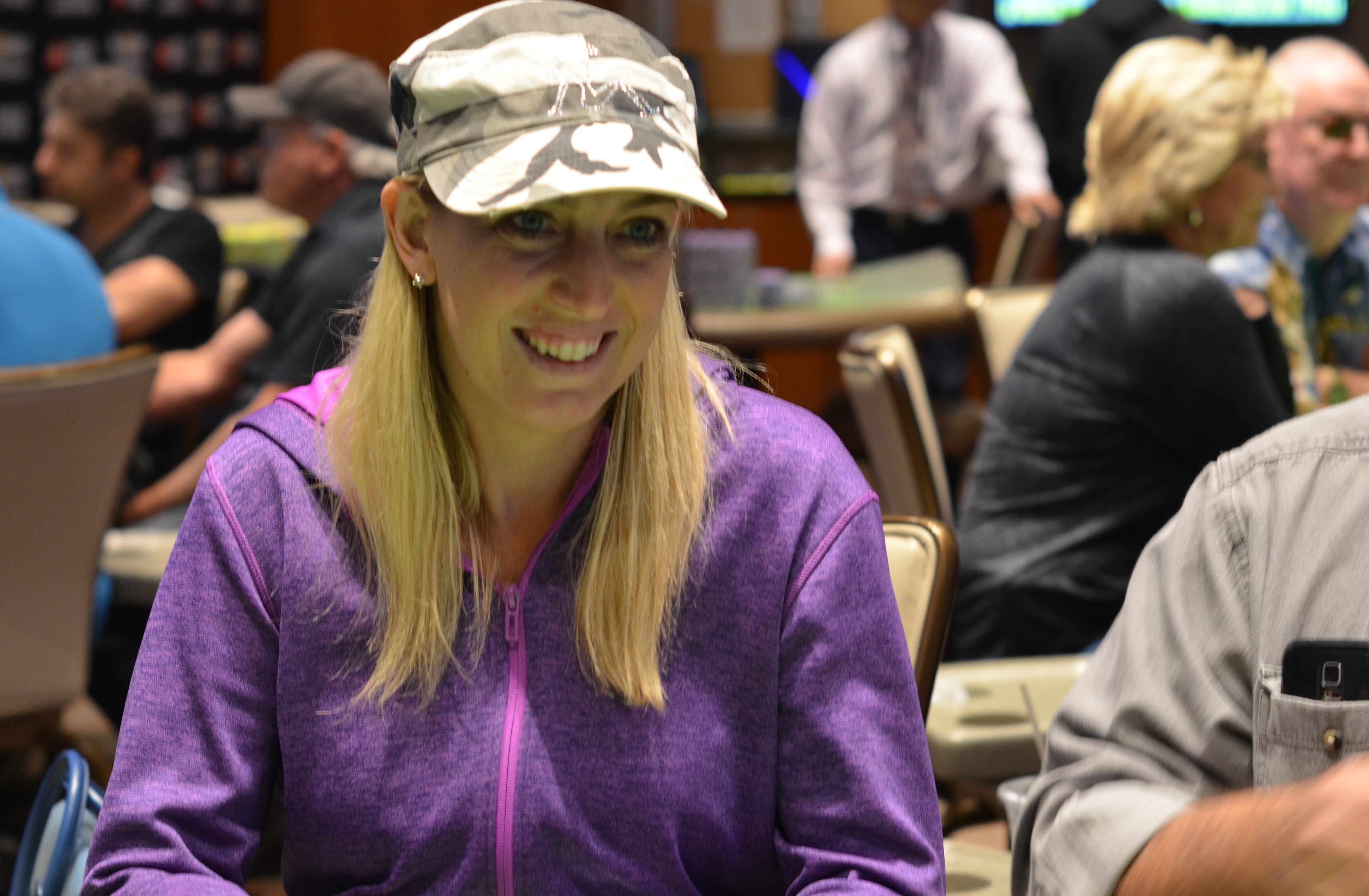 Fingernails are a converging-on-black purple. Poker needs more purple.
Then guess who was sitting at the table next to Run It Up Kyle? None other than Ronnie Bardah, a lovely fellow who was the victim of the second most famous bluff in poker history. [1]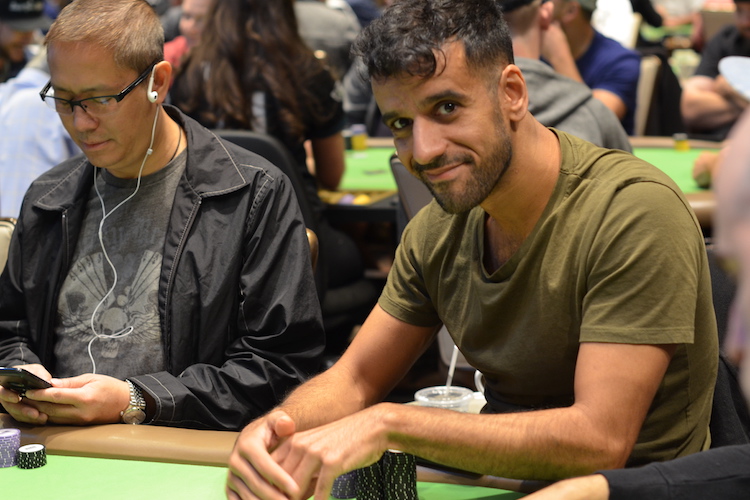 We didn't recognize him with hair.
Another Run It Up Reno veteran, Phoenix/Scottsdale local, and all-round nice guy, Tyson Apostol just busted out and headed out. If you've met Tyson, you know he's invariably smiling and bringing life to the moment. But we thought it would be fun to get his "serious poker grinder" on for one photo. Keep this one because it's not really his M.O.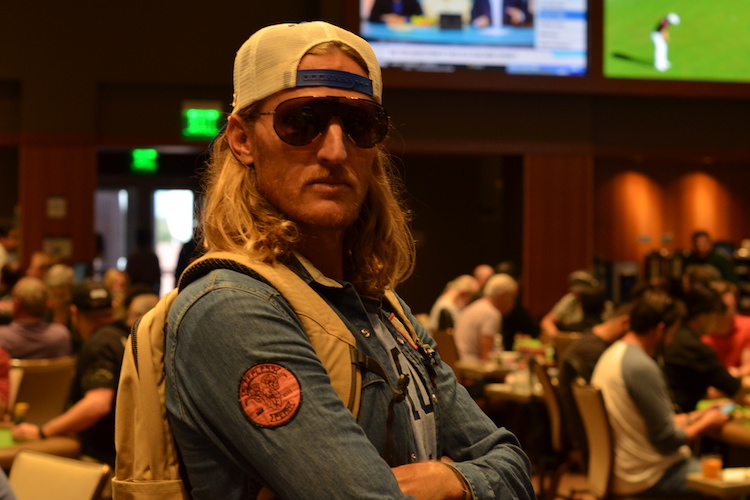 Seconds after this was taken, he started giggling.
Down to 106 players. We play to level 12 today and then bring the remaining players back tomorrow and find out who's going to the Bahamas.
Before we leave for now, a special shoutout to Poker Room Manager Tom Young and his staff for the warm, costumed welcome. And thank you to the Talking Stick Arena. They're putting up $5,000 for the winner of this event (to go with the black envelope with the Platinum Pass in it). All the prize pool money starts being distributed at second place.
---
[1] There have been far bigger, far more meaningful bluffs in politics and war (e.g. the Cuban Missile Crisis), but for our money(maker) this one takes the cake within the confines of the rail.