We just passed 800 total entries across the two days of the kick-off Moneymaker PSPC tour event at Stones Gambling Hall near Sacramento. Setting aside the multiple bullets fired (and there may have been one or two of those) that's still half a thousand stories. All those human beings making their way here with $86 and a dream. But you know, I sense that for many of them, it's not necessarily the PSPC dream per se. It's that for that $86, they can be part of the excitment. And excitement, we got…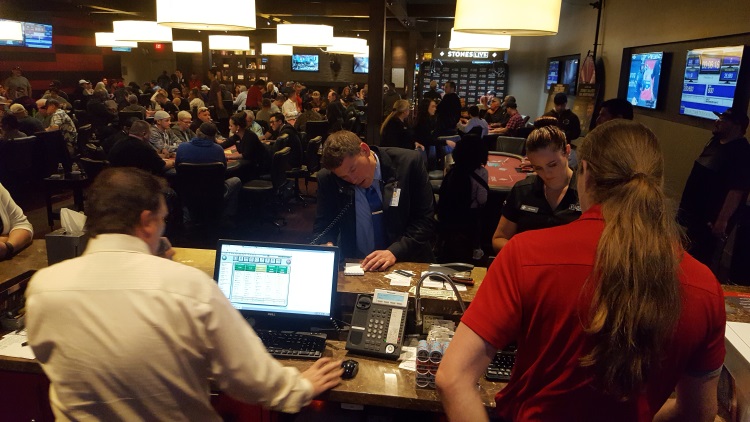 New York? Buy; and then send me tournament alternate #187.
I mean sure, they'd love to win the trip to the Atlantis – they're not stupid – but they understand it's a long shot. What's not a long shot is the chance to be in the mix. To have essentially a 100% chance of competing, playing some poker, meeting some new people, shaking hands with Chris Moneymaker or Jason Somerville, and generally spending a weekend having a blast.
It is with pride and delight that I share a few of their stories here.
Shaun Davis flew up from San Diego. Like a third of the human beings on the planet, he follows Daniel Negreanu on social media. Daniel mentioned this and Shaun booked plane tickets. Unfortunately, I just saw Shaun walking out the door – he won't be winning the Platinum Pass here – but he gave me a huge smile and a wave as he left. It was the affect of a man who felt he'd spent his time well. That's really all we can ask for, right?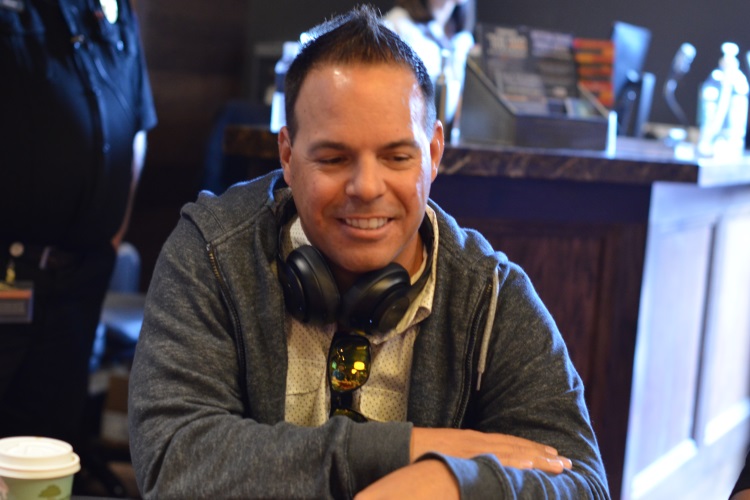 I *could* have headphones and shades on. But it's more fun being part of the game.
Here's Crystal Hutchens, who flew down from Anchorage (yes, Anchorage, Alaska). Her t-shirt promises that vegans taste better. She raises hedgehogs, plays music, [1] and makes most of her living playing poker up there in Anchorage. She got started in poker (as many of us did) playing five-card draw. Her dad would let her sit in on the games if she brought her own pennies. I guess she turned those pennies into nickels and the nickels into dimes. She discovered Texas Hold'em "when I was slinging drinks in a sports bar. Well, they called it a sports bar, but all they did is play poker – two tournaments a night. Some of the players would start to show me their cards. I finally sat down to give it a shot and said 'Oh – everybody's hooked on adrenaline; I get it now.'"
Winters in Anchorage? Play poker and practice guitar.
See what's happening? They're talking, carrying on, swapping tales. They're not in front of a TV or at the mall. Everybody at the table knows that their chances of winning the Platinum Pass are non-zero but small. That's okay – they just got to meet a vegan musician from Anchorage who runs home games. She just got to meet…. well, that'll be the next installment.
And I don't know who I am but life is for learning
---
[1] Her "calling card" is a branded tie-dye guitar pick. Anybody who is distributing guitar picks around the world is hero of mine.