The first leg of the Moneymaker PSPC tour is in the books. Somewhere around 1:30am, we got down to a heads-up match between Warnito "Junior" Merasuentes and Cliff Ellefson. That was after they'd seen off poker player and commentator Jesse Abramowitz. But it wasn't a bad day for Jesse – he cashed for about $5k on an $86 buy-in and "never had so much fun in a day of poker". The $5k came after the three finalists agreed that 2nd and 3rd place would get equal shares, while first place was the very coveted Platinum Pass.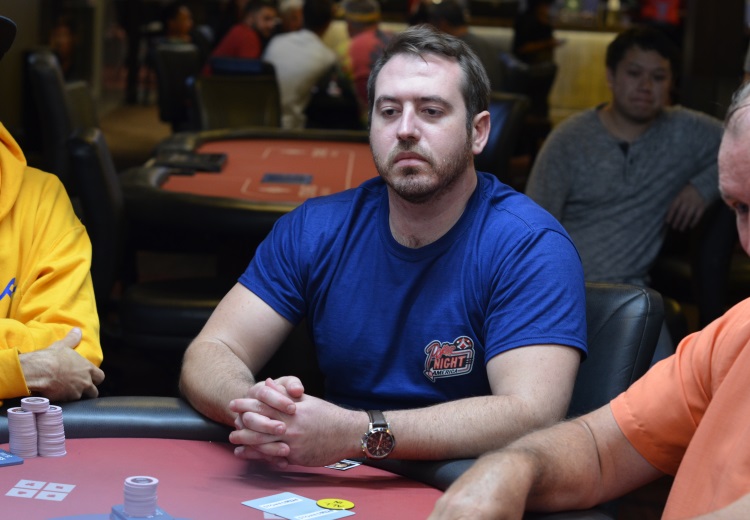 Jesse Abramowitz made it to third place for $5,000 and change.
And then there were two: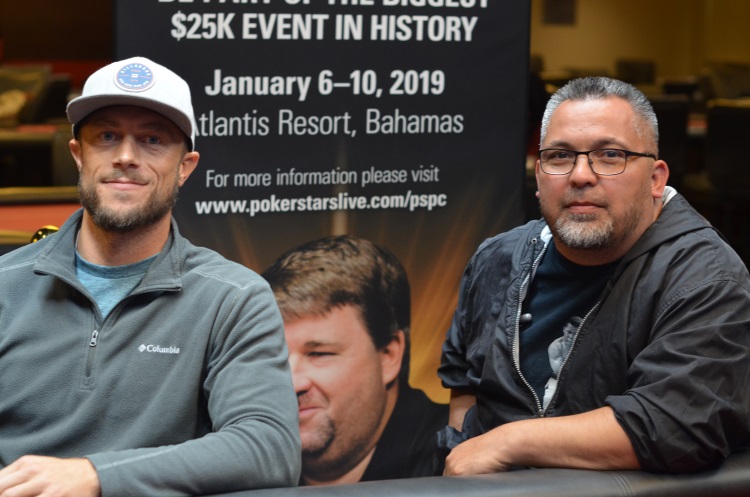 Cliff (L) and Junior (R). We'd be delighted for either to win.
They played tough poker for about half an hour, trading blinds; eventually Cliff pulled into a small lead. Then this happened: Cliff shoved on the button and Junior about beat him into the pot with his chips. Cliff had a perfectly reasonable A4, but Junior had woken up with pocket tens – a legitimate monster heads-up. The crowd surged forward. Now, at 2:00 on a Monday morning at a small-ish casino and poker room outside Sacramento, there shouldn't have been such a big crowd. But a couple of dozen people were determined to see the event out and the scrummed to get a good view.
The flop was an innocuous K-6-2. The dealer paused, burned, and turned up a 3. "Ooooh…" said the crowd. Cliff shook his head – he'd have a few chips if the river blanked, but not many. Then the dealer burned and turned up… I didn't know because I was moving into a better camera angle. But I heard the crowd say "Wow!" And there on the felt was a five, completing Cliff's straight and ending the tournament.
Applause broke out as Cliff and Junior shook hands. Then the guy who is on the poster came over IRL to take a picture with the winner.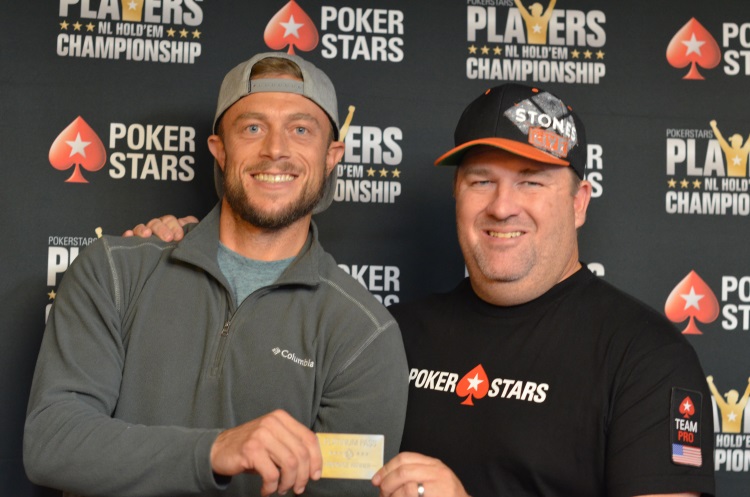 Cliff Ellefson gets a platinum pass from a hero of his
I have a couple of more "tales from the felt" to share from here and I will do that – as soon as I get some sleep. But there's an image I want to close with. As people stood in clusters after the tournament and discussed the weekend, Cliff was sitting at the table by himself. He was filling out paperwork that, well, we put in front of him. Giving us information, signing waivers, the usual stuff. There was one of the Stones dealers, Mike, who's good friends with Cliff and had been rooting for him all along. Mike came up as Cliff was writing – they just sort of looked at each other in astonishment at what had just happened, and then embraced, hard. This was not somebody who wanted to jump into a winner's picture – this was a fellow who came to support a friend and was truly joyous for his success. I missed the hug with the camera, but I got this, and it made me really happy.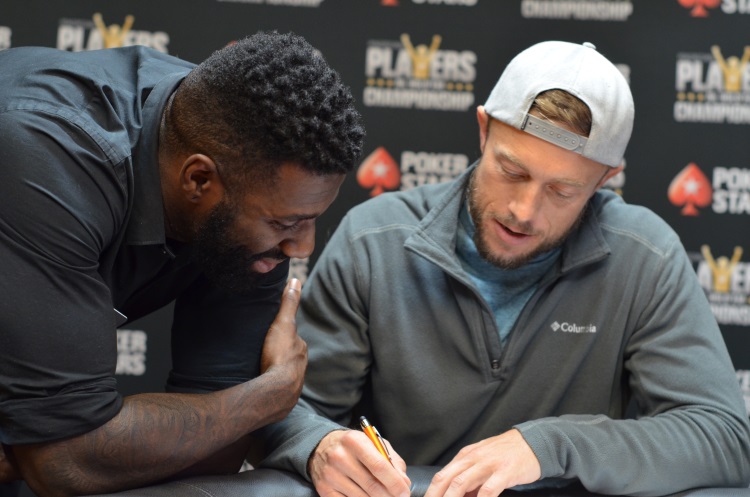 Nah man, I can't really believe it either.
Cliff is a Sacramento local and a regular at Stones. He'll have the entire place rooting hard for him when he makes his way down to the Atlantis in January. But there in the wee hours of Monday morning, it was soul-enriching to see one man simply stand next to his fairly overwhelmed friend and provide quiet and deep support.
It's been a moment; good night from Stones.