The back half of the NFL season kicks off with fierce divisional match ups, while the elites of the league – the Chiefs, Patriots, Rams and Saints – aim to put more distance between themselves and the masses. The best game of the week happened on Thursday Night Football when the Carolina Panthers paid the Pittsburgh Steelers a visit and got spanked. Sadly, the rest of the schedule fails to live up to the excitement of last week. At least there's the Insufferable Bowl, where the Jets and Bills face each other in a battle of the AFC East basement.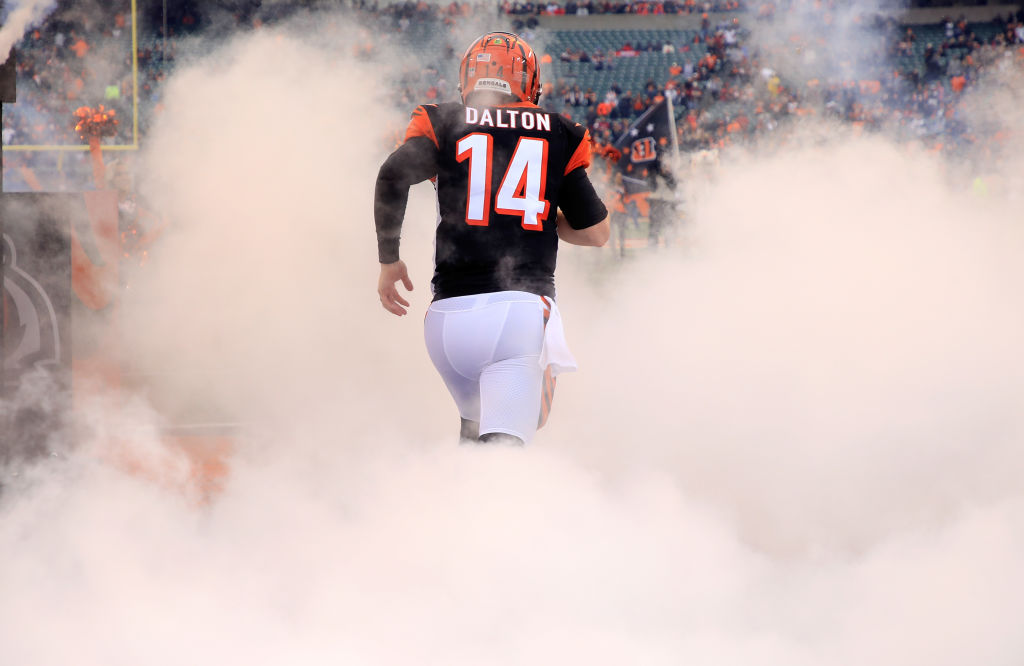 WHO DAT VS. WHO DEY
New Orleans Saints (7-1) at Cincinnati Bengals (5-3)… The Saints picked off the Rams last week to win their seventh game in a row. Drew Brees and company face one of the worst defenses in the NFL, which is ranked 30th overall. Even a bye week isn't going to help the Bengals' porous secondary. The Bengals are going to have to put up points if they expect to keep pace with Brees. Andy Dalton is having a strong year with 17 TD and 8 INT, but Drew Brees (18 TD and 1 INT) is having a near-flawless season. Home Dog Alert! Will the public keep betting the Saints and push Andy Dalton as almost a full touchdown favorite at home?
COME QUICK WITH THE IODINE
New England Patriots (7-2) at Tennessee Titans (4-4)… The Titans D will do their best to slow down Tom Brady, but it will not be enough to stop the Patriots from winning their eighth game in a row. Last week, Marcus Mariota and the offense woke up for the first time all season, but that was against the sleepwalking Cowboys. Bill Belichick is going to be better prepared.
CALIFORNICATION
Seattle Seahawks (4-4) at Los Angeles Rams (8-1)… There might be a lot of Seahawks fans flying into LAX for this game, but the spacious Los Angeles Memorial Coliseum will not be as loud as CenturyLink Field. The Rams are coming off their first loss of the season, so you expect a well-coached squad like the Rams to bounce back with a vengeance. Pete Carroll's team is looking like Seahawks teams of old — they run the ball, move the chains, control the clock, and play tough defense on every down. But Russell Wilson does not have enough firepower to keep up with Gurley, Goff, and the rest of the Rams.
CHOSEN ROSEN VS. AWESOME MAHOMES
Arizona Cardinals (2-6) at Kansas City Chiefs (8-1)… The Cardinals get to watch the Patrick Mahomes show live and in person. It's not that they have to stop Mahomes, it's that they also have to worry about four other guys. Every week someone else steps up and makes a fool out of defenders. It's like Andy Reid spins a wheel and this week it might be Kelce, or Hunt, or Hill, or Watkins.
LIONS AND BEARS OH MY
Detroit Lions (3-5) at Chicago Bears (5-3)… Da Bears are almost a full touchdown favorite at home against a division rival, but these NFC North games always end up close. In a matchup between Trubisky and Stafford, you'd be surprised that Trubisky has more touchdowns (16 to 14 TD). The Bears D allows only 19.1 points per game, while the Lions struggle to score more than 22.5 ppg. Meanwhile, Matt Patricia's defense is good at stopping the run, but Trubisky is going to have an easy day against a janky secondary.
THE INSUFFERABLE BOWL
Buffalo Bills (2-7) at New York Jets (3-5)… Buddha said that life is suffering, but Buddha was clearly not from Buffalo. Nor did he watch a full season rooting for the LOLJets. How many pick sixes will Nathan Peterman throw this week?
HIT YOUR KICKS, OR RIVERS IS GOING TO BE PO'D
L.A. Chargers (6-2) at Oakland Raiders (1-7)… This game used to be so much fun to watch between two west coast rivals. Sad that it's going to be an afterthought. The Raiders are headed to tank city, while the Chargers have become legit playoff contenders. If the Chargers can solve their kicking woes, they'll be a good dark horse in the postseason. That's a big if.
MATTY ICE IN TOWN
Atlanta Falcons (4-4) at Cleveland Browns (2-6-1)… The Falcons have their offense cranking in high gear, but their defense can still stink up the joint. The Browns have a better D than you think, but will Baker Mayfield generate enough offense to keep up with Matty Ice? No chance. If the Browns don't show up, this could get ugly. I'd be thrilled if I had any Falcons on my fantasy team this week.
PAGING FOURNETTE, PAGING FOURNETTE
Jacksonville Jaguars (3-5) at Indianapolis Colts (3-5)… It's do or die for the Jags. If they lose this one, they're dunzo for the year with the Texans running away with the AFC South title. If the Jags want to backdoor a playoff berth, it starts with a win in Indy. The Jags slipped to 2 games under .500 after an ugly loss in London. They had a bye week to prepare for Andrew Luck (23 TD, 8 INT) and the Colts. If RB Leonard Fournette does not play in this game, then the Jags have no shot. Blake Bortles (10 TD, 8 INT) can barely carry a bottle of a water, let alone an offense without Fournette.
COMING TO FITZMAGIC'S HOUSE
Washington Redskins (5-3) at Tampa Bay Bucs (3-5)… Alex Smith vs. FitzMagic. Yeah, I know… it doesn't have the same pizzazz as Cam Newton vs. FitzMagic, which was a fun game to watch last week. Alex Smith is happy to play against a bad defense so he can pad the stat book and feel better about himself.
TURTLES ALL THE WAY DOWN
Miami Dolphins (5-4) at Green Bay Packers (3-4-1)… The Packers are the best losing team in the NFL. They got through a rough batch of games and have the scars to prove it. At least they have a softer schedule on the back half of the season. It begins with a home game against the Dolphins, who only have five wins because they beat the Jets twice.
UPTOWN PHILLY, DALLAS DOWNSLIDE
Dallas Cowboys (3-5) at Philadelphia Eagles (4-4)… Everyone is ready to write off the Dallas Cowboys after another ugly loss on primetime television. Seems like the Cowboys are playing on TNF, SNF, or MNF every week. Now they face the first-place Eagles on a mission to lock up the NFC East and get a chance to defend their title in the postseason. The Eagles have a fairly easy schedule over the next 8 weeks. A 10-6 finish for Doug Pedersen and the Eagles is very likely, so long as they win home division games. Carson Wentz (13 TD) gets stronger every week and now he has Golden Tate as a target. The future looks bright in Philly, while the drama is percolating in Dallas. The Cowboys can't buy a win on the road. They're 0-4 this season and headed for 0-5.
GOTTA GET UNSTUCK GAME OF THE WEEK: ELI VS. MULLENS
New York Giants (1-7) at San Francisco Niners (2-7)… If this is the game that helps get you unstuck, then let me apologize in advance. Eli Manning often brings his A-game for nationally televised games. Will this be his true swan song before he gets run out of the tri-state area? Or will it be a much-needed slumpbuster for the Niners? Backup QB Nick Mullens gets the start for a second week in a row. If Mullens (262 yards, 3 TD, and zero INTs) plays like he did last week, the Giants are going to have a long night.
---
Pauly McGuire is a writer specializing in sports betting. He's covered the NFL, NBA, college basketball, MLB, and the Olympics for numerous outlets. He's the former co-host of the Everything Is Bettable podcast with Jesse May. You also might remember Pauly as the creator of the Tao of Poker blog. He was a partner in one of the first daily fantasy sports sites, Fantasy Sports Live.