With 61 tight games decided by one score or less, this tumultuous season is the second-closest in NFL history. So close, that there's an overtime game every week. Expect another unpredictable slate of games with five legitimate coinflips. In Week 8, the bookies In Las Vegas opened with five pick'em games. The Vikings and Saints throw down on Sunday Night Football in a rematch of last year's NFC Divisional playoff battle. Cheeseheads go to Hollywood! Aaron Rodgers and his rag-tag band of wideouts head west to Los Angeles, where they'll try to keep up with the undefeated Rams.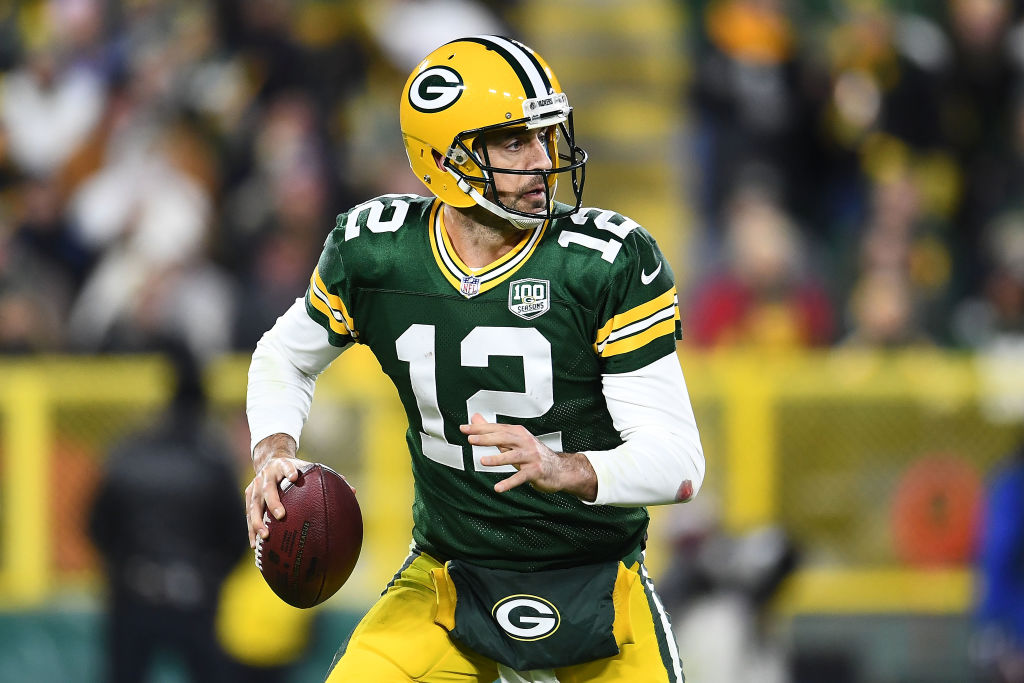 GAME OF THE WEEK: WHO DAT IN PURPLELANDIA
New Orleans Saints (5-1) at Minnesota Vikings (4-2-1)… Are these really the two best teams in the NFC not named the Rams? We'll find out which one is a contender and which one is a pretender. QB Drew Brees looks like the usual awesome Drew Brees with 13 touchdowns and zero interceptions. The Saints also have a double-headed dragon in the backfield with Mark Ingram and Alvin Kamara. The Saints crank out 34 points per game, second-best in the NFL. The Saints outgun opponents because their shaky D gives up 27.2 points per game, which is sixth worst in the league. If the Saints weren't ambushed by Fitzmagic and the Bucs in Week 1, the Saints could be undefeated. The Saints are 3-0 on the road this year. The Vikes' running game has developed the last couple of games with Latavius Murray becoming the go-to back with Dalvin Cook (hamstring) on the shelf. WR Adam Thielen continues to put up mouth-watering stats week-after-week and Kirk Cousins does his best to find his #1 target.
MR. RODGERS GOES TO HOLLYWOOD
Green Bay Packers (3-2-1) at L.A. Rams (7-0)… Aaron Rodgers has never been a double-digit dog. Let that nugget sink in for you. Rodgers has never been this big of an underdog. Then again, he's facing the third-best offense (33.6 ppg) and the fourth-best defense (19.3 ppg allowed). Rodgers has a knack for fourth-quarter heroics, but the Packers have a beaten-down WR corps with a cast of no names heading to Hollywood. The Rams have proven they can win in the air or on the ground, and RB Todd Gurley (14 TD) is the lynchpin for Sean McVay's powerful offense. At 56.5 points, the Packers/Rams game is the highest total on the board.
BIRDS UP, CATS DOWN
Philadelphia Eagles (3-4) at Jacksonville Jaguars (3-4)… London calling for a third week in a row at Wembley Stadium. After getting yanked at halftime in Week 7, Blake Bortles is still the starting QB of the Jaguars. Perhaps newly-acquired RB Carlos Hyde will alleviate the pressure on offense? The Eagles are nowhere close to last year's unshakeable Super Bowl squad. However, Carson Wentz's knee continues to get stronger and he's looking better and better every week. So long as Wentz peaks in time for the playoffs, everything will be kosher in Philly. Doug Pederson and the Eagles have two tough games ahead (Saints and Rams), but then face a soft NFC East schedule. Ten wins seems like a legitimate goal. Of course, none of that matters if the Eagles do not win in Jacksonville. Bookies expect a low-scoring game with the Jags' lackluster offense (20.9 ppg) and Bortles on the hot seat. Plus, the Eagles have their own offensive issues (22.0 ppg) and must overcome against a stingy Jags D (20.9 ppg). The total is only 44 points.
ANDY REID'S TD FACTORY
Denver Broncos (3-4) at Kansas City Chiefs (6-1)… The Broncos head east to Kansas City for a showdown with their AFC West rival. Broncos fans get to see what a real QB looks like with the Patrick Mahomes show. KC has a bad defense on paper, but their run D is not too shabby compared to their atrocious secondary. If KC shuts down the Philip Lindsay/Royce Freeman running attack, then the Broncos are facing one of those 40-10 final scores. Broncos are double-digit dogs and they're lucky it's only +10.
HOME CAT ALERT
Baltimore Ravens (4-3) at Carolina Panthers (4-2)… Cam Newton and the Panthers upset the defending Super Bowl champ with a flurry of points in the 4Q during a stunning comeback win against the Eagles. Meanwhile, the Ravens D had their own 4Q breakdown when they let Drew Brees and the Saints put up 17 against them. The Ravens lost a close game against the Saints when Justin Tucker missed a routine XP (he hit 222 in a row). This is one of the five games that opened a pick'em. The market backed the Ravens early on and the Panthers became a +2 underdog. Panthers are 3-0 at home.
SNACKS TO THE RESCUE
Seattle Seahawks (3-3) at Detroit Lions (3-3)… The winner gets a notch above .500 and the loser sinks deeper into despair. The Seahawks are coming off a bye week after an easy win in London. Is Kerryon Johnson a flash in the pan? Or does Matt Stafford finally have help in the RB department? Stafford's favorite target, Golden Tate, is nursing an ankle injury. The Lions made a bold move and bolstered their defense with a trade. New York Giants traded NT Damon "Snacks" Harrison to the Lions for a fifth-round draft pick. Snacks will clog up the middle and stuff any run game headed his way.
LOLJETS VS. DA BEARS
New York Jets (3-4) at Chicago Bears (3-3)… Mitch Trubisky was a one-man wrecking crew last week and responsible for three touchdowns against the Pats, including the redonkulous scramble that everyone can't stop talking about. The Jets receiving corps are banged up; they lost RB Bilal Powell to a career-ending neck injury, and rookie QB Sam Darnold faces another top-tier defense. Kahlil Mack and the rest of the Monsters of the Midway cannot wait to make mincemeat out the rube.
PIRATES VS. CATS
Tampa Bay Bucs (3-3) at Cincinnati Bengals (4-3)… Tampa Bay fired their defensive coordinator and in their next game the D finally held a team to under 24 points. The Bengals started 4-1 due to a soft schedule, then lost two in a row to the Steelers and Chiefs. The Bengals got Mahomes'd last week in a 45-10 drubbing. The Bengals badly need a win before heading into a bye week. Expect a shootout between Andy Dalton and Jameis Winston. Bucs/Bengals is one of the highest totals on the board with 54.5 points.
ELI'S LAST DANCE?
Washington Redskins (4-2) at New York Giants (1-6)… The Giants have been making trades the last two weeks like a team that can't wait to fold their losing hand. The big question remains: what will happen to Eli Manning? The Skins are in first place in the NFC East and would love a cheap win to shore up their lead. QB Alex Smith has not looked good with his new team. Smith tossed only 2 INTs but he's fumbled six times. RB Chris Thompson (ribs and knee) is expected to suit up after missing a couple of games.
EACH BETRAYAL BEGINS WITH TRUST
Cleveland Browns (2-4-1) at Pittsburgh Steelers (3-2-1)… The Steelers are seeking to avenge a tie from Week 1. The Steelers are in first place in the AFC North and want to stay there. The Browns face the Steelers in Pittsburgh and coming off a bye week. They're doomed. Le'Veon Bell is still a no show with a contract dispute. Teammate JuJu Smith-Schuster attempted to get Bell paid by buying 100 lottery tickets when the Mega Millions prize pool passed $1.6 billion. Smith-Schuster did not win and Bell is still absent.
DEGEN GAME OF THE WEEK
Indianapolis Colts (2-5) at Oakland Raiders (1-5)… The Colts might be the best bad team in the NFL, but that's not saying much. Andrew Luck's squad is super stoked to play one of the few teams worse than them. The Raiders are a team in turmoil with paranoid players wondering if they'll get traded next before the looming trade deadline next week. That includes QB Derek Carr. The Raiders are coming off a drama-ridden bye week in which Jon Gruden traded WR Amari Cooper to the Dallas Cowboys.
THE UGLY BOWL REPRISE
San Francisco 49ers (1-6) at Arizona Cardinals (1-6)… Avert your eyes. Only family members of the players are actually watching this game.
GOTTA GET UNSTUCK GAME OF THE WEEK
New England Patriots (5-2) at Buffalo Bills (2-5)… This is a home dog alert that you should ignore because the Bills are a two-TD dog. The Pats are a double-digit favorite on the road and the number is climbing. Yikes! The Bills are expected to get whooped by Tom Brady and Bill Belichick. One thing is for certain, the parking lot in Orchard Park, NY is going to be lit with #BillsMafia inebriated hijinks and table slamming.
---
Pauly McGuire is a writer specializing in sports betting. He's covered the NFL, NBA, college basketball, MLB, and the Olympics for numerous outlets. He's the former co-host of the Everything Is Bettable podcast with Jesse May. You also might remember Pauly as the creator of the Tao of Poker blog. He was a partner in one of the first daily fantasy sports sites, Fantasy Sports Live.