Too often we forget that poker is, in fact, allowed to be fun. People investing thousands (or tens of thousands) of dollars into a tournament can quickly sober up the entire experience. But here on the Moneymaker PSPC Tour, people are investing $86 which, in the scheme of poker playing, isn't a ton of money. Yeah, there's a $30,000 prize at the top but we're so far from that right now, the pressure isn't on yet. The whole vibe in the room is light, which makes the entire experience more enjoyable for everybody.
Part of it is that Daniel Negreanu walked into the room a little while ago. Before we show you those pictures, here's a ricochet of his presence.
Daniel walks into the room
A gaggle of fans surrounds him and create a lot of noise
Cedric, at a nearby table, tells them to calm down and not make so much noise – "We're trying to play a poker game here." This is not a little ironic because Cedric is arguably the loudest person in the room.
Alicia, one of the members of the fan gaggle, takes on Cedric at full volume, noting the irony of his complaint.
The whole scene devolves into a faux shouting match, which of course everybody has to stop and watch.
Alicia and Cedric "make up", and things return to semi-normal.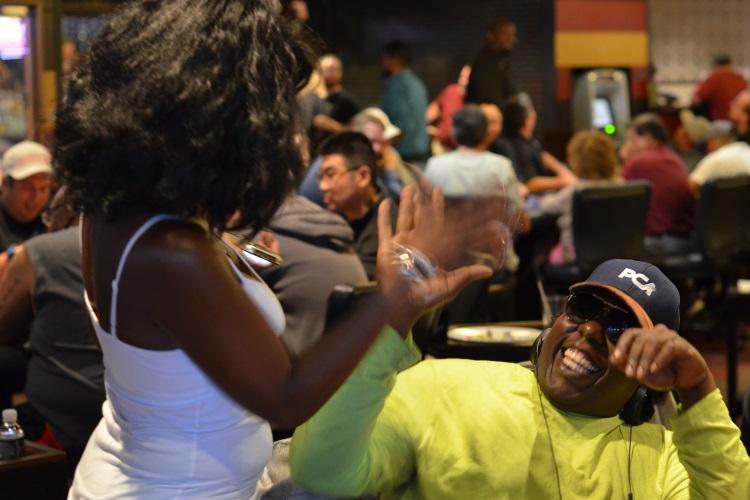 Cedric and Alicia "make up" after a faux yelling match over cardroom comportment
Anyway, Daniel's arrival. It's a beautiful thing to watch – Daniel walks in and is immediately surrounded by fans who want to get a picture with him. One of the Stones' staffers was kind enough to play photographer…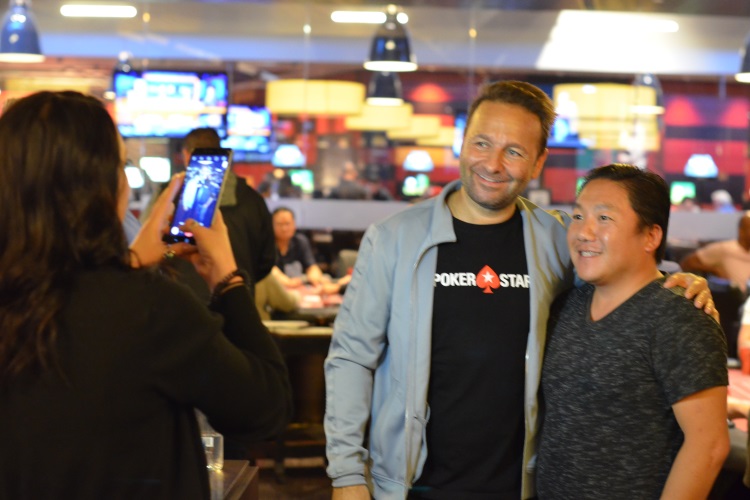 One of a dozen photos that Daniel posed for in a five-minute period
And then the gaggle wanted a picture in front of the photo-op wall. Who was he to say no?
Daniel and fans
And finally, just because a megawatt smile lights up the day, here's poker beast and commentator Vanessa Kade, who still has a healthy stack in the Moneymaker event as they're down to 18.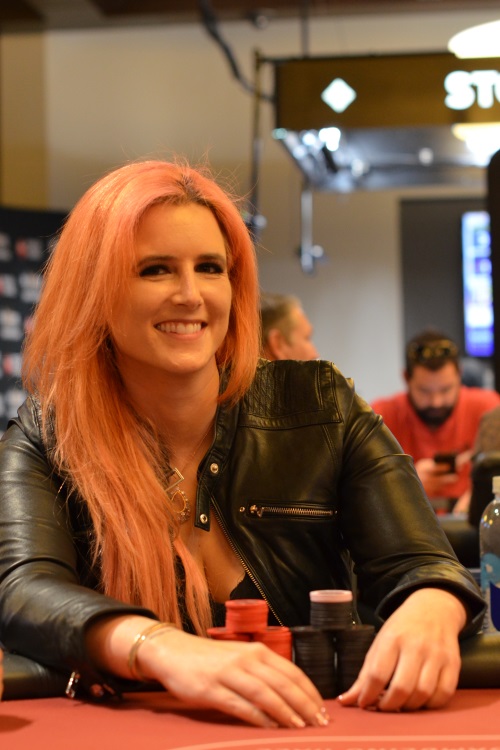 There's not enough smiling in poker