We're almost at the halfway point of the NFL season with only one undefeated team remaining. The L.A. Rams kept their flawless season alive with a two-point win against the Green Bay Packers. Aaron Rodgers nearly upset the Rams at the L.A. Coliseum in a crowd packed with so many Cheeseheads it might as well have been Lambeau West. Meanwhile, Drew Brees avenged a playoff loss with a huge win in Minnesota as the New Orleans Saints improved to 7-1.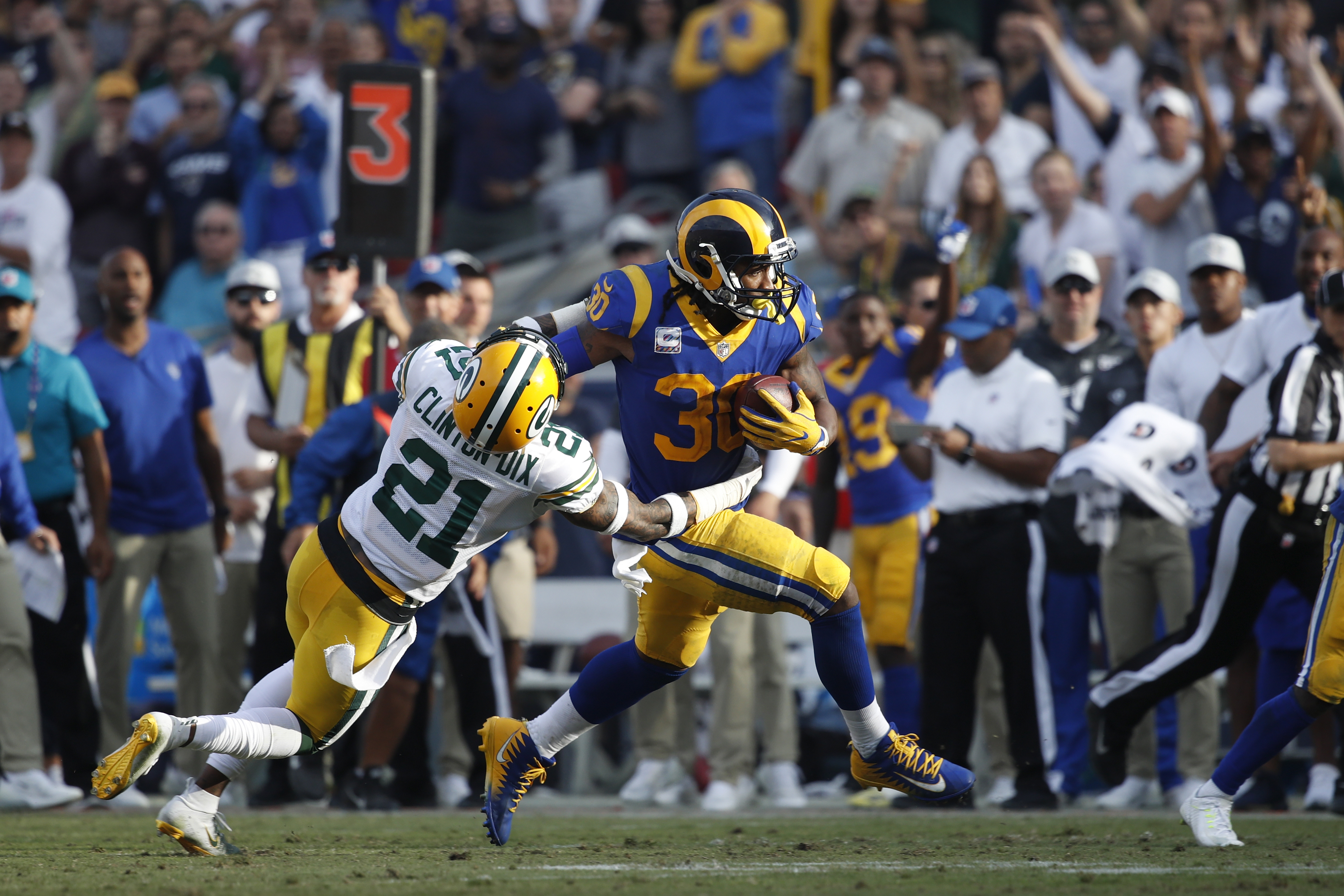 Gurley sure looks like he can score at will…or…not score at will?
WELCOME TO LOS WISCONSIN
L.A. Rams 29, Green Bay Packers 27… More than half the fans at the L.A. Coliseum were rooting for Aaron Rodgers and the Packers. Despite the hostile crowd, Sean McVay's squad stole a game they should have lost. The Rams improved to 8-0, while the Packers slipped to 3-3-1. Rodgers struggled and got sacked three times. Jared Goff found the end zone thrice, while Todd Gurley added more fuel to his MVP campaign with another TD and 195 all-purpose yards. Gurley could've scored a second time to assist fantasy owners, Rams backers, and over bettors, but Gurley pulled up short of the end zone. He told the press afterwards, "Bruh, forget fantasy and forget Vegas. We got the win, so that's all that matters." Gurley is a Herm Edwards disciple and plays to win the game, but we play it for the money. D'oh!
WHO DAT 7-1
Saints 30, Vikings 20… Drew Brees went into Minny and beat the Vikes on SNF for a little sweet revenge (after losing to the Vikes last season in the playoffs 29-24). A timely Pick 6 from PJ Williams in the 3Q propelled the Saints to victory. Williams picked off Kirk Cousins and ran back a 45-yard TD. The Saints are now 7-1 and the second-best team in the NFC behind the Rams. Vikes WR Adam Thielen has 8 straight games with 100+ receiving yards, tying Calvin Johnson as the only other WR in NFL history to achieve that feat.
MOON SOCKET
Kansas City Chiefs 30, Denver Broncos 23… The Broncos (3-5) were swept by their AFC West rival. They never had a chance against the Chiefs (7-1) and their multiple offensive weapons to compliment Pat Mahomes. This week, it was Sammy Watkins' turn to shine and the WR caught 2 touchdowns for 107 yards. Mahomes tossed four TDs and added another 300-yard passing game to his short resume. On the plus side, rookie Philip Lindsay had 95 rushing yards and a touchdown in his first start for the Broncos.
WHOA, WHOA… FITZMAGIC!
Cincinnati Bengals 37, Tampa Bay Bucs 34… Marvin Lewis and Andy Dalton held off a FitzMagic rally to improve to 5-3. QB Jameis Winston got benched in the 4Q after throwing four interceptions. Bucs put in a call to backup Ryan Fitzpatrick, who unleashed a little FitzMagic to rally the Bucs after they were down 34-16. FitzMagic threw two touchdowns and the Bucs scored 18 points to tie the game, however, the Bengals won on a last-second FG to seal the win.
GHOST OF DITKA
Chicago Bears 24, NY Jets 10… Mitch Trubisky showed up to Solider Field wearing his Halloween costume a few days early. The Bears QB dressed as 1980s Mike Ditka, which inspired the current Bears to invoke the 1985 Bears' stifling D. The Bears held the Jets to 10 points with a garbage-time score from Sam Darnold their only touchdown. Trubisky threw two touchdowns and RB Jordan Howard added another score.
THE CHOSEN ROSEN
Cardinals 18, Niners 15… In the Ugly Bowl, the home team won. Josh "The Chosen" Rosen did not look like a rookie when he and the Cards marched downfield on a game-winning drive with less than two minutes to go. Rosen found rookie Christian Kirk in the end zone with 34 seconds remaining. Larry Fitzgerald added a touchdown and an emotional 2-point conversion late in the game. The Niners (1-7) let another potential win slip away as the Cardinals (2-6) edged them out for their second win of the second.
PHILLY CLAMPDOWN
Philadelphia Eagles 24, Jacksonville Jaguars 18… London game. For three weeks in a row, Wembley hosted an NFL game. British NFL fans soaked up the defending Super Bowl Champions beating a Jaguars team that's headed in the opposite direction. You knew it was going to be a long day when Blake Bortles fumbled (and recovered) on the first play. The Jags (3-5) finally scored a touchdown, but they could not muster up enough offense to beat the Eagles (4-4). Carson Wentz threw 3 touchdowns in the victory.
ALL APOLOGIES
Seattle Seahawks 28, Detroit Lions 14… Russell Wilson and the Seahawks (4-3) went into the Big D and kicked some major A. Wilson unleashed three touchdowns to three different players and the Seahawks scored 21 unanswered points in the 2Q. Matt Stafford was unable to retaliate and he contributed two turnovers to the overall malaise. The Lions sunk to 3-4. Aussie-born punter, Mike "Big Balls" Dickson, called an audible and scurried for a first down for the Seahawks instead of running out of the end zone and taking a safety, which was the play Pete Carroll called.
HOME CAT ADVANTAGE
Panthers 35, Ravens 21… Don't mess with the Panthers (5-2) in the CLT. The Big Cats improved to 4-0 at home. Cam Newton outplayed Joey Flacco (1 TD and 2 INT) with three touchdowns (2 passing and 1 rushing). The Ravens slipped to 4-4 as they continued to roll the dice and wonder, "Which Ravens team will show up this week? The good one, or bad one?" We know which squad arrived this week.
WHERE WILL ELI GET TRADED?
Washington Redskins 20, New York Giants 13… The G-Men finally scored a touchdown, but their inept offense failed to muster up more than 14 points for the 13th time in their last 29 games. The Skins are now 5-2 and sitting pretty atop of the NFC East standings. NYC talk radio will whip themselves into a tizzy discussing the future of Eli Manning. At least ODB made another sick one-handed catch. RB Adrian Peterson snapped off a 64-yard TD; that marked his 15th career touchdown run of 50 yards or more, which tied him with Barry Sanders for most in NFL history.
BELL WHO?
Pittsburgh Steelers 33, Cleveland Browns 18… The Steelers rolled once again without Le'Veon Bell. His replacement, James Conner, had another monster afternoon with two scores, 146 rushing yards, and an additional 66 receiving yards. Baker Mayfield got another salty taste of AFC North smashmouth football. The rookie was sacked twice and threw a pick for a total QBR of 23.5.
SILVER AND BLACK HOLE
Colts 42, Raiders 28… With the Raiders up 28-2, Andrew Luck took over and the Colts scored 21 unanswered points in the 4Q to crush the Raiders' hopes of a second win. Colts' RB Marlon Mack scored three touchdowns (twice on the ground) and rushed for 132 yards. Jon Gruden and the Raiders (1-6) are still wondering if they will ever win a second game. QB Derek Carr threw three touchdowns after Gruden and management informed him that he will not be traded and will remain a member of the silver and black for eternity. That actually sounds more like a curse for Carr than a reassurance.
WATSON'S TD CLINIC
Houston Texans 42, Miami Dolphins 23… DeShaun Watson lit up the Dolphins for 5 touchdowns including two to DeAndre Hopkins. And Watson did it on only 16 completions. Brock Osweiler had a not-so-fun homecoming on Thursday Night Football. The former Texans QB threw a pick and was sacked twice. Osweiler finished with zero touchdowns and a 21.9 QBR.
GOTTA GET UNSTUCK GAME OF THE WEEK
New England Patriots 25, Buffalo Bills 6… The Bills kept the Pats out of the endzone for three quarters, but they couldn't prevent Tom Brady from finally getting a touchdown in the 4Q, followed up by an 84-yard Devin McCourty Pick 6. Not the prettiest win in Bill Belichick's career, but he doesn't care. Coach already moved onto the next game. The Bills didn't win and the Pats backdoor covered this one.
---
Pauly McGuire is a writer specializing in sports betting. He's covered the NFL, NBA, college basketball, MLB, and the Olympics for numerous outlets. He's the former co-host of the Everything Is Bettable podcast with Jesse May. You also might remember Pauly as the creator of the Tao of Poker blog. He was a partner in one of the first daily fantasy sports sites, Fantasy Sports Live.