There is a thing that's happened to the celebrity autograph. It has, in a word, evolved. Not 15 years ago, the people lining up on the rail to see their favorite poker pro would more than likely be clutching a sharpie marker and something on which the pro could sign his name. By and by, the autograph became less of a thing (because, you know, who writes anything down or…gasp…reads anymore?), and the common request became, "Hey, will you take a selfie with me." Presto! An instant memory.
These days, even the selfie has become a little tired. You want to be the vanguard of the generation of lasting memories? Get yourself a vlog and then get someone famous on it.
It's never been more clear than here at Run It Up Reno where streamers and vloggers are everywhere. (NB: I played a tournament, and for the first time in my long lifetime of bust-outs, the guy who busted me stopped what he was doing, hit record on the camera that was set up on a tripod next to him, and captured my elimination for posterity. And I'll be damned if the dude wasn't older than I am.)
So, then, it's no surprise that within minutes of his arrival in the Run It Up poker room, Chris Moneymaker had become an instant guest on someone's vlog. While Fintan, Spraggy, Lex, Jeff, Jaime, Felix and more (we're just using their first names like "Cher" and "Bono" now, right?) stood around, Moneymaker talked strategy and sipped coffee.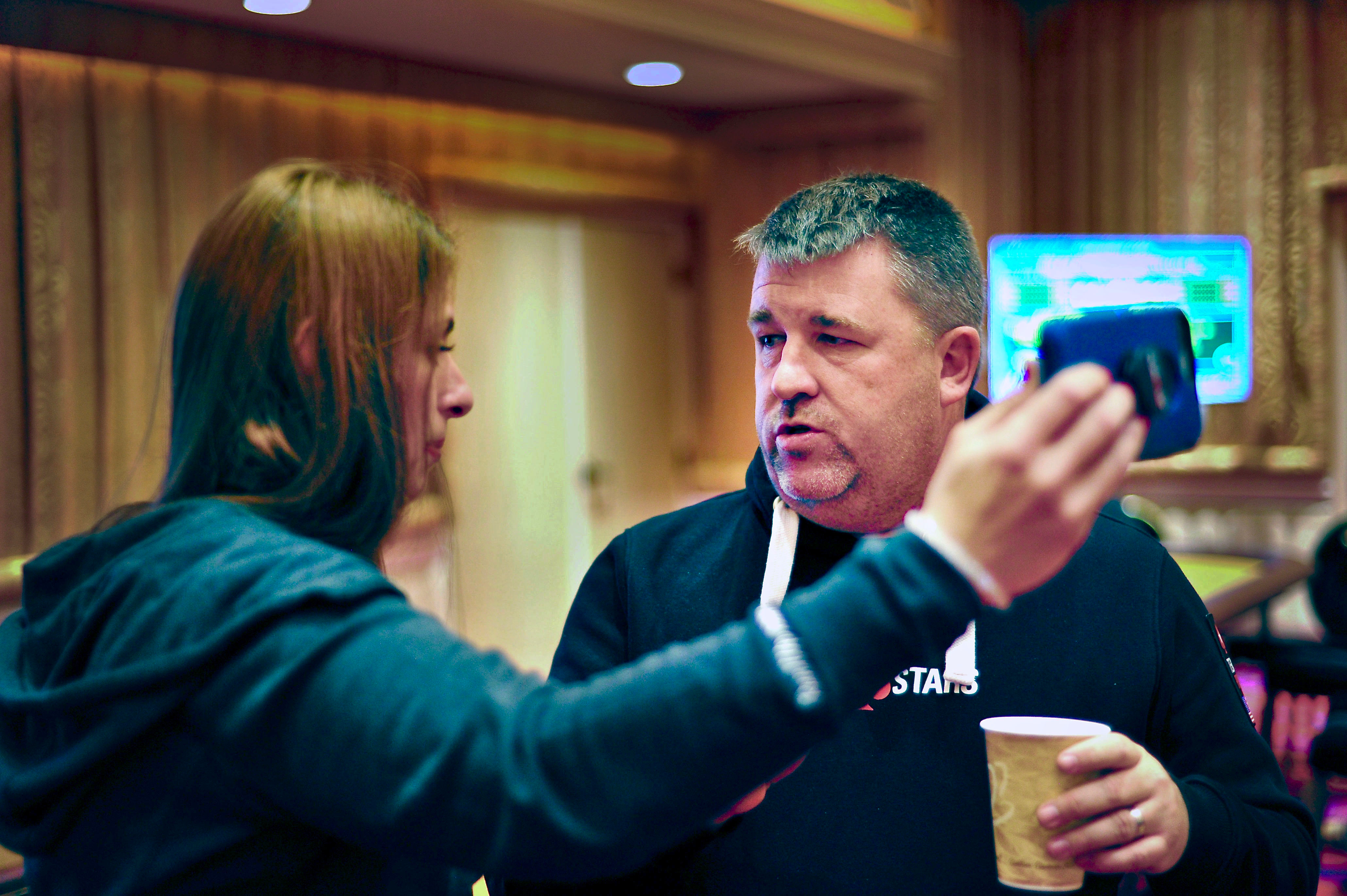 The new autograph: "Will you be in my vlog?"
So is the life and times of Chris Moneymaker, a man who was there as a celebrity 15 years ago for the autographs, has taken all the selfies, and now is not only a spontaneous guest on vlogs everywhere but also has his own freaking poker tour.
For the past several months, Moneymaker has been showing up at casinos all over America as part of this Moneymaker PSPC Tour. At each stop, the winner of the $86 poker tournaments get a Platinum Pass. That pass amounts to a $30,000 package including a seat in the PokerStars Players No-Limit Hold'em Championship and a free trip to the Bahamas.
The Moneymaker Tour has been, in a word, popular. In another word? Insane. The $86 tourneys have been getting 1,400+ entries at some stops. The fields have been made up of every demographic from young grinder to grizzled veteran. The Moneymaker Boom's echoes know no end.
So, that's why this Run It Up Reno is going to be a little different than all the others in the past. Before it's over, there will be two new Platinum Pass winners among the 320 who will travel to the Bahamas. We will meet the first of those tomorrow when Jason Somerville turns over his Run It Up Reno room to Chris Moneymaker for the day.
Just like he's been doing everywhere else, Moneymaker will host a $86 tournament here with a PokerStars-added Platinum Pass for first place. It kicks off at 10am here at the Peppermill Casino in Reno and will go until somebody has all the chips and a Platinum Pass. Prepare for madness.
In addition to the Moneymaker Tour stop, there is another Platinum Pass up for grabs. Jason Somerville has snagged one to give away here at Run It Up Reno. Getting a chance to win it is a challenge in itself. Anyone who has ever won a Run It Up Gold Trophy can enter. If you haven't yet won gold, you're going to have to work for it. There have been some PokerStars satellites. There was a costume contest. Tonight, Run It Up Reno is hosting a scavenger hunt that awards three tickets to the Run It Up Reno Platinum Pass Event. Later this week, there is a karaoke contest that awards a ticket, too. All the details are on the Run It Up Reno page.
Make no mistake: this week is all about Run It Up Gold, but for a couple days, another precious metal is going to get its time in the spotlight. And let me tell you, it doesn't matter whether you see it on a blog, on a vlog, or in person…a Platinum Pass shines like nothing else.