It is too strong to say that the kick-off the Main Event at Run It Up Reno is an anti-climax. I mean, 313 $600 entries on Day 1a, with a list of celebrities the length of your arm, is nothing to sneeze at. In fact, it's damned impressive when you remember we're not in Las Vegas or on PokerStars, but in Reno. This is shooting the regional lights out in every respect.
But this week has already seen the too-good-to-be-true story of Nathan Manuel finally – finally – binking a Platinum Pass after trying every method short of breaking into the Platinum Pass storage vault on the Isle of Man (which he may have tried – we don't know). And he did it via the toughest, most variance-infested path imaginable. It was analogous to his spending hours trying to build a house of playing cards without success, then throwing the cards on the floor in frustration, only to have them form themselves into a perfect vertical structure.
As punctuation on that, there's a woman with the improbable (and lyrical) name of Casey Jones, who is a chip runner and budding dealer in Las Vegas. She was given a chance to deal up here and has been doing a great job. Only she handed off the deck for one day to play the "all-in or fold" tournament. And shipped that.
So forgive us if a main event with a looming $300k prize pool and mid-five-figure first prize doesn't seem like the tallest pole in the tent. But as I noted up top, it really is a big deal, especially in this market. Everybody involved across the Peppermill and RIU teams can be damn proud of this achievement. PokerStars cinematographer Nick "Mister" Coole put together a short clip that gives you a sense of the first day of this event.
Also be sure to check out RIU's own coverage for more detail.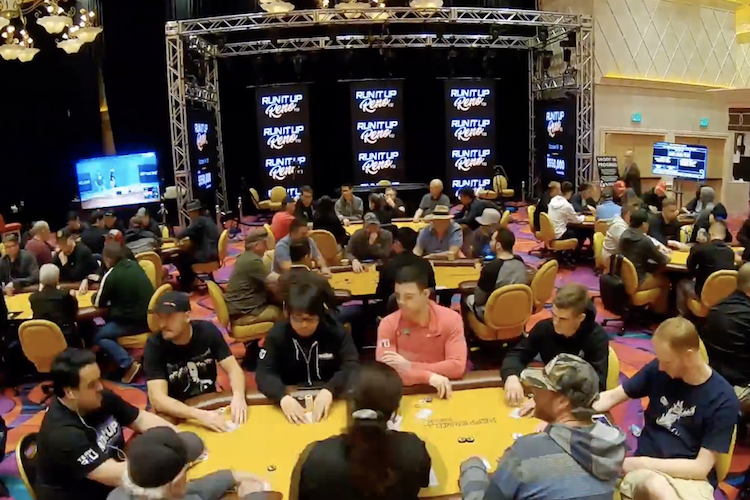 Check out the snazzy new stage in the background
We have 64 people from today coming back on Sunday for Day 2. They'll be joined by a likely similar number of qualifiers from today (Saturday). And if you're in the neighborhood, come on by and fire a bullet or two. Nothing going on at Lake Tahoe right now is more fun than what we've got here.
Finally, while we at the blog are normally in the business of bringing news of poker tournaments and such to the outside world, I'm going to reverse the lens for a couple of sentences. If you're here in Reno for the Run It Up, be sure to step outside. It's glorious fall weather in the high Sierras; if you haven't gotten out to inhale some alpine air, you're missing one of the most compelling features of the entire RIU Reno celebration.