How a dedicated team of scuba-diving volunteers on the Isle of Man is always on hand to carry out underwater searches and recoveries of missing persons…
Situated in the Irish Sea between the UK and Ireland, the 220 square-mile piece of land that is the Isle of Man boasts a dramatic and rugged landscape complimented by unspoilt beaches and stunning bays. But being an exposed and windswept island with around 100 miles of coastline means there is always the danger that locals and visitors could somehow end up in the sea. If indeed a person does go missing in the waters surrounding the island or there is a suspected drowning, that's when the Isle of Man Underwater Search and Recovery Team swings into action.
The search team, which is a registered charity, was established in the wake of the tragic death of 19-year-old Joshua Caley who went missing on New Year's Eve 2015. Joshua, a maths student at Manchester University, had returned home to the Isle of Man to celebrate Christmas with his family. However, on New Year's Eve he was out with friends when CCTV captured him falling into Ramsey Harbour. Although the coastguard and emergency services launched a widespread search of the waters and coastline, the Isle of Man didn't have a dedicated search and recovery unit to scour the sea bed.
"Many people think the government has a team of divers to send in in the event it was needed, but that is just not the case [on the Isle of Man]," says the charity's secretary, Michelle Haywood, who also runs Discover Diving, the island's only diving centre. There had been underwater search teams drawn from the fire service, but they were disbanded some time ago. Borne out by frustration at there being no formal mechanism to mobilise and manage coordinated sub-aquatic searches, Michelle and other scuba divers on the island set about forming the underwater search and recovery team.
Scrambled at the request of the island's Civil Defence or the Isle of Man Constabulary, the divers, of which there are around 30 spanning in age from their late twenties to early fifties, have the qualifications and kit to work in lakes, ponds, rivers, quarries and around the coast of the Isle of Man and its territorial waters. "Some of our members have equipment that will allow them to go as deep as 80 or 100 metres, when your average commercial diver will stop at 30 metres," Michelle explains. "We understand the tides and the sites and can access bits of the underwater underworld that I guess other divers can't."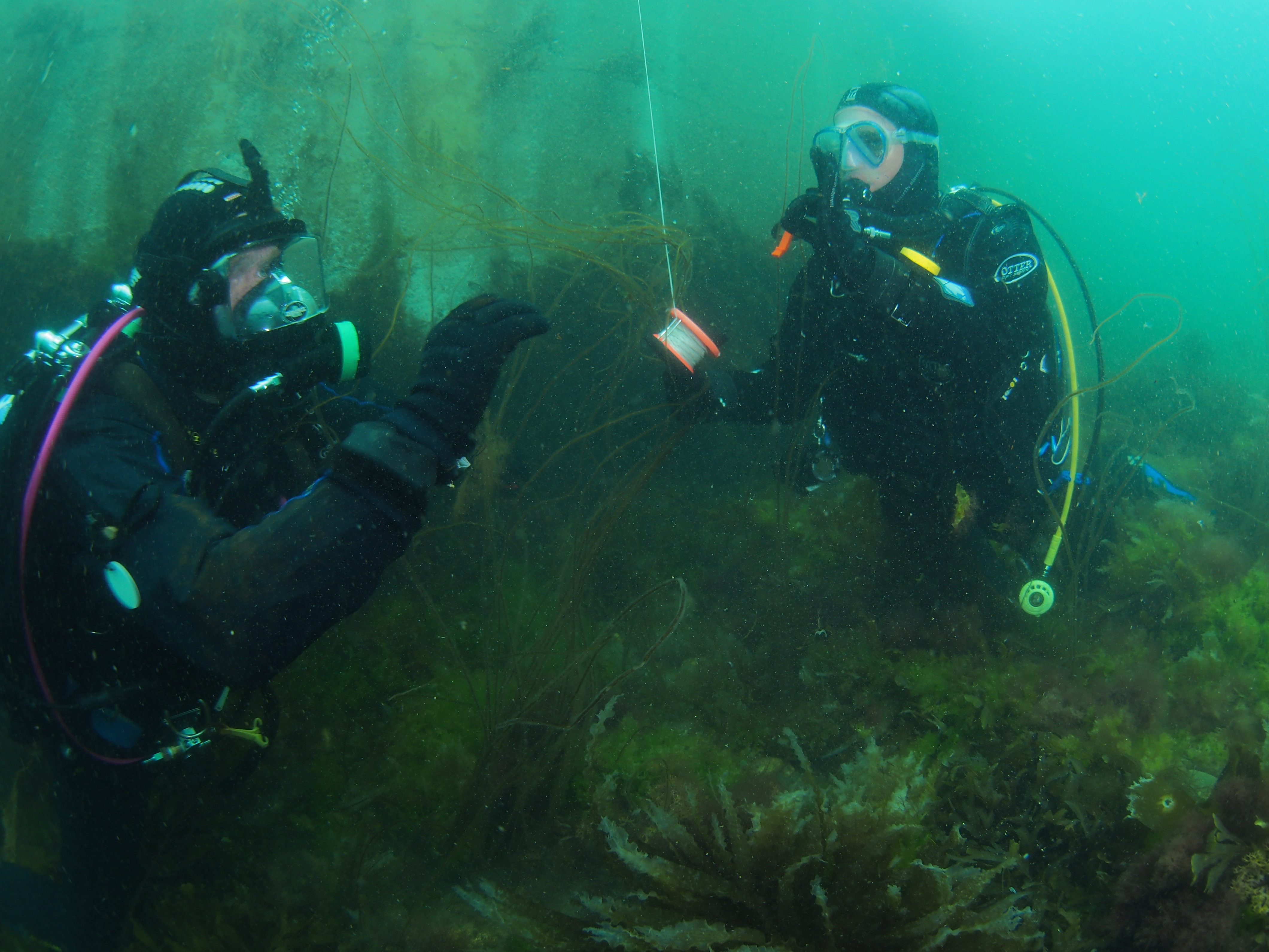 Going deeper underground
Dive buddies
The dive team is made up of highly qualified scuba divers and those who dive, or have dived, in a professional capacity. For instance, chairman Sean O'Connell worked as an inshore commercial diver for nine years and also served as a police officer in Dublin for 16 years, five of which were spent full time in the police dive team where he was involved in upwards of 90 searches a year for missing persons. "I searched for suicides, murder victims and accidental drownings; you name it, I looked for it," he says.
"And if you can imagine most things that are liquid, I've been in them – rivers with zero visibility, canals, lakes, the sea and sewers. I've lost count of the amount of bodies I've recovered from water." Sean, who has lived on the island for 18 years, adds: "After working in search and recovery for the police I know how important it is for a family to receive the remains so that they have somebody to mourn and bury."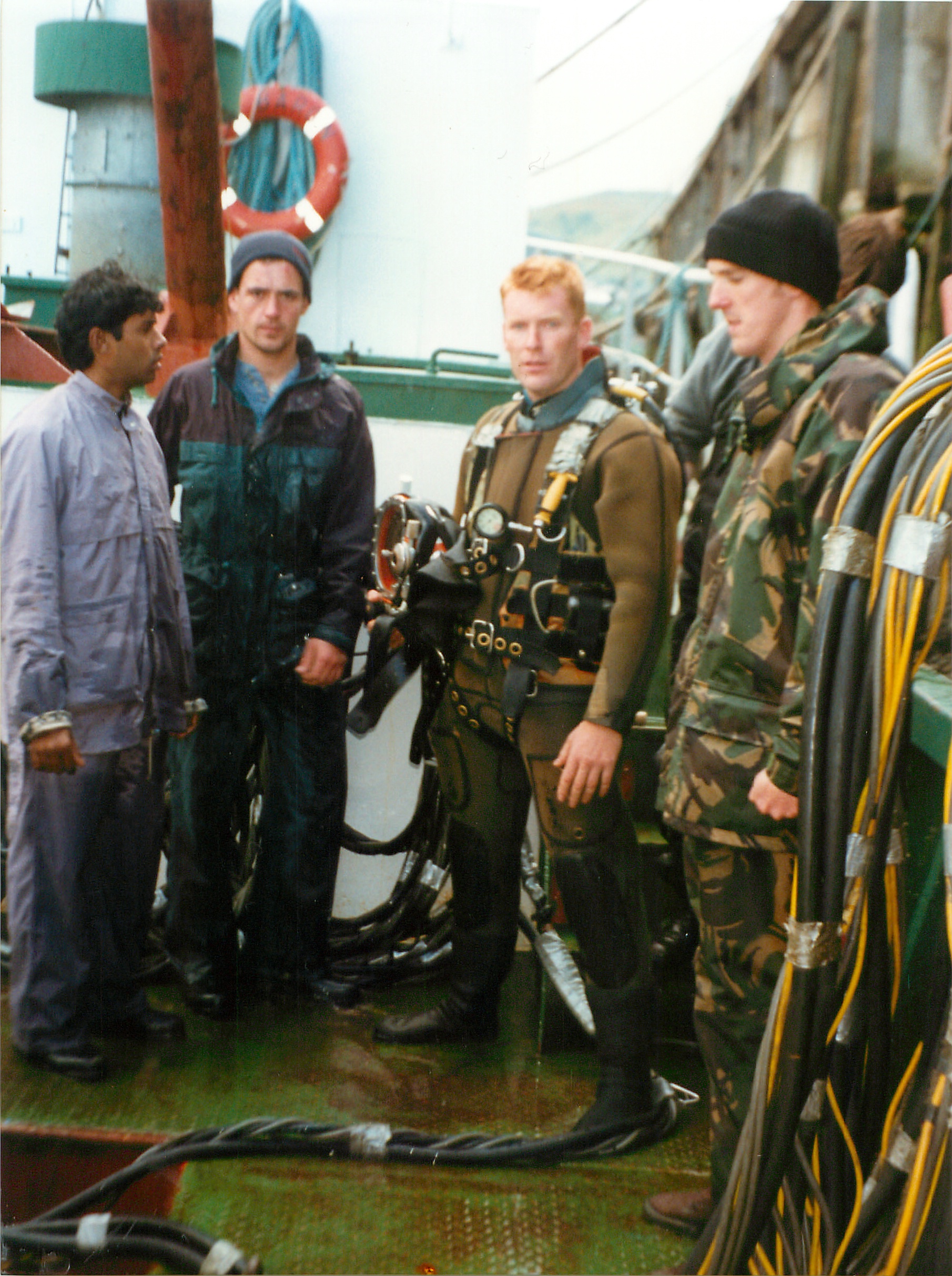 From the archives: Sean O'Connell (centre) after a successful dive
Sometimes the team will go out in boats equipped with sonar equipment to recover sunken watercraft or, as was the case recently, recover submerged fishing gear worth around £20,000. It took volunteers three days and around a dozen dives to untangle it from rocks and bring it to the surface. The relieved fisherman made a donation to the charity. Other times it can be the most trivial of searches; a few Sundays ago, three of the team recovered a smartphone that a woman had accidently let slip into the harbour. After 24 hours immersed in seawater, her phone switched back on and she also expressed her gratitude by making a donation.
The divers are supported by shore-side volunteers to aid with coordinating searches, communications, ferrying kit around or even making welcome cups of tea. Furthermore, not all those who end up in the sea and drown will sink – some will float and eventually wash up on shore, so the volunteers will need to be on hand in this scenario. With the charity's establishing a bigger presence on social media and conducting fundraising to raise its profile, Michelle receives many requests from recreational scuba divers to join up and help with searches. Yet it's one thing gaining a scuba diving qualification whilst on holiday in the aqua-marine waters of a sun-drenched resort and something totally different exploring the Isle of Man's freezing-cold waters, often with impaired visibility, in the hunt for a missing person.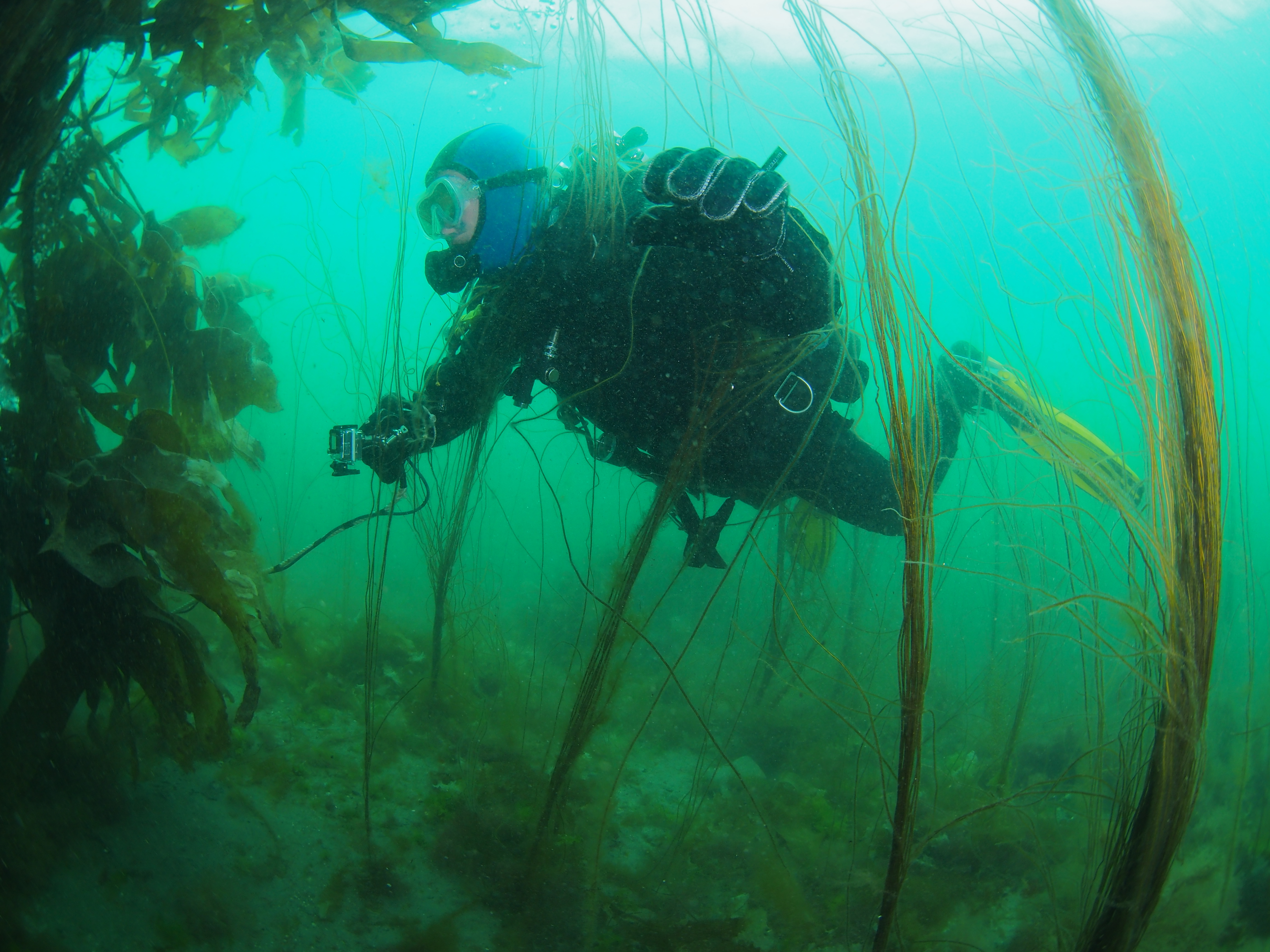 It can be a lonely world down there
"Some people haven't got the experience or really thought through the ramifications," Michelle warns. "It's certainly not for those who have done a little bit of diving on holiday and think they would like to jump in. The waters around the Isle of Man can be some of the fastest moving, darkest and coldest that you can dive in around the British Isles. That's what makes diving around here so great, but it makes it a challenge too. And if you are having to do tasks in those conditions it just adds to the stress levels." Sean echoes this opinion: "Searching for human remains in water, and sometimes in difficult conditions, is completely different to going out and having a pleasure dive. If you're successful, it has a pretty grim outcome."
Generous donations
Scuba diving certainly isn't an inexpensive pastime. Yet while the volunteers use their own wet suits, breathing apparatus and other diving paraphernalia, the charity organises fundraising events, such as 24-hour-hour dives (one planned again this summer), and also seeks donations from members of the public and local businesses for more specialised kit. Other equipment is loaned by Discover Diving. But thanks to a donation by PokerStars in 2016, the charity was able to purchase four full-face masks fitted with a state-of-the-art communications system to allow the divers to talk with one another underwater and with members of the team on the surface.
As well as co-ordinating widespread underwater searches, this system could be used to inform the crew on the shore to clear the area if a body has been located, says Sean. "If you are going to bring a body to the surface you don't want any family members in the vicinity – they don't need to see it as it can be quite a disturbing thing." Top of the charity's wish list at the moment is a secure trailer for storing and transporting equipment to search sites (£2,000), stretchers (£680 each) for safe lifting from the water, and an underwater infrared vision system (£12,000) to comb waters in zero visibility.
The charity also requires a generator to provide power in isolated spots and has just ordered specialist underwater mannequins to practise handling and retrieving a body from water. In fact, the team regularly carries out training exercises to re-create the conditions of real-life search recoveries; for example, donning blacked-out masks in a swimming pool in order to learn how to effectively search by touch alone. "It's disconcerting and not the easiest skill in the world to acquire," Sean reveals.
Although Michelle, who has been diving for 24 years, says they do carry out some "scary deep dives", no member of the team is put at risk by going into rough or dangerous conditions. Safety is the utmost priority. "When someone is already under the water there isn't much more that is going to happen to them than what already has. So you wouldn't put any searchers at risk. Lots of people will say, 'if I go missing on a dive, do not send anyone in to look for me – if I haven't surfaced then I'm already dead so don't put anyone else at risk'."
Primed and ready to respond
With the Isle of Man, a British Crown dependency, being home to a modest population of around 84,000, Sean says it's rare that the charity will be deployed to investigate a suspected drowning. But they still need to be prepared and ready to go at a moment's notice. "It doesn't happen very often but that doesn't mean we can relax and stop training," he says. "The last thing we need is a bunch of people going to a potential drowning and they are not comfortable. If you get people in that situation, panic can set in quite quickly because nobody knows how they are going to react in any given situation."
It may sound like a well-worn cliché, but Sean insists scuba diving and the sea really is in his blood. After working as a UN police monitor in war-ravaged Bosnia in the late nineties, he was accepted onto an expedition to the Titanic to explore the wreck laying on the sea bed of the Atlantic Ocean. This involved descending almost two-and-a-half miles for over 10 hours alongside two colleagues in a cramped submersible with no bathroom facilities. "It was fantastic [the trip, not the conditions in the sub]," he recalls.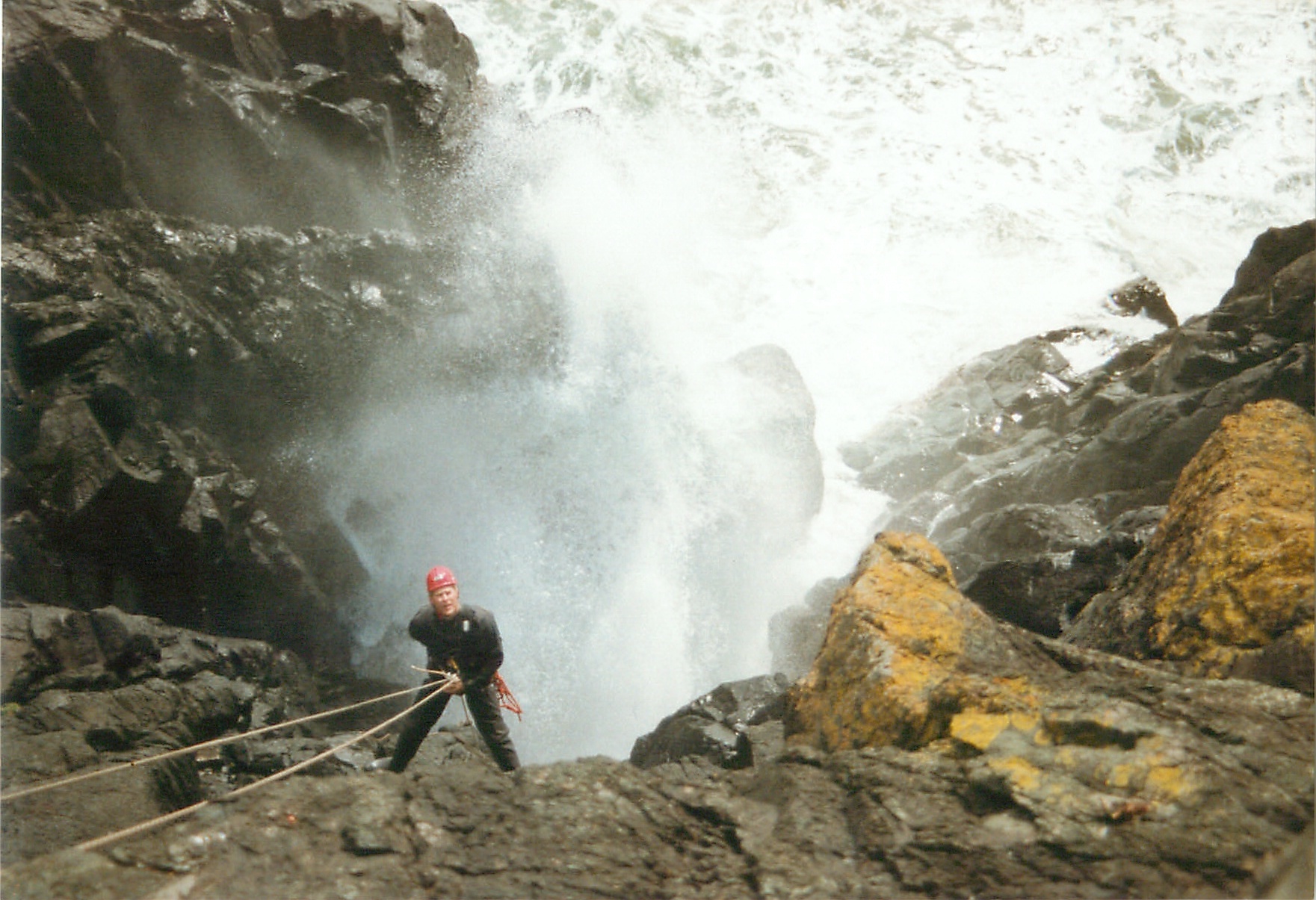 Sean O'Connell: Not afraid of getting wet
For Sean, the best aspect about being involved with the Isle of Man Underwater Search and Recovery Team is the camaraderie and working together as a team. "Everyone is enthusiastic and wants to be part of it because that's the type of people they are. It's a community thing and that in itself is a positive." It's also very much an egalitarian organisation, as Michelle explains: "When we are planning things out no one person decides what we are going to do. Everyone has so much experience that they come up with suggestions. We always go in with our preferred plan – plan A – but there is always a plan B. And it's really good fun working with all the other divers."
Unfortunately for the Caley family, Joshua's body was never recovered. To discover more about the invaluable voluntary work of the Isle of Man Underwater Search and Recovery Team, visit: http://iomunderwatersearchteam.weebly.com/
If you wish to make a donation, the charity's Just Giving page can be found at: https://www.justgiving.com/underwatersearch-recovery