Vlad "dariepoker" Darie had one wild magic carpet ride en route to winning SCOOP Event #57-H. Darie became the second Romanian to win an event on the penultimate day of 2018 SCOOP. Darie outwitted a difficult final table that included two-time SCOOP winner BIack88 and a pair of American pros in Tim "Tmay420" West and Nick "FU_15" Maimone.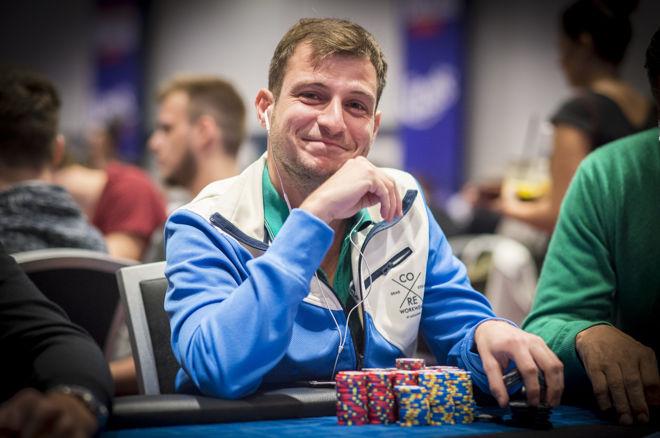 Vlad 'dariepoker' Darie wins SCOOP Event #57-H
Poker players are financial magicians. Wave a wand, say a few arcane phrases, and you'll create riches out of thin air. Okay, it's not that simple. To win any tournament, you have to play at the top of your game, sniff out a couple bluffs, and catch a whiff of good fortune from the poker gods to emerge unscathed on the battlefield. High-end poker tournaments are a surefire way to make a name for yourself while boosting your bankroll. I don't know too many places on this planet other than SCOOP where you can fork over $2K and in less than two days walk away with a quarter of a million.
SCOOP EVENT #57-H – QUICK STATS:
705 runners
$1.41 million prize pool
$240,039.17 to first place
2018 SCOOP Event #57-H $2,100 8-Max attracted 705 runners. They created a prize pool worth $1.41 million, which smashed the $1 million guaranteed prize pool. Only the top 87 places paid out with $240K set aside to the champion.
With 24 players remaining on the final three tables, Vlad 'dariepoker' Darie, the sighlife, and BIack88 occupied the top three spots after passing the 5M mile marker. With 16 to go on the final two tables, dariepoker and cocojanb0 pulled away from the peloton as the two most prominent stacks.
With ten remaining on the bubble, the final two tables were ensconced in five-way hand-for-hand action. dariepoker went to work and his stack jumped to 18.7M as he built up a 10M lead or twice as much as second place. During a protracted bubble, a couple of stacks encroached on dariepoker's lead, but none of them gave him much of a sweat. After a couple of levels of inaction, Greece's finally hateblondies bubbled off the final table in tenth place.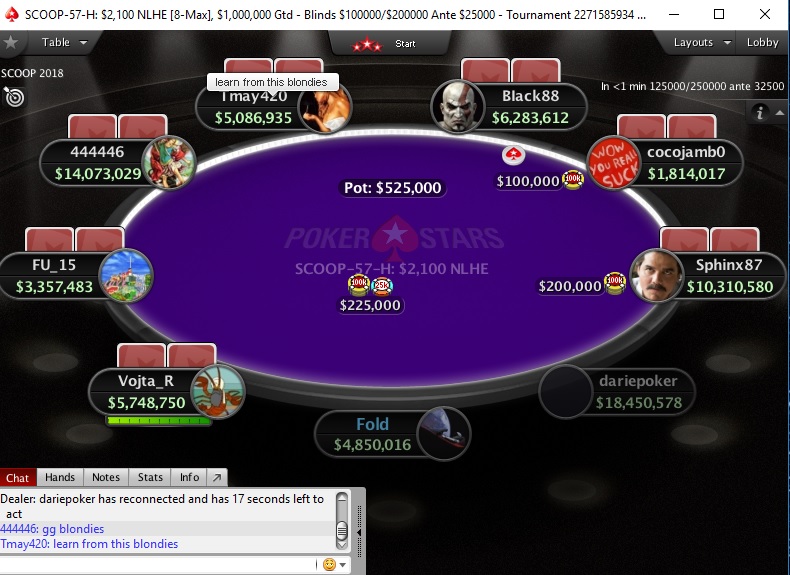 SCOOP 57-H – Final Table Chip Counts:
Seat 1: BIack88 (6,308,612)
Seat 2: cocojamb0 (1,939,017)
Seat 3: Sphinx87 (10,535,580)
Seat 4: dariepoker (18,475,578)
Seat 5: BillLewinsky (4,875,016)
Seat 6: Vojta_R (5,773,750)
Seat 7: FU_15 (3,382,483)
Seat 8: 444446 (14,098,029)
Seat 9: Tmay420 (5,111,935)
The final table commenced during Level 35 with blinds at 125K/250K and 32.5K ante. dariepoker led with 18.4M and FU_15 came into the final table as the short stack.
BIack88 won 2 SCOOPs including the $25K High Roller last year and the Russian was seeking another crown. Couple of American online exiles, Nick "FU_15" Maimone and Tim "TMay420" West, final tabled this event. Vlad Darie, one of the greatest players to hail from Romania, also made a cameo. Darie went deep in the 2017 WSOP Main Event and he once won the Super Tuesday.
EXILES ON MAIN STREET
FU_15 busted on the first hand when the two Yanks had a high-noon race. Short-stacked FU_15 shoved with K♣Q♦ and Tmay420 snap-called with 8♦8♠. Tmay420's pocket eights held up and Nick "FU_15" Maimone was dunzo in ninth place.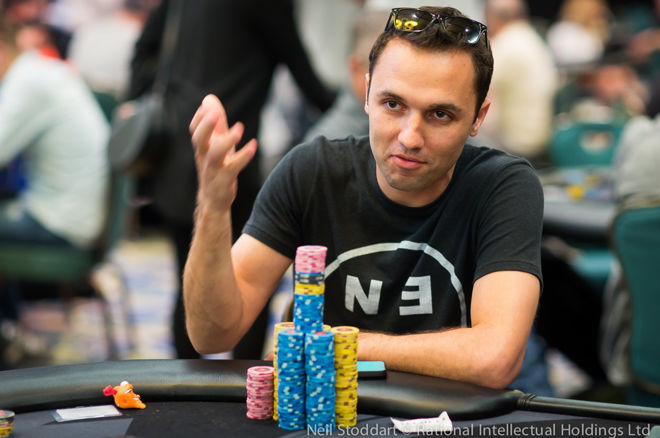 Nick "FU_15" Maimone = 9th place
COCO JACKED
Shorty cocojamb0 shoved with A♣4♥ and 444446 called with Q♣J♣. 444446 hit a favorable flop to take the lead with a pair of Jacks. cocojamb0 turned a pair of fours and that's as good as it would get. 444446 dragged the pot and cocojamb0 was knocked out in eighth place.
DOWN GOES SLICK WILLY
BillLewinsky made a final stand with 6♣6♠ and found himself in deep trouble when Tmay420 called with 10♦10♠. Although BillLewinsky rivered a set of sixes (for the devil's hand), five diamonds were on the board. BillLewinsky "played the board" but it was not good enough compared to Tmay420's better flush. Tmay420 turned a flush and actually picked up a Royal Flush gutter-draw. Although he missed his Royal on the river, the four-flush was still good. With six to go, Tmay420 chipped up to third.
SIXES AND NINES, DUDE
Vojta_R got caught up as collateral damage in the battle of the blinds. When action folded around to dariepoker in the little blind, the Romanian shoved with 9♥6♦. Vojta_R woke up to find A♦10♥ in the big blind and called all-in. dariepoker caught running two pair to win the pot. Vojta_R improved to a pair of tens on the flop, but it was no match for sixes and nines.
BATTLE OF THE BLINDS
Action folded to BIack88 in the small blind, who shoved with J♠4♠ and Sphinx87 called with K♠J♦ from the big blind. Sphinx87 won the Battle of the Blinds, even though neither player improved. BIack88 would have to wait another day to win another SCOOP title. Russia's BIack88 was picked off in fifth place, which paid out $69,034.44.
SPHINX FLUSHED
Sphinx87 open-shoved with A♠10♥ and 444446 called with A♥4♥. 444446 flopped a pair of fours to take the lead. But running hearts gave 444446 an Ace-high flush. 444446 won the pot and Sphinx87 never improved. Fourth place paid out $94,269.21. With three to go, dariepoker still retained the lead.
TMAY420 SMOKED IN THIRD
Short stack vs. big stack. All-in on the flop of 9♦7♣5♥. Tmay420 check-raised all in with 10♠8♥ and an open-ended straight draw. dariepoker called with a set of sevens. dariepoker rivered a full house to win the pot. Tmay420 never improved and he bounced in third place, which paid out $128,728.20
HEADS-UP: dariepoker (Romania) vs. 444446 (Lebanon)
Seat 4: dariepoker (44,385,674)
Seat 8: 444446 (26,114,326)
With two remaining, dariepoker led 44.3M to 26.1M. Heads-up lasted 24 minutes and 444446 put up a good fight. In the end, no one could stop dariepoker from going all the way.
VLAD DARIE WINS SCOOP EVENT #57-H!
Going into the final hand, 444446 trailed 50.9M to 19.7M. All the money went in on the river. dariepoker min-raised preflop, 444446 three-bet, and dariepoker called. On the flop, 444446 led out and dariepoker called. Same goes for the turn. On the river, the board read 6♦5♣3♣K♠Q♦. 444446 moved all-in with nothing but air and 9♦4♦. dariepoker snap-called with 3♥3♠ and a set of treys. dariepoker won the pot and 444446 busted in second place.
For a runner-up finish, 444446 from Lebanon earned $175,783.14.
Congrats to Vlad Darie for winning Event #57-H. First place paid out $240,039.17.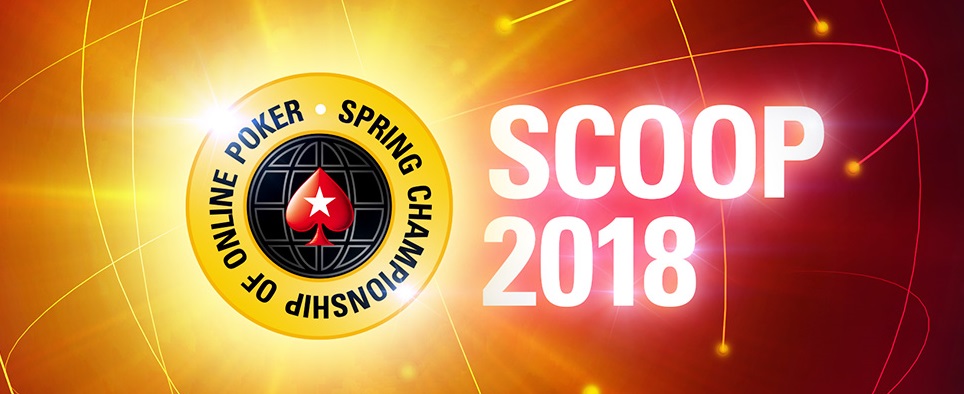 SCOOP-57-H ($2,100 NLHE [8-Max]) results
Total entries: 705
Prize pool: $1,410,000
Places paid: 87
1. Vlad "dariepoker" Darie (Romania) $240,039.17
2. 444446 (Lebanon) $175,783.14
3. Tim "Tmay420" West (Mexico) $128,728.20
4. Sphinx87 (Poland) $94,269.21
5. BIack88 (Russia) $69,034.44
6. Vojta_R (Czech Republic) $50,554.84
7. BillLewinsky (Netherlands) $37,021.94
8. cocojamb0 (Bulgaria) $27,111.62
9. Nick "FU_15" Maimone (Canada) $21,677.76
Visit the SCOOP homepage for all your SCOOP needs, stats, and the Leader Board.
---
Ready to take your shot at a SCOOP title? Sign up for PokerStars today!
---