The PokerStars Super Tuesday event is normally a big draw each week and it only gets bigger when a major series rolls around. This year's opening Super Tuesday Special Edition was no different and there were a lot of players in contention for their second SCOOP title. When the dust settled, it was the Netherland's Cem1994 collecting his second career series title for more than $180,000.
The tournament may have started on a Tuesday but it finished on Wednesday. It drew an impressive 1,149 players to easily crush its $1,000,000 guaranteed prize pool. The last 143 players were set to build their bankroll and a whopping 76 players were still around when the tournament paused for the evening after Level 24.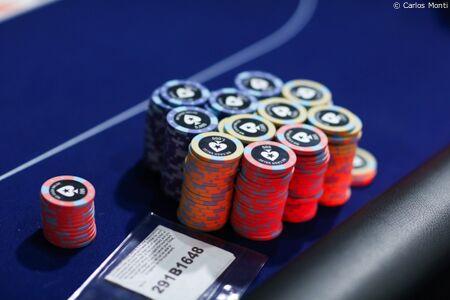 German HessKopp held the overnight lead but he had a monster not far behind. bencb789 returned to a third-place stack and the biggest pedigree of the top ten. The mysterious Austrian already owned a SCOOP title from a $2,100 event but his signature victory came with a massive win in the 2016 WCOOP $102,000 Super High Roller for more than $1,000,000.
Not someone you want on your heels.
Besides the lurking bencb789, plenty of skill returned in the 76-player Day 2 field including former SCOOP champs imluckbox, Cem1994, kleath, and Conor "1_conor_b_1" Beresford. Two successful live tournament players were looking for online scores with Nick "FU_15" Maimone trying to add on to his 2016 PCA High Roller win and Aaron "aaronmermel" Mermelstein to his two World Poker Tour titles.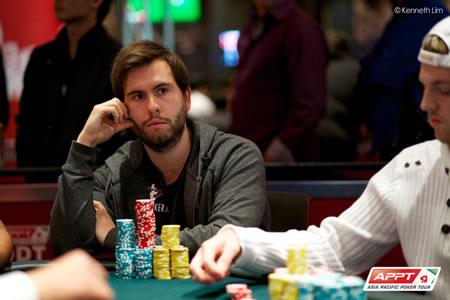 Jonathan "MONSTER_DONG" Karamalikis
Even with all that talent, we kept a lot of our Day 2 attention on two players with a chance to make history. Jonathan "MONSTER_DONG" Karamalikis and Toby "810ofclubs" Lewis had a chance to become the seventh player to notch Triple COOP honors. It was the second deep run this series for Lewis and Karamalikis would have some work to get done with his name near the bottom of the counts.
That is a wealth of well-documented, successful players but only Cem1994 had any impact in the end. Karamalikis made it down to the last five tables and Lewis went as far as 36th place before hitting the virtual rail. Maimone made it further than Mermelstein but neither caught a whiff of final table action.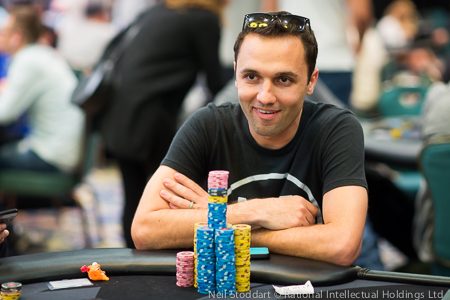 Nick "MONSTER_DONG" Maimone
imluckbox and kleath were unable to add another SCOOP to their CV and starting Day 2 leader HessKopp went out a few spots short of the last nine.
Cem1994 was the sole survivor among the former SCOOP champs to make the final table and he went there with the chip lead. The final table bubble lasted only seven hands, no time at all with these big events, and he eliminated former WCOOP runner-up Vlad 'dariepoker' Darie in tenth with a nice catch.
Cem1994 and Darie waited until the river to decide the hand when the board was reading 9♠3♦2♦2♠3♣ and Cem1994 moved all in. Darie had the shorter stack and called for his last 5 million holding A♣K♣. His ace kicker was in play but was outdone by Cem1994's A♥3♥ full house.
Final table lineup:
Seat 1: Cem1994 – 23,246,522
Seat 2: Machiavelli3 – 7,693,798
Seat 3: despedespi33 – 17,800,325
Seat 4: GamadGADOL – 12,775,554
Seat 5: 19Dan86 – 21,123,752
Seat 6: Stating – 7,290,247
Seat 7: OMGACEACEACE – 19,273,842
Seat 8: Pinocchyo – 1,932,767
Seat 9: Ticiz – 3,763,193
Blinds: 150,000/300,000 with a 37,500 ante
Double Dutch knockout
Cem1994 might have been the only former SCOOP champ to make the last nine but he wasn't the only one with success. OMGACEACEACE picked up his first major title during the 2017 WCOOP series and sent the first person off the final table.
He opened the action and Dutch grinder Ticiz three-bet shoved for less than 3 million. The button and blinds released and it was off to the races with OMGACEACEACE's 10♥10♣ holding against A♠J♣ on a 8♣4♣2♥4♥3♣ board.
Less than an orbit later, Ticiz' countryman Stating open-shoved from the button and Pinocchyo called. Stating was live with 10♠9♠ against A♥7♦ but could not connect on the Q♥5♣2♠3♣7♣ runout to get them down to seven players in a hurry.
despedespi33 take the lead
OMGACEACEACE built a nice stack with the first KO but those chips did not stick along for long. The Polish player defended his big blind from a despedespi33 open then checked/called bets all the way down to the river until the J♦7♦5♥K♥2♥ board was complete.
With more than 21 million in the pot, despedespi33 tabled kings-up K♣J♠ to win the hand and take lead.
Cem1994 back on top
That hand put OMGACEACEACE out front but it was not a huge advantage. Not long after, Pinocchyo was down to dust when he open-shoved his six bigs from the small blind and Cem1994 called.
Pinocchyo had to be happy to have two live cards with Q♥8♦ against K♣6♦ but kickers played as they both missed when it came A♥10♦10♠A♠9♣. The United Kingdom lost one of its three final table players and Cem1994 regained the top of the leaderboard.
After a quick break at the top of the hour, Cem1994 continued his run and the UK lost another player. This time our leader was sitting in the big blind and watched as 19Dan86 three-bet shoved after a despedespi33 open. It was an easy call with A♠K♣ and despedespi33 moved out of the way.
19Dan86 was in a lot of trouble with his small suited ace A♣4♣ not looking good and he was the next gone when the 7♥7♦6♦10♠2♠ board meant that the kickers played.
It was a nice payout for 19Dan86 but nothing like the near $770,000 he picked up for a sixth-place finish in the 2014 WCOOP Main Event. Not too bad though.
Cem1994 runs away with the title
There were still five players remaining but no one was able to chip away at Cem1994's huge lead. Machiavelli3, with a WCOOP runner-up of his own, dropped in fifth place followed by GamadGADOL and former leader OMGACEACEACE.
The latter ran into the Cem1994 buzzsaw. OMGACEACEACE three-bet shoved from the big blind and the answering move was the very definition of a snap call. Cem1994 was dealt A♦A♣ at the three-handed table against 3♦3♥ and it only got better on the A♥8♣2♥ flop. OMGACEACEACE was another victim of the leader and the heads-up match was set with despedespi33 looking up at a big stack.
Seat 1: Cem1994 – 97,749,900 (122 bb)
Seat 3: despedespi33 – 17,150,100 (21 bb)
Blinds: 400,000/800,000 with a 100,000 ante
Despite the big chip differential, the tournament was not quickly settled. despedespi33 had some experience getting deep in SCOOP events, finishing in third place in a tournament last year, so he did not meekly surrender. The chips were pushed around for 40 hands before despedespi33 found a hand to take into battle.
Cem1994 limped/called a raise from the button to the A♠8♥7♣ flop, called a bet before the 5♥ turn, and all the chips went in. despedespi33 had the ol' double belly buster draw with 4♥2♠ and needed to catch against Cem1994's two-pair 8♠5♣. Any three or six would extend the match but the 4♠ river closed out the Super Tuesday Special Edition SCOOP event.
despedespi33 grabbed $133,081 for his run as Cem1994 collected the biggest payout of the tournament. The last Dutch player standing earned $183,292 for the victory along with his second career SCOOP title, his first since the 2013 SCOOP $27 Shootout. Congratulations to Cem1994 and everyone who scored big to start the week.
SCOOP-11-H ($1,050 NLHE Super Tuesday SE) results
Entrants: 1,149
Total prize pool: $1,149,000
Places paid: 143
1. Cem1994 (Netherlands) $183,292.52
2. despedespi33 (United Kingdom) $133,081.31
3. OMGACEACEACE (Poland) $96,625.26
4. GamadGADOL (Malta) $70,155.75
5. Machiavelli3 (Sweden) $50,937.46
6. 19Dan86 (United Kingdom) $36,983.66
7. Pinocchyo (United Kingdom) $26,852.47
8. Stating (Netherlands) $19,496.57
9. Ticiz (Netherlands) $14,155.68
---
Ready to sign up for PokerStars and go for your own SCOOP title?
Click here to get a PokerStars account.