The 2018 Spring Championship of Online Poker Event #40-H, a $5,200 buy-in "High Roller" no-limit hold'em event, featured a final table full of awesome talent that included Ben Tollerene, Jan-Eric Schwippert, Connor Drinan, Elior Sion, and Jonathan Proudfoot. In the end, though, Dutch player Dhr. Awesome proved the awesomest of them all, capturing the title and a $224,753.84 first prize following a heads-up deal with Proudfoot.
Dhr. Awesome had more than lived up to the name already coming into this one, having won both a TCOOP and a SCOOP before among many other successes on PokerStars. The player from the Netherlands nearly won another SCOOP last week, too, taking third place in Event #6-H ($1,050 NLHE, 6-Max). Here's the story of how the good Dhoctor topped this tough field to claim a second SCOOP title.
With 260 total entries (191 uniques, 69 re-entries), that meant a prize pool of $1.3 million even for this one. That was well clear of the event's $1 million guarantee, with the top 34 finishers getting to divide those riches.
On Wednesday they played down to the money, and when Sphinx87 went out in 35th the bubble burst and play was paused with Dhr. Awesome chip leader with just over 5.08 million, at the time more than a million clear of the chase pack.
The remaining 34 came back Thursday afternoon and after one hour of play exactly half of them had already hit the rail, with Dhr. Awesome having slipped back to the middle of the pack and a player with a similarly self-affirming username AmSoGood the new leader with 17 players left.
Ivan "Negriin" Luca (18th), Bryn "BrynKenney" Kenney (18th), Sam "Str8$$$Homey" Greenwood (21st), Daniel "19Dan86" Rudd (22nd), and Timothy "Tim0thee" Adams (23rd) were among the last out before the first break, each earning $15,459.47.
Soon after play resumed, Phillipe "takechip" D'Auteuil went out in 17th, also picking up $15,459.47, and they were down to two tables with Elior "Crazy Elior" Sion having moved into the top spot with just over 7.7 million.
Over the next hour anteen (16th, $15,459.47), fring2013 (15th, $18,669.69), Michael "mczhang" Zhang (14th, $18,669.69), Andras "probirs" Nemeth (13th, $18,669.69), and Chris "Big Huni" Hunichen (12th, $22,546.68) each fell. Then compris (11th, $22,546.68) and kimokh (10th, $22,546.68) and the remaining nine were reassembled around one last table.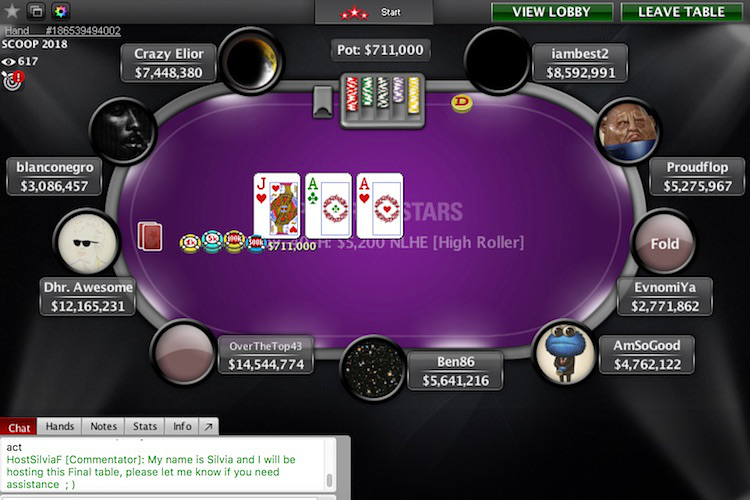 As this was an "8-Max" event there was one knockout to go before the official table could begin, and eventually it came in a hand that started with AmSoGood calling a preflop three-bet from Elior "Crazy Elior" Sion, then calling a continuation bet from Sion after the 6♥Q♠5♣ flop.
The 8♣ then came on the turn and Sion shoved, and AmSoGood called holding A♦Q♣ for top pair. Meanwhile Sion had J♣10♣ for a combo draw, and when the 9♦ fell on fifth street Sion had filled a straight to knock AmSoGood out in ninth ($27,228.63).
The official final table was underway, with OverTheTop43 having moved up into first position with eight players left.
Seat 1: iambest2 (Austria) — 8,539,491
Seat 2: Jonathan "Proudflop" Proudfoot (United Kingdom) — 5,168,467
Seat 3: EvnomiYa (Russia) — 2,604,362
Seat 5: Ben "Ben86" Tollerene (Canada) — 5,908,716
Seat 6: Jan-Eric "OverTheTop43" Schwippert (Austria) — 14,837,274
Seat 7: Dhr. Awesome (Netherlands) — 12,204,731
Seat 8: Connor "blanconegro" Drinan (Mexico) — 4,000,805
Seat 9: Elior "Crazy Elior" Sion (United Kingdom) — 11,736,154
The very next hand after AmSoGood's bust saw the next knockout as the short-stacked EvnomiYa fell in eighth.
With the blinds 70,000/140,000, EvnomiYa opened for 1.26 million from under the gun, a raise representing about half the player's stack. It folded to Jonathan "Proudflop" Proudfoot in the big blind who reraised all in, and EvnomiYa called the rest off with A♣K♥. Alas for EvnomiYa, Proudfoot had woken up with A♥A♠, and while the K♣5♠7♦ flop gave the at-risk player hope, the 8♦ turn and 5♣ river dashed it and they were down to seven.
Before long a huge pot developed between Jan-Eric "OverTheTop43" Schwippert and iambest2, starting with the latter raising from early position and Schwippert calling from the button. iambest2 check-called a bet from Schwippert after the 5♣4♥J♦ flop, then check-called again after the K♠ turn. The Q♦ river brought one more check from iambest2, but when Schwippert bet 2.2 million, iambest2 check-raised all in for about 7.17 million and Schwippert called.
iambest2 had J♣10♣ for a pair of jacks, but Schwippert had K♦Q♠ for top two pair to win the big pot and knock iambest2 out in seventh.
Schwippert continued to enjoy the chip lead with six left, and he'd be the one opening a little later from under the gun with Dhr. Awesome calling from the next seat over. It folded to Ben "Ben86" Tollerene — owner of both one SCOOP title and one WCOOP title — who jammed all in from the big blind for just over 2 million (about 12.5 big blinds) and both Schwippert and Dhr. Awesome called the shove.
The 3♠2♣5♣A♦9♠ board was checked all the way through, and Tollerene showed K♦K♠. Alas for him, both his opponents had ace-jack to split the pot, and Tollerene was out in sixth.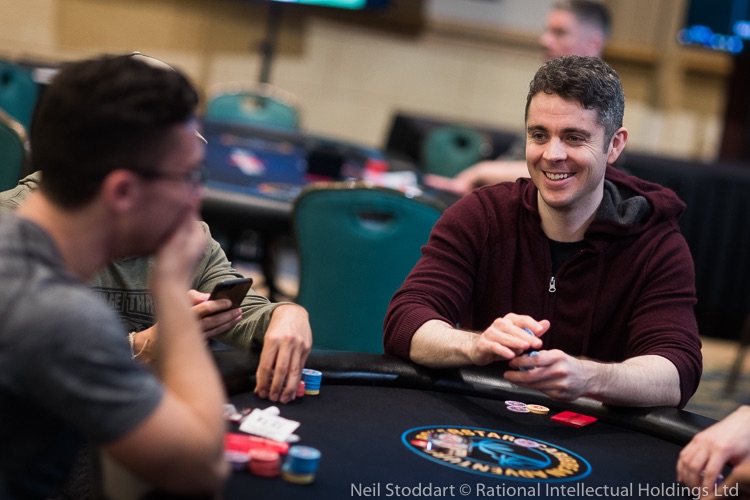 Ben "Ben86" Tollerene
On the very next hand, Connor "blanconegro" Drinan raised a little over 2x to 350,400 from UTG and got one caller in Dhr. Awesome in the big blind. The flop came 2♥10♥8♦ and Dhr. Awesome checked. Drinan bet 290,664 and Dhr. Awesome called. Both then checked the 8♥ turn. The 5♠ river then saw Dhr. Awesome jam all in, and Drinan called with the 3.13 million he had behind.
Drinan had Q♥10♠ for tens and eights, but Dhr. Awesome had trips with 8♠6♦ and after having hung on for a lengthy period with a short stack, Drinan was out in fifth. It was yet another great performance for two-time WCOOP winner Drinan who entering today was in the top 10 in this year's SCOOP Player of the Series race.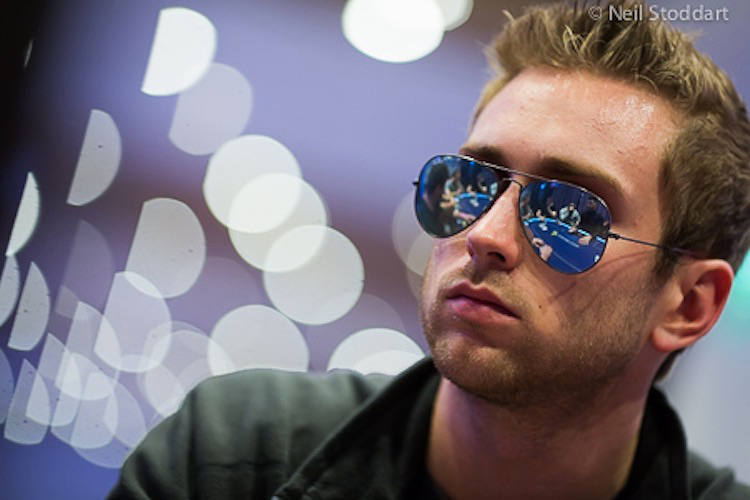 Connor "blanconegro" Drinan
The final four moved into the day's fifth hour of play, and with the blinds 100K/200K a hand arose that saw Elior "Crazy Elior" Sion open for 400,000 from the button and Jan-Eric "OverTheTop43" Schwippert called from the big blind.
The flop came 2♣K♠J♠ and Schwippert check-called a bet of 320,000 from Sion. The 8♣ turn saw another check-call, this time for 1.04 million. The 4♣ river completed the board and Schwippert checked again. Sion bet 2.965 million, then Schwippert check-raised all in and Sion called with the 3.33 million he had left.
Sion had K♣9♣ for a king-high flush, but alas was pipped by Schwippert's ace-high flush with A♣6♣ and Sion added a fourth-place finish to his one previous SCOOP title.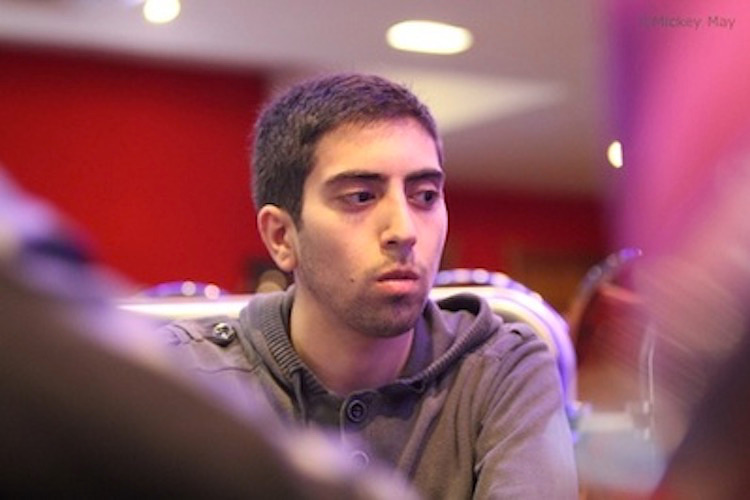 Elior "Crazy Elior" Sion
They played three-handed for another 45 minutes, during which time Jonathan "Proudflop" Proudfoot took over as chip leader and Schwippert slipped to be the short stack. Then after a button open by Proudfoot, Schwippert reraised all in from the small blind for just over 8.7 million (nearly 35 big blinds), Dhr. Awesome reraise-shoved over that from the big blind, and Proudfoot folded.
Schwippert had A♣4♣ while Proudfoot had 9♣9♥, and the 9♠J♦K♠ flop made a set for Proudfoot and left Schwippert drawing very thin. The 7♦ turn then sealed it, making the river no matter and knocking Schwippert out in third — a nice finish for the Austrian who already has three previous COOP titles on his online résumé.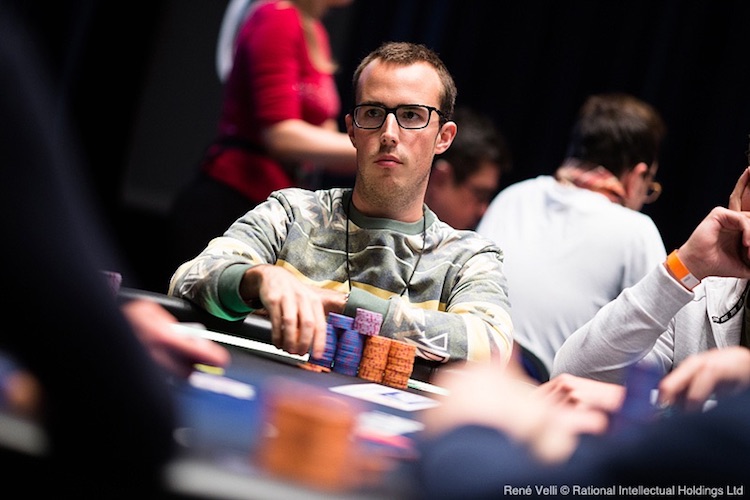 Jan-Eric "OverTheTop43" Schwippert
One hand later they'd reached the day's five-hour mark with Proudfoot chip leader with a little under 42 million versus Dhr. Awesome's 23 million. The pair chatted a little about a possible deal during the break, and when numbers were produced the two were able to come to an agreement relatively quickly, leaving $26,000 on the table for which to play.
The pair would battle through most of the next hour before determining a winner, with Dhr. Awesome surviving an all-in early on to take the lead after turning a six-high straight with K♣5♣, then getting all the chips in the middle on the river to double through Proudfoot's A♥A♠.
Dhr. Awesome would maintain the lead from that point forward. The final hand began with Proudfoot sitting with just under 15.5 million when he limped from the button to 350,000. Dhr. Awesome had about 49.5 million to start the hand and raised to 1.05 million, and Proudfoot called.
The flop came K♦7♣4♥. Dhr. Awesome led for 706,500 and Proudfoot called, then after the J♥ turn Dhr. Awesome led again for 2,541,950 and Proudfoot called once more.
The river was the 10♣, and this time Dhr. Awesome jammed all in, earning one last call from Proudfoot who turned over K♣Q♣ for a pair of kings. Not good enough, as Dhr. Awesome had rivered two pair with K♠10♦ to win the last pot, the extra $26,000, and the SCOOP title.
Congratulations to Dhr. Awesome for topping an awesome final table and outlasting a gritty heads-up opponent to earn the Event #40-H victory. Kudos also to Proudfoot for making it to the final two and the deal which guaranteed him a $200K-plus payday like Dhr. Awesome.
SCOOP-40-H ($5,200 NLHE, 8-Max, High Roller) results
Entries: 260 (191 entries, 69 re-entries)
Total prize pool: $1,300,000
Places paid: 34
1. Dhr. Awesome (Netherlands) $224,753.84*
2. Jonathan "Proudflop" Proudfoot (United Kingdom) $209,296.53*
3. Jan-Eric "OverTheTop43" Schwippert (Austria) $139,288.76
4. Elior "Crazy Elior" Sion (United Kingdom) $104,358.15
5. Connor "blanconegro" Drinan (Mexico) $78,187.59
6. Ben "Ben86" Tollerene (Canada) $58,579.82
7. iambest2 (Austria) $43,889.30
8. EvnomiYa (Russia) $32,882.85
* Denotes two-way deal
---
Ready to sign up for PokerStars and go for your own SCOOP title?
Click here to get a PokerStars account.