The 2018 PokerStars Spring Championship of Online Poker kicked off this weekend and it wasted no time building the excitement. The Event #4 final table featured Toby "810ofclubs" Lewis trying to become the sixth player to earn Triple COOP honors and Calvin "cal42688" Anderson attempting to collect his ninth SCOOP title.
In the end, Spanish pro Javier "minusth3bear" Zarco denied them both to capture his first major online title and more than $200,000.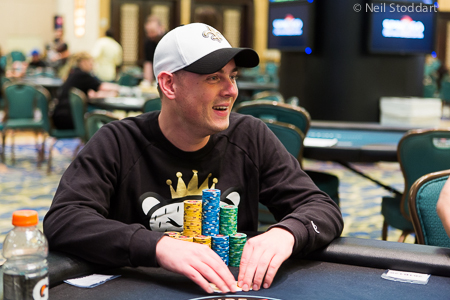 Toby "810ofclubs" Lewis
It was a great start to the series with monster fields and a lot of money dished out. The high version of the Event #4 had a $2,100 buy-in and featured a $1,000,000 guaranteed prize pool. They easily cleared the bar and the 675 entries piled up $1,350,000 in prize money with the last three players guaranteed a six-digit payout.
The two-day tournament paid out the last 80 spots with a min-cash banking $7,742 and $233,909 sitting there for the top spot. Bryn Kenney, Andrey "Kroko-dill" Zaichenko, and two-time Super Tuesday champ Jon "apestyles" Van Fleet were able to slide into the money but they dropped out before the tournament went on its overnight break.
Of the 45 players coming back, FourSixFour held a healthy chip lead with a chance to win SCOOP titles in back-to-back years. The Austrian scored big during the opening weekend of last year's SCOOP series when he won Event #2-H ($1,050 No Limit Hold'em) for nearly $125,000.
But FourSixFour had some talent trying to chase him down including former
SCOOP champ (and WSOP bracelet winner) Anthony "wwwBTHEREcom" Gregg, Team PokerStars Online member Lex Veldhuis, and JC "PrtyPSux" Alvarado along with Anderson and Lewis.
The big final table run for Anderson saw him sitting in the middle of the field with two tables remaining before he caught A♣A♥ in a three-bet pot with probirs. The chips went in after the flop and Anderson's rockets held against a flopped pair of kings. That heater hand propelled Anderson into the lead and probirs had to settle for 16th place.
Lewis had to work hard try and earn his spot in history. The reigning Aussie Millions Main Event champ began the series only one SCOOP title away from earning Triple COOP honors. Lewis opened his COOP account with a TCOOP title more than five years ago and followed it up with a WCOOP win eight months later. And he almost missed out on the final table.
Lewis was in great shape late but it almost came to end short when he lost most of his virtual stack in a cooler. tigran66613 put in his last chips with the board reading 7♠4♠2♠6♦ and his flopped flush with Q♠3♠ was ahead of Lewis' flopped set of ducks 2♦2♥. Lewis could not fill his boat on the river and was left a short stack as the last nine joined at one table.
Seat 1: Aaron "aaronmermel" Mermelstein (5,345,572 in chips)
Seat 2: Manni1822 (13,357,491 in chips)
Seat 3: FourSixFour (5,325,752 in chips)
Seat 4: zcedrick (8,727,187 in chips)
Seat 5: ikkedus (2,781,473 in chips)
Seat 6: Calvin "cal42688" Anderson (15,922,536 in chips)
Seat 7: krakukra (4,160,425 in chips)
Seat 8: Toby "810ofclubs" Lewis (2,546,888 in chips)
Seat 9: Javier "minusth3bear" Zarco (9,332,676 in chips)
Blinds: 100,000/200,000 with a 25,000 ante
Mermelstein moves up
Lewis and Anderson weren't the only top players at the final table. krakukra won a WCOOP title in 2015 against an incredible final table in the $10,000 8-Game Mix event and Aaron Mermelstein holds two World Poker Tour titles.
Mermelstein hit the SCOOP final table with a stack slightly under the average but he changed that in a hurry. He found himself in one of those "classic races" everyone loves with his J♠J♥ up against the A♣K♦ for zcedrick. He dodged the overcards on the Q♦7♠2♠ board and turned a set of jacks when it came J♦. Mermelstein faded the four Broadway river outs to double over 10,000,000 in the early stages of the final table.
zcedrick's tournament was through in ninth place when Mermelstein finished him off with his flopped top pair holding against an open-ended straight draw. The hand solidified Mermelstein's spot among the leaders but Lewis was headed in the other direction.
Lewis denied his Triple COOP
Lewis could not bounce back from his tough beat earlier despite two quick doubles. Anderson finished him off in eighth place when his 10♠10♦ outflopped Lewis' A♦Q♦ on a A♥10♣2♦ board. It was a great result for the UK poker legend but he'll have plenty more shots at the Triple COOP over the next few weeks.
Anderson's run was not without a few hiccups, including sending a big double to the starting Day 2 chip leader. It took four bets for FourSixFour to get his 6,000,000 chips mixed up and Anderson called with a chance for another knockout. But this time it wasn't a race, he was dominated with A♣J♣ against A♠K♣. A king on the K♦7♠2♠ flop all but locked up the hand for FourSixFour to get him back in the game.
FourSixFour stayed rode a nice heater for a bit and sent ikkedus out in seventh place. Another big hand saw FourSixFour in trouble with a smaller pair but his 6♠6♦ caught a lucky turn against ikkedus' 7♠7♣ on the 10♠9♣8♠7♥K♥ board. A bad break for the Dutch grinder as FourSixFour moved back into the lead.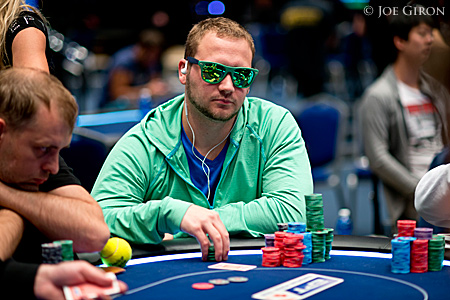 Calvin "cal42688" Anderson
No number nine for Anderson
Anderson's shot at SCOOP number nine could never recover after sending a double across the table. krakukra dropped him to the short stack when his K♥8♠ rivered trip eights on the A♦8♥4♣6♣8♦ board against Anderson's flopped top pair A♣7♥. He survived three more hands before losing with J♥J♦ against Mermelstein's suited slick A♦K♦.
The slow pace picked up after Anderson was sent out as Zarco grabbed his first lead of the final table and extended it by wielding his stack like someone who wanted all the chips. Luck cooled off for FourSixFour when he ran his tens into aces followed by Mermelstein who could not add an online title to his live WPT wins to drop in third place.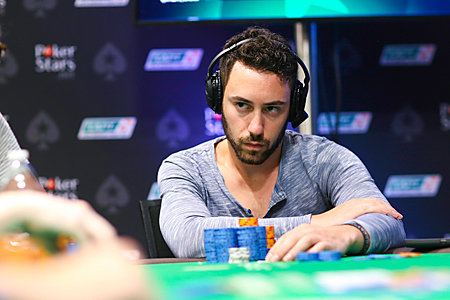 Aaron "aaronmermel" Mermelstein
Zarco bags SCOOP title
Zarco had a big lead to start heads-up play and the match lasted only nine hands. They had plenty of chips but both made good hands to end it early. Manni1822 was all in with the board reading A♣8♥7♥9♣ but his flopped two pair A♠7♣ was in bad shape. Zarco flopped an open-ended straight draw with 6♣5♦ and it got there on the turn. Manni1822 could not river a miracle full house to end the tournament right there.
This is the first major title for Zarco who has some impressive live cashes. He topped $2 million in live career earnings earlier this year and came one spot away from a huge WSOP bracelet. Zarco picked up nearly $800,000 when his finished second out of 7,275 players in the 2015 WSOP Millionaire Maker.
Now Zarco is a PokerStars SCOOP champion and he earned $233,909 for the title. He had to go through a tough field and stacked final table to get there, congratulations to him.
SCOOP-04-H ($2,100 NLHE) results
Entrants: 675
Total prize pool: $1,350,000
Places paid: 80
1. Javier "minusth3bear" Zarco (United Kingdom) $233,909.37
2. Manni1822 (Austria) $172,873.03
3. Aaron "aaronmermel" Mermelstein (Mexico) $127,763.59
4. FourSixFour (Austria) $94,424.94
5. krakukra (Russia) $69,785.68
6. Calvin "cal42688" Anderson (Mexico) $51,575.80
7. ikkedus (Netherlands) $38,117.65
8. Toby "810ofclubs" Lewis (United Kingdom) $28,171.26
9. zcedrick (United Kingdom) $20,820.24
---
Ready to sign up for PokerStars and go for your own SCOOP title?
Click here to get a PokerStars account.
---