When you snap off pocket Aces with nine-four offsuit, you pretty much know that it's gonna be your day. After Russia's Maestro_Bolt knocked out three players in a row including a vicious cracking of Aces, the victory in SCOOP Event #01-H seemed inevitable. Maestro_Bolt outlasted a field of 966 players to win the high-version of Phase 2 for a hefty payout worth $345,726.20.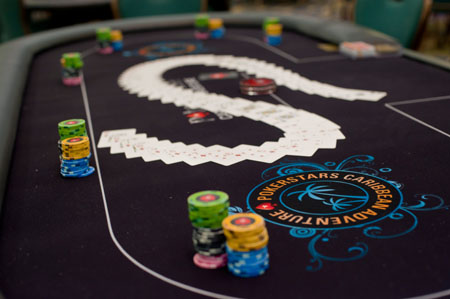 SCOOP-01-H PHASE 2 – QUICK STATS:
966 runners
$2,350,600 prize pool
$345,726.20 first place
2018 SCOOP Event #1-H $215 NL was a Phase 2 event that attracted 966 runners. All of them were in the money with a min-cash worth $645. Event #1-H had a $1.5 million guarantee that was exceeded by a prize pool worth $2,350,600. The top 4 places were awarded with six-figure cashes, while first place enjoyed the biggest slice of the cheesecake with a $345,726.20 payout. That's one expensive slice!
Event #1-H Day 1 ended with 36 players and two Finnish players in the Top 5. Russia's hello_totti bagged up the lead with 43M.
With 18 players remaining on the final two tables, Sweden's Bjuran and TaoJ were jockeying for the top spot. While bearing down the final stretch, Bjuran fended off all invaders and maintained the lead. Germany's jutrack bubbled off the final table in tenth place.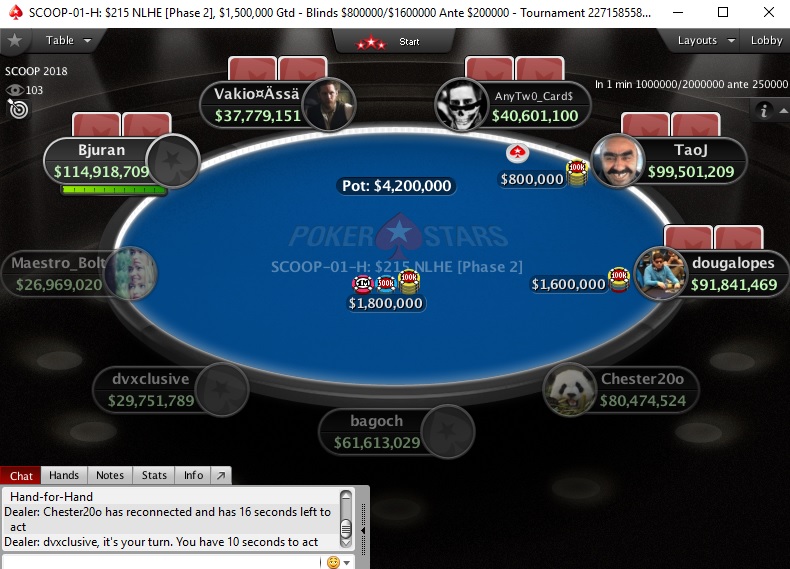 Event #1-H – Final Table Chip Counts:
Seat 1: AnyTw0_Card$ (40,801,100)
Seat 2: TaoJ (100,501,209)
Seat 3: dougalopes (93,641,469)
Seat 4: Chester20o (80,674,524)
Seat 5: bagoch (61,813,029)
Seat 6: dvxclusive (29,951,789)
Seat 7: Maestro_Bolt (27,169,020)
Seat 8: Bjuran (115,118,709)
Seat 9: Vakio¤Ässä (37,979,151)
The final table commenced during Level 28 with blinds at 1M/2M and a 250K ante with 15-minute levels. Bjuran and TaoJ were the two biggest stacks at the final table and both surpassed the 100M marker. dvxclusive limped into the final nine as the short stack.
TREYS LOSE FLIP; TURNING QUEENS STRAIGHT
On the fifth hand at the final table, the first player was sacrificed. dvxclusive shoved with 3♥3♣ but lost a race against TaoJ's A♣Q♠. TaoJ flopped a pair of Aces, turned Aces up and rivered a full house. dvxclusive was out in ninth.
AnyTw0_Card$ didn't have just any two cards when making their final stand. AnyTw0_Card$ hoped 6♠6♥ could double through Chester20o's J♥9♠. Alas, Chester20o flopped a gutshot draw and promptly got their on the turn to win the pot with a Queen-high straight. AnyTw0_Card$ was sent packing in eighth place.
BAGOCH BAGGED AND TAGGED
Another instance where the baby pair got outflopped, outraced, and outflipped. Lithuania's bagoch open-shoved with 4♠4♥, but Maestro_Bolt won with K♥10♣ when a King and a ten hit the flop. Tough break for bagoch who lost to two pair. Seventh place paid out $45,847.27 for bagoch.
RUSSIA KINGS SWEDEN
Bjuran picked a spot with A♦Q♣ but got murked by Maestro_Bolt's K♣K♥. Maestro_Bolt flopped a set of Kings, which insulated themselves from the A♥ on the turn. Maestro_Bolt dragged the pot with a set and Bjuran's pair of Aces were no good. Day 1 chipleader Bjuran took home $64,201.93 for sixth place.
TAO OF QUACK QUACK
Maestro_Bolt's was just heating up. Maestro_Bolt's run good continued after picking off TaoJ's A♣10♠ with only 2♠2♦. The pair of deuces held up when the board ran out 8♣8♠7♥3♠9♥. TaoJ from Cyprus won $89,904.80 for a fifth-place finish.
KICKER PLAYS
Chester20o squared off with A♠8♥ against Maestro_Bolt's A♣Q♦. Chester20o picked up a gutshot draw on the turn, yet it never materialized on the river. Neither player improves, but Maestro_Bolt won the pot with Ace-high and a Queen-kicker. Chester20o earned a sizable payday worth $125,898.13 for fourth place.
ACES SNAPPED BY NINE-FOUR, HO HO HO
Three-handed action lasted five hands. On the second orbit, we saw fireworks. When dougalopes limped with A♣A♠, Maestro_Bolt shoved with air and 9♥4♦, and dougalopes could not call all-in fast enough. Aces versus nine-four? You know the outcome. It wasn't pretty either because dougalopes turned a set of Aces… yet still lost. The board finished up J♣10♦7♦A♦5♦. Maestro_Bolt caught running diamonds and rivered a flush to win the pot. Aces were brutally crushed and Brazil's dougalopes headed to the virtual rail. For a third-place performance, dougalopes earned $176,300.87.
HEADS-UP: Maestro_Bolt (Russia) vs. Vakio¤Ässä (Finland)
Seat 7: Maestro_Bolt (545,433,396)
Seat 9: Vakio¤Ässä (42,216,604)
Heads-up lasted only six hand. With such a massive lead, I'm shocked it didn't happen sooner.
MAESTRO_BOLT WINS SCOOP EVENT #1-H PHASE 2!
Vakio¤Ässä made a courageous final stand with A♣2♦ against Maestro_Bolt's A♥5♥. Both players flopped a Wheel gutshot draw. Neither would improve on a board of 10♥4♣3♠J♦10♦, but Maestro_Bolt edged out Vakio¤Ässä with a better kicker. Outkicked on the final hand. Finland's Vakio¤Ässä took home $246,882.34 for a second-place finish.
Congrats to Russia's Maestro_Bolt for winning SCOOP Event #1-H. First place paid out $345,726.20.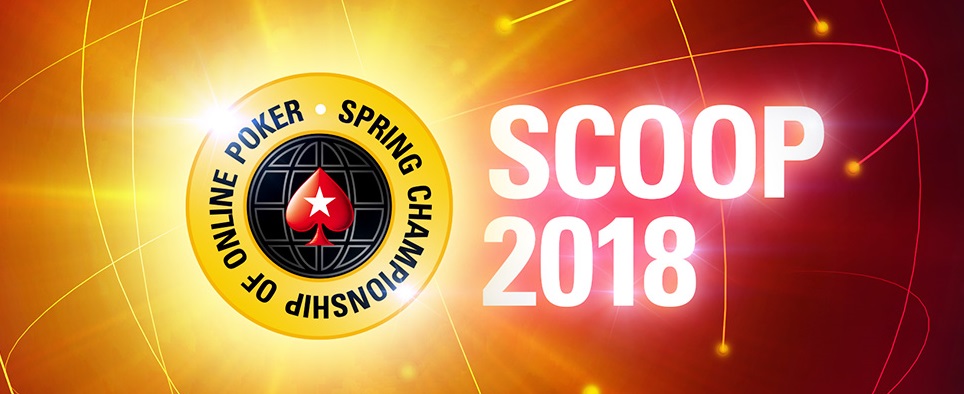 SCOOP-01-H ($215 NLHE [Phase 2]) results
Total entries: 966
Prize pool: $2,350,600
Places paid: 966
1. Maestro_Bolt (Russia) $345,726.20
2. Vakio¤Ässä (Finland) $246,882.34
3. dougalopes (Brazil) $176,300.87
4. Chester20o (Poland) $125,898.13
5. TaoJ (Cyprus) $89,904.80
6. Bjuran (Sweden) $64,201.93
7. bagoch (Lithuania) $45,847.27
8. AnyTw0_Card$ (Switzerland) $32,739.86
9. dvxclusive (Brazil) $23,380.00
Visit the SCOOP homepage for all your SCOOP needs, stats, and the Leader Board.
---
Ready to take your shot at a SCOOP title? Sign up for PokerStars today!
---