Then listen now to what I say…
It's so new that the spell checkers still draw a red line under it, but "vlogging" (video logging) is indeed a real thing. People literally aim a video camera at themselves and then, well, go about their lives. So if you're a poker player, you video yourself playing poker (where they'll let you), talking about the poker you played, or showing the coffee you're drinking (more about that in a moment).
The sui generis of poker vlogging is a fellow named Andrew Neeme – you might say that he is to poker vlogging as Jason Somerville is to Twitch poker. [1] Andrew has teamed up with PokerStars Ambassador Jeff Gross to give away a Platinum Pass (yes, the $30,000 package to send you to the Bahamas) to a new poker vlogger.
This is a pretty sweet way to win a Platinum Pass, frankly. You don't have to wade through a field of a few hundred (or a couple thousand) poker players – just be the most impressive new vlogger that Andrew and Jeff come across. But being a poker vlogger is a lot harder than it sounds ("I just point a camera at myself and start talking about poker, right?"). So here's a suggestion: like pretty much everything else in the world, one good way to advance is to watch the people who have come before you and learn from them (both their successes and their failures).
Here's a brief, mildly curated alphabetic list of people I'd suggest you check out:
Each of these fellows has their own schtick and own style; you may love one and hate another. But that's cool – don't watch the ones you hate. As Sly and the Family Stone said so eloquently, "Different strokes for different folks".
I watch and enjoy all these guys. Sometimes I learn something, sometimes I'm entertained, and sometimes I get a sense of seeing a little more deeply into another human being; that last part is always the most rewarding. I have also learned that Trooper97 has a pretty severe coffee addiction, a point which his fellow vloggers routinely point out. One of the charming things about the whole poker vlogger community is how they support and promote each other. I think they sense that the pie is large enough for all of them, and that the more they support each other, the more the entire genre will thrive and grow. This is not only good karma, it's good business, too.
With all that said, there's one other vlogger who wasn't on that list. That's because Matt Vaughan was with us for the Lucky Chances stop of the Moneymaker PSPC Tour that wrapped up yesterday. So rather than just list him here, I thought I'd let him tell you his story – he talks about what it's like being a poker vlogger ("It's weird, but I'm getting used to it"), the PSPC, the Moneymaker Tour, and (importantly) Rounders. After you're done watching this video, you can enjoy Matt's vlogs on his YouTube channel.
If you decide to go for that Platinum Pass that Andrew and Jeff are giving away, study what others have done and listen carefully to what Matt says in the video above. I wish you a Favorable outcome.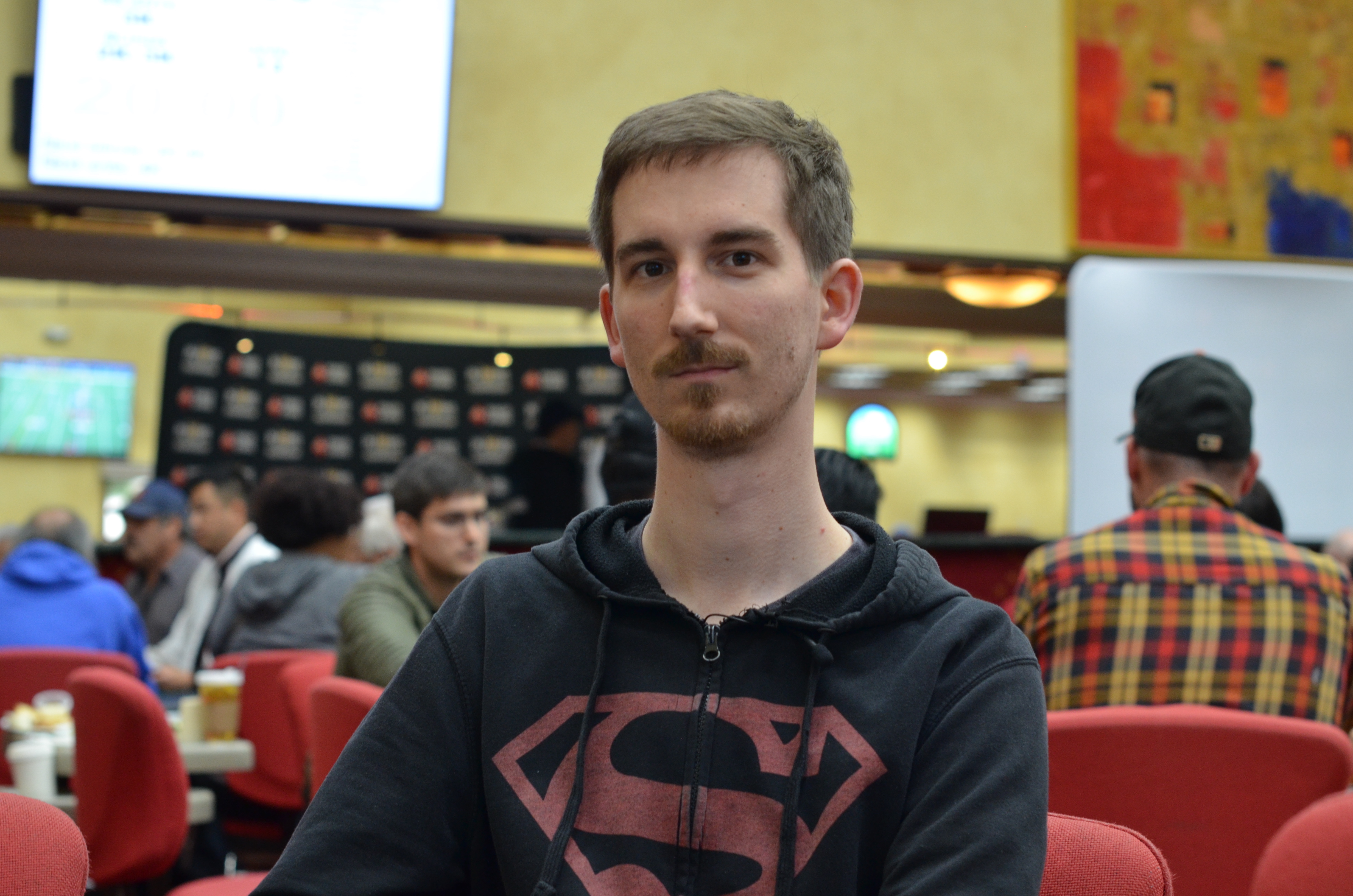 Unusual portrait, in that neither arm is holding up a selfie camera
---
[1] If you're not sure who Jason Somerville is, or what Twitch is, you may want to check out that medium as well. Warning: it might be a while before we see you back here.