For nearly an hour and a half tonight, with six thousand players already eliminated and a deal already struck guaranteeing both of them the most money they'd ever seen at once, two players battled heads-up over $24,000 and the right to be called a Sunday Million champion.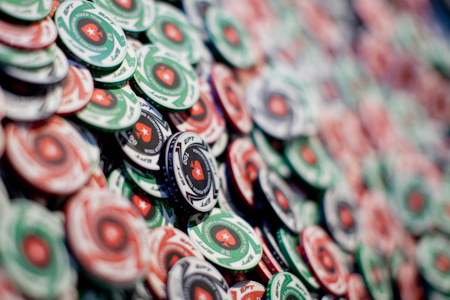 Both players arrived via similar paths. Brazil's dennysramos2 briefly took the chip lead with 50 players before falling further back, entered the final as the short stack, and dodged numerous brushes with tournament death before catching a wave five-handed and riding it to a 2-to-1 chip lead with one opponent left. Romania's joker180785 also briefly held the lead with 50 players left, entered the final in the middle of the pack and survived a few key races on the way to heads-up, and then evened things up with a pair of kings early on to set the stage for an epic battle.
Such a close match could have wound up in victory for either players. In the end joker180785 strung together two wins at the right moment to lay claim to a hard-earned Sunday Million title.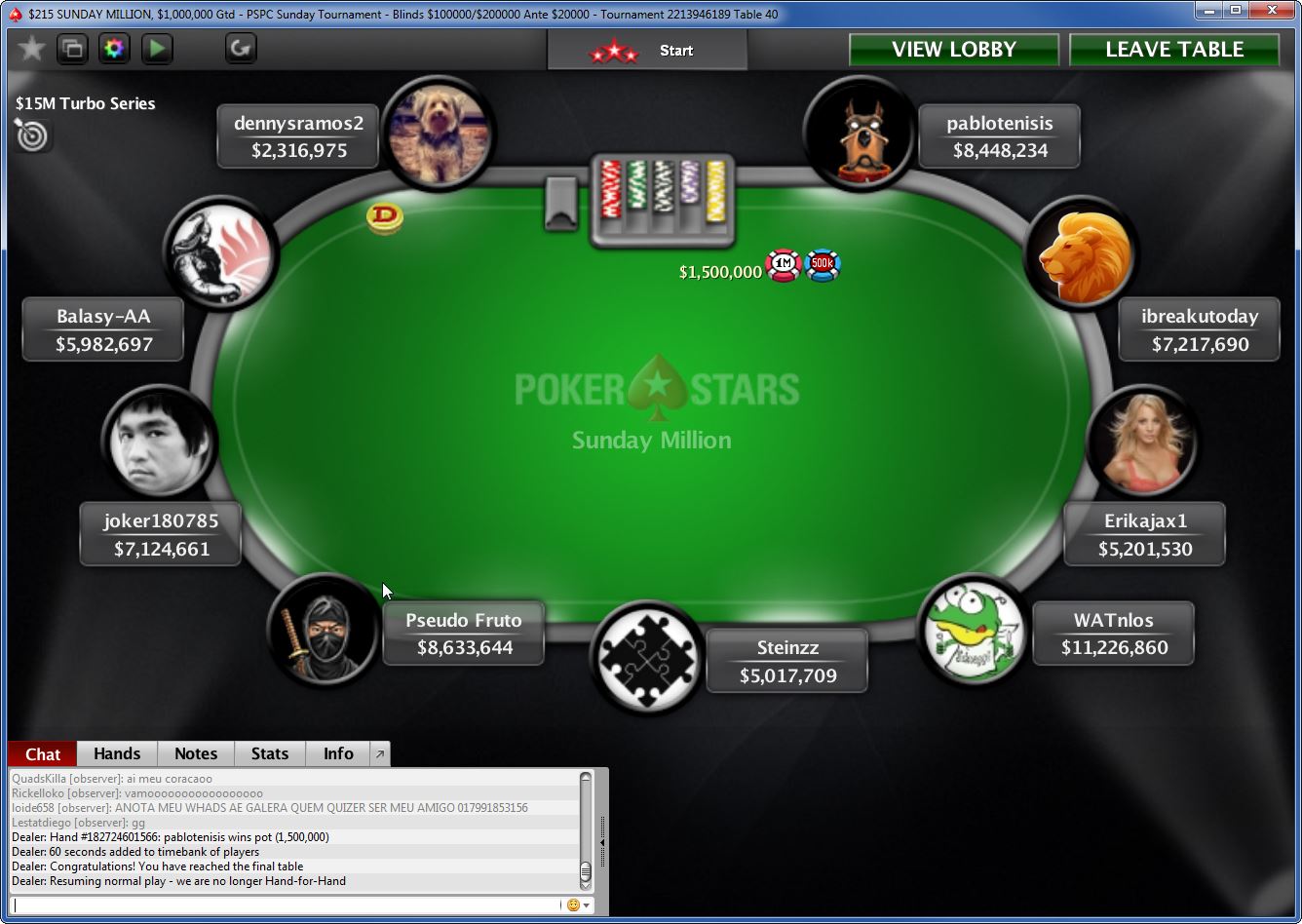 Seat 1: Pablo "pablotenisis" Fernandez (8,448,234 in chips) past WCOOP champ & Sunday Million finalist
Seat 2: ibreakutoday (7,217,690 in chips)
Seat 3: Erikajax1 (5,201,530 in chips) WCOOP 2017 Sunday Warm-Up Special Edition winner
Seat 4: WATnlos (11,226,860 in chips) past Sunday Million & Sunday Warm-Up winner
Seat 5: Steinzz (5,017,709 in chips) $55 Sunday Stack runner-up last week
Seat 6: Pseudo Fruto (8,633,644 in chips)
Seat 7: joker180785 (7,124,661 in chips)
Seat 8: Balasy-AA (5,982,697 in chips)
Seat 9: dennysramos2 (2,316,975 in chips) won the 11-19-17 $215 Sunday Supersonic
dennysramos2's epic final table comeback began just a few hands in with 6♣6♠. The Brazilian opened the action all-in for 10 big blinds on the button, Pablo "pablotenisis" Fernandez called with A♥ 9♠ in the small blind, and the board ran out K♣3♦4♥5♣2♣ to give dennysramos2 the 4.2-million-chip pot.
There was plenty of action to go around over the next 20 hands, leaving the shorter stacks to pick their spots. One of them, Steinzz, looked to pick up the pot quickly by moving in with K♥7♥ from the small blind but ran into Pseudo Fruto's K♣K♠ in the big blind. A longshot gutshot straight draw on the turn was as good as it got for Steinzz, who left in ninth as Pseudo Fruto dragged the 5.8-million-chip pot.
Pseudo Fruto won another big pot a few minutes later that crippled WATnlos, whose previous Sunday Million final table appearance ended in victory last November. WATnlos called with K♥J♥ in the big blind after Pseudo Fruto cleared the field with an under-the-gun min-raise and made second pair on the 3♦Q♠J♠ flop. WATnlos check-called Pseudo Fruto's bets both there and after the 5♣ turn and then both players checked after the A♦ river. Psuedo Fruto showed A♣ 2♠ to win 7.6 million chips and WATnlos became the new short stack with 3.7 million. WATnlos re-raised all-in a few hands later with K♥Q♣. Original raiser Erikajax1 called with A♥Q♠ and flopped a pair of aces to end WATnlos's stay in eighth.
Three hands later dennysramos2, down to 2.4 million chips, was the lone caller after Balasy-AA opened the action all-in from the cutoff for about one big blind less with A♠J♥. The Brazilian's K♠J♠ was dominated and down to just three outs with the board reading 5♣10♦6♣9♣ when the K♦ arrived on the river, keeping dennysramos2 afloat and sinking Balasy-AA in seventh.
dennysramos2 doubled through Pseudo Fruto twice in the next half-hour, first to 9.8 million chips with pocket tens against pocket fives and then to 15.8 million with A♣7♣ against K♥Q♠. That made dennysramos2 the new chip leader.
Meanwhile joker180785 was barely hanging on after moving in for about five big blinds with A♠8♦ and winning unimproved against ibreakutoday, who had called with K♣J♥ in the big blind. Minutes later joker180785 won a race with A♠Q♥, making aces and queens by the river to crack ibreakutoday's 10♣10♥ and leav ethe German player with just four big blinds' worth of chips. joker180785 finished the hat trick three hands later, making a pair of eights with A♦8♣ to beat an unimproved A♠Q♦ and break ibreakutoday in sixth.
That stretch of winning moved joker180785 into second place with 14.7 million chips and set the template for pablotenisis's imminent rise. He min-raised with A♠Q♦, called when Erikajax1 moved in with 8♠8♣, and went runner-runner for a wheel straight to leave Erikajax1 with less than a big blind's worth of chips. Erikajax1 doubled up a few times but eventually lost with A♠K♠ to joker180785's A♣Q♠ to leave in fifth.
"The last four players were separated by less than 15 big blinds. Then dennysramos2 caught a wave and rode it to a heads-up chip lead."
The last four players were separated by less than 15 big blinds, with pablotenisis in the lead and joker180785 trailing the others, when dennysramos2 got aggressive with K♣J♣. The Brazilian moved all-in from the big blind after Pseudo Fruto min-raised on the button only to see Pseudo Fruto call with A♥K♥. Things went from bad to worse for dennysramos2 when the 9♥A♣8♣ flop expanded Pseudo Fruto's lead with a pair of aces. Then the 10♦ and Q♠ came on the turn and river, giving dennysramos2 a Broadway straight and 28.2 million chips as Pseudo Fruto exited the tournament in fourth.
Separated by about five big blinds and both trailing the leader by about 50, joker180785 and pablotenisis clashed just three hands after Pseudo Fruto's departure. joker180785 raised small on the button with J♣J♦ and flopped a set with the same card that gave pablotenisis a pair of jacks with J♥7♣ in the big blind. All the chips went in on the turn with pablotenisis's only hope a gutshot straight draw; that missed and he was left with just a handful of chips. He lost with K♣9♣ to dennysramos2's A♥J♠ on the following hand and finished in third.
The two heads-up finalists struck a deal almost immediately, guaranteeing both players a career-best cash regardless of the outcome. Then they came back and played a dozen hands before both picked up pocket pairs, 6♦ 6♥ on the button for dennysramos2 and K♥K♠ in the big blind for joker180785. The end result was a 31-million-chip pot for joker180785 and the first of eight lead changes to come over the next hour and a half.
It only took dennysramos2 a few minutes to move back ahead by semi-bluffing with 8♠6♠ on the flop and then collecting two streets of value after the sutshot came home on the turn. The Brazilian played from ahead for the next 40 minutes but joker180785 avoided getting all-in without the best of it. Meanwhile the blinds and antes continued to climb ever upward as the match stretched into its second hour.
joker180785 finally picked up some momentum after returning from break at 4 a.m. ET and looked to have the match put away after opening on the button with K♣K♦ and watching dennysramos2 move in with 9♣9♠ in the big blind. Then the 9♦ came on the turn to give dennysramos2 a 2-to-1 chip lead.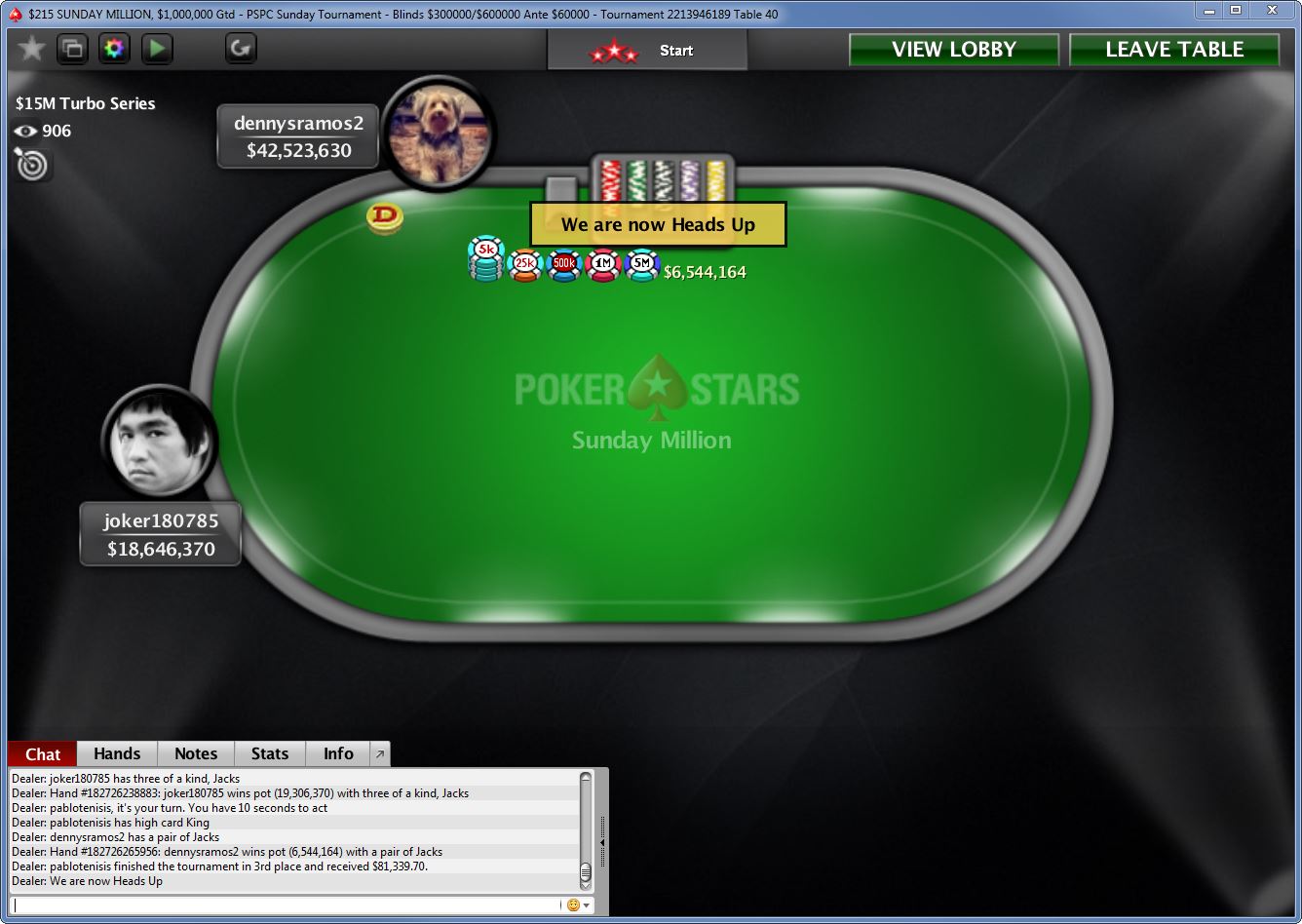 joker180785 and dennysramos2, new inhabitants of six-figure territory
Both players had caught cards at crucial moments over the first hour only to end up right back where they'd begun and with higher blinds to boot. In the end the title hinged on winning two pots in a row and joker180785 was the one to do it.
joker180785 opened the first pot with a min-raise to 2.4 million on the button, holding 10♦5♦. dennysramos2 defended the big blind with 5♣4♥, flopped a straight, and then check-raised all-in after joker180785 bet. joker180785 called with a combination draw that missed the K♥ turn but hit a flush on the 8♦ river to reclaim the lead yet again. Three minutes later joker180785 picked up K♥K♠ again and this time there was no stopping the cowboys. dennysramos2's Q♦9♦ made a pair of nines on the flop but never improved further, leaving the pot – and the title – to joker180785.
It was a fitting end to an epic battle. Both players set a whopping new personal best cash after the deal, joker180785 by about $144,000 and dennysramos2 by $102,000. Congratulations are due to them both, especially to joker180785 for joining the ranks of the Sunday Million champions!
2-18-18 Sunday Million ($215 NL Hold'em) results
Entrants: 6,117 (4,914 entries, 1,203 re-entries)
Total prize pool: $1,223,400
Places paid: 1,106
1. joker180785 (Romania) $148,775.53*
2. dennysramos2 (Brazil) $132,299.42*
3. Pablo "pablotenisis" Fernandez (Mexico) $81,339.70
4. Pseudo Fruto (Brazil) $57,081.64
5. Erikajax1 (Malta) $40,058.15
6. ibreakutoday (Germany) $28,111.52
7. Balasy-AA (Kyrgyzstan) $19,727.81
8. WATnlos (Austria) $13,844.48
9. Steinzz (Brazil) $9,715.63
* – denotes results of a heads-up deal leaving $24,468 for the winner
---
Play for big money next week in the Sunday Million. Click here to open your PokerStars account today.
---