The players who come in with the most chips often leave with the big money. But the deep stacks and slow structure of the Super Tuesday create space for final table drama.
Tonight that three-and-a-half-hour space was filled with big coolers, even bigger pots, and as many chip leaders as there were seats at the table.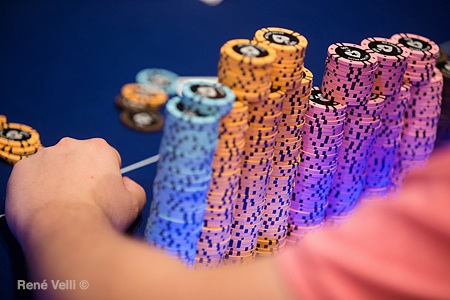 After all the ups and downs, two players from the United Kingdom remained to contest the title: com 157, who finished runner-up in this tournament last September, and la_benjjjjjj, who took eighth place last October. com 157 made a match of it despite starting from behind, but la_benjjjjjj dominated the last ten minutes of play to become this week's Super Tuesday champion.
The final table was preceded by a long bubble, one that didn't go well for the U.K.'s T-Macha. The High Roller Series champ had the lead but spent the next 35 minutes sliding further and further back. That was despite picking up big starting hands with regularity. A loss with K♣K♠ to MrMaximize's A♣K♦ took most of T-Macha's stack. then a second loss with J♠10♠ to Andrey_pok21's A♥Q♥ on the next hand fixed the final table line-up. It was full of regulars and only one player would start the final with fewer than 20 big blinds.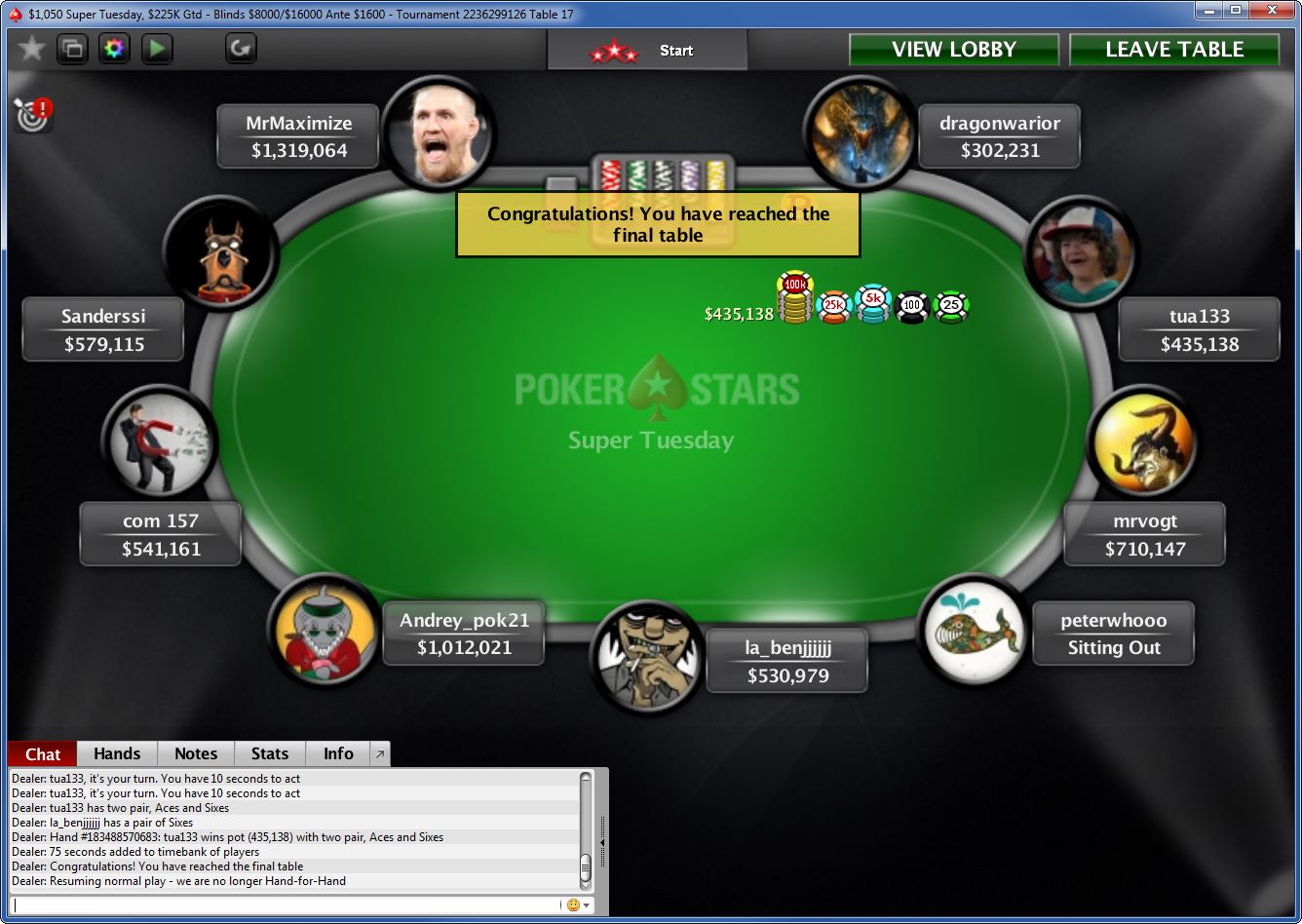 The beginning of a wild ride.
Seat 1: dragonwarior (302,231 in chips) two-time SCOOP champ
Seat 2: tua133 (435,138 in chips) past WCOOP /SCOOP /Turbo Series champ
Seat 3: Rasmus "mrvogt" Vogt (710,147 in chips) took third in January's Winter Series Main Event
Seat 4: Peter "peterwhooo" Corea (895,144 in chips) past Sunday Million & Super Tuesday finalist
Seat 5: la_benjjjjjj (530,979 in chips) past SCOOP & Super Tuesday finalist
Seat 6: Andrey_pok21 (1,012,021 in chips) three-time Super Tuesday finalist
Seat 7: com 157 (541,161 in chips) past Sunday 500 champ & Super Tuesday runner-up
Seat 8: Sanderssi (579,115 in chips) won the High Rollers Series Main Event last December
Seat 9: MrMaximize (1,319,064 in chips) past Sunday 500 champ, took fifth in last weekend's $2,100 Sunday High Roller
The deep stacks combined with the skill level meant the table remained four-handed for nearly 40 minutes without an all-in. The first of those finally came when la_benjjjjjj opened for 45,445 chips with A♥K♦ in middle position and Sanderssi re-raised all-in for 326,660 with A♣Q♥. la_benjjjjjj made top pair on the K♣10♠7♠ and Sanderssi missed the 6♦ turn and 4♠ river to leave the tournament in ninth.
After the break dragonwarior tried to pick off the blinds and antes from the cut-off seat with K♣10♠. Peter "peterwhooo" Corea called with A♠Q♦, the board ran out 5♠3♦4♥9♥9♣. dragonwarior was out in eighth.
The big pots followed for the next 25 minutes didn't knock anybody out. But they did shift the names around on the leader board.
peterwhooo played K♥J♥ out of the blind against tua133's button raise, made top pair on the flop, and then called on two streets before checking down the river and winning 721,700 chips with jacks and sixes. That put peterwhooo in the lead with 1.3 million, until la_benjjjjjj strung two even bigger wins together.
la_benjjjjjj earned the first pot, worth 677,340 chips, after limping from the small blind with Q♦9♠ and going to into attack mode with top pair on the flop. Andrey_pok21 called the flop and turn before checking down the river and mucking.
The second pot was even bigger and started with a peterwhooo raise to 63,000 chips in the cut-off. la_benjjjjjj called on the button and the flop came 3♦6♦J♠. peterwhooo checked to bait la_benjjjjjj and then raised to 190,100. la_benjjjjjj called, and both players checked the 4♠ turn to bring the 7♦ on the river. peterwhooo stabbed at the pot for 183,104 but folded to an all-in bet, giving la_benjjjjjj the 938,408-chip pot and the lead with 1.65 million.
peterwhooo, mrvogt, and la_benjjjjjj were all about to experience big ups and downs without losing their seats at the table.
Then came one of the more unusual sequences to play out at a Super Tuesday final in recent months.
peterwhooo opened with J♦J♠ for a small raise under the gun before Andrey_pok21 moved in for six big blinds. Rasmus "mrvogt" Vogt then re-re-raised all-in for 798,975. Both had pocket aces.
peterwhooo made the call with 86,777 chips behind and lost out to both pairs of rockets when nobody improved on the 6♠9♥10♥Q♥3♣ board. Andrey_pok21 got half of the main pot for 334,114 and mrvogt got the 1.5-million-chip side pot to move in to second place. Andrey_pok21 was dealt A♠Q♦ in early position on the next hand and moved all-in. But mrvogt had once again found A♦A♥ in the hole. A flopped pair of queens wasn't enough and Andrey_pok21's day ended in seventh.
peterwhooo survived a flip on the next hand with K♦10♦ against MrMaximize's pocket deuces. Then he spiked an ace on the river on the next orbit to crack la_benjjjjjj's pocket queens. Between those wins, and jacks full of aces with A♠J♣ on the following orbit, peterwhooo managed to borrow some time.
mrvogt's and la_benjjjjjj's paths from there were just as up-and-down as peterwhooo's.
First mrvogt Q♦Q♣ ran up against com 157's K♦K♣ in a 2.1-million-chip pot, dropping his stack to 931,228. Then he rivered a straight heads-up against peterwhooo's previously mentioned full house, and fell to 460,220, the shortest stack at the table. He doubled through la_benjjjjjj by rivering a flush with A♠10♠, beating la_benjjjjjj's pair of kings with A♥K♦. Then re-raised la_benjjjjjj all-in with K♥Q♥, losing out to A♠K♠ when la_benjjjjjj turned a pair of aces.
Five minutes after that la_benjjjjjj opened with A♣Q♥ in the cut-off and called when MrMaximize jammed for 649,664 chips with pocket fives. Another turned pair of aces gave la_benjjjjjj the pot and took MrMaximize out in sixth. Backing into a flush four minutes later earned another 1.3-million-chip from com 157, who surrendered the chip lead back to la_benjjjjjj.
peterwhooo's borrowed time finally expired when he picked up A♠Q♣ on the button and moved all-in before the flop. com 157 called with A♥K♣ in the big blind and won unimproved to end peterwhooo's night in fifth. tua1333 got the same treatment, opening all-in for 15 big blinds with A♦5♥ four hands later. mrvogt called with A♣J♥ on the button and made queens and jacks on the flop to bust tua133 in fourth.
mrvogt's momentum grew a few hands into four-handed play after opening with 4♣4♥ on the button, calling la_benjjjjjj's re-raise from the small blind, and flopping bottom set. la_benjjjjjj check-called bets on the flop and turn before betting about five big blinds on the river of the 4♦Q♦J♠7♠10♣ board. mrvogt just called and took the 2.9-million-chip pot when la_benjjjjjj showed down J♣10♥ for jacks and tens.
mrvogt had twice as many chips as com 157 and la_benjjjjjj combined at this point. But a heads-up berth would elude him. The next six pots each went to one of his opponents, the last of those at his expense.
la_benjjjjjj opened that pot with a min-raise to 140,000 chips and 5♥2♥ in the hole. mrvogt came along with A♣10♦ in the big blind and had the misfortune to make top pair on the A♥K♥J♥ flop. la_benjjjjjj called his small bets there and after the Q♣ turn before raising all-in following the 4♦ river. The aces were no good and mrvogt's tournament was over in third.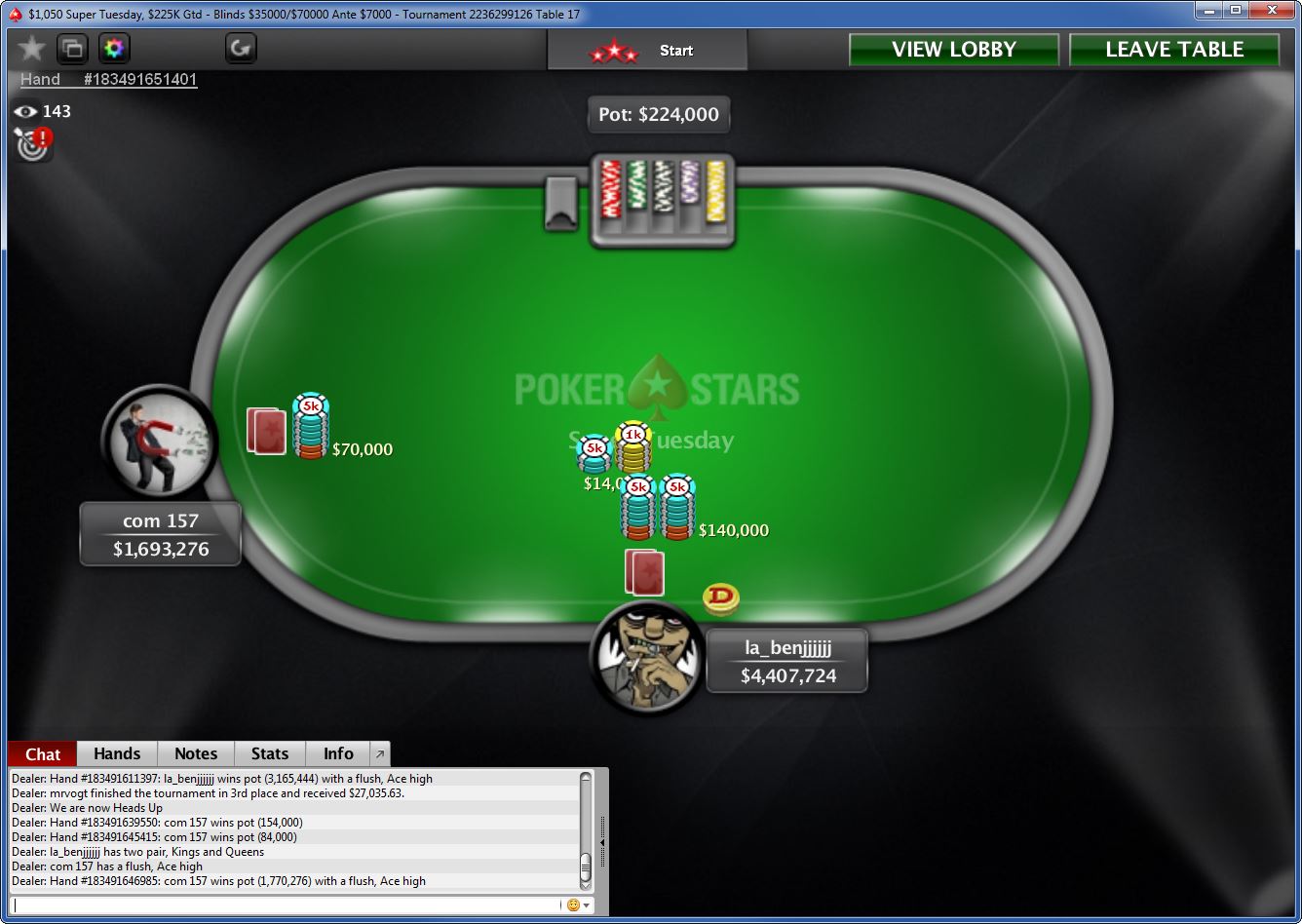 It was com 157's second shot at a Super Tuesday heads-up comeback.
Knocking out mrvogt left com 157 with a stack worth just 11 big blinds. But being heads-up for a Super Tuesday title for the second time in a year brought out the best in the British player. An early double after rivering a flush with A♦4♦ was a good start. Then a check-raise-turned-four-bet on the 4♣6♣Q♣ flop of the next hand won the 1.3-million-chip pot then and there.
From there the two players traded big pots back and forth for ten minutes. Then la_benjjjjjj re-raised all-in with pocket fives and flopped quads to beat com 157's A♠10♠ for 3.5 million chips. An uncontested bet on the turn of the next hand was good for another 2-million-chip pot and that proved to be the foundation la_benjjjjjj would use to build a victory.
After 20 minutes com 157 still had 1.9 million chips and raised with A♥5♦ on the button, then shoved when la_benjjjjjj re-raised in the big blind. la_benjjjjjj called with 10♥10♦ and won unimproved when the board ran out 9♦8♥6♠J♣3♠, earning this week's Super Tuesday title.
Congratulations to la_benjjjjjj on a dramatic win, and to com 157 for navigating through another tough field to reach heads-up play once again!
3/6/18 Super Tuesday ($1,050 NL Hold'em) results
Entrants: 253
Prize pool: $253,000
Places paid: 35
1. la_benjjjjjj (United Kingdom) $48,663.62
2. com 157 (United Kingdom) $36,271.87
3. mrvogt (Denmark) $27,035.63
4. tua133 (United Kingdom) $20,151.29
5. peterwhooo (Brazil) $15,019.97
6. MrMaximize (Canada) $11,195.30
7. Andrey_pok21 (Romania) $8,344.54
8. dragonwarior (Germany) $6,219.70
9. Sanderssi (Finland) $4,635.92
---
Get in on the action in next week's Super Tuesday. Click here to open your PokerStars account today.
---