While I was at Stones Gambling Hall for the Moneymaker PSPC Tour, I got to visit with some people who don't necessarily fit into the classic poker demographic. They're not young, they're not particularly hip. But don't tell any of them that you love poker more than they do. It was a glorious reminder to me that the game is alive and well in hearts and minds across the spectrum.
First, I bring you Judy Lee, who drove… well, I'll let her tell you her story. But pay close attention to her pantomiming her introduction to the world of poker. After the interview, we talked about grandchildren, because that's what people our age do; we talk about grandchildren, and poker.
Next up, Marie McMahon. I first met her while she was sitting along the wall with her fellow alternates. "I'm #99" she said, with a smile that said she knew she'd get in. She did (and she cashed). Marie is a high school counselor in a nearby town. In a perfect world, she'd be able to talk to her students about the awesome life lessons that come from poker. She could teach them about playing the button, while subliminally sneaking the concept of informational advantage into their brains. But this is not the world in which we live, yet. Anyway, high school counseling certainly has its share of stress; this is how one person escapes from it:
Finally, batting third, Perry. I won't try to spell his last name because I'll get it horribly wrong, but he introduced himself by his PokerStars screen name (no, they don't miss us out there in California), which is "1001". I wish I had decent video of our interview, but I don't (mea culpa). "I met Chris at the [WSOP] main event the year he beat Sammy Farha. I met him on the second or third day… he was just an average joe like you or me, and the next thing I know, he was at the final table."
This cat knew Chris Moneymaker before he was Chris Moneymaker. Please continue, sir…
"It was a great experience to root for the underdog and watch him take it down… it inspired all the guys that are out there, like myself, that are amateurs and just want to have a good time and enjoy the game."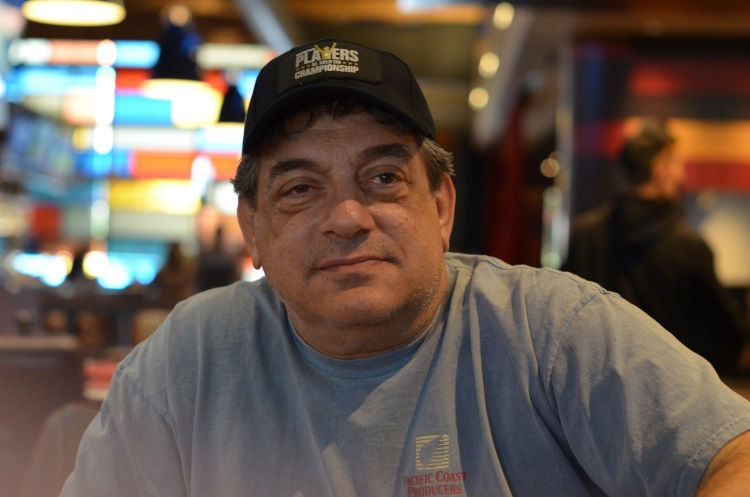 This is the face of poker
The picture here, you just see his face. But below one of his knees is a prosthetic leg and foot. Perry moves around a little bit slowly, but he made his way down to Stones to be part of this amazing party. And his eyes shone with passion as he recalled watching Chris win 15 years ago.
These are the people and faces of poker; just looking at them and hearing their stories makes me smile.
---
P.S. A special thanks to Joe Stapleton for bringing Judy and Perry to me. Without Joe, we'd have not heard their stories, and would be poorer for it.