Imagine yourself walking around, late for a tournament you're supposed to be playing, having no idea whatsoever that your plans for 2019 had just changed dramatically. Imagine walking into a room full of people who know you won a 2019 PSPC seat when you don't even know where your seat for Day 2 of your current tournament is. Imagine being immediately surrounded by cameras, people with mobile phones, and people congratulating you.
That's how Miguel Montoya started his day. He could have been forgiven for thinking everyone was just exceptionally excited about his birthday, for that's what today is. The merchant from Chile turned 34, but today's party had nothing to do with birthday celebrations.
"It has been crazy. I was late because we asked for a taxi and it did not arrive. When I arrived I asked for my table and someone asked me to wait a moment, that something was happening," Montoya said.
Montoya is a Chilean man in Monaco, one who is playing the EPT Monte Carlo National this week, and one who will be playing the PokerStars Players No-Limit Hold'em Championship in January. That's his Platinum Pass in his hand, one he picked up before finally sitting down to play today.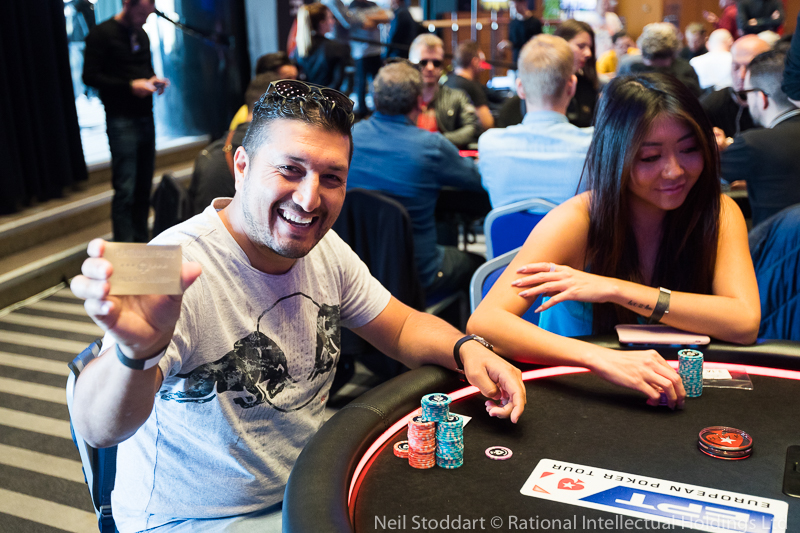 No doubt, this confusion contained some language barriers along the way. There is a lot that can get lost in translation. For instance, when somebody for whom English is a second lanaguage tried to relay this story to an English speaker, there was a misunderstanding, one that sounded a lot like, "He was bitten by a goat." That would have been an amazing story, all things considered, but in truth, this story about a finalist for a Platinum Pass ended like this: He was beaten by a ghost.
Montoya is that ghost, a spirit that will be playing for millions in January.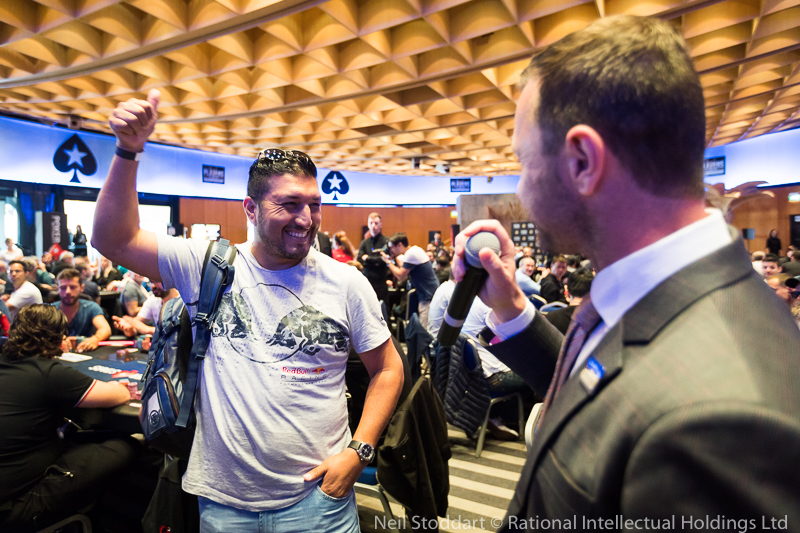 Thumbs up. You're no longer a ghost (or a goat) and you're going to PSPC
This probably requires some explanation.
Today at the European Poker Tour stop in Monte Carlo, there was a field-wide flip out tournament among the Day 2 players. Each of the Day 2 starting tables flipped. Over at table ten, right next to Maria Ho, there was an empty seat…one that belonged to Montoya, and one that managed to win his first flip. All of the table's winning players consolidated to three tables for another flip. Montoya's empty seat managed to win again. Three handed, his empty seat was up against two other living, breathing human beings. Having no better than a pair of fours, Montoya won again. Happy birthday, buddy.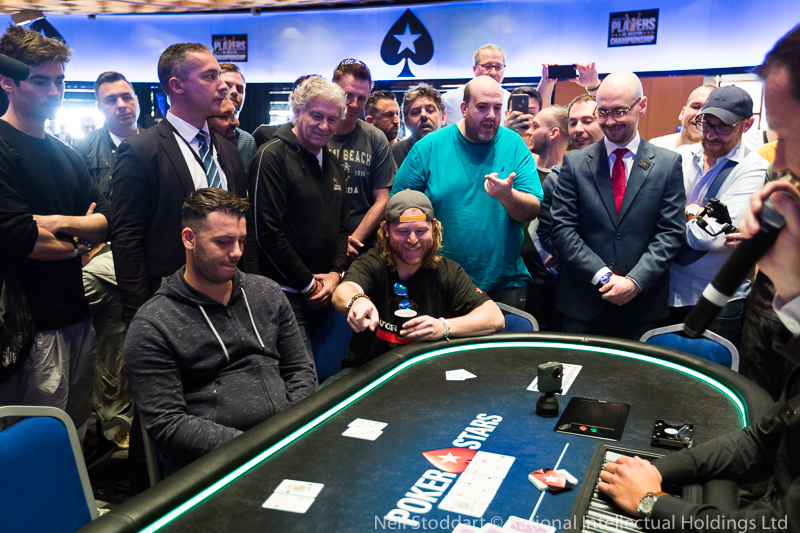 Montoya's earthly opponents recognize their fate
Thing was, he wan't there to know it. He walked around in not-as-blissful ignorance for the next half an hour or so. It was not until he walked in and looked around for his tournament seat that Toby Stone pulled him aside and said, in essence, "There's something you should know."
Here's that moment of realization, one affirmed by Montoya's friend with a big hug.
What you hear him saying there is, "Are you serious? Are you serious? Everybody was celebrating and I didn't even know what it was about!"
"It was my friend who explained to me that I had won the Platinum Pass. I do not speak English very well, so I was not understanding too much about the situation," Montoya said. "When my friend Gustavo told me I had won a package to go to the Bahamas valued at $30,000, I could not believe it. We hugged each other with joy. There I began to understand what was happening."
Five years ago, Montoya had an accident that left him bedridden for a while. A friend taught him how to play poker. After that, he opened a PokerStars account.
"From there I started to play and learn," he said.
Since then, the man from Santiago has made some final tables in small events and gone deep in some LAPTS, but he never had any big trophies to take home.
"This is the most remarkable thing that has happened," he said.
He and a friend were traveling around Europe and seeing the sights. They figured they'd stop off in Monte Carlo and play some side events. No matter how well he does in those, he's already paid for his next big vacation…this one to the Bahamas.
"My wife is in Chile, so here I will celebrate calmly, without getting too mad," Montoya said. "I'm super happy."
So, Miguel Montoya is neither a goat nor a ghost. He was late to his own party, but it wasn't his fault. And even if it was, it's his birthday, so–as our Platinum Pass player liaison Garry Gates said–we'll give him a Pass on this one.
"This is the best gift I could receive," Montoya said.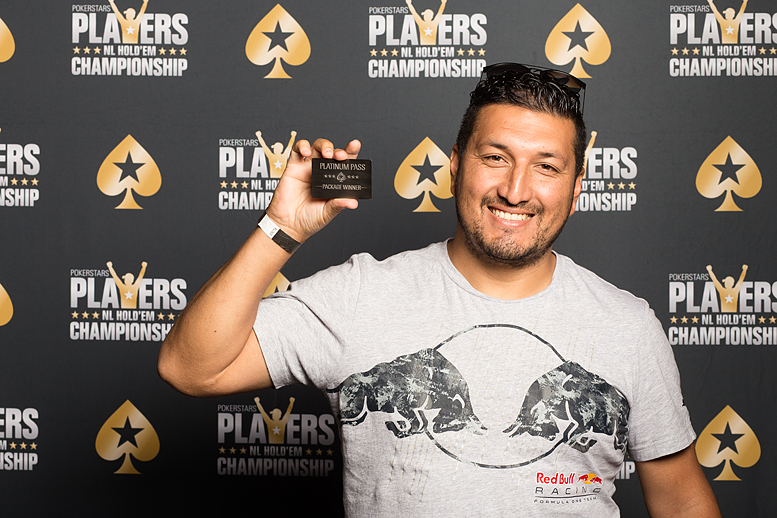 ---
Miguel Montoya is one of more than 300 Platinum Pass winners who will be going to the PokerStars Players No-Limit Hold'em Championship. Want to see more? Meet them all on in our PSPC Platinum Pass Winners index.