Art Van Loon goes back a ways with 2003 World Series of Poker champion Chris Moneymaker. The Chief Gaming Officer for Elevation Entertainment met during the push to get online poker legalized in California, and since then they've been buddies..the kind of buddies who might just go that extra mile in a prank war.
So, it hasn't been too long ago that Van Loon zeroed in on Moneymaker.
"I always joke around with him that Daniel Negreanu is my favorite player, that Daniel is God, and I think Daniel is so awesome," Van Loon revealed. It was the perfect bait.
Van Loon created a fake texting account with Negreanu's name on it and spent a week having a conversation with the fake Negreanu about everything from his charity work to his movie appearances. It was friendly, engaged, and looked like two old friends shooting the bull. With the foundation laid, Van Loon asked Fake Negreanu for a favor.
Could Fake Negreanu get his other friend Chris Moneymaker a spot in a Hollywood movie?
By and by, Van Loon and Moneymaker ended up together at a mutual friend's house, and Van Loon sprung his trap. He just happened to let Moneymaker get a look at that conversation on his phone. And it turned out..well, Fake Negreanu's opinion of a Hollywood Moneymaker was not particularly great.
"Chris doesn't have any screen presence," read the Negreanu reply on Van Loon's screen.
Van Loon's recollection of Moneymaker's response: "What the HELL? I can't believe Daniel is saying that!" He might not have been totally apoplectic, but Moneymaker was vexed and was ready to take to Twitter defend his acting chops to Kid Poker.
Van Loon let it go on for a few minutes before finally letting Moneymaker off the hook and getting a laugh from everyone around.
Moneymaker vowed revenge.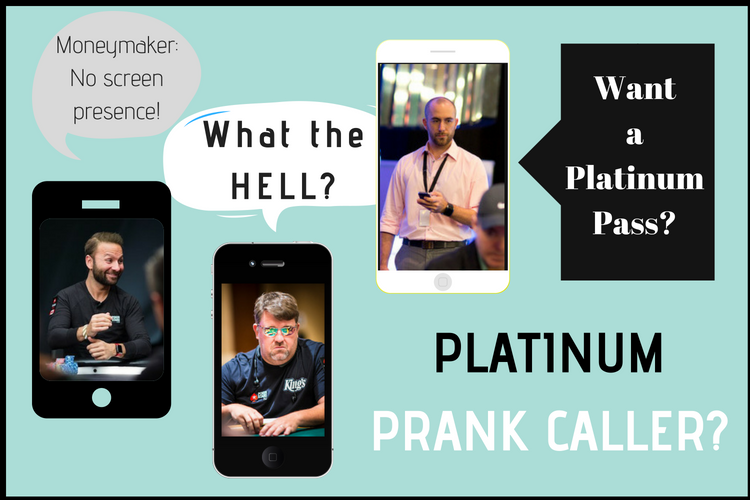 Prank caller! Prank caller!
Van Loon, who oversees Stones Gambling Hall in Sacramento, CA, took the call from someone claiming to be PokerStars' Garry Gates and claiming Stones Gambling Hall could be the first stop of the so-called Moneymaker Tour, an event that would let players win a $30,000 package (aka Platinum Pass) to the PokerStars Players No-Limit Hold'em Championship, an event likely to be the biggest $25,000 tournament in poker history.
"My first thought was: is this a prank call? It sounds too good to be true. Honest to God," Van Loon said. "My casino manager is looking at me and saying, 'This isn't right. This can't be right.' So that was our first reaction."
But it wasn't a prank. It wasn't Moneymaker's grand revenge plan.
It was just the best deal American card rooms had been offered in a while. A free $30,000 Platinum Pass, Chris Moneymaker glad-handing the players, and a raucous good time to boot. Van Loon jumped on the opportunity, so the next big reaction came from his players.
Controlled Chaos
"People were asking, 'When's the soonest I can sign up?' Everybody jumped on board," Van Loon said. "I always look at it like, any way to shake the trees and get more people that want to be involved in poker. I've been in poker for 31 years, and what really did that was the Moneymaker Effect back in 2003. I'm looking at this as, in a sense, trying to relive that."
And it seems to be working.
"We saw players we've never seen before. People that came in that weren't poker pros. They were just people who were like 'Hey, I want to walk that road.' It was just tremendous." Van Loon said.
Van Loon went to work. He brought in extra staff. He opened up more tables. He knew he was about to introduce poker to some folks, and he promised himself his operation would be on point. It was a good thing he did. More than 800 entries filed in for a day that saw Chris Moneymaker, Jason Somerville, and (the real) Daniel Negreanu visit the card room.
Players flew in from other states (including Alaska…). They packed Stones Gambling Hall. They all saw local hero Cliff Ellefson win the Platinum Pass.
"It's like a dream," he said afterward. "You could really feel the vibe, like people lined up around the walls to try to sit down."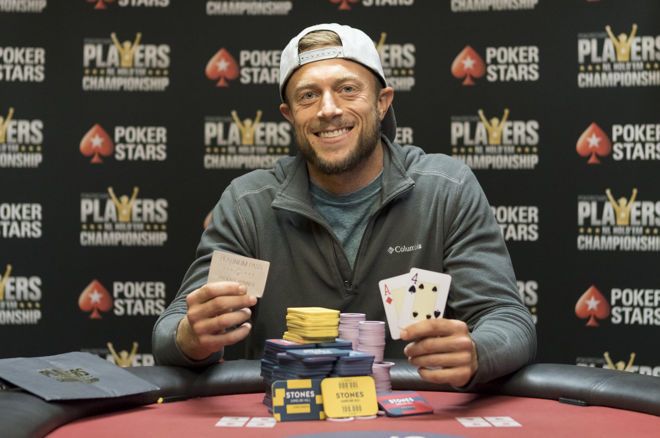 Bahamas: Just a Stones (Gambling Hall) throw away
It's a long way from Sacramento to Paradise Island, so you'd expect Van Loon and his band of compatriots in Sacramento would be loading up PokerStars Live and the PokerStars Blog for coverage of their man as he competes in the PSPC. Van Loon has other plans.
Van Loon said his tournament director worked so hard and did such a good job that he deserves a vacation.
"He was a machine," Van Loon said. "Hopefully we're going to be rooting from up close."
So, it very well may be that the Stones crew will be flying south to the Bahamas. They want to make sure their player feels the love. And, they want to see the PSPC in action.
"This thing is a winner," Van Loon said.
If Van Loon makes it to the Bahamas alongside his Moneymaker Tour winner, we'll be watching him and Moneymaker to see what they bring to their prank war. Because while the Negreanu movie review was a joke, the Moneymaker Tour and PSPC most certainly are not. And Moneymaker is still due some revenge.