When you show up for the Moneymaker PSPC Tour, you have some expectations. You get to play for a seat in the $25,000 PokerStars Players No-Limit Hold'em Championship for free in the Bahamas (a trip you also get for free). You get to do it for only $86 (the price Moneymaker paid to win his seat to the 2003 World Series of Poker). You get to have some fun. (Cool.)
Here are some things you might not expect.
1) The total entries for the one-day event adding up to 1,300. Yes, 1,300. So, that happened.
2) Having your aces-full of jacks lose. Yes, quad jacks and, yes that happened to some poor dude this afternoon.
3) Hearing a dude scream every curse word in the book, throw something into a window, and then smile and remark on what a good tournament it is.
And then this.
That guy's face looks familiar, you think. Harvard hoodie? Maybe he is a some TV-famous attorney or rich guy.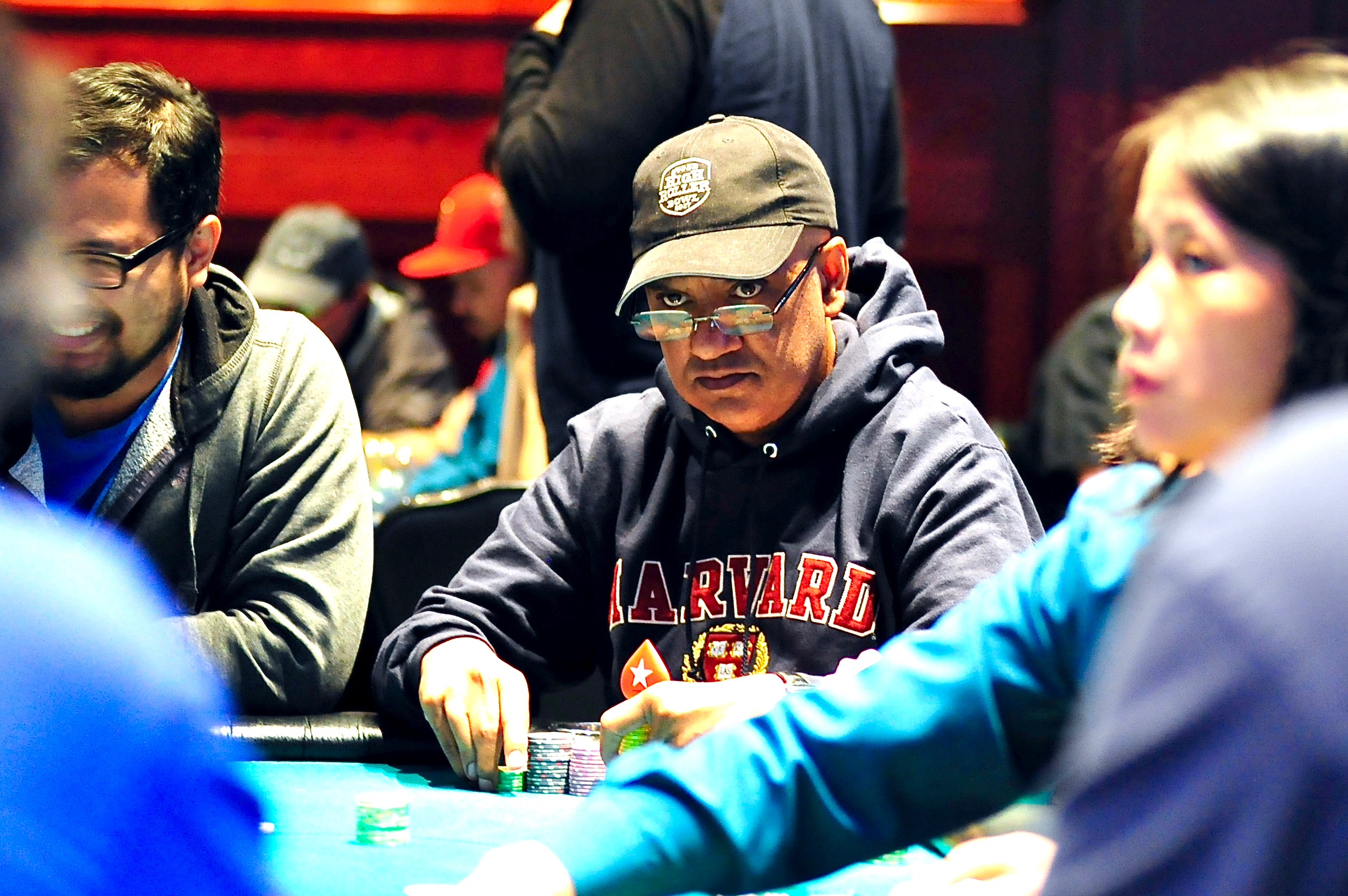 Harvard? Very nice
But what's that on his hat? That looks familiar, too.
You may strain your eyes to see if you can make out the logo, but while you're doing so, you might find yourself thinking, "Why is this guy taking off his hoodie. What could he possibly be hoping to reveal? I hope it's not obscene. This is a casino, but it's still a family establishment. Sir, please!"
And then you discover, it is obscene. Just not in the way you think. Instead, the kind of obscene you'd associate with PokerStars Live guy, Joe Stapleton.
Yeah, a Chop Pot shirt.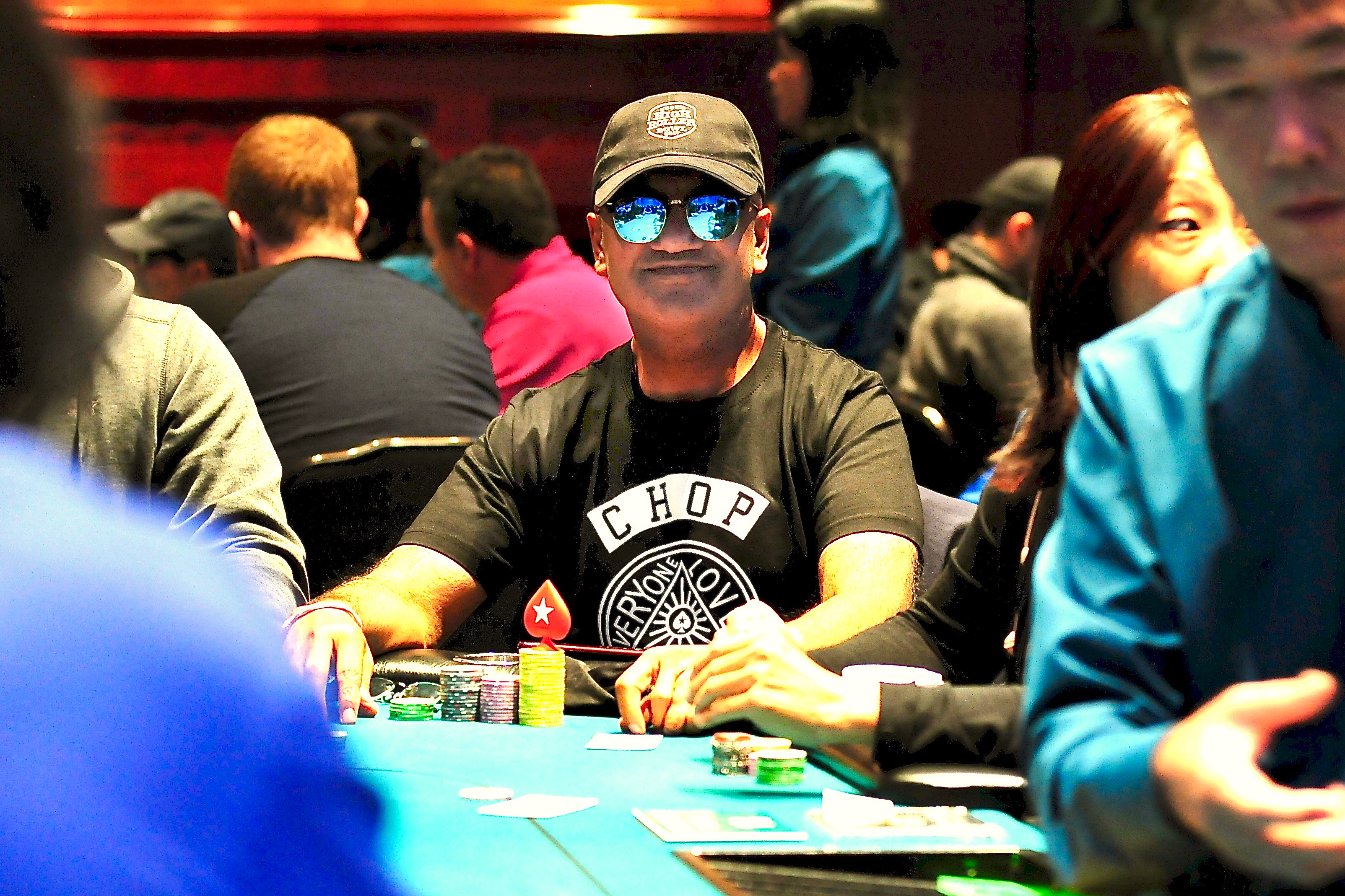 Sir, just what are you wearing?
So, yes, this will stand out in an American crowd at Foxwoods. So will the guy's accent.
If you're from the English poker scene, you probably know Asif Warris, the man who calls himself the Poker Tourist. You might not expect that the man completely re-worked his trip to America so he could play this Moneymaker Tour event at Foxwoods. You might not also expect that he had guaranteed himself (at the very least) a chance to be on the rail at the PSPC.
See, his friend Mohamed Ould Tidjani won a Platinum Pass at the Hippodrome earlier this year, and Warris said Tidjani said he would bring Warris along. Why? Because Warris says he convinced Tidjani to actually play hard for the pass.
"He said, 'I've got money. I'm not bothered.'" Warris explained. "I told him this is bigger than the money. You're never going to play a $25,000 tournament!"
But then Warris started thinking he'd want one of his own. And so here he is. In Connecticut. An Englishman in King Moneymaker's Court.
In a freaking Chop Pot shirt.
I'd say I'd seen everything, but Moneymaker actually has a stack in this thing with 200 players remaining. So, there's still a chance I could end up seeing something I've never seen.
Ahem.