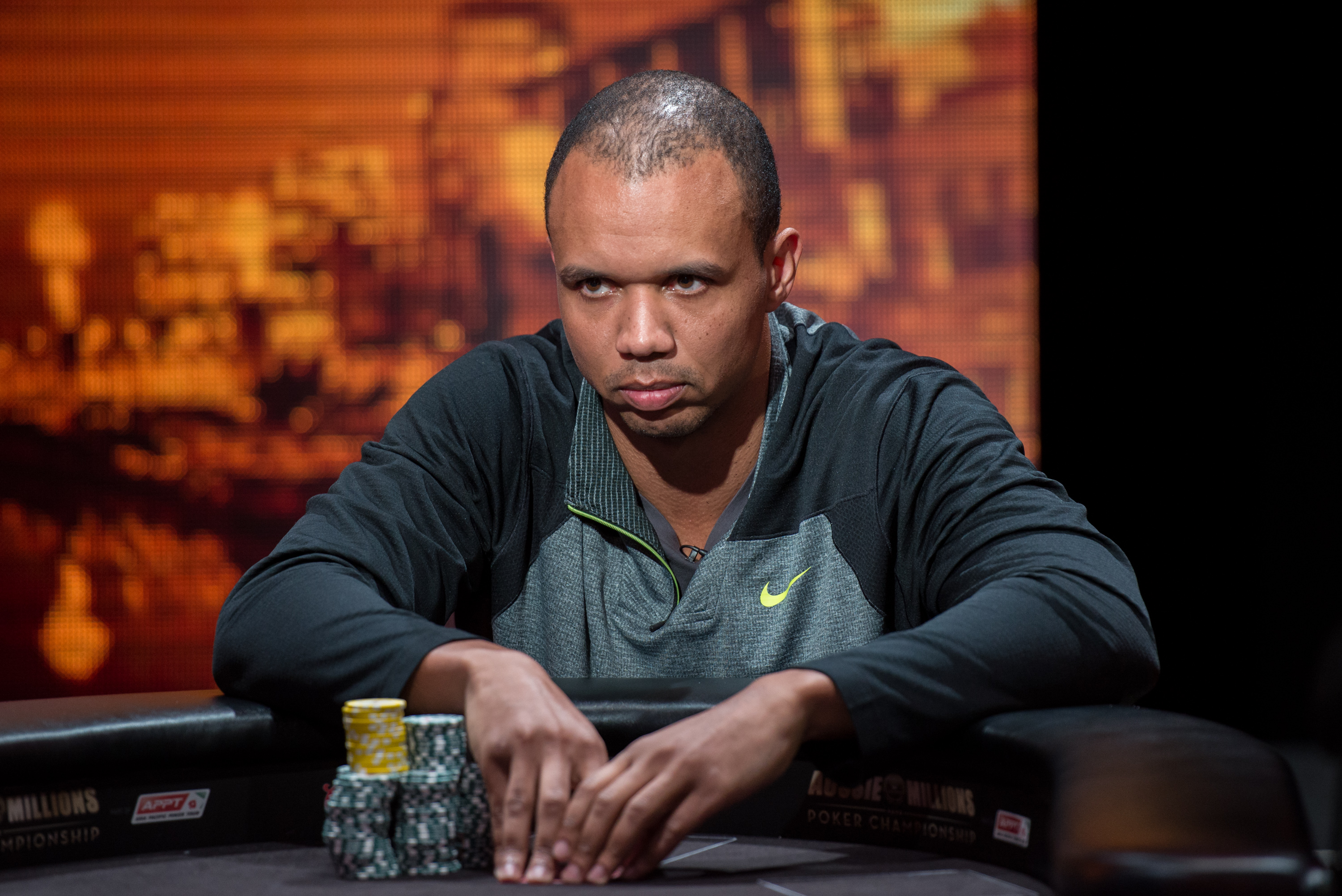 Are you ready for the return of the record-breaking, trailblazing APPT? Get yourself in the mood by looking back at the ten greatest moments in APPT history
After a year off, the Asia Pacific Poker Tour (APPT) is back in 2018 and ready to create even more winning moments across the region. Launched in August 2007, the very first APPT event was held in Manila, where 255 players stumped up the $2,500 buy-in. Brett Praise from the United States took the $179,775 first prize in his first ever recorded live cash. Since then, across ten seasons, it's broken poker records, given top pros their biggest scores and introduced the game to huge new markets. Ahead of its return on February 4 in Macau, we countdown the top ten APPT moments of all time.
10. Chen at the double
James Chen might be predominantly a cash game player but he proved he's no slouch in the tournament arena either, winning the HK$80k High Roller event at the Macau Poker Cup two years running. He scooped $219,850 in September 2015 before returning in 2016 to do it again, this time for $293,044. After netting his career best win of $625,909 at the 2017 Aussie Millions, he went for a hat-trick at the Macau Poker Cup 27, but was eventually eliminated in 11th.
9. Hachem's first time
Joe Hachem made his name at the 2005 WSOP Main Event, where he used all his one-times to scoop the $7.5m first prize. Incredibly, that was the first live tournament he'd won and, despite a long string of cashes in Melbourne, he had to wait until the 2007 APPT Tournament of Champions to get his hands on a trophy on home soil. He beat fellow PokerStars pro Greg Raymer heads-up, winning $50,000 for his charity, the Shane Warne Foundation.
8. O'Dwyer's biggest score
Steve O'Dwyer is still beasting the high-roller circuit and won the $50k event at the 2018 PCA for $769,500, taking his live earnings to over $21m. His first seven-figure score came in 2013 when he won the EPT 9 Grand Final for $1,604,972, and he bettered that the next year at the 2014 Asia Championship of Poker. He finished seventh in the HK$15,000 PLO event for a modest cash of $8,005 as a warm-up, before crushing the HK$500,000 Super High Roller. He finished on top of a stellar field that included Davidi Kitai (8th), Daniel Colman (7th), Joseph Cheong (5th), Conor Drinan (4th) and Pratyush Buddiga (3rd), and beat Ryan Fee heads-up for the HK$14,050,000 first prize – worth approximately $1.8m.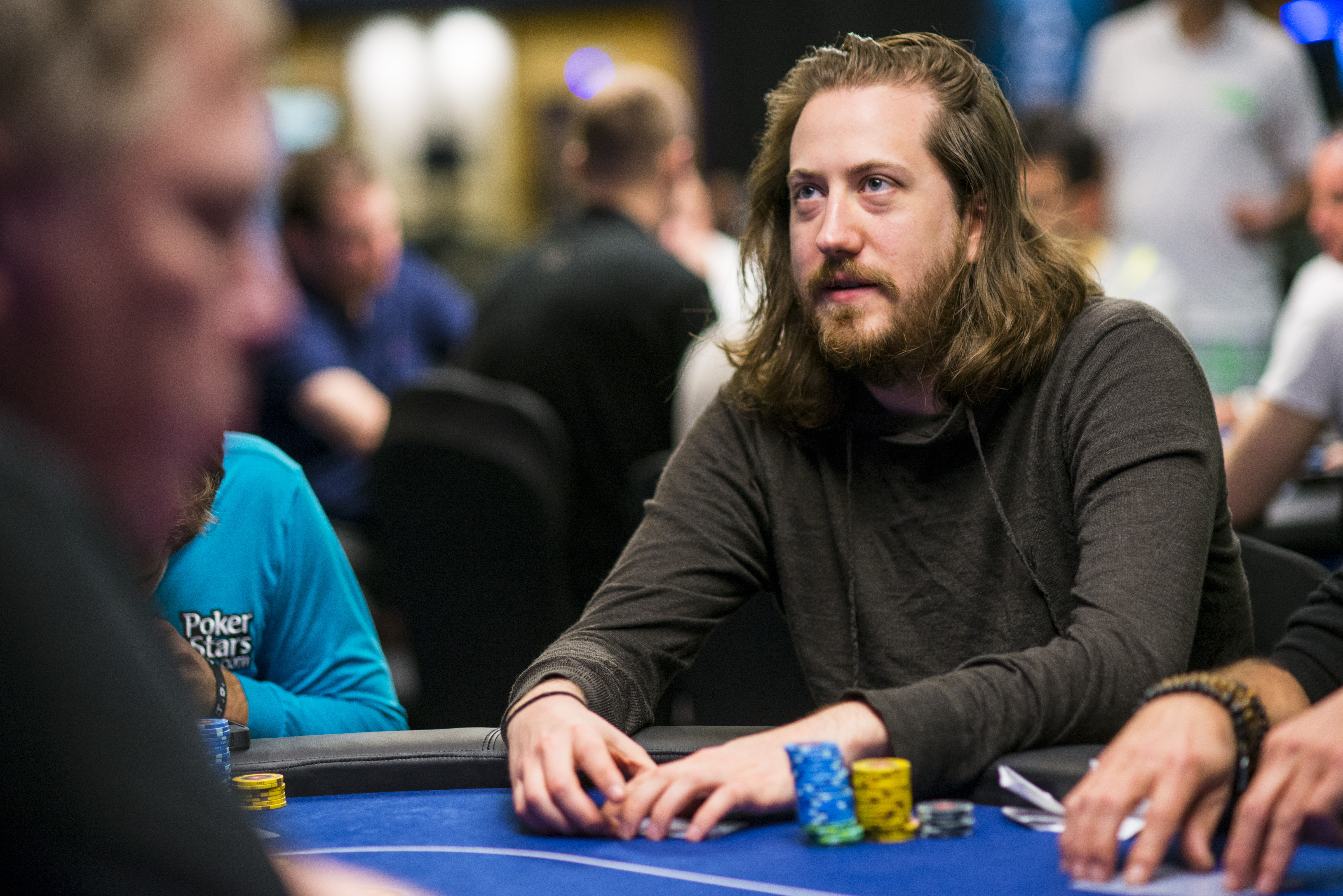 Steve O'Dwyer had his first million dollar score in 2013, and he hasn't stopped since
7. ElkY shows his joker face
Former PokerStars pro Bertrand 'ElkY' Grospellier finished fifth in the 2007 APPT Main Event and returned for another shot in 2008 in full Joker attire (the Batman villain, not the extra playing card). This wasn't some quickly knocked-up fancy dress though, it was a pretty incredible and creepy look that was fashioned by a professional make-up artist. It turned out that his Joker-look wasn't the result of a prop bet gone wrong for the French superstar, but a thirst for fun. Talking at the event he said, "I really love the movie and we thought it would bring a lot of fun to the table and the game." Asked if he was intimidating any of his fellow players he replied, "I can't intimidate anyone with my chip stack for now so I hope I can do it with my outfit." He didn't cash.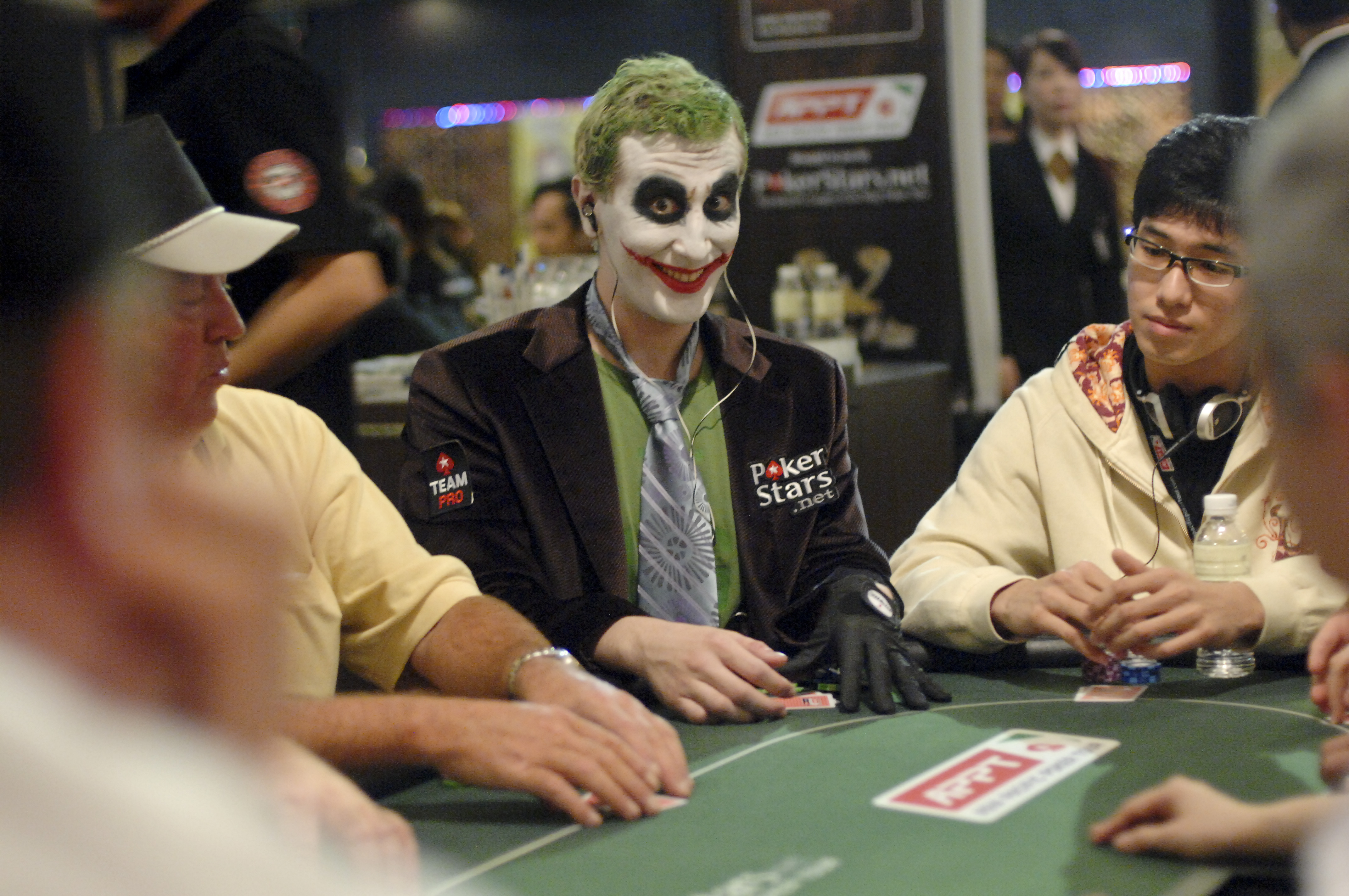 Put the women and children to bed!
6. Instant poker karma
We've got some advice for you. If you're going to slow roll someone, don't do it to someone really popular on a live stream in a huge televised event. The Aussie Millions came under the APPT banner for three years from 2014, and the 2016 Main Event was streamed live on Twitch with commentary from Jason Somerville. There were 15 players left when, after a raise from UTG, Mikel Habb threw raising chips in before claiming he had only meant to call. The raise stood but when Somerville saw he had Kings he realised he was pulling an angle. "Oh man that's kind of a little dirty angle there I think," Somerville groaned. Sam Abernathy moved all-in with Sixes and when it folded round to Habb he took an age to call, pretending he had a tough decision, before standing up, kissing his fingers and posing with a victory sign. It was an incredible display but the poker gods were on hand to mete out instant justice, with a Six on the river sending Habb to the rail.
5. Poker's Double Crown
Vladimir Geshkenbein's first recorded live cash was on the APPT and it was a big one. He won the HK$88,800 NLHE High Roller in Macau back in 2009, beating Johnny Chan into second place and scooping HK$2,067,200 ($266,705). It took him two years to beat that score, when he won the 2011 EPT Snowfest Main Event for $552,901 and another five years to beat that, back on the APPT. When Geshkenbein won the 2016 Asia Championship of Poker Main Event for $727,483 he became the first, and still the only, player to win titles on the EPT and APPT.
4. Ivey completes his hat-trick
One of the most critical skills for any poker pro is making sure you run hot at the right time. Phil Ivey mastered this at the Aussie Millions, which he called "my favourite stop on the poker tour". That's not a surprise given his run there in recent years. Ivey won the A$250k Challenge in 2012 for $2,058,948 and again in 2014 for $3,582,753 under the APPT banner. Incredibly, he retained his title in 2015 adding another $1,710,854 to his bankroll when he beat Erik Seidel, Scott Seiver, Doug Polk and Mike McDonald. McDonald's patented death stare was no match for Ivey's poker face and his A-Q didn't hold up against Ivey's K-Q in the final hand in Melbourne.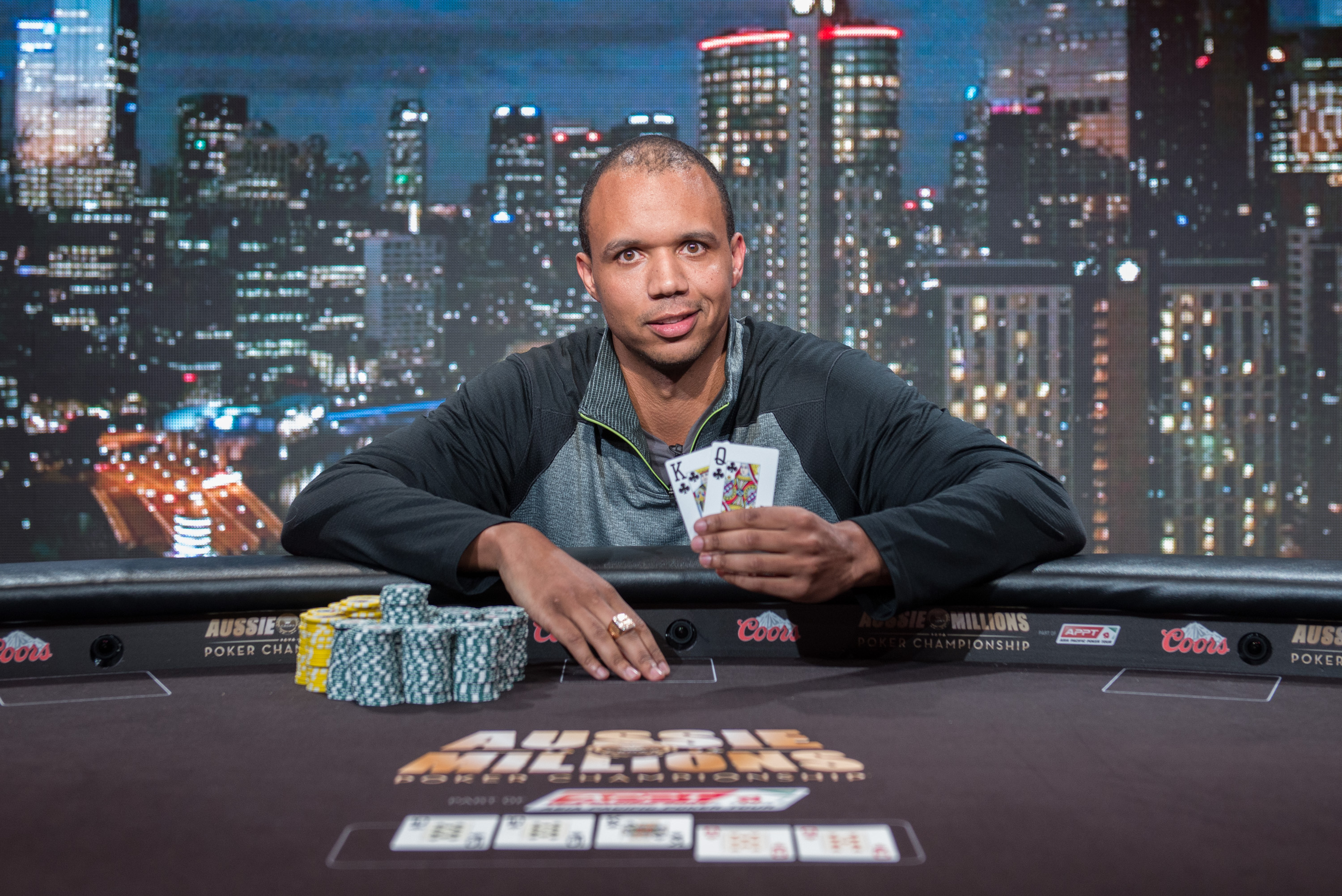 Phil Ivey has found incredible success on the APPT
3. ElkY's amazing read
ElkY might not have won the 2007 APPT Main Event (see below) but he did put on a masterclass for the TV cameras, including this hand against Ivan Tan on the final table. Tan raised preflop with Ad-Qh only to see ElkY come back over the top from the big blind with Jd-Qd. Tan called to see the 8h-5h-Qs flop, which Daniel Negreanu labelled as "dangerous" on commentary. ElkY checked, looking for the world like he was going to spring a check-raise. Tan bet out half pot and ElkY thought for a few seconds while Negreanu said he was in "big trouble". Instead he folded, leaving Negreanu to say, "Wow! That is an incredible laydown… That might be one of the greatest reads I've ever seen. I'm totally impressed by ElkY's play there and he did it so nonchalantly."
2. Macau opens its doors to poker
The APPT has travelled new roads in poker, running the first ever tournament in Macau in 2007. The $2,500 APPT Main Event was held in the Grand Waldo Hotel and, with 352 runners, was also the largest poker tournament ever held in Asia at the time. And what a final table. Joe Hachem finished in eighth, Liz Lieu was seventh, Bertrand 'ElkY' Grospellier hit the rail in fifth, leaving UK player Dinh Boat Le to take the lot. Or at least $222,640 of it. It's still his only cash to break four figures.
1. Record-breaking Beijing Millions
Poker was taking Asia by storm thanks to the APPT and the 2014 Beijing Millions smashed its way into the record books. It was the first time the APPT had run a tournament in mainland China and what a way to introduce yourself. The 2,732 runners made it the largest live event to be held outside the United States and Chinese player Qin Chen was the biggest beneficiary, winning the ¥675,000 first prize (approximately $109,382) when he beat Yang Zhang heads-up. It was Chen's first live cash and still by far his biggest.