Things have been going pretty well for Chris Martin lately.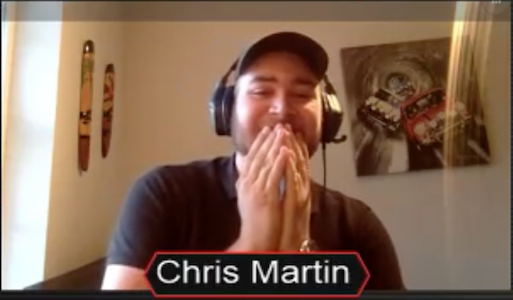 "No way!" Yes way, Chris, you really are going to meet Fintan & Spraggy at Run It Up Reno!
It all started when he won Fintan & Spraggy's Platinum Pass Adventure last week, earning himself a Platinum Pass as well as some personal mentoring and coaching from his sponsors.
That alone would be enough to qualify as the best month of many people's entire lives, but things got even better when Fintan "easywithaces" Hand dropped two bits of news on him during his first coaching session.
The first bit: to give him more material for hand reviews, Martin is going to get some tickets to play in WCOOP events for free.
Pretty good, but it was just the setup for the real bombshell: PokerStars is flying Martin to the United States in October to meet Fintan & Spraggy and the Team PokerStars Pros at Run It Up Reno.
"No way," replied an obviously stunned Martin. "That's mental!"
Just another day in the life of a Platinum Pass winner.
Check out more Platinum Pass Adventures for your chance to score a ticket to the Bahamas next January!