It was dark on Paradise Island. Steven Jost had cashed in the Main Event days earlier after winning a PokerStars Caribbean Adventure package for $27. It was a vacation, one that turned pretty profitable for the man from Switzerland who prior to this week had never won more than $4,000 in a poker tournament.
So, it was already past sundown on his last night in the Bahamas. Jost was in bed, watching something on TV, and preparing for the long journey home tomorrow. The 34-year-old had a real life to get back to. At one time, he was a skateboarder and snowboarding enthusiast. Now he's a responsible professional geologist, one who had realized a dream by making it to the PCA, but one who now had to stop dreaming and get back to the lab.
Until his phone rang.
On the other end of the line was a crazy Brazilian friend saying, "You won!"
"I won what?"
"You won the package!"
It had to be a joke, right? Sure, because Jost had made the Main Event money, he'd gotten to submit a ticket for a drawing. But he'd won?
In the tournament room where the drawing took place, there was lots of excitement, lights, and cameras as the drawing took place.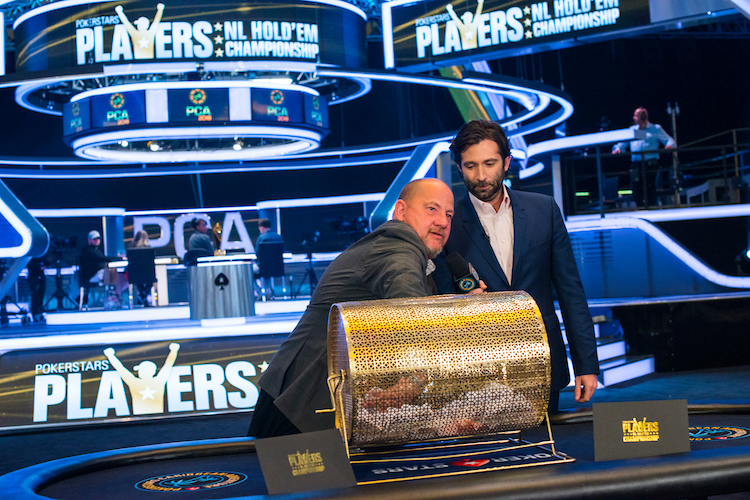 Mike Ward digs for a winner
But after all that, there had been no one in the tournament room there to celebrate the win. What nobody knew at that time was that Jost–now a ball of a nervous energy–was blazing a zig-zigging trail from his hotel room through the resort. He'd land in the main tournament room and run into Mike Ward, and in Ward's hand was a Platinum Pass, a $30,000 package to next year's PokerStars Players No-Limit Hold'em Championship.
"Am I dreaming?!" he asked, incredulous, sweating.
He's been playing poker for about 12 years, but he's never experienced anything like this.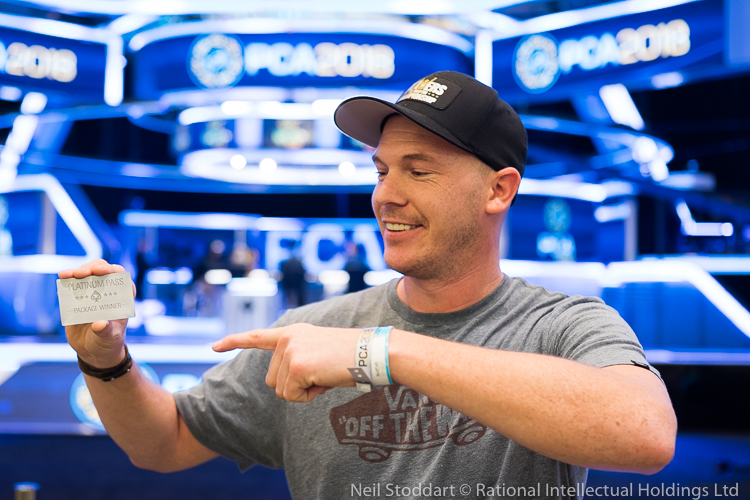 Steven Jost and his Platinum Pass
His friends call him Steve-O. Other folks call him Steven. Tonight, we're calling him a Platinum Pass winner.
"I'm still sweating and shaking," he said 15 minutes later–after he'd had a chance to grab a beer–as we led him in front of our camera.
Here's what he had to say.
---
Want to watch more videos from the PCA? We have lots in our Video Gallery.