This year, PokerStars Blog is attending its 15th consecutive World Series of Poker (WSOP) Main Event. We've been here since Raymer, through Hachem, Eastgate, Cada, Duhamel et al. Periodically through the 2018 renewal, we'll dig out some coverage from yesteryear and take a look at how things went down back then.
Today, with Brazil having beaten Mexico to qualify for the quarter-finals of the 2018 World Cup, we take a look back to 2010, when Brazil were also in action in soccer's most prestigious jamboree. That meant a day off from the poker action for Andre Akkari, among others, but a mini Carnival taking place at the Las Vegas home of Maria "maridu" Mayrinck. As this report clearly shows, eight years is a very long time in poker.
---
June 28, 2010
Covering poker tournaments these days means a lot of international travel, and as a happy corollary us reporters can get to see cities that otherwise would be out of reach.
The single most memorable sight from my six years on the road remains the peerless 360 degree vista over Rio de Janeiro from beside the feet of the statue of Christ the Redeemer. There, Mother Nature and hundreds of years of frantic urban growth combine to offer dazzling skies and seas, smudges of sandy beaches and vast jungles of city sprawl, all blessed from on high by the towering figure of the Messiah. It is awesome, in all senses of the word.
Yesterday morning in Las Vegas, I got to see another breathtaking sight – and again it had a Brazilian flavour. On the 30th floor of the Panorama Towers, across the street from the new Aria Casino, the Team PokerStars Pro Maria "maridu" Mayrinck hosted a party to coincide with her native Brazil's World Cup soccer match against Chile.
Maria Mayrinck: sometime poker player, sometime party host
Countless rooftop bars and hotel brochures claim to offer the best views of the Las Vegas Strip, but for my money Casa Maridu trumps them all. Through a window running the length of the apartment, one can view everything of the Strip, from the Mandalay Bay and the airport at the south end, all the way to the Stratosphere in the north. Desert and mountains stretch off into the distance once the buildings run out.
After about 15 minutes gawping, I twigged why they called this place the Panorama. I'm quick like that.
Party-goers admire the view from the Panorama Towers
Back inside the room, all eyes were fixed on a television screen almost as wide as the window. Fifteen avid football fans, including the Team PokerStars Pros Andre Akkari and Gualter Salles, were in attendance, as were Akkari's two daughters, a film crew and staff from a Brazilian poker website. Alexandre Gomes had also been on the invite list, but had last been seen at around 6am celebrating his good friend Thiago Nishijima's third place in event 45, good for $315,828 – and a night of partying.
Party balloons
The apartment and all the guests were decked out almost flawlessly in the canary yellow and lime green of the Brazilian soccer team. It was as though Maridu's shopping list had read:
2 x bags of balloons (green and yellow)
1 x flag (green and yellow)
1 x pair flipflops (green and yellow)
2 x vuvuzelas (green and yellow)
9 x soccer shirts (green and yellow)
2 x party plates (green and yellow)
2 x packets of napkins (green and yellow)
1 x pair of headband antennas (with green and yellow stars on springs)
3 x Team PokerStars Pros Brazil (in green and yellow)
2 x soccer shirts (blue – Brazil's second strip)
Even David "Bakes" Baker, Mayrinck's boyfriend, was in a yellow Brazil shirt. "They want to get you a Brazilian passport," said Mayrinck, translating from her countrymen. "I want one too," Baker said.
The game itself started inauspiciously. Watching people watch football can sometimes be as much fun as watching the match itself, and with the stakes so high (the losers would be eliminated), there was a tangible nervous tension. As Luis Fabiano burst into the Chile penalty area for an early chance, six people leant forward to the edge of the couch, teeth clenched and arms raised in preparation for a tight-fisted celebration. When Brazil's star striker dragged his shot wide, the room deflated as everyone slumped back and groaned.
Maridu was anti-vuvuzela, despite two of those "instruments" primed on the table. "OK, we'll do the vuvuzela if there's a goal," she said – and soon enough the Panorama reverberated with the drone that had come to define the World Cup. Brazil's centre back, Juan, powered in a header to send his team into the box seat, and send shudders down to the building's foundations as the Vegas gathering rose to its feet.
Brazilians celebrate a goal
The pattern repeated moments later as Luis Fabiano atoned for his earlier tardiness and added a second. Even Maridu now reached for the vuvuzela and her guests put down their party snacks to leap around the room once more. Young Miss Akkari was hoisted into her father's arms and tossed in the air in celebration.
At half time, the television interviewer asked for thoughts on how Brazil could ensure they carried the two goal advantage until the end. Akkari shouted down the question, insisting they wanted eight goals. Everyone then poured out onto the balcony to sample some of the blistering Las Vegas air, before being lured back inside by the chance to touch Baker's World Series bracelet, won in the $10,000 deuce-to-seven lowball championships earlier this Series.
Maridu shows off David Baker's bracelet
For all the boisterousness of the soccer, the humble Baker was another star attraction. The walls of the apartment are already adorned by photos of him from his two final tables in this Series – snaps ordered and framed by his doting, proud girlfriend – and he has two other souvenirs on the coffee table as evidence of a couple of other great runs. There's the signed copy of Barry Greenstein's "Ace on the River" awarded to anyone who eliminates the Team PokerStars Pro from a major tournament. Plus there was a signed fossil, handed over by Greg Raymer when he is sent to the rail. "Bakes" has done them both this summer.
Gualter Salles rallied the troops to return for the start of the second half, and it was remarkably easy for the men in canary yellow. Robinho scored a third – cue vuvuzelas, dancing and child tossing – and they even had time to focus on the poker.
Gualter Salles in the $1,500 NLHE
Mayrinck and Salles were planning to play the $1,500 no limit hold 'em event starting that day. Baker was preparing for the $5,000 pot limit Omaha. Akkari was returning for day two of the $1,000 no limit hold 'em event – and was jeered for his participation in the lowest buy in event of the Series.
Baker leapt to Akkari's defence: "He said if he played, he might as well make day two. If he made day two, he might as well get the chip lead. If he's got the chip lead, he might as well win. He's got nothing else to do."
It all sounded so easy, much like the Samba Boys' effortless cruise into the quarter-finals of the World Cup. On the final whistle – at the end of a 3-0 victory – fists were pumped, flags were draped over shoulders and, yes, there was another toot or two on the vuvuzela.
Gualter Salles and Andre Akkari discuss the match
Soon a silence had descended, empty cans and scattered plates were moved back to the kitchen, and Maridu fired up her scooter to ferry her back to the Rio (not that one) for a shot at a bracelet. There's just about room on the walls for photos of her with poker's most sought-after jewelry. "His n Hers" would be a nice touch.
---
What happened next?
• The party quickly ended for Brazil. Defeat to Holland in the quarter-finals ended the Samba Boys' World Cup.
• Andre Akkari went on to finish 72nd in the $1,000 event he was playing that day. But he remains a member of Team PokerStars Pro and is closing in on $2.2 million in live earnings.
• Maria Mayrinck eventually left Las Vegas and gradually drifted away from poker, but still seems to be having a wild time of it
• David Baker won a second WSOP bracelet in 2012, in the $10,000 HORSE event. He narrowly missed winning the same tournament this year, but had to settle for a $600K score and the runners up spot. He's still a professional poker player.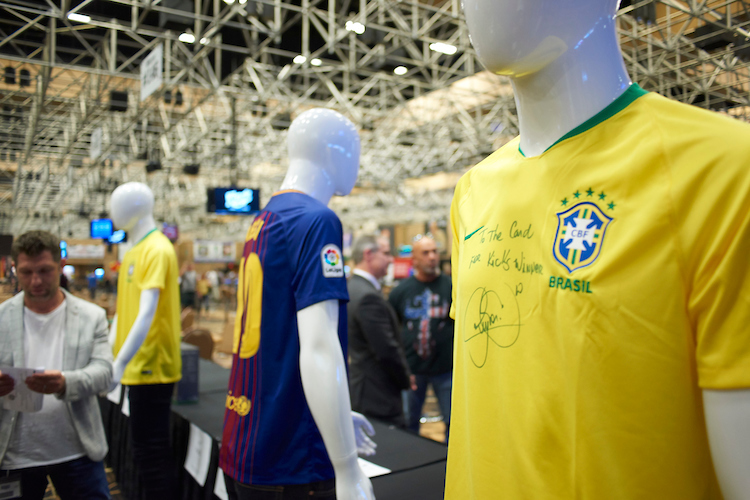 Brazil shirt at 2018 WSOP