Throughout the World Series of Poker Main Event this year, we'll be asking members of Team PokerStars Pro for their memories of their first WSOP visit, and for details of what they've learnt since then. Next up: our Brazilian sensation Andre Akkari.
---
When did you first come to the WSOP?
I came here in 2006 to watch but I didn't play. The first time I played was 2007, but I didn't play the Main Event. I just played some small events.
What were your impressions?
Then: It was mindblowing. I was trying to become a professional poker player. I was dreaming about it. You see all the shows on ESPN, but it's completely different when you get here. When you get here and you see the full scenario: all the tables and all the players, it's completely incredible. I remember that I was impressed. It was a decision point for me to become a professional poker player.
Now: It feels a little bit different after so many years. After I won the bracelet as well. I am still excited. I still get excited when the summer in Vegas is coming. But it's never the same as the first time. Then, I was crazy.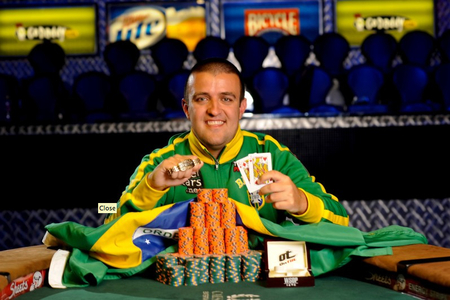 Andre Akkari: Bracelet winner
Playing schedule
Then: In 2007, I don't remember exactly the events, but the top buy in was $1,500. I didn't play anything above $1,500. I came to play $100, $200 tournaments so one $1,500 here was my main event. I played at Binions, Paris. I played one at the Wynn for $600. And then the "main event" was the $1,500 here.
Now: This year I played much more. So far I've played 14 events. There are people who have played much more than me, but I've played 14 and cashed in four. I've played four $10K events. In 2007, that was impossible. I'm playing the Main Event now, I played the $5,000 six-max and got deep. I got 23rd.
Profit/loss
Then: In 2007, at the World Series alone, I was down $3,000. I played two events and I didn't cash.
Now: Right now, I'm down $32,000, because I've played the big events. I bubbled two $10Ks, two or three spots from the money. But there's more events!
Accommodation
Then: Ha, this is funny. The first time I stayed in Hotel Tuscany, like a flat or an apartment at the end of Flamingo Road. It was far away from here, but it was $22 per night. It was what I could afford.
Now: I'm staying in a huge house. There are three families here, sharing. It's huge. There are seven bedrooms, a gaming room and everything. My daughters are here, my wife is here. We have a great time there, especially in the World Cup. We've been watching all the Brazilian games. Actually, I've been watching all of the games.
Skills
Then: The good point about 2007 is that the poker was very different. The average skill level was completely different from now. I had a bigger edge in 2007, a big advantage.
Now: I think I'm a much better player now but there are so many poker schools, videos, Twitch, streaming, things like that. People are understanding more about the game than they did in 2007. Now I'm a much better player, but the field is better as well. I'm still good as well, I have some edge. I'm happy to play.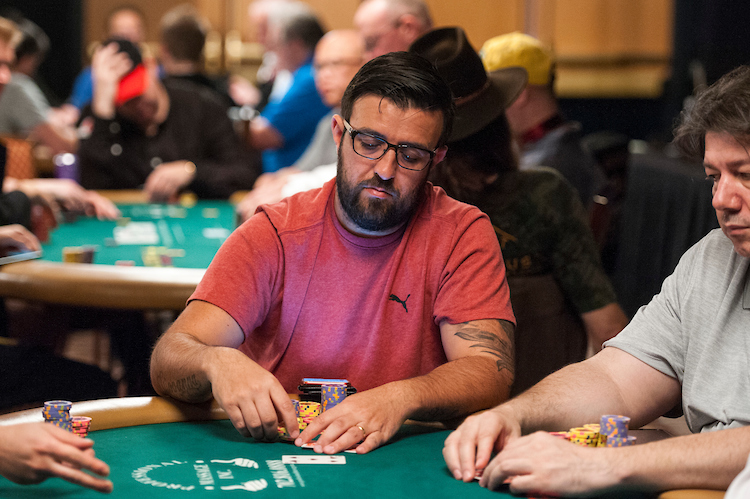 Andre Akkari: The 2018 version
What has happened in your career since your first WSOP?
I have exploded. Everything has changed. Not just in my career, but my career has changed my life. I'm still the same guy, I'm still the same human being, but everything else: money, relationships, business, poker skills, everything has changed 1,000 percent.
What do you know now that you didn't know then?
One big mistake that I believe people make when they come here is that they go so excited they want to play everything, and they want to play every day. I learnt about that. It's not a good thing to play every day like crazy, bust one event and register for another.
Some pros, they register for all the events and then they take cash out if they don't play. That's not a smart idea, I don't think. It's not intelligent. We have limits. We have psychological limits, we have physical limits. And we have to respect that because it's money, and it's expensive. If you want to succeed in poker, it's going to be expensive.
There are events with $1 million buy-ins. You have to keep your mind. In the first three years that I came, I was crazy like everybody else. I got some luck, because I won the bracelet. I got $600,000 profit in one year. But there have been some years that I lost $60K, $70K because I was playing two events in the same day, three events. I'd play two events here, bust and play the Venetian. You cannot handle that.
I learned that, besides all the poker techniques. I learned the psychological way to be in Vegas for two months, self-control.
You have to plan everything. I put everything on Excel. You have to know which tournament you're going to play, which you're going to skip. I'm much more professional now than I was then.
Is there anything you miss about the early days?
The human being is funny. Some small things that got you excited 10 years ago is not exciting any more. It's terrible. You have to keep tracking these things and bring it back to see how great it is still. Three days ago, I was 23 left in the $5K. If I think what that would have been like 10 years ago, my heart would be exploding. Now it's just OK. Then I busted, and it was still OK. It's one more day. But it shouldn't be like this. There are so many people who follow me on social media, their dream is to be here. In some way you have to respect that, and enjoy it. Sometimes you forget that it's Wednesday 2pm and you're playing poker in Vegas. I keep insisting I don't forget things like this. In 2018 I'm able to forget more things than in 2007. I keep putting more pressure on so I don't forget.
What advice would you give a first-timer?
Be careful. Plan for your money. Vegas is great to bring your family, great to bring your wife, your girlfriend or boyfriend, so many restaurants and shows. But you also have gambling. Everywhere. I see so many Brazilians who come here and they lose a lot of money and then they lose sight of poker. You are being offered roulette, blackjack, and then tournament after tournament after tournament. You have to be excited and enjoy that, but you must play the best poker that you can. This is a mind sport. It's not about gamble, gamble, gamble. If you are weak on this point, you are going to be in trouble. In some way Vegas is going to catch you.
I don't gamble at all, but I see so many friends making these mistakes. Before you come here, make your plan, then take your money and play those tournaments. Don't be tempted by anything else.
Day 1A full chip counts
Follow Team Pro's progress
Previous WSOP coverage:
From the archive: Rio here, Rio there
Then and Now: Maria Konnikova
All systems go on 'cattywumpus' World Series
WSOP photos by PokerPhotoArchive.com.