This year, PokerStars Blog is attending its 15th consecutive World Series of Poker (WSOP) Main Event. We've been here since Raymer, through Hachem, Eastgate, Cada, Duhamel et al. Periodically through the 2018 renewal, we'll dig out some coverage from yesteryear and take a look at how things went down back then.
Today's instalment comes from 2010 and features PokerStars Blog staff writer Stephen Bartley waiting outside the ladies room to meet an erotic novelist and hear a tale of blood, sweat and gynaecology…all at 30,000 feet.
---
July 7, 2010
I don't normally stand outside the ladies bathroom during the breaks, but for Charlotte Roche I was prepared to make an exception. The musician, television presenter, actor and author was about to tell me about her new love of poker, and of her flight over from her native Germany to Las Vegas. But she was cold and would I mind waiting while she went into the bathroom to put on some tights?
The flight came first. Roche's first trip to the United States was going smoothly, but halfway across Canada a pregnant woman on board suddenly went into labor. Bad fiction suddenly became messy reality, one which only the brave dare face. So did Roche rush forward to help?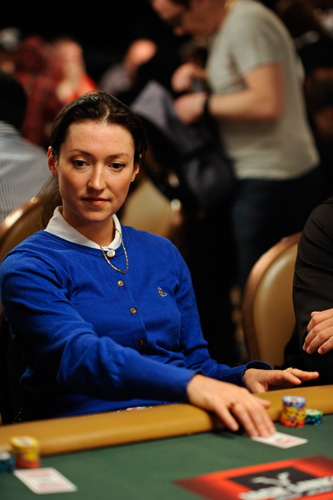 Charlotte Roche: Novelist turned poker player
"I didn't have to rush it was right in front of me," said Roche, recounting the story. "A lady had lied about how far she was. She said she was six months but she looked over. Then she called the stewardess and said her water had broke, all over the seat, in the business area. You know the seats are expensive."
"The stewardess thought she was kidding and then everybody panicked. Suddenly the pilot said 'Look, we've got an emergency, we urgently need a doctor."
Apart from being asked if you can fly a plane a request for help delivering a baby must rank as one of the last things you want to here when the ping sounds and the seatbelt sign flash on. Anybody who has been at the business end of a birth understands the reality of what's involved. Most people have a rigid bare minimum of standards – hot towels, a horse trough of pain killers and a doctor with super powers who aced every medical class. But at 30,000 feet though you make do with what you can find, and in this case luck was on their side.
"There were two doctors on the flight," said Roche. "One gastro-thingamabob and one whatever. Not gynaecologists. They helped her get the baby in ten minutes – in front of everyone."
The plane immediately dived down for an emergency stop in Winnipeg, passengers naturally concerned for the safety of the baby which was two months premature. But concerns were soon eased when the noise typical of newborns echoed through the fuselage, sending the crew and passengers into spontaneous applause.
"The doctors were allowed to sit in first class," said Roche. "They were covered in blood and sweat and had rubber gloves on. It was unbelievable."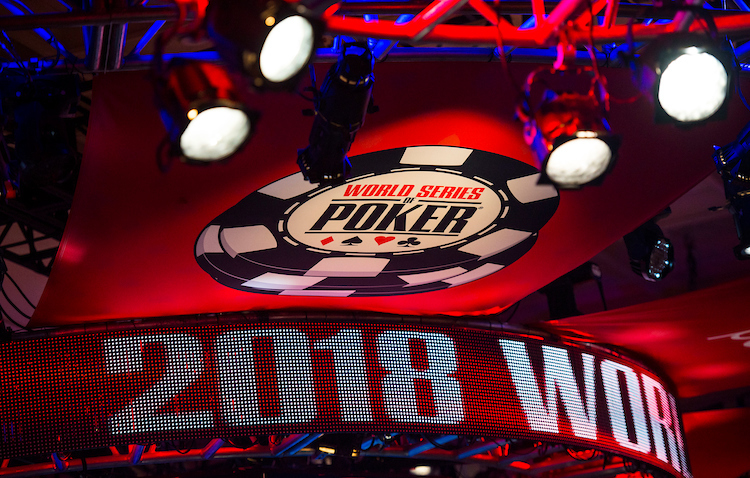 Funnily enough it's that same blood and sweat (among other bodily fluids) that shot Roche to literary fame in 2008. While such things are no doubt still being scrubbed from some airline upholstery, Roche turned them into a main focus of her novel Feuchtgebiete, (Wetlands) which became the world's best selling novel of March that year.
But since she was invited on to a late night television show to play poker last year Roche's attention has switched from writing to poker, and her first trip to Las Vegas to play the Main Event.
"I was invited to appear on a late night poker programme," said Roche. "But I couldn't do it, I didn't know how to play. They said it didn't matter and that everyone had to start somewhere. So I decided to learn how to play before appearing on the show – I didn't want to sit there and not see a flush. So I read books and I haven't stopped."
Like another German celebrity Boris Becker, Roche signed on for lessons at the Jan Heitmann Academy for Poker Correction and immediately found her game improving. Heitmann's tutelage has had a profound effect.
"I hear Jan's voice in my head telling me what to do," said Roche. "It's like he's at the table with me."
It may be only her third major event, following on from her appearances at EPT Berlin and at the Grand Final in Monte Carlo, but Roche, who lives in Cologne, plays two to three times a week back home, as well as on PokerStars.
This experienced served her well early on, Roche taking a few early pots to lift her stack beyond the 30k mark. But a set of eights cost her later in level three. Still, despite their efforts to eliminate her Roche warmed to her table mates immediately.
"I fall in love with my first table," she said, relieved that at least if they take her chips they'll be nice about it. "It's like Stockholm syndrome."
Whether or not she'll escape their grasp by the end of day one remains to be seen. But she'll have fun finding out and at least she'll be warmer. And Heitmann has instilled another virtue in Roche's play – a desire to win all the chips at the table.
"Right," said Roche, returning to her table with a flash of deviousness. "I'll go kill them."
*****
JUST RASZI BEING RASZI MOMENT OF THE HOUR
We picked up the hand on the flop with Lex Veldhuis looking at a 3♣ 8♠ 2♠ board and a 1,700 bet. He made the call. On the 7♥ turn, he called a bet to 2,100. When the 5♥ fell on the turn, it was checked to Veldhuis. He slid out more than 11,000. When he got the call, he said, "You're good." Forced to turn over his hand, Veldhuis showed J♠ 10♥ for jack high. His reputation may have gotten the better of him, as he was called and beaten by a measly pair of fours.
Said one man at the table, "You guys are…wow."
*****
POKERSTARS QUALIFIER OF THE HOUR
This is Jim Legner, from Anchorage, AK.
Jim Legner with Hoyt Corkins (foreground)
He qualified for his first World Series of Poker on PokerStars, and has taken a seat this afternoon on table 294. Legener's son, Jesse, emailed blog@pokerstars.eu asking for an update on his dad's progress. Here it is from the horse's mouth:
"Tell him I've been between 30 and 38,000 all day; up and down. Tell him I'm been enjoying playing with Mr Hoyt Corkins."
There we have it. Legner is two seats away from one of the most famous faces in the game and he has about 5,000 more than the 30,000 starting stack.
If you want us to track any of your friends or family members at the World Series Main Event, shoot us an email at blog@pokerstars.eu. If they're a PokerStars qualifier, it's our job (and frequent pleasure) to follow them. The more information about them you can give us, the better. And if you know what day they're starting, that will also help.
*****
ELIMINATION OF THE HOUR
A tweet opera in three parts from @victoriacoren:
Tweet one: "First break. Down to 24k from 30k after a cooler but could be worse, still have plenty."
Tweet two: "Second break. No good news here but I'm rather the victim of circumstance. Not, as yet, feeling especially 'meant to be'."
Tweet three: "Out. All in pre flop with JJ v AK. Seems a mundane coup for such a big event. Ah well. Just a few more weeks til the EPT starts again."
*****
HURDY GURDY OF THE HOUR OF THE HOUR
Our "Of the Hour" segments are growing in popularity and have now been ripped off picked up by our blond-haired, blue-eyed, suicide-prone, chiselled-cheekboned, salty-fish-eating, one-hour-of-daylight-favouring Scandinavian cousins at PokerStarsBlog.nu. "Of the hour" translates to "Timmens" apparently, but it's all hurdy gurdy to us. Like this:
"TIMMENS STENÅLDERSSNUBBE
Oskar Silow kommer och frågar mig om jag kan ta en bild på hans motståndare. Tydligen hade mannen i fråga bett Oskar fråga mig och snäll som jag är tar jag självklart en bild. Går fram till mannen och ber om hans e-postadress så att jag kan maila den och han svarar: "jag har ingen e-mail men min syster har."
---
Day 2AB full chip counts
Day 1C full chip counts
Day 1B full chip counts
Day 1A full chip counts
Follow Team Pro's progress
Previous 2018 WSOP coverage:
From the archive: Blood, sweat and other bodily fluids
Untangling the cake riddle to discover the key to Liv Boeree's heart
Meet Muskan Sethi: India's presidential poker ambassador
A return of the masses for the long, slow dance
Then and Now: Daniel Negreanu
Records broken and Red Spades flying
"Thanks Daniel" — A letter to Negreanu from Phil Galfond
A flippin' fantastic way to enter a poker tournament
Jeff Gross: A momentary pause in the perpetual motion
From the archive: Stages
Moneymaker surveys the world he created
Negreanu continues preparations for PokerStars Players Championship
Then and Now: Andre Akkari
An exceptional Day 1A
From the archive: Rio here, Rio there
Then and Now: Maria Konnikova
All systems go on 'cattywumpus' World Series
Back to Top