Neymar being here this week naturally got people curious. He attracted crowds wherever he went, and turned heads across the tournament room.
But while it's one thing to see him walk by your table, it's something else to know a little more about the man himself.
The poker player that knows him best, and who arguably taught him everything he knows (at the poker table at least), is Andre Akkari.
If you want to know more about Neymar the footballer, well, there are plenty of other places you can find that.
But for a glimpse of Neymar the friend, poker player, dog owner, and Counter Strike opponent, then read on.
On how they first met…
"We were in a press conference when he was announced for Team PokerStars Sports. It was here in Barcelona and I was in the back of the room, and I'd never met him before. Of course, he's one of my idols in soccer, but I'd never met him.
"The press then asked him 'how do you improve your poker? Who is your poker idol?' and he said 'I keep watching Akkari', and he kept saying my name.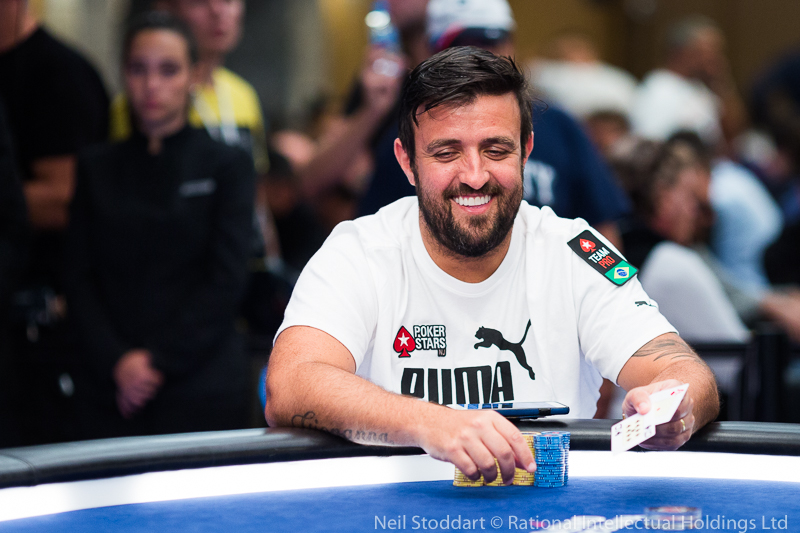 Andre Akkari got heads up with his football idol Neymar
"Everybody knew that I was there but I don't think Neymar did. Then everyone looked at me, and Neymar says 'Hey Akkari! We're here!' And I said 'F**k man! This is f**king crazy!'
"That was the first time we met."
On how Neymar has improved as a player…
"He's improving, he asks questions everyday, he plays some hands online. But sometimes when he's just playing for fun like this, he's just playing."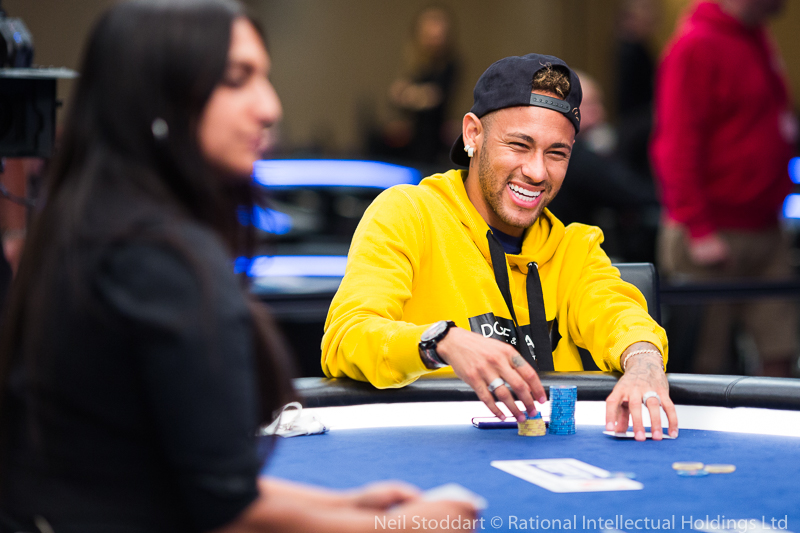 Neymar got heads up with his poker idol Andre Akkari
On the BSOP, where Neymar final tabled the High Roller…
"The experience was amazing. He was so nervous! So excited to be there. It was a great time for him, it was a great time for us in Brazil, and for Brazilian poker."
On Neymar wanting a trophy…
"If we make the heads-up it will be incredible! If he beats me, he would be really happy about it because we keep teasing each other.
But he plays for pride. He doesn't care about any money or anything like that. Even in this game, there is no money. But when he was playing in the BSOP he was looking for the trophy. Just the trophy."
On dogs…
"It's true yeah, Neymar has a dog called Poker, and he has another dog which I think is called Flop! I'm not sure about that though. There's nothing related between his dogs and my dogs (Akkari has a dog day care in his home) but he has the same breed – golden retriever."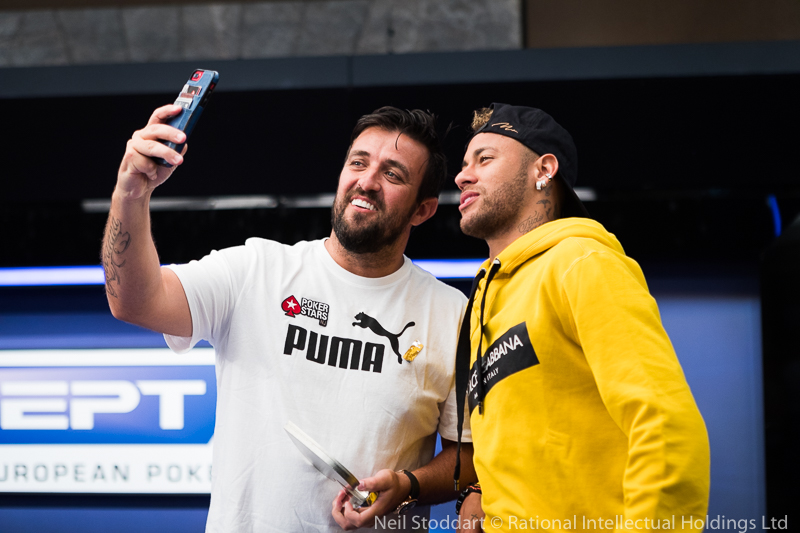 Akkari and Neymar became friends several years ago. Or as Akkari remembers it: "This is f**cking crazy!"
On how their relationship has grown…
"It's nice. We have a great friendship. Neymar and I play Counterstrike every week, at least two times a week. It's a friendly game just for fun, in the afternoons after his training session. It's a great game though and we talk to each other while we play."
On visiting Neymar in Paris…
"I've been to see Neymar in Paris many times already. I went over for his birthday at the beginning of the year. It's amazing because all the friends stay together, hanging out, playing some Counterstrike or poker. We make some home games there. I'm planning to go back to Paris as soon as I can, but I keep travelling to play poker!"
And the result…
The teacher got the better of the student… this time.
Teacher 1-0 Student.
Additional reporting by Jack Stanton.
Back to Top