The MPC28 Red Dragon, hosted by the PokerStars LIVE cardroom at The City of Dreams, Macau has been a special tournament and it had a fittingly spectacular finale.
"This is the biggest moment in my poker career, I'm very excited right now" Chinese winner Alvan Zheng told us shortly after besting compatriot Junhao Hong to take the title and HK$3,055,000 first prize(*) (around US$390,500), as well as the coveted Platinum Pass added by PokerStars and the uniquely attractive Red Dragon trophy.
(* Including a 2018 Asia Championship of Poker Main Event seat worth HK$100,000)
He also gets to call himself a Dragon – an accolade that you just can't put a price on.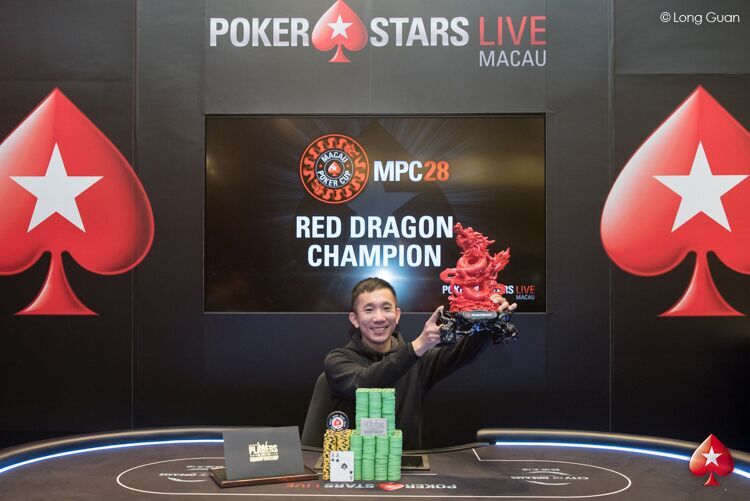 It's not every day you see a dragon born.
"There were lots of crazy actions, big pots!" Zheng told us following the win at what proved a super-aggressive final table.
It's been an incredible path to the final – 1,122 players arriving at the Casino over the previous five days to do battle for the right to refer to themselves as a true Dragon. Five days of brutal poker played out with the sort of gusto and enthusiasm only Asian players can bring to the felt, leaving us with nine talented final tablists who lined up as follows to contest the final.
| Seat | Name | Country | Chip Count |
| --- | --- | --- | --- |
| 1 | Minho Lee | Korea | 2,655,000 |
| 2 | Aleksei Opalikhin | Russia | 2,200,000 |
| 3 | Junhao Hong | China | 4,610,000 |
| 4 | Alvan Zheng | China | 2,830,000 |
| 5 | Zhou Tong | China | 2,965,000 |
| 6 | Dongqi Lin | China | 1,680,000 |
| 7 | Zhen Hua | China | 995,000 |
| 8 | Jiming Chen | China | 535,000 |
| 9 | Jiang Ho Huang | Singapore | 3,985,000 |
The blinds were rolled back almost two levels and the levels extended to 75 minutes to ensure the average stack was at least 40 big blinds and then we were off, an expectant, excited crowd thronging the rail.
Shortstack Jiming Chen's final was short and not terribly sweet for him – he found a healthy spot with a dominating ace, but opponent Hong spiked one of his three outs to end Chen's day in 9th for HK$248,000. A relatively reserved period followed – over three hours until the next elimination – though this was made up for in stunning fashion in the latter half of the final.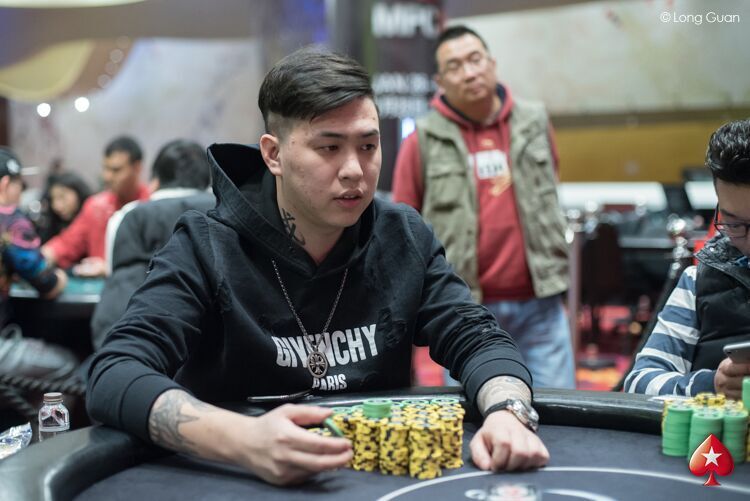 Hong showed the recipe for success, some luck, some skill, lots of chips!
Zhou Tong was next to go, and once more it was Hong the executioner, his pocket fives undoing Tong's pocket aces in a preflop coup. Variance was to prove Hong's friend at this final table. Tong's 8th place netted him HK$292,000.
Korean crusher Minho Lee was an entertaining presence at the final, bringing action and aggression to the table – though Jiang Ho Huang sunk his vessel with flopped trips to leave Lee and his cheeky grin on the rail with HK$336,000 awaiting him at the cash desk.
The blinds were ramping up and although the players still had relatively deep stacks, there were no shrinking violets out there and anytime someone thought they had a sniff at a pot, they would put pedal to the metal and fight like tigers to win it. It made for some compelling poker.
Dongqi Lin fell in 6th place – another victim of the rampaging Hong – who once more converted the worst hand into an elimination. On this occasion his K-J bust Lin's A-J to bolster his own stack over the 10 million chip mark and leave Lin rueing the fact he couldn't quite match his friend's achievement (Baby Dragon winner Siyou Cao), though HK$394,000 still represented a successful trip to Macau!
Aleksei Opalikhin entered the final as the sole Russian and he'd looked bulletproof for much of it, winning coinflip after coinflip to bring him into contention. Finally though one of his all-in shoves met a better hand and he lost. No surprise that Hong dished out the damage, though this time he had the best hand and Opalikhin had to settle for 5th place for his deep run(HK$540,000.)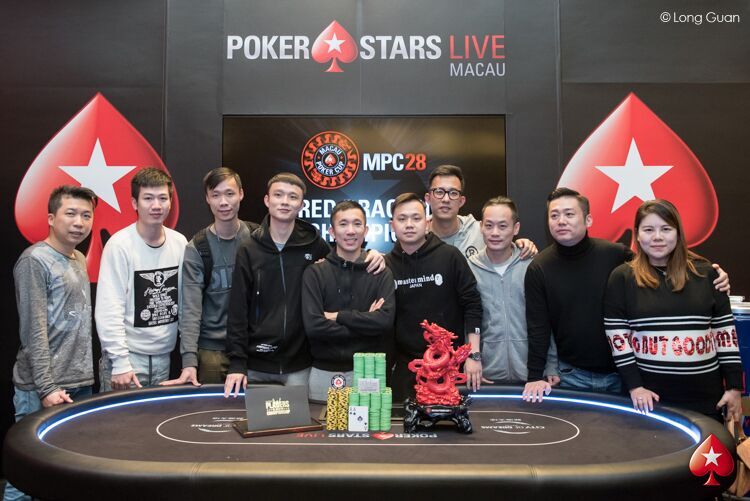 These guys put on quite the show in Macau.
Opalikhin's elimination was followed swiftly by another – Zhenhua Lu finishing in 4th place (HK$800,000) when Lu's K-Q jam failed to out-run Huang's ace-ten. Suddenly we were three handed – Huang and Hong looking the likely victors with Alvan Zheng trailing both by a long way in the counts.
This changed remarkably swiftly. A quick double up for Zheng – Hong's showdown luck deserting him for once – and he was within touching distance of the leaders. Zheng then played out a key pot in the blinds with Huang, picking off a semi-bluff with top pair to eliminate one of his rivals and take the lead for the first time. Huang earned himself HK$1,094,000 for his performance and we were heads-up for the trophy.
Zheng and Hong were around even in chips and 100 big blinds deep. In another tournament, in another part of the world, this could have been an attritional grind. In Macau it was over in less than 20 minutes. That's Macau style for you.
A key hand saw all the chips in the tournament piled into the middle – a development that suited Zheng given he held pocket aces on an ace-high flop!
The nuts proved good at showdown and just like that he was the newest Red Dragon to be hatched. Hong gets a Dragon-sized payday himself of HK$1,824,000 for second and can be proud of his run to the brink of the title.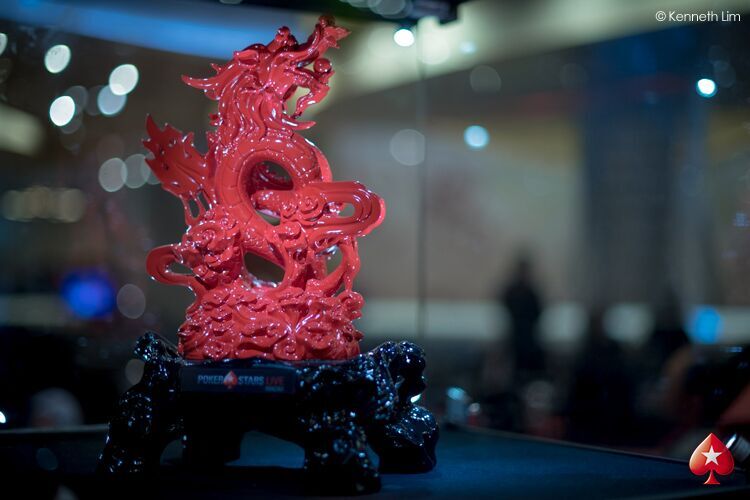 Now you've seen it, you want one right?
It's Alvan Zheng who was the champion though. He hugged and high-fived his effusive rail who had given him such boisterous support. A very popular guy indeed.
He (and hopefully some of his infectiously enthusiastic group of friends) will be joining us in 2019 at the PCA, buoyant about his chances. "If I can win that tournament, it will definitely change my life!" he told us. Watch the full interview below.
We look forward to seeing if he can better his fantastic performance there. The tale of this Red Dragon may just be beginning…
To read full updates from the final table, click here.

TOURNAMENT DETAILS:
RED DRAGON (HK$10,000,000 Guarantee)
Date: February 4-9, 2018
Buyin: $15,000 (13,500+1,500)
Players: 1,122
Prize Pool: $14,692,590
*First place includes 2018 Asia Championship of Poker Main Event seat worth HK$100,000. The winner also receives a PSPC Platinum Pass worth US$30,000.
FINAL TABLE PAYOUTS:
| Place | First Name | Last Name | Country | Prize (HKD) |
| --- | --- | --- | --- | --- |
| 1 | Alvan | Zheng | China | $3,055,000 |
| 2 | Junhao | Hong | China | $1,824,000 |
| 3 | Jiang Ho | Huang | Singapore | $1,094,000 |
| 4 | Zhenhua | Lu | China | $800,000 |
| 5 | Aleksei | Opalikhin | Russia | $540,000 |
| 6 | Dongqi | Lin | China | $394,000 |
| 7 | Minho | Lee | Korea | $336,000 |
| 8 | Zhou | Tong | China | $292,000 |
| 9 | Jiming | Chen | China | $248,000 |
FULL PAYOUTS FROM MPC28 RED DRAGON
Back to Top
Study Poker with
Pokerstars Learn

, practice with the PokerStars app

Try our Free Scholars Leader Board to practice your new skills.
Quick Links
Learn
Practice
Chat with us
Watch and share