Arseniy Karmatskiy might only have one day to prepare for his wedding, but he now has months to prepare for the biggest day of his poker career.
Aside from the inaugural EPT Sochi title and 27,300,000 ₽ ($475,500 approx.), Karmatskiy won a shiny PokerStars Platinum Pass which gives him an all-expenses-paid entry to the $25,000 PokerStars Players Championship in the Bahamas next year.
Aresniy Karmatskiy and his pass to paradise
"I've never played a $25,000 tournament," Karmatskiy said. "It's going to be a great experience to play such a big tournament."
It's also going to be Karmatskiy's first trip to the Bahamas, which he called the best place on the planet. He's excited to see the ocean, lounge under a palm tree and play poker in his shorts. In fact, Karmatskiy was so excited about the Platinum Pass that it was on his mind all day.
"The idea of winning the Platinum Pass was more exciting than the money jumps," Karmatskiy said.
While Karmatskiy started the day with a large lead, it wasn't an easy road to victory for him. Karmatskiy was nearly eliminated in fourth, but hit a one outer to stay alive. After that, he won a huge flip to regain a monster chip lead and he coasted to victory.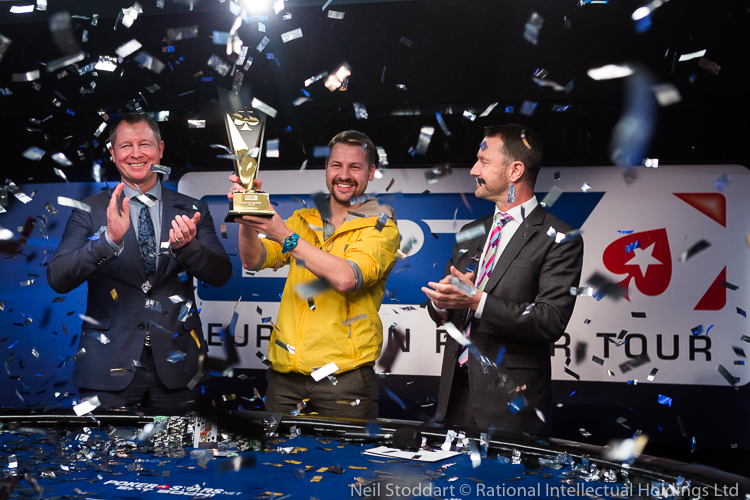 The 2018 EPT Sochi champion, Aresniy Karmatskiy
"I know the level of poker will be much higher in the Bahamas," Karmatskiy said, but winning an EPT was a good warm up.
Karmatskiy has only been playing poker professionally for one year and before today his biggest result was an Super Tuesday win. Now he's part of one of the most elite poker clubs in the world, the EPT champion club.
There will be plenty of those club members at the PokerStars Players Championship along with the best players in the world. Karmatskiy will now be one of them and he's ready to take down another big title.
"Let's win again in the Bahamas!" Karmatskiy said.
---
Aresniy Karmatskiy is one of more than 300 Platinum Pass winners who will be going to the PokerStars Players No-Limit Hold'em Championship. Want to see more? Meet them all on in our PSPC Platinum Pass Winners index.
Back to Top