Up to now, Caio Calmon's poker career has mostly centered on online poker. But after proving himself against his fellow Brazilians on the BSOP circuit to win Andre Akkari's Platinum Pass Adventure, the 24-year-old from Bahia has earned an opportunity to test his mettle against the world's top players at the PokerStars NL Players Championship.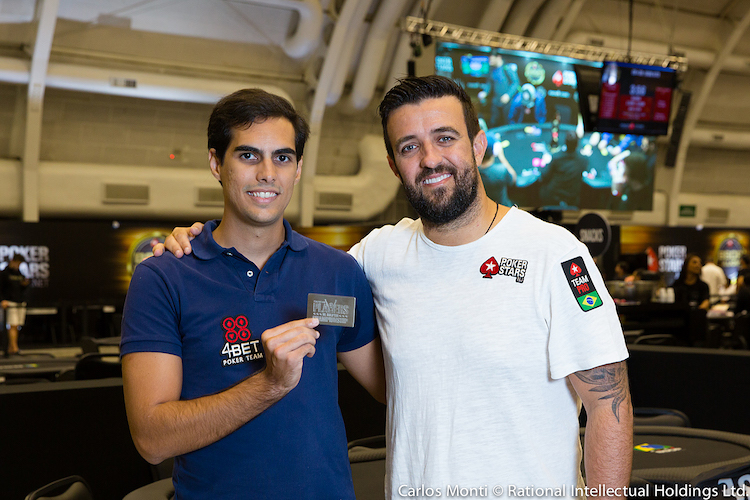 Caio Calmon and his Platinum Pass sponsor, Team Pro Andre Akkari
Caio's win yesterday at the BSOP Millions was the culmination of a journey that began earlier this year at BSOP Iguazu. He cashed in the first event there, which entered his name into a drawing to play a SnG against seven others in Iguazu. Winning that tournament set Caio up to play one more three-handed SnG against two other players who accomplished the same feat at later BSOP stops, Thiago Barnabé (BSOP São Paulo) and Éder Ferronato (BSOP Florianópolis).
Just a few hands into the match, Caio's A♠ A♦ held up against Éder's A♣ K♥ to shrink the field by a third. Thiago held out for another hour before both he and Caio flopped a pair; Caio's aces with A♣ J♠ held up against Thiago's sevens with K♣ 7♠ and the Platinum Pass officially belonged to Caio.
"It's a very good feeling, a unique opportunity in my life," said Caio, who's been playing since 2009 and has a pair of wins in the Double Deuce to his credit. "I want to go to the Bahamas and put into practice everything I've learned in these years playing poker."
The serene-faced young Brazilian has already demonstrated his talent at the tables by outlasting all the stages of the Andre Akkari Platinum Pass Adventure. Now he's ready to show that calm and technique can win in the biggest poker tournament of his life.
Back to Top
Study Poker with
Pokerstars Learn

, practice with the PokerStars app

Try our Free Scholars Leader Board to practice your new skills.
Quick Links
Learn
Practice
Chat with us
Watch and share