There are some incredible opportunities open to you as part of the Platinum Pass Adventure. But none are as easy as the one proposed by Maria Konnikova…
Entry is as easy as telling a story.
Any story, so long as it demonstrates something about being a poker player.
It could be self-control, discipline, motivation, patience, decision making, or even creativity. Anything that has that connection to the game.
Find out more about the #MyPokerStory contest here.
And it doesn't necessarily need to be a poker story either.
As Maria explains:
"Find a moment in your past when you excelled (or failed!) at any of these, and tell me about it. What happened? Why has it stuck with you? What did you learn?"
As a poker player, you're probably already thinking of all the stories you could tell.
Well we want to hear them.
Because one of them could make this the easiest way to win a Platinum Pass, and that package worth $30,000 to the PokerStars Player's Championship in the Bahamas next January.
---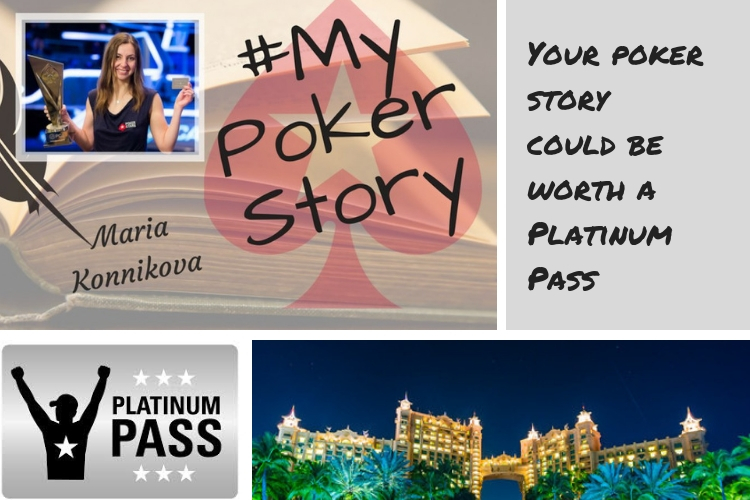 Yell us your poker story, and you could find yourself with a Platinum Pass and on your way to the PokerStars Players Championship in the Bahamas this January
---
How to ensure your story is a good one
You're probably already thinking about those stories. Moments in your life that demonstrated one of the virtues you can use in poker.
But if you're looking for inspiration Maria has put together her own example to get your thinking along the right lines.
You can watch that below.
So, let's hear them. Tell us a story that teaches you something about poker, good or bad.
Send your story any way you like
To make entering as easy as possible, you can send us your story in any format you like.
You can write it down, make a video, even sing a song. It's entirely up to you. Be as creative as you like.
But here are a few guidelines to get your started.
If you're writing down your story it needs to be at least a page long (or 250 words).
If you're submitting a video, or a song, for example, it needs to be at least a minute long.
And what will the judges be looking for?
It needs to be original, it should flow nicely and have relevance to poker. You'll also be judged on "clarity", and "overall artistry", so be as clear and as creative as you can.
How to submit your entry
To find out how to submit your entry, go to the #MyPokerStory page. That's where you'll find a few more details (including who will be judging the contest).
But remember, you only have until the end of the month to submit your entry. That's less than two weeks away.
So, get started now.
And good luck.
Back to Top
Study Poker with
Pokerstars Learn

, practice with the PokerStars app

Try our Free Scholars Leader Board to practice your new skills.
Quick Links
Learn
Practice
Chat with us
Watch and share