After an epic couple of weeks on the Twitch grind, we caught up with Fintan "easywithaces" Hand to discuss his huge heater, the big Sunday score he was itching for, and how he was back on stream after a 15-hour session and just 51 minutes sleep.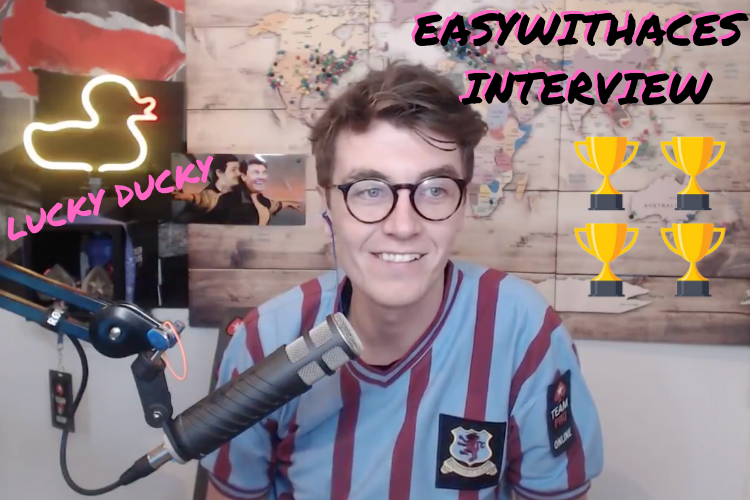 ---
THE HEAT IS ON
Rewind a couple of weeks, and Team PokerStars Online's Fintan Hand–known as "easywithaces"–took down the Hotter $22 on a Sunday for $8,098. Little did he know it would kickstart a string of results that anyone in the game would be proud of.
Congrats to @EasyWithAces on winning the Hotter $22. After battling through a field of 4,450 runners, a three-way deal saw the Irishman pick up $8,098.28 for the win.
Fintan and @spraggy are back on the grind today, watch live at https://t.co/ZHIi0h2h2L pic.twitter.com/JK404Q1Sah

— PokerStars Twitch (@PSTwitch) November 19, 2018
Three days later and Hand was on another big final table.
This time it was Wednesday's $109 Battle Royale, which he'd win for another $8K.
Love being a cupcake. Winner winner for $8k. Beautiful stuff.

— Fintan Hand (@EasyWithAces) November 21, 2018
Of course, it didn't stop there. The very next day Hand final tabled both the Big $82 and the Hot $7.50. He'd only win one, but it was the one he wanted.
Won the $82 but didn't win the $7.50. What's the point.

— Fintan Hand (@EasyWithAces) November 22, 2018
That was good for $1,469, and his third trophy in five days.
Then Sunday rolled around.
And after a 15-hour Twitch stream, Hand emerged victorious in the $55 Sunday Marathon for $17K and his largest online score to date.
Winner winner chicken dinner. I know it's not much compared to a lot of people, but as someone who played SNGs for years and skipped Sundays feels god damn to get my biggest online score. WHAT A GOD DAMN WEEK!!

— Fintan Hand (@EasyWithAces) November 26, 2018
Momentum in poker in undoubtedly a "thing". You only have to look at Erik Seidel, Dan Colman, Fedor Holz, and most recently Justin Bonomo to see that.
Riding the wave of momentum, Hand didn't slow down. On the hunt for more trophies, he got back on stream Monday after just 51 minutes of sleep. Alas, things didn't go so well.
Streaming today after 51 minutes sleep wasn't smart.

— Fintan Hand (@EasyWithAces) November 26, 2018
Undeterred, Hand was back with more deep runs on the Wednesday, defending his Battle Royale title. He'd make it to the final two tables before busting and setting his sights on bigger things.
After being offered a stake for the $530 Bounty Builder high roller, Hand settled in for a tournament he doesn't usually play. He wouldn't get the trophy, but when it was all said and done he'd cashed for around $1,700 and reached more than 1,000 Twitch subscribers.
Oh, and to top things off, the next day he finished second in the $162 Pacific Rim for $2,532.
Which leads us to the present day.
We're a bit tired after all of that.
---
CATCHING UP WITH FINTAN
PSBLOG: Congratulations on an amazing couple of weeks! You've said on stream the Marathon is your favourite tournament on the schedule. Why would you say that is?
FINTAN HAND: "I'm a traditionalist and I enjoy the fact that is a classic MTT. Great structure and a nice starting stack. It always tends to have good players as you get deeper but people hand stacks away early days. It's also the tournament I won heads-up against my good friend P diddy aka Twitch Daddy aka Tonkaaaap aka Parker Talbot which ended our barren streak last year when I couldn't get my hair cut until I won a tournament."
PSBLOG: On Sundays the fields are much larger, as are the prize pools. Does getting it done on a Sunday feel extra special? Where does it stand for you with your other big results?
HAND: "As somebody who played SNGs for years and would take weekends off I wasn't much of a Sunday grinder. Ever since I signed with PokerStars a year ago I've been itching for that big Sunday Score. FT'd a few tournaments on a Sunday with 20k+ for 1st, Milly last two tables twice. I've had heaps of close calls as we all do but it was awesome to close one out."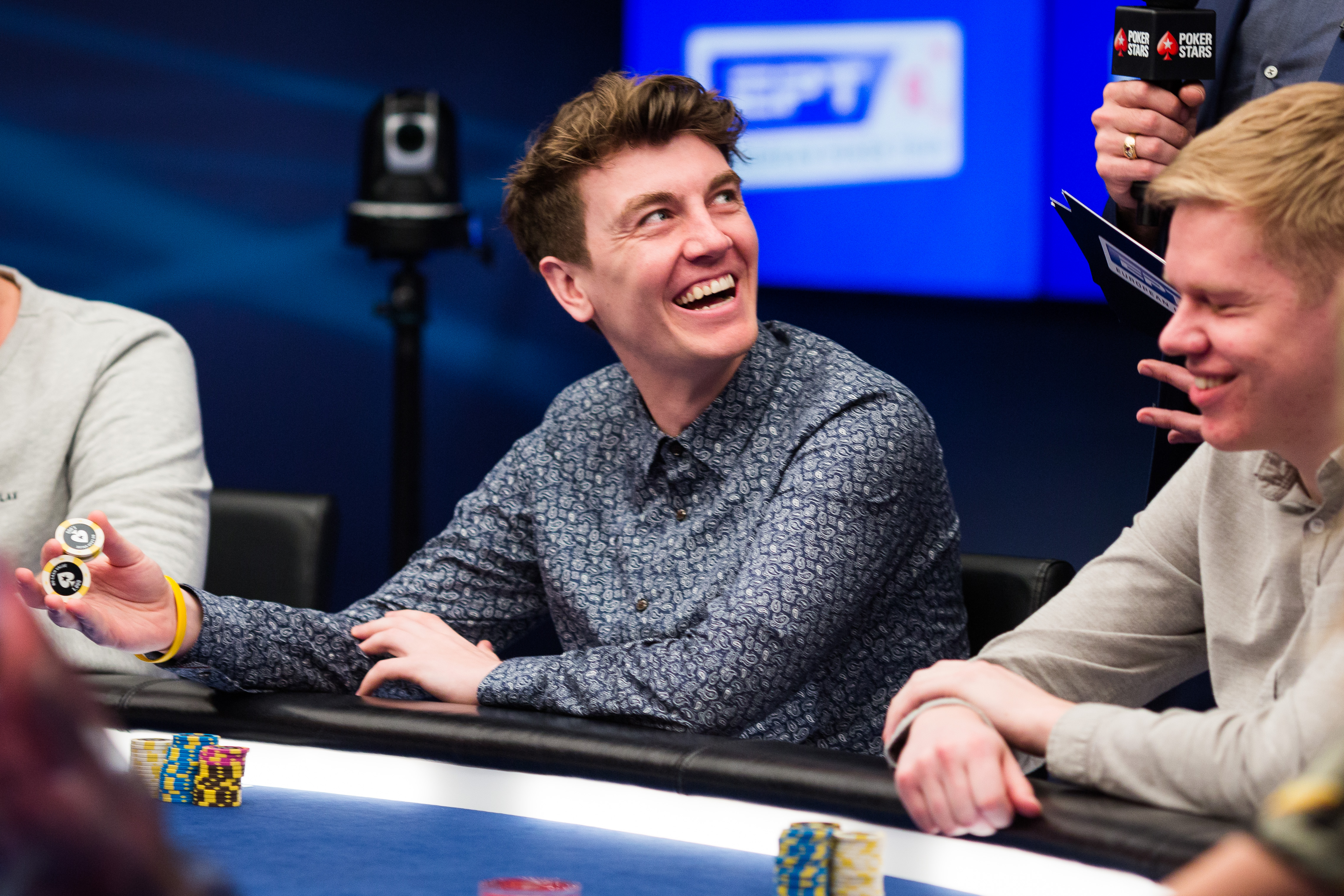 PSBLOG: You've definitely got momentum behind you at the moment. Could you explain a bit about how that impacts your play?
HAND: "I try not to let it get to me either way. I'm not somebody who will start swearing and losing his head if things go bad for me and likewise I'm not somebody who gets too excited about running good. It's been good fun the past week on Twitch with the results and I let myself enjoy it when the chat is buzzing but I'm not going to get carried away."
PSBLOG: Being on stream for 15+ hours is pretty nuts, and you were back on stream pretty early the next day considering. What happened after the win?
HAND: "I'm always pretty wired after a stream. I need a cooldown period. Either go on a walk or play some Fifa. Problem was it 7am when I finished up, it was bright and my puppy wanted to play with me. So I decided I'd go for breakfast with [my girlfriend] Hannah and ended up getting 51 minutes sleep according to my FitBit before we got back on the grind around Midday on Monday."
PSBLOG: A lot of people who see you've had such a successful run might expect to see you jumping into more of the high roller events. What are your thoughts on taking shots and bankroll management during an upswing?
HAND: "I've never had an ego when it comes to poker and feel I'm moving more and more towards being a full time streamer that plays poker. We put so much into streaming that it's really hard to get up to the level of the guys that are crushing the highest. It's fun to have a little flutter into the high stakes from time to time but I don't imagine I'll be a regular at them stakes any time soon."
PSBLOG: What are your plans for 2019? Are you setting yourself any particular poker goals or new year resolutions?
HAND: "Stream six days a week until after SCOOP and then enjoy a little bit more time off in the Summer. It's impossible to set goals in terms of winning tournaments but I wouldn't say no to running hot like this during one of PokerStars' big series."
---
Having hit the 1,000 subscriber mark on Twitch throughout this run, Fintan is now set to get a "lucky ducky" tattoo. That's a hell of a way to remember a week he'll probably never forget.
You can tune in to watch Fintan on his Twitch channel, or head to the PokerStars channel.
---
Has Fintan's amazing run inspired you to start playing poker? Click here to open a PokerStars account.
---
Back to Top
Study Poker with
Pokerstars Learn

, practice with the PokerStars app

Try our Free Scholars Leader Board to practice your new skills.
Quick Links
Learn
Practice
Chat with us
Watch and share