It's official folks. This is the largest EPT Main Event in history.
Day 1A's turnout was a good indicator that this one was going to be huge, and the field didn't disappoint, turning out in droves for a shot at EPT stardom.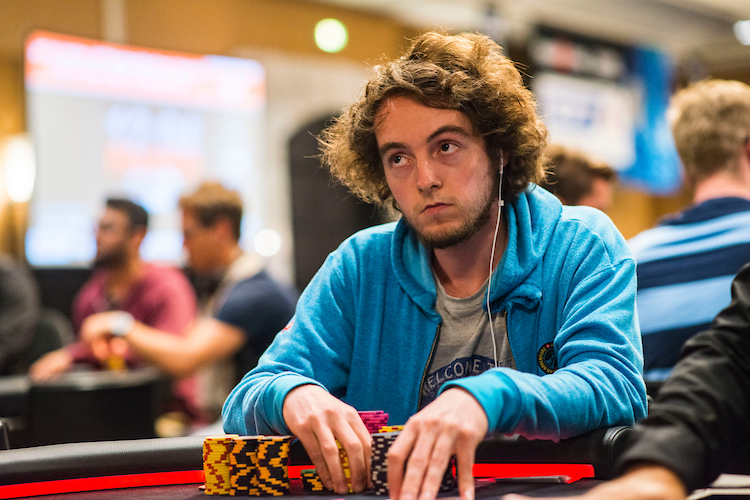 Chip-leading Chimkovitch
A total of 1,305 entries (including, 186 re-entries) were in play today, and after ten one-hour levels just 567 advance, set to join the 202 survivors from yesterday in tomorrow's Day 2. The biggest bag of the night belonged to Anthony Chimkovitch, who took the chip lead with an hour or so to go and only extended it from there.
The young Belgian coolered Pierre Merlin, turning the nut straight to beat Merlin's flopped straight in a 330,000 pot. He'd ultimately bag up 390,000, comfortably ahead of yesterday's chip leader, former EPT Berlin winner Ben Wilonofsky (330,000).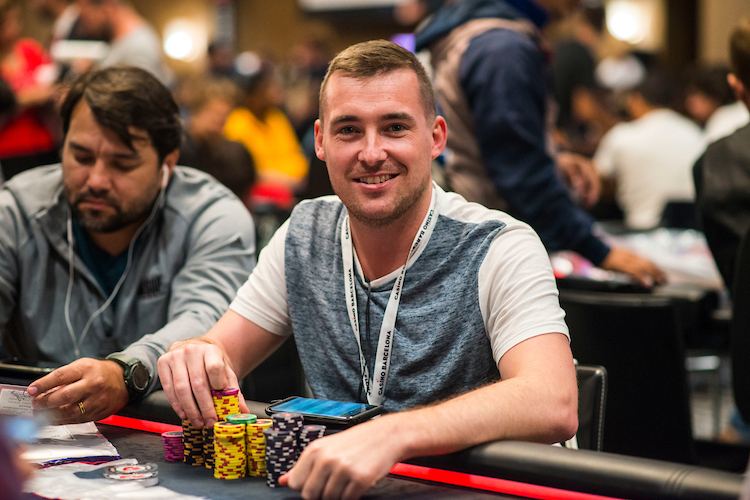 Great river for Clarke
Patrick Clarke also won a huge pot right at the business end. "I basically got lucky," he told us, as he outlined the hand. After opening with K♦ 5♦ and getting three-bet, he four-bet to 27,500 and was called. An ace-three-four flop (one diamond) saw him c-bet for 15,000 and get called, before shoving for 70,000 on the 8♦ turn. His opponent called with ace-king, but Clarke hit a diamond on the river to complete his flush and bag up 321,500.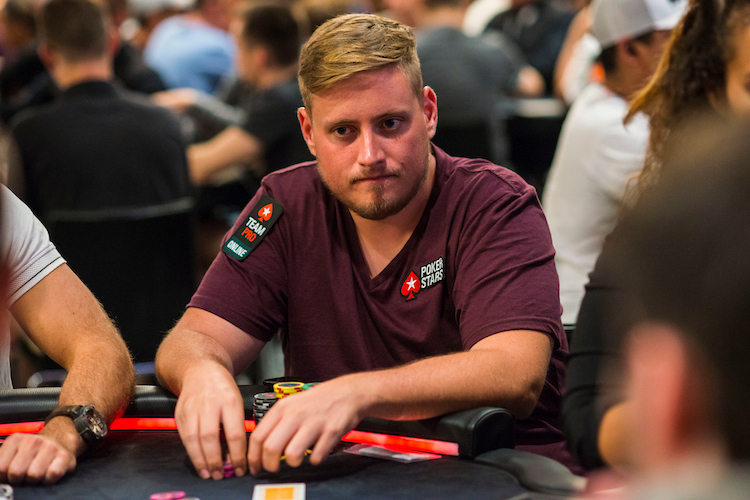 Staples crushed the day
There was a plethora of PokerStars Team Pros in the action today, but it was Jaime Staples who ended best with 186,000. Meanwhile Daniel Negreanu chose to grind the Main instead of the Single Day High Roller, and he'll unbag 31,700 at the start of play tomorrow.
Other Team Pros through include Jeff Gross (34,700), Andre Akkari (71.300), and Maria Konnikova (57,500). We'll have the full chip counts for you as soon as possible.
Day 2 kicks off at 12pm, and the plan is to play five 90-minute levels. Join us back here on the PokerStars Blog then.
---
Day 1B coverage archive

• DAY 1B: 567 of 1,305 (inc. 186 re-entries) | DAY 1A: 202
• SINGLE DAY HIGH ROLLER COVERAGE
• ALL EPT BARCELONA INFO | TOURNAMENT SCHEDULE
• DOWNLOAD POKERSTARS | Follow @PokerStarsBlog on Twitter

---
12:20am: Five more hands
Level 10 – Blinds 500/1,000 (BB ante 1,000)
Just five hands to go before play ends for the night. –JS
12:10am: Panka peaking
Level 10 – Blinds 500/1,000 (BB ante 1,000)
Dominik Panka has just taken down a huge pot to surge up the end-of-day counts.
We arrived at the table with a 10♠ 7♦ K♥ 5♥ J♦ board out there. Mathias Eibinger was all-in for a roughly 20,000 main-pot, but Panka and Thomas Eychenne were still battling over that plus the 46,000 side-pot they'd created.
Panka checked it and Eychenne bet big with 50,000, leaving himself 40,200 behind. Panka then moved all-in, and Eychenne looked sickened. He stood up, swore, and squirmed his way through a few minutes of thinking before finally tossing in a call.
Panka flipped over A♥ Q♥ for the nut straight, and Eychenne had to show K♠ J♠ for two pair. Eibinger had the 10♣ 8♥ and busts his second and final bullet.
With that Panka is now on 220,000, while Eychenne dips to just 10,000 or so. –JS
11:50pm: Closing in on the finish line
Level 10 – Blinds 500/1,000 (BB ante 1,000)
We're within sight of the end of Day 1B right now. Here's a look at some of the bigger stacks in the room with 30 minutes remaining in the day:
Anthony Chimkovitch – 225,000
Justin Ligeri – 195,000
Ka Kwan Lau – 190,000
Tamer Kamel – 180,000
Pavel Plesuv – 180,000
Things changed quickly in the last 20 minutes of Day 1A and they still could here, so stay with us through the end of the night to get a fuller picture of what's happened here tonight. –JK
11:40pm: Blom and Fernandez out, then back in
Level 10 – Blinds 600/1,200 (BB ante 1,200)
Viktor Blom's fast start came to an equally fast end, and he's now re-entered. The same goes for Team PokerStars Pro Leo Fernandez. –JS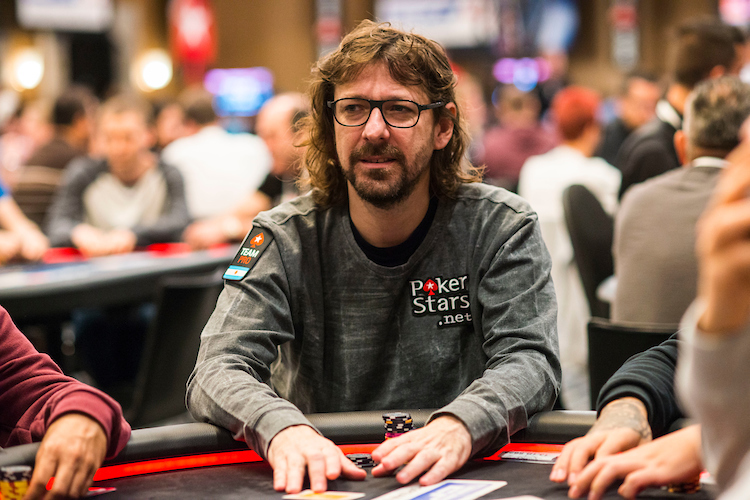 Team Pro Leo Fernandez
11:32pm: One hour to go
Level 10 – Blinds 600/1,200 (BB ante 1,200)
It's time for the last level of the night. We'll be back soon when we've found the biggest stacks in the room. –JS
11:25pm: Fun table
Level 9 – Blinds 500/1,000 (BB ante 1,000)
Adrian Mateos. Sergio Garcia. Dario Sammartino. Maria Lampropulos. All at the same table. This last level could be interesting. –JS
11:15pm: Lin loses the race
Level 9 – Blinds 500/1,000 (BB ante 1,000)
One member of Team PokerStars Pro we missed out from our list earlier is Celina Lin. And now, unfortunately for her, she just lost a big flip for her tournament life.
Lin just told us she had three-bet from the small blind, and then called an all-in shove holding ace-queen. Her opponent had pocket jacks, and the jacks held up. –JS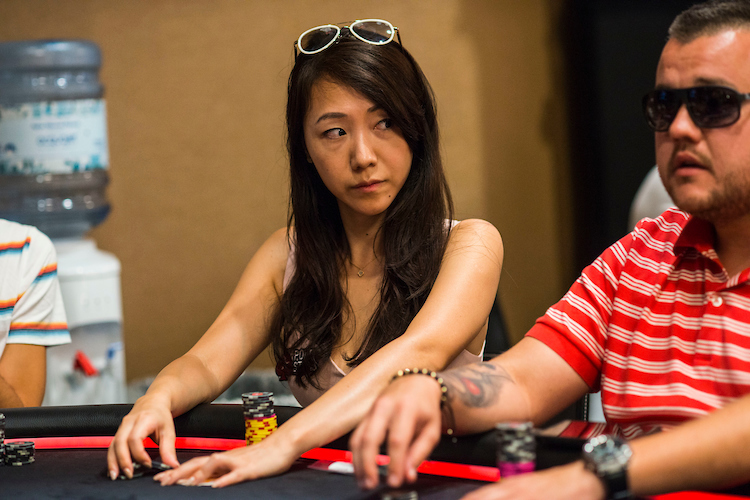 Team Pro Celina Lin
11:05pm: Quick! Everyone order a mojito!
Level 9 – Blinds 500/1,000 (BB ante 1,000)
I don't know what they put in Viktor Blom's mojito, but a little tipple has done him well so far. In just a matter of minutes, he's already near-doubled up to 53,000.
Not long after Blom's arrival, yet another online phenom strolled in, drink in hand.
Linus Loeliger, aka LLinusLLove, entered with a 30,000 starting stack and an ice cold frothy pint of beer in hand. He'll no doubt be hoping for an equally great start, but it won't be easy for him with Mathias Eibinger on his table. Eibinger finished third in yesterday's Super High Roller final table, and currently has 25,000. –JS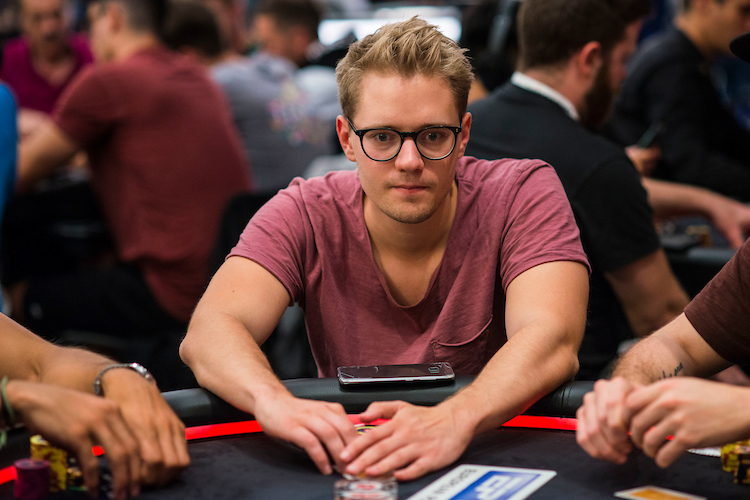 Linus Loeliger
11pm: Blast from the past
Level 9 – Blinds 500/1,000 (BB ante 1,000)
We just got a flashback to the poker boom days watching a hand involving Andy Black.
The former WSOP Main Event finalist opened under the gun for 2,000 chips and got two calls, one in the cutoff and one on the button. The only one that mattered after Black led for 4,000 on the 7♥ 2♥ 2♦ flop was from Italy's Andrea Cannizzaro on the button, since he decided to come along there, too.
Black checked when the 7♣ hit the turn and Cannizzaro quickly bet 5,000. That was enough to chase Black from the pot. "He had seven-deuce," he said with a grin as Cannizzaro pulled in the pot.
That leaves Black with 45,000, and Cannizzaro with 44,000. –JK
10:50pm: Mojitos and a hero's welcome
Level 9 – Blinds 500/1,000 (BB ante 1,000)
Like Mikita Badziakouski before him, another very familiar face has just taken his seat.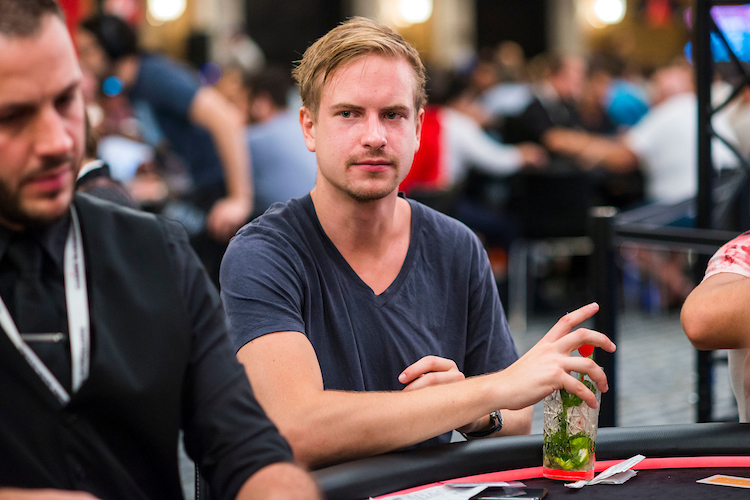 Blom: mix us one, will ya?
Viktor Blom, aka Isildur1, entered the room with a rack of chips and a freshly made mojito in hand. He found his table, and was instantly given a hero's welcome by his new neighbour, Portugal's Hugo Gomes Andrade.
I'm not sure what Andrade was telling Blom, but Blom's "Thank you, thank you, thank you" made it clear it was very complimentary. He begins with 30,000. –JS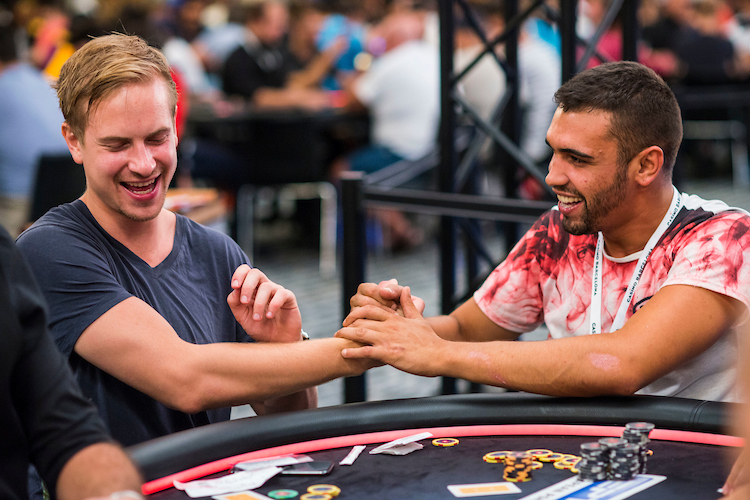 Blom and Andrade
10:40pm: We found him!
Level 9 – Blinds 500/1,000 (BB ante 1,000)
Andre Akkari is alive and well. He's sitting with 53,000. –JS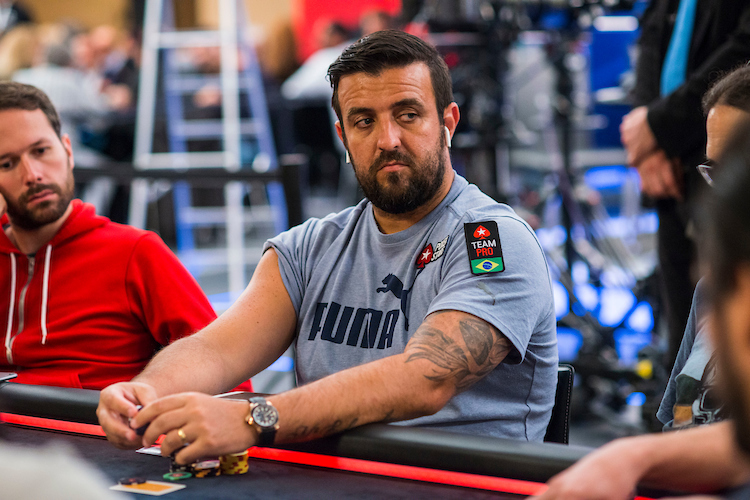 Akkari: going strong
10:30pm: ¡Hola, Mikita!
Level 9 – Blinds 500/1,000 (BB ante 1,000)
Late as it is here on Day 1B, we still have players buying in. Our latest arrival is none other than recent Super High Roller champion Mikita Badziakouski. He was right behind us as we arrived at Maria Konnikova's table, and he took his place in Seat 2.
"No, no!" said Konnikova, shaking her head as he sat down. Nobody wants a guy who's running hot at their table.
"Did you just buy in?"
"Yeah," replied Badziakouski. "First time, too."
"Oh no," said Konnikova. (Well, that's not what she said exactly, but it was certainly the gist for this family-friendly blog.) Badziakouski asked how many chips she had and she replied "about 100,000."
"I only have 30,000," he said. "I'm way behind you. But if I lose them, I hope they go to you."
"Thank you!" said Konnikova. –JK
10:25pm: Last two levels
Level 9 – Blinds 500/1,000 (BB ante 1,000)
There's just two hours left on the day. Now, we're off to find Andre Akkari (see below). –JS
TOURNAMENT BREAK: 20 MINUTES
---
10:05pm: Wherefore art thou Akkari?
It's the last break of the day, so here's a round-up from all of Team Pro.
Jaime Staples – 115,000
Maria Konnikova – 87,000
Daniel Negreanu – 74,000
Leo Fernandez – 73,000
Jeff Gross – 38,000
Muskan Sethi – 32,000
Sergio Garcia – 26,000
Randy Lew – 16,600
Andre Akkari's table broke just before the break, so we're not yet sure if he's still in or where he's sat. Stay tuned for an Akkari update in 20 minutes. –JS
10:00pm: Okada gets some off Grundtvig
Level 8 – Blinds 400/800 (BB ante 800)
Ken Okada raised to 1,700 from the hijack and Maria Konnikova called from the button. Christian Grundtvig went along from the big blind and all three players checked the 8♣ 7♦ K♠ flop. A 9♥ came on the turn and Grundtvig led the charge with a bet of 2,500. Okada called, Konnikova let it go, and an A♥ came on the river.
Grundtvig bet again, this time for 2,700 and Okada thought for a bit before calling. Grundtvig showed K♣ 10♥ for a pair of kings and Okada showed two-pair with A♦ 9♣ .
Okada took it down and rose to 75,000 while Grundtvig is down to just 9,200. –AV
9:55pm: Bad timing sinks Abdellatif on the river
Level 8 – Blinds 400/800 (BB ante 800)
Jonathan Abdellatif just made a bold move with his tournament life on the line. Unfortunately for him, he couldn't have timed it much worse.
Joao Baumgarten opened the action for 1,800 under the gun and got calls from Abdellatif in the hijack seat and Jaime Staples in the small blind. Staples and Baumgarten checked the K♥ 4♠ 4♣ flop to Abdellatif, who bet 1,500. Staples declined to join in but Baumgarten called.
Baumgarten thought for a spell after the 5♠ fell on the turn, then bet 2,700. Abdellatif called and the river was the Q♥ . Baumgarten again thought for a while, then checked — and then snap-called when Abdellatif jammed for his last 16,000 chips. He turned over Q♠ Q♦ for a rivered set of queens, more than enough to beat the bluffing Abdellatif's A♥ J♥ .
Abdellatif heads for the exits, while Baumgarten's stack jumps to 40,000 chips. –JK
9:50pm: Farrell on the rise with champion hands
Level 8 – Blinds 500/1,000 (BB ante 1,000)
Niall Farrell has one of the bigger stacks in the tournament with nearly 180,000, thanks in big part to the champion-esque hands he's been getting.
Take this heroic one for example.
Farrell raised to 1,800 from under the gun and Victor Shuchleib called from the big blind. Heroic. Both players checked the 5♣ 9♣ 10♦ flop and checked again after the J♥ came on the turn. Legendary. The Q♠ came on the river and they checked again.
Shuchleib showed A♠ 6♥ and Farrell turned over a dominated A♥ 5♣ .
"Champion," Farrell said as he wiggled his 5♣ . The UK pro is still near the top of the leaderboard, we'll see if he can end the day there. –AV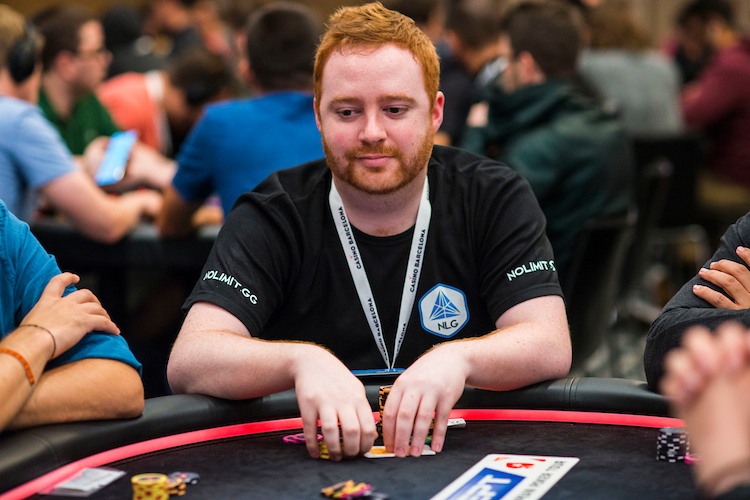 Big stack Farrell
9:40pm: Patrik picks off La Boissonniere
Level 8 – Blinds 400/800 (BB ante 800)
It's not easy to catch Patrik Antonius smiling at the table, but with good timing it's definitely possible.
Facing a raise from middle position, Charles La Boissonniere looked down at 4♣ 4♦ in the hijack seat and moved all-in for close to 5,000 chips. The action reached Antonius in the small blind and he re-raised to 10,000, chasing the original raiser from the pot and leaving the Finn's J♠ J♥ heads-up with a lot of equity. The board ran out 10♠ 5♣ 8♦ 5♥ Q♠ and La Boissonniere wished his now-former tablemates good luck as he departed.
Antonius happily pulled in the pot, which lifted his stack to 47,000. –JK
9:35pm: Paul vs Paul
Level 8 – Blinds 400/800 (BB ante 800)
With no action in front of him, Paul Berende opened his button to 2,000. Another Paul, Paul Newey, was in the small blind and he called to see a flop. The dealer spread the 5♥ 9♠ 4♦ , and Newey check-called a 3,000 c-bet.
That took them to the turn, which came the 6♣ . Newey now decided to seize control of the betting, leading out for 4,500. Berende wasn't put off though, and quickly called bringing the 5♠ on the river, which both checked.
Newey turned over 7♥ 7♣ , but Berende had top pair with 9♦ K♣ to take it down. He's on 34,000 now, while Newey takes a knock to 24,000. –JS
9:25pm: Here come the High Rollers
Level 8 – Blinds 400/800 (BB ante 800)
With the €50K Single Day High Roller winding down, we're starting to see a bunch of SHR regs turning up in the Main Event.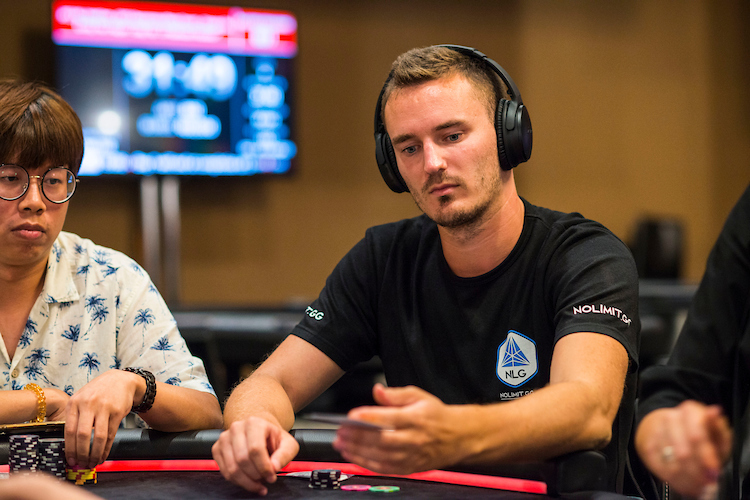 Sontheimer enters
Jan-Eric Schwippert and Steffen Sontheimer are playing, the latter of which currently sits with 26,000 for just under starting stack. Adrian Mateos is another we've just spotted, but he's made fast work of this one, increasing his stack up to 76,000 already.
In his latest pot, Niall Murray opened to 2,000 and Mateos three-bet to 5,700 which was called. The flop fell 5♣ 9♣ 9♥ , and he continued for 8,700 when it checked to him. That was enough to get the job done. –JS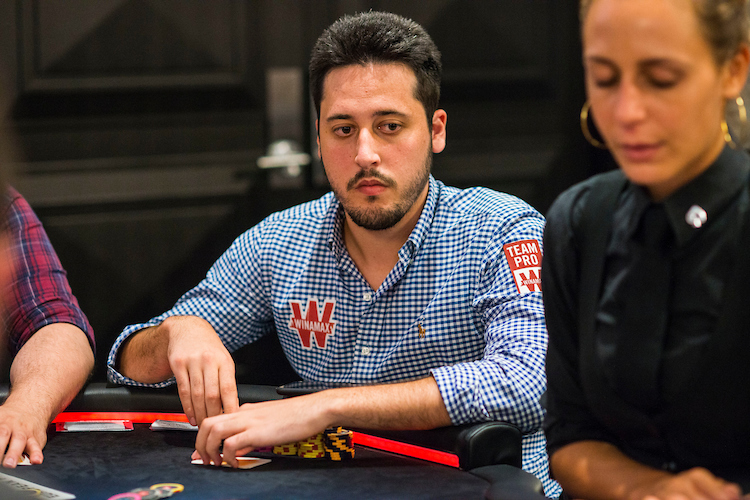 Mateos: fast worker
9:15pm: Donald vs. Daniel
Level 8 – Blinds 400/800 (BB ante 800)
Donald Duarte opened under the gun for 2,000 and got calls from Justas Vaiciulionis on the button and Daniel Negreanu in the small blind. Negreanu checked to Duarte on the A♣ 4♣ 8♦ flop, where the latter bet 2,500. Vaiciulionis wanted nothing to do with that, but Negreanu called after a brief think.
The 8♠ came on the turn, Negreanu checked again, and Duerte bet again, this time for 4,300. Negreanu thought it over but — perhaps with small ball in mind — eventually decided against continuing.
Duarte dragged the pot and climbed to 60,000, just a few chips shy of Negreanu's 62,000. –JK
9:10pm: Blinds up
Level 8 – Blinds 400/800 (BB ante 800)
Short stacks beware — we've once again bumped the blinds up. –JK
9:05pm: A bad good river for Staples
Level 7 – Blinds 300/600 (BB ante 600)
Jamie Staples raised to 1,300 from the hijack and Luiz Aurelli called from the small blind. Both players checked the 8♥ 9♦ 10♣ flop and a 5♣ came on the turn.
Aurelli bet 3,000 and Staples called, bringing an A♦ on the river. Aurelli bet again, this time for 8,500. The bet was bigger and made Staples think for longer.
"What do you want me to do?" Staples asked.
He thought a bit more and tried to pry more information from his opponent.
"That's a good card for me," Staples said, pointing to the river. "So what are you betting?"
Turned out it was something better. Staples called and Aurelli turned over 5♠ 5♦ . It was good. Staples mucked but he's still above average with 82,000. –AV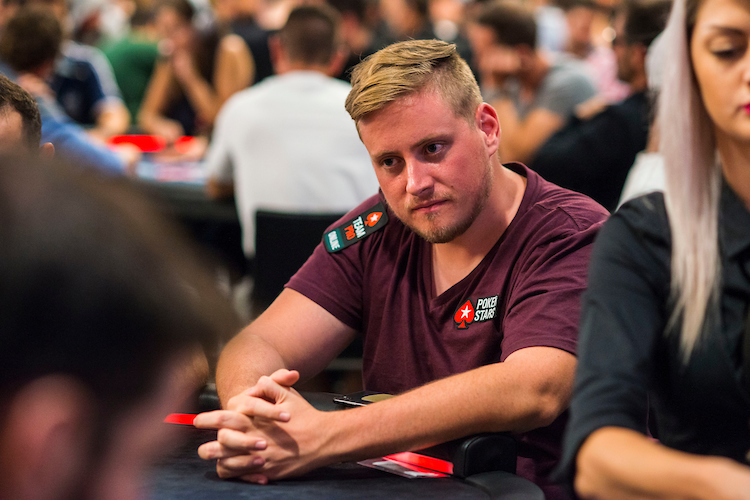 Jamie Staples and the quantum river
8:55pm: Nice play from Pandilica
Level 7 – Blinds 300/600 (BB ante 600)
We arrived to the table with Jason Wheeler in the midst of some decision making. Romania's Alin Petrisor Pandilica had opened the hand to 1,600 under the gun, only for the big stack of Wael Sarkis to three-bet to 4,100 on the button. Adrovan Rodrigues woke up with something he liked in the small blind and made the call, and Wheeler eventually decided to fold the big blind.
Three-ways to the 7♣ K♠ 3♠ flop, It checked to the last aggressor and Sarkis continued for 5,600. Rodrigues let his hand go, but Pandilica stuck around.
The turn then came the K♣ and when it checked to Sarkis again he fired 12,000. Pandilica called again, and both quickly checked the 10♠ river. Pandilica turned over 8♦ 8♥ , and that was good when Sarkis mucked.
He's down to 92,000 now, while Pandilica becomes the new table boss with 110,000. Wheeler is sitting with 25,000 currently. –JS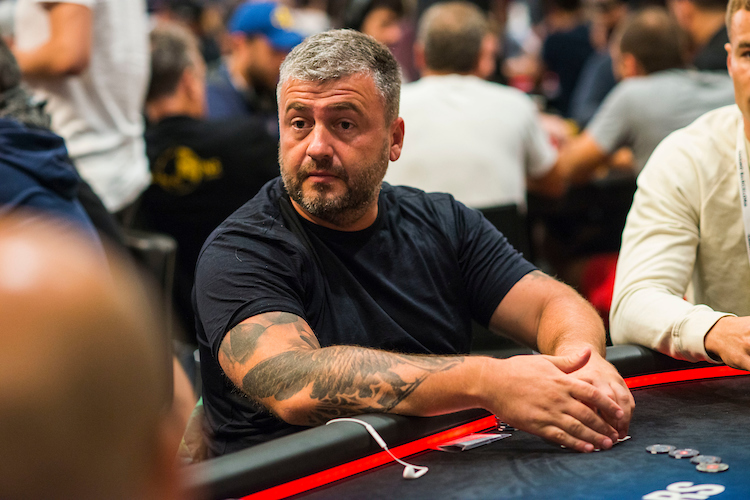 Table boss: Alin Petrisor Pandilica
8:45pm: Tense times on Table 66
Level 7 – Blinds 300/600 (BB ante 600)
Since returning from dinner Rok Gostisa and Carlo Savinelli have both been hanging on with less than their starting stacks at Table 66, where the aforementioned Patrik Antonius is quietly grinding away. A confrontation between them just now had the chance to knock one out, but a fold on the river avoided that spectacle for the moment.
Savinelli opened the action in the lojack seat for 1,200 before Gostisa popped it to an even 3,000 in the hijack. The rest of the table folded around to Savinelli, who called to take a 9♠ 10♥ K♣ flop. Savinelli check-called 2,500 there and both men checked the 8♥ turn, which took them to the 8♦ river.
Savinelli checked once again and Gostisa, who had 15,300 chips remaining, moved all but that last 300 forward as his bet. Savinelli took a trip to the tank for the next minute and a half and eventually ended up folding. That leaves him with 27,000 chips, just one yellow 1K chip less than Gostisa's new stack of 28,000. –JK
8:40pm: Antonius Alert
Level 7 – Blinds 300/600 (BB ante 600)
Patrik Antonius has quietly been doing work in this Main Event, opting to grind this instead of the Single Day High Roller. We say quietly because we've yet to mention him on this Blog so far today. So consider this your Antonius alert.
We just caught him in a pot too, but it wasn't one that increased his chip stack. He opened to 1,400 under the gun and got one caller, Andrea Crobu in the cutoff. The two went heads-up to an 8♦ 10♦ 9♣ flop, and Antonius opted to check it. Crobu came in for a 2,600 bet, but that was called.
They saw the 7♠ hit the turn, and with four to a straight out there Antonius now fired out for 7,200. Crobu came along though, producing a river card: A♣ . Antonius continued with his aggression and made it 11,800, which Crobu called pretty quickly.
Antonius turned over J♦ J♥ for a jack-high straight, and with only two jacks left in the deck that likely seemed good. Turns out Crobu had one too though with his A♥ J♠ , and they chopped it up.
Antonius has 47,000 to play with, while Crobu is on 35,000. –JS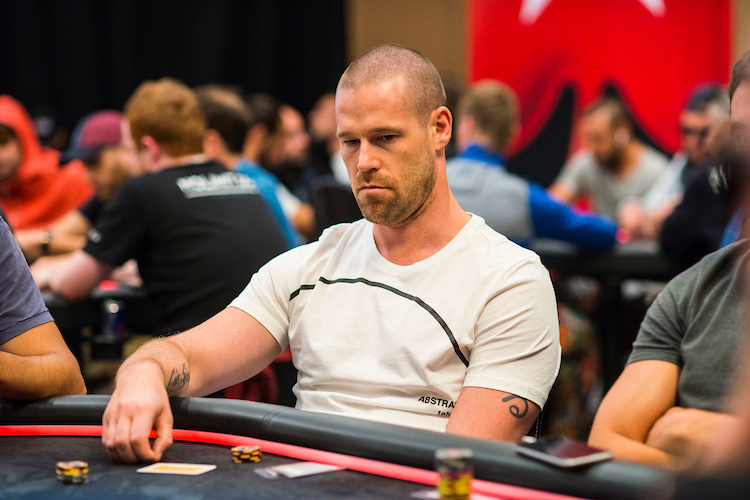 Antonius in the building
8:30pm: Less for Morra, doubles Fhal
Level 7 – Blinds 300/600 (BB ante 600)
Picking up the action on a 2♠ 9♣ 6♦ flop, golf superstar Sergio Garcia led for 1,600 and got called by Florent Fhal. Roberto Morra then raised it up to 4,000, shaking off Garcia but getting a call from Fhal.
The turn was the K♥ and after giving it a once over Morra opted to jam for 16,300. Fhal had 12,100 behind and snap-called it off, and with 6♥ 6♠ for a set he had Morra's A♥ 9♦ drawing dead.
The 8♣ river changed nothing, doubling Fhal to 34,000 and leaving Morra with just 4,200. –JS
8:20pm: Konnikova update
Level 7 – Blinds 300/600 (BB ante 600)
We stuck around to see Maria Konnikova defending her big blind, but when the hand quickly ended following a c-bet, we thought it best to grab a chip count for you.
She's doing well, sitting with 85,500 right now. –JS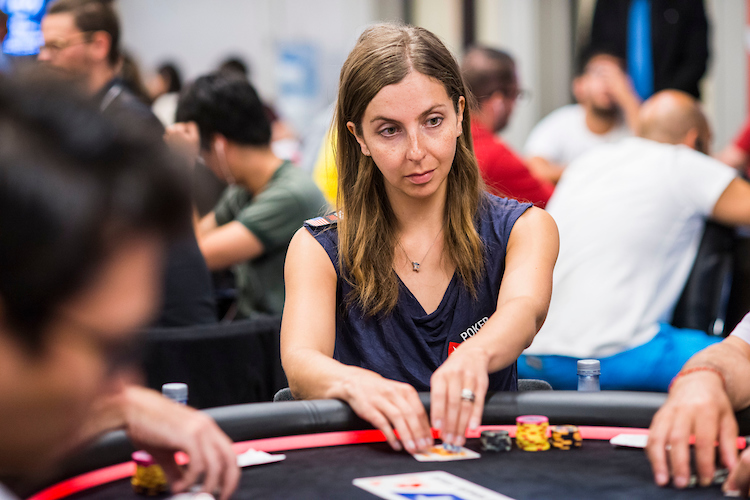 Good day so far for Konnikova
8:10pm: It's good to be on time
Level 7 – Blinds 300/600 (BB ante 600)
Chris Moorman was back for the first hand after the dinner break, and he must be pleased with how things went.
We walked up just as Moorman had check-raised to 7,400 from the big blind with the flop reading 4♣ J♦ 6♣ . Leonardo Giotti, who had bet on the button after Moorman checked, made the call, only to be put in a tough spot when Moorman shoved as soon as the Q♠ hit the turn.
"Ugh," Giotti said. "And I'm on the second bullet already, too." He agonized for another 30 seconds before finally announcing a call for his tournament life, and he wasn't happy with what he saw: his K♦ K♠ was trailing Moorman's jacks and fours with J♣ 4♥ . The 2♠ fell on the river and Giotti's tournament reached its end.
As Giotti walked away, tablemate Sebastian Lebaron said to Moorman, "Good to be on time."
"It's very important!" agreed Moorman, who's now up to about 65,000. –JK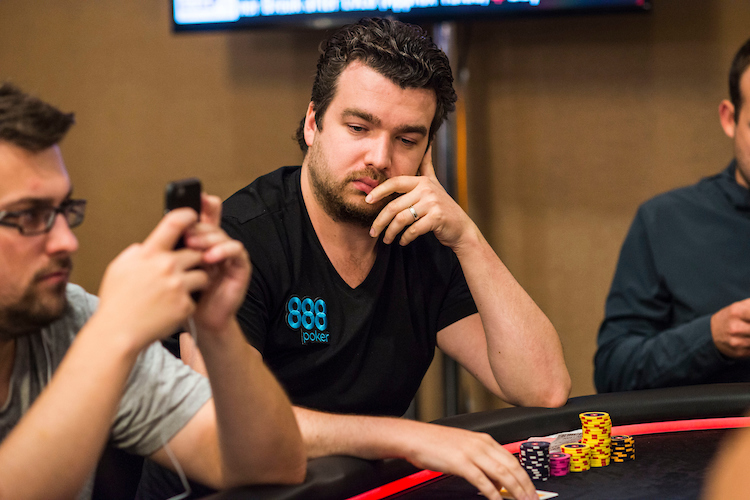 Moorman: never late
8:05pm: Back to business
Level 7 – Blinds 300/600 (BB ante 600)
We had a nice dinner break, but now work resumes. There's a ton of poker to be played, so let's get to it, shall we? –JS
---
TOURNAMENT DINNER BREAK: 75 MINUTES
---
6:45pm: Big stacks at dinner
Level 6 – Blinds 250/500 (BB ante 500)
The Main Event field is heading off for its dinner soon. There are now a handful of players with around about 100,000, and one in particular familiar face sitting with more than 140,000. That man is Niall Farrell, whose 142,000 is leading at this stage.
Other big stacks (a non-exhaustive list):
Niall Farrell: 142,000
Bernardo Soares: 125,000
Phan Duc: 110,000
Denys Shafikov: 99,000
Mikael Koistinen: 95,000
Anthony Mowad: 93,000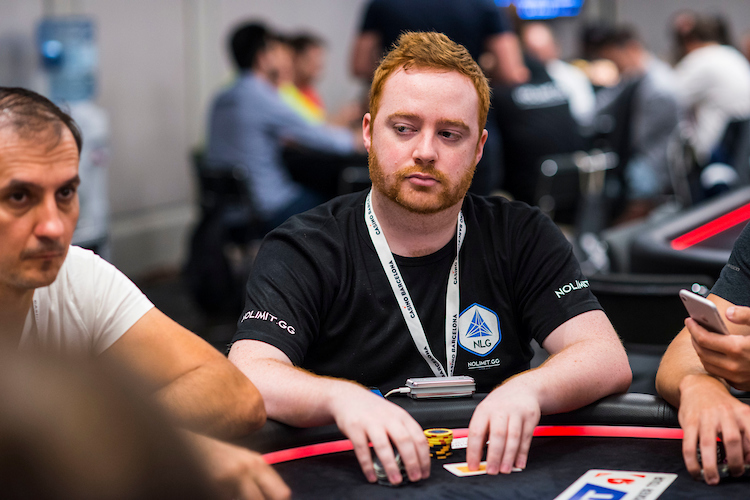 The leader Niall Farrell
Enjoy some time off, or keep the single-day high roller boys happy over on their live coverage. — HS
6:35pm: Niklas, aka Lena
Level 6 – Blinds 250/500 (BB ante 500)
After Niklas Åstedt had opened to 1,200 from the hijack, a member of the media who was live-streaming on Facebook walked by. "There's Niklas," he said, pointing his phone towards the Swede. But the thing is, Åstedt is better known in the poker world by another name: "Lena900".
He's the No 1 ranked online tournament player in the world right now, and has been on-and-off for years. But Åstedt has some live chops too, with more than a million bucks in cashes on the real felt to go with the millions he's won online. In fact, his biggest live cash came right here in Barcelona, when he finished fourth in the 2015 €10K High Roller for €336,700.
He'd end up getting two callers in that hand, before taking it down with a flop c-bet. Not much of interest there then, but don't be surprised to see Åstedt (who's sitting with 36,000) make some interesting moves at some point.
Especially if they keep putting cameras on him. –JS
6:25pm: Flop big, check dark
Level 6 – Blinds 200/500 (BB ante 500)
It was cooler-heartbraker flop for Guilherme Fontes Ribeiro. He'd called a preflop raised from the button with A♠ 2♠ and hit the nut flush on the 8♠ 4♠ 7♠ flop.
There were three other players in the hand and about 5,200 in the pot. Fontes was hoping for action and got it. Cristi Grecu started off the postflop betting with a bet of 3,100 and Fontes raised to 8,100. Two players called.
Salem Cherrati then checked in the dark and a 5♥ came on the turn. Grecu checked as well and Fontes moved all-in for 20,800.
There was something big lurking in the darkness though. Cherrati called and Grecu thought for a bit before folding. It was the right move.
Fontes turned over the nut flush and then Cherrati showed 6♠ 5♠ for the flopped straight flush. The river was an irrelevant 8♣ and Fontes hit the rail. Cherrati on the other hand took a picture of the board and then raked in the pot. He's now up to about 70,000.
Be wary of the darkness. –AV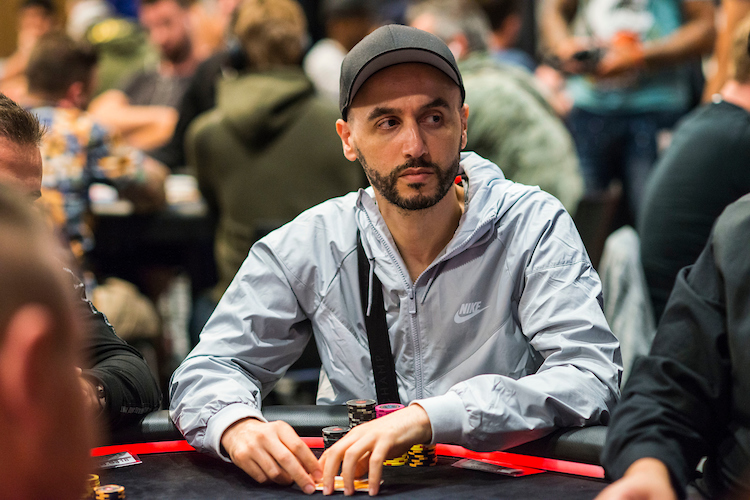 Salem Cherrati was waiting to pounce with his straight flush
6:10pm: Small ball, y'all
Level 5 – Blinds 200/500 (BB ante 500)
Daniel Negreanu tweeted earlier today that he wanted to "put on a small ball clinic" in this Main Event. He's sticking to that plan if this recent hand is any indication.
We showed up with 2,700 chips in the pot, a 3♠ 3♥ 5♥ flop already dealt, Negreanu in the big blind, and Johan Guilbert in the cutoff seat. Negreanu check-called 1,000 there and checked again when the 3♣ came on the turn. Guilbert checked behind, then put on his thinking cap when Negreanu bet 1,000 after the 10♠ river.
Guilbert didn't look happy as he ran over the possibilities in his head, but in the end the cheap price was enough for him to make the call. Negreanu immediately moved his cards face-down to the dealer and Guilbert dragged the pot without having to show his cards.
"I thought back on my training and thought, 'that's for value,'" said Guilbert.
"That was the goal!" said Negreanu. "I thought maybe I could get you to fold king-high."
No such luck. Of course, the good thing about small ball is that any losses don't cost much. Negreanu is still on 68,000. Guilbert climbs to 35,000. –JK
6pm: Lew shown the bluff
Level 6 – Blinds 250/500 (BB ante 500)
Randy Lew, along with all of his tablemates, could only smile after this hand finished.
Lew kicked it off opening to 1,200 from the UTG+1 seat, and it folded to Mikhail Surin a couple of seats over. He three-bet it up to 3,700, but when it got back to Lew he four-bet to 8,800.
Surin quickly leaned forward and asked for a count, and Lew stacked his chips in a way that made it easy to see he had 29,500 behind. Surin thought for a few moments before announcing he was all-in (having Lew covered) and Lew quickly let his hand go.
As he went to rake in the chips, bringing his stack up to 67,500, Surin showed the 2♥ for what was almost certainly a bluff. Either that, or it really is true what they say: deuces never loses. –JS
5:45pm: Time, time, see what's become of me
Level 5 – Blinds 200/400 (BB ante 400)
We didn't catch the action leading up to this tense moment, but when we arrived Gaelle Baumann was considering whether to call the rest of her chips off with her tournament life on the line. On the button, she already had a bet 11,800 chips in front of her and had been re-raised by Armenia's Wladimir Stepanian, who had moved all-in from the hijack seat with his remaining 41,000 chips.
As Baumann considered whether to commit her remaining 18,500 chips, one of the other players at the table called for time. The floor arrived and counted down 30 seconds, killing Baumann's hand at the end of it. Stepanian began stacking his chips and a conversation began that enlightened some of the previous action.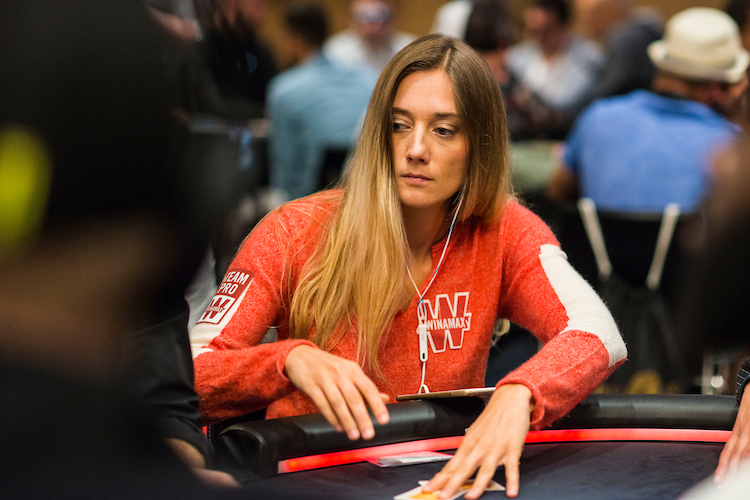 Gaelle Baumann: Time to plot a comeback
"Why would you call the clock on her after a minute and a half when he tanked for four minutes earlier?" asked one player. So it would appear that Stepanian had bet and then shoved after Baumann raised him.
"It was for her tournament life," Stepanian added, obviously sympathetic to his opponent's plight.
In the end it didn't matter, though. The discussion continued, Stepanian stacked up to 65,000, and Baumann began planning her comeback. –JK
5:55pm: Miles is miles away from home
Level 5 – Blinds 200/400 (BB ante 400)
Tony Miles is almost as American as you can get. Even his last name is in Imperial units. The 2018 WSOP Main Event runner-up has scored all $5.05 million of his live tournament earnings in the United States, but now he's decided to cross the pond.
Miles has taken his seat here in EPT Barcelona, with an NFL jersey of course, and recently took down a pot with an aggressive three-bet. America.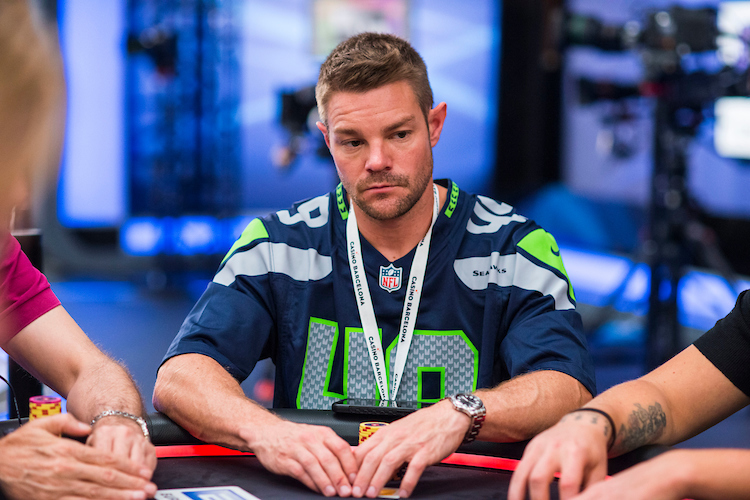 Tony Miles: WSOP second place finisher
There was a raise to 1,000 from the hijack that hand and a call from the cutoff. Miles was on the button and made it 4,300 to go. That was enough to scare off the blinds and everyone else still in the hand.
Miles took down the pot and is up to 56,000. –AV
5:50pm: Rough for Garcia
Level 5 – Blinds 200/400 (BB ante 400)
Sergio Garcia's Main Event has clearly been going well so far. He'd more than doubled his stack when we arrived, but this hand knocked him down a few.
Picking up the action on a 4♠ 2♣ 8♦ flop, Garcia led for 1,500 out of the big blind seat and was called in two spots. The turn came the 7♦ and Garcia continued for 2,000. Andrea De Georgio was his only caller.
The 9♦ then completed the board, and Garcia made the same bet: 2,000. De Georgio just called, and Garcia didn't seem too confident when he turned over Q♣ 8♥ . He was right to feel that way, as his second pair had been overtaken by De Georgio's 8♠ 9♥ on the river.
De Georgio is on 40,000 now, while Garcia is playing 54,000. –JS
5:40pm: Ship it to scarf guy
Level 5 – Blinds 200/400 (BB ante 400)
Sebastian Sorensson took down this very event last year, but don't feel too bad about not knowing his name off the top of your head. After all, thanks to his final table attire, he was known almost exclusively as "scarf guy" by the EPT Live commentators.
He's back to defend his title this year and is wearing the exact same scarf. It's proving lucky once again, as he's built his stack up to 55,000.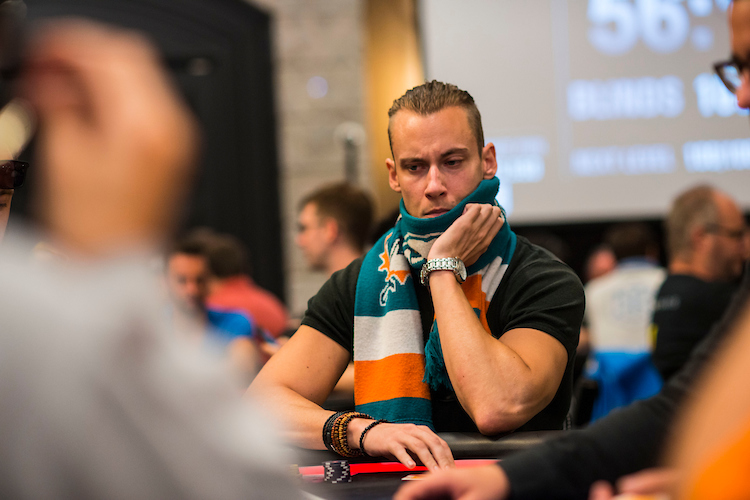 The distinctive stylings of Sebastian Sorensson
In this last pot he defended his big blind to an 800 hijack open and a button call, bringing an 8♥ 5♠ 6♦ flop. Sorensson check-called a 900 c-bet from the opener Danut Chisu, while Uwe Ritter let his hand go.
The turn was the 6♥ which both checked, and Sorensson then led out for 2,800 on the 4♣ river, which was enough to get a fold. –JS
5:30pm: Parreno picks some off Sethi
Level 5 – Blinds 200/400 (BB ante 400)
There was about 3,500 in the pot and a 10♣ A♥ 7♦ flop on the board.
Team PokerStars Pro Muskan Sethi bet 1,300 and Jeremy Routier folded. Action was on Victor Mateu Parreno and he called. Both players checked the 6♠ on the turn and the 7♥ completed the board.
Sethi bet 2,500 and Parreno ripped things up to 14,500. Sethi had about 45,000 behind and counted out the bet. She thought for a minute but decided to let her hand go.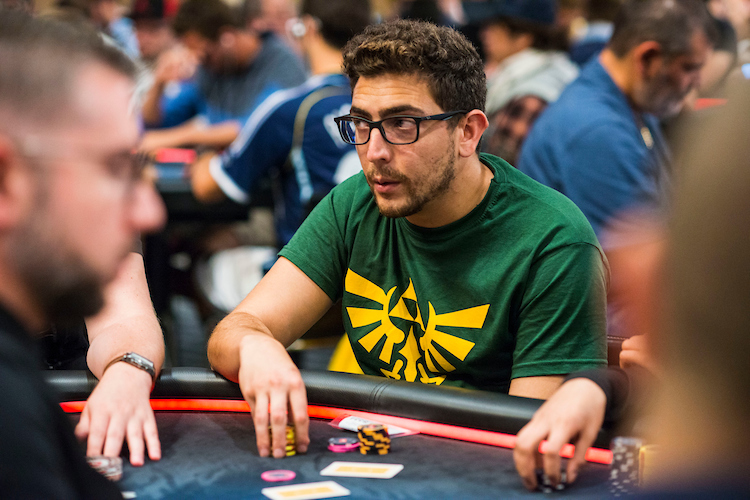 Victor Mateu Parreno: Pinches some from the Team Pro
Parreno took down the pot and is closing in on 90,000. –AV
5:25pm: Nedelcu says no, Staples says OK
Level 5 – Blinds 200/400 (BB ante 400)
Part of the fun of these early levels is watching pots play out with half the table involved. It's even more fun when you can win of these — just ask Romania's Narcis Nedelcu.
Nedelcu opened the action in a recent hand for 800 in middle position and got calls in four spots, including from Team Online's Jamie Staples on the button. All five players checked the 4♥ J♥ 10♥ flop, and the first two of them (including Nedelcu) checked the A♠ turn as well. The player in the cutoff bet 2,000 and Staples called relatively quickly. The big blind folded and then Nedelcu snuck in check-raise to 6,600.
The cutoff player let her hand go and that put the decision back to Staples. He had something good, but those three hearts on the board must've been troubling as he vocally announced his fold after about two minutes.
Nedelcu scooped up the much-needed pot for a jump back to 25,000. Staples, meanwhile, is still sitting on about 57,000. –JK
5:20pm: Battle of the Brits in Barca
Level 5 – Blinds 200/400 (BB ante 400)
Adam Owen and Tom Hall just tangled in a big pot that saw Hall secure a full double up.
It was a blind vs blind situation, and when we arrived Hall had a bet of 8,000 in front of him out of the big blind seat. That big bet paled in comparison with Owen's small-blind shove though, putting Hall to the test for it all. He had 36,500 behind, and was thinking for quite some time before he made the call.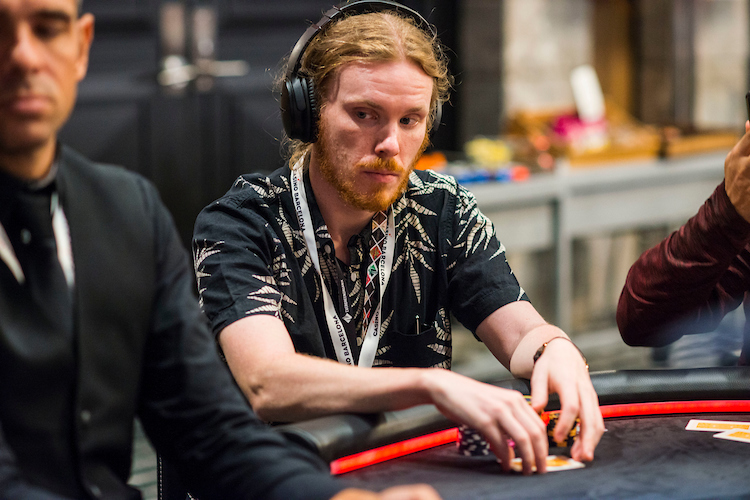 Tom Hall: Battling Brit
Owen quickly flipped the A♠ 4♠ , but that was dominated by Hall's A♥ Q♣ . It's almost never easy though, and Owen would flop a gutshot when the 2♥ 5♥ 8♦ hit the felt. In the end there was no need to panic, with the Q♦ and 6♦ completing the board and keeping Hall in front.
He's up to 73,400, while Owen's stack falls down to 29,000. –JS
5:10pm: A fortunate turn for Tang
Level 5 – Blinds 200/400 (BB ante 400)
Danny Tang is one of Hong Kong's best tournament players, so we're used to see him grinding events in Macau and other APPT stops. But Tang's a regular visitor to EPT Barcelona too, and will no doubt be hoping for another big score following on from his 31st place finish in the WSOP Main Event this summer (a cash worth a healthy $230,000).
It's early days, but his chances of doing that have just improved greatly. Tang opened the cutoff to 900 and was three-bet to 2,300 by Luca Marchetti on the button. Back to Tang, he made the call to see the 9♦ 5♥ 10♠ flop, and then check-called a 2,000 continuation bet.
The dealer burned and turned the J♥ , which Tang checked to the raiser. Marchetti gave it some thought and then fired 6,600 into the pot, and this caused Tang to pause. He was thinking for a little over a minute before he announced all-in for 23,000, and now it was Marchetti with the decision.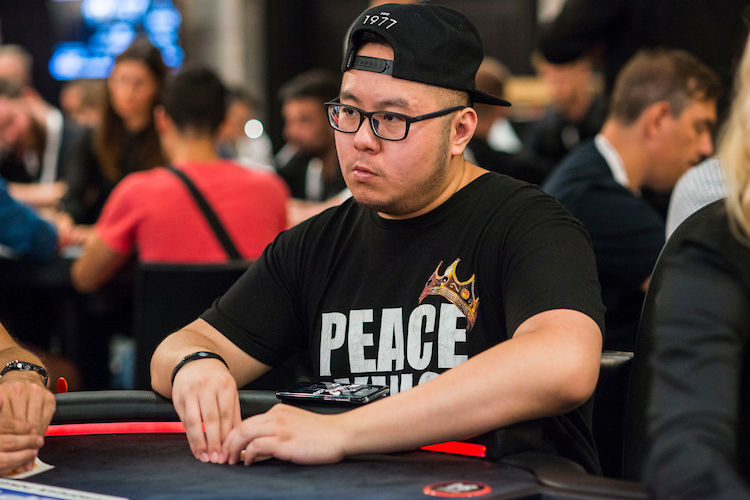 Danny Tang: Turn for the good
As the two were sat in seats either side of the dealer, Marchetti had to try the old "lean back read" – tipping his chair back so he could see past the dealer and try and pick up something from Tang. He counted out his own stack (69,200), and eventually made the call.
"You call?" asked Tang, who hadn't heard. When he had it confirmed he quickly and confidently flipped over K♠ Q♠ for the nut straight, and that was bad news for Marchetti who had A♦ A♣ . The river was the 7♦ , giving Tang a full double up to 55,000. Marchetti is down to 46,200 now. –JS
5:05pm: Boubli bounces back to even
Level 5 – Blinds 200/400 (BB ante 400)
Dig way back in the EPT archives and you'll find photos of Jan Boubli hoisting bricks of cash over his head, which came with the Season 2 trophy here in Barcelona. His last two cashes on record were here as well, back in 2009 and 2010. No one knows what this tournament holds for him yet, but he's back to his starting stack after a funky hand.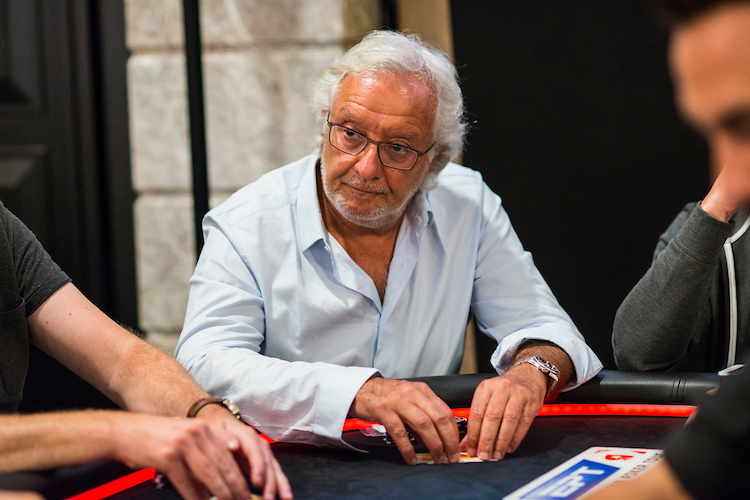 Jan Boubli: A return to the scene of his great victory
The action in the hand opened under the gun with a raise to 900 by Daniel Dvoress, fresh off his exit from today's €50K Single Day High Roller. Then came a bit of a Rodney Dangerfield moment for him — the table showed no respect as he picked up calls from UTG+1, the button, and both blinds.
Boubli was in the small blind and checked the 7♣ 7♥ K♠ flop. Then everyone else, including original raiser Dvoress, checked behind. That and the 6♥ turn were all the permission Boubli needed to bet 3,000, and folds cascaded around the table from there.
Picking up that pot boosted Boubli back to 30,000 chips. Dvoress, meanwhile, is on 27,000. –JK
5pm: Lampropulos lops some off Hawkins
Level 5 – Blinds 200/400 (BB ante 400)
Maria Lampropulos raised to 1,100 from the hijack and Maurice Hawkins called from the button. The two went heads-up to the 8♦ J♥ K♥ flop and they both checked.
A 7♥ came on the turn and brought a bit more action. Lampropulos bet 1,600, Hawkins called and the river was the 7♠ . Lampropulos upped the bet to 3,500 and Hawkins thought for a bit.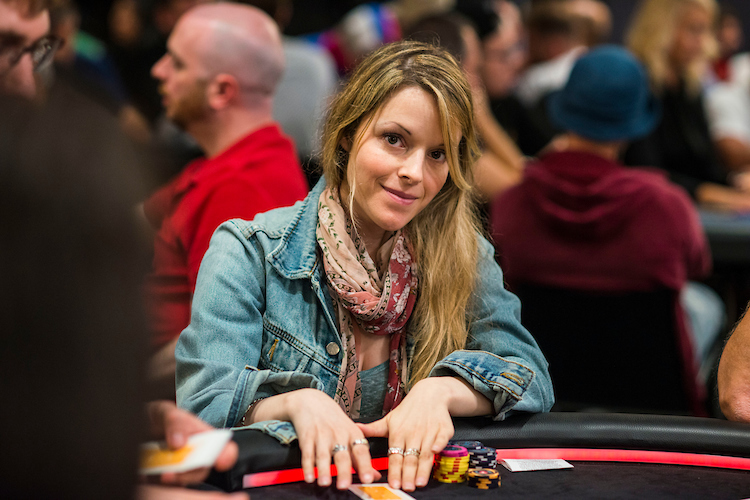 Maria Lampropulos: PCA champion looking to continue fine year
Then he called and Lampropulos turned over Q♦ Q♠ . Hawkins nodded and mucked, but is still sitting with 48,000 while the pot put Lampropulos up to 39,000. –AV
4:55pm: Two more levels then dinner
Level 5 – Blinds 200/400 (BB ante 400)
Players are back in their seats and they will play two more levels before being released to the custody of the restaurant owners of Barcelona. — HS
TOURNAMENT BREAK: 20 MINUTES
---
4:25pm: Getting loose with Lew
Level 4 – Blinds 100/300 (BB ante 300)
Team PokerStars Online Pro Randy Lew has been playing a lot preflop, but not much post.
He's also been playing a bit with the same people, Lukasz Cygan and Scott Wellenbach, who are both seated to his right.
Cygan raised to 600 from the button one hand and both Lew and Wellenbach called. Cygan then took it down with a 600 c-bet on the K♥ 4♣ K♠ flop.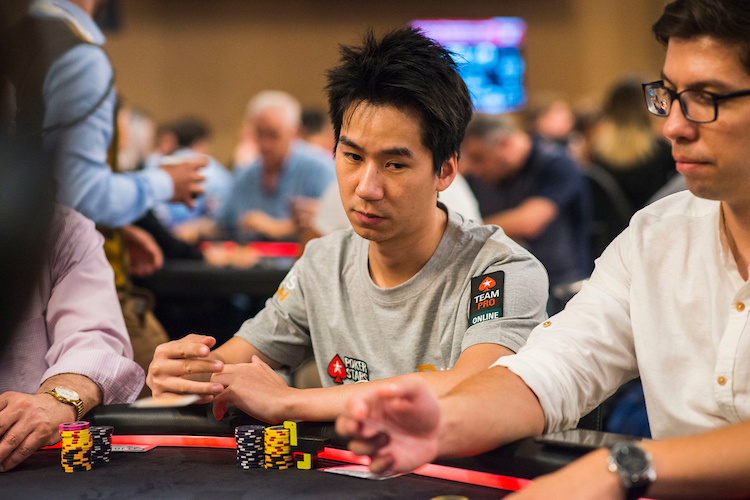 Randy Lew: Lewsy-goosy
Cygan raised it up to 700 the next hand and Lew three-bet to 2,700 from the small blind. Cygan called and then Lew bet 2,100 on the A♣ 6♦ 8♦ flop. It was too much for Cygan and he folded.
Then Lew and Cygan went at it again. Lew raised to 700 from early position and Cygan called from the big blind. The flop came down 7♥ Q♣ 5♠ and Lew bet when checked to. He took down the pot and players went on break a few minutes later.
We'll see if they ever make it to showdown. –AV
4:10pm: Ivanov's boat clips Salazar Sanches
Level 4 – Blinds 100/300 (BB ante 300)
Mauricio Salazar Sanches finished 14th in last year's PokerStars Championship Barcelona, but he's got his work cut out for him to make it that far in this tournament after running into Alexander Ivanov's full house.
Sanches was in the cutoff and the first caller of a middle position raise to 800. Ivanov called in the small blind and the big blind called as well, bringing a Q♦ 9♠ 2♣ flop. The first three players checked to Sanches, who bet 2,100, and only Ivanov called.
The turn was the 2♥ and Ivanov check-called another 3,300 there, bringing the 6♣ on the river. Ivanov tried to get in a check-raise but Sanches wasn't having any of it — he checked behind and mucked when Ivanov rolled over Q♥ Q♣ for queens full of deuces.
That moves Ivanov up to about 38,000 chips. Sanches slips to 10,000. –JK
4pm: Back to grinding with Gross
Level 4 – Blinds 100/300 (BB ante 300)
David Hu got a few chips back from Jeff Gross.
Gross raised from under the gun that hand and got a call from the hijack and Hu in the big blind. The flop came down 3♦ A♠ 3♠ and Gross bet 700 when checked to. Action folded to Hu and he raised it up to 3,000.
Gross thought for a while and folded. Maybe the next hand would go better.
It didn't.
Antonio D'Ascenzo raised to 700 that hand and Gross called from the big blind. Both players checked teh K♥ 5♥ 5♣ flop and a K♣ came on the turn. Gross bet 600 and D'Ascenzo called, bringing a 9♥ on the river.
Gross bet out again. This time he upped the bet to 2,800. D'Ascenzo thought for a bit and called. It was good. Gross mucked his hand and was left with 27,500 while D'Ascenzo took the pot. –AV
3:50pm: Great call from Velasevic, uses time wisely
Level 4 – Blinds 100/300 (BB ante 300)
Sometimes you get the feeling that players taking a long time over a decision are really only putting pressure on themselves. You can see the agony on their faces as they realise that, having taken so long to think it over, it would be especially devastating to get it wrong.
Danilo Velasevic was in just such a spot a moment ago, when he was facing a shove from Fabiano Kovalski and looking at a board of 9♥ K♥ 9♦ 7♠ 7♦ . Apparently it was a three-bet flop pre-flop, with Velasevic, in the big blind, bumping up Kovalski's early-position open.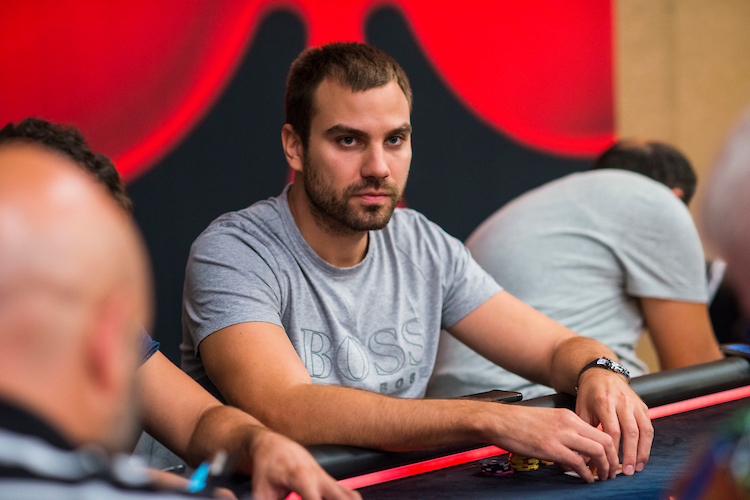 Danilo Velasevic: Uses time wisely
By the time they got to the finale, there was about 28,000 in the middle and so Kovalski's 18,200 shove was less than pot sized. But it was clearly a very difficult decision for Velasevic, who was deep in the tank.
"Sorry guys," he said, as Simeon Naydenov, one of his table-mates, got up to take a phone call, while another Bartlomiej Swieboda, did some leg stretches.
"No worries," said Thore Nordbø. "Take your time."
Eventually Velasevic just couldn't back down and put out calling chips. Kovalski immediately knew the game was up for him as he'd been making the move with a busted straight draw. He had Q♣ 10♦ . Velasevic showed his A♥ K♦ and I think we can safely say that was a terrific call.
Velasevic now has about 95,000 to work with, while Kovalski needs to make alternative plans. — HS
3:40pm: Two rooms in play
Level 4 – Blinds 100/300 (BB ante 300)
As was only to be expected, the second tournament room is now also in operation as EPT Barcelona again begins to burst at the seems. Maria Konnikova, Niall Farrel, Theo Jorgensen, Paul Newey, Vladimir Troyanovskiy, Jonathan Roy and Jason Wheeler are some of those who have taken a seat up there. — HS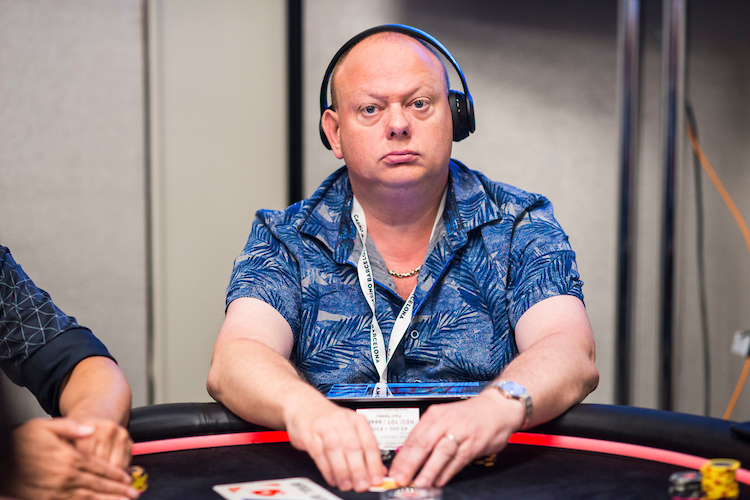 Poker's Paul Newey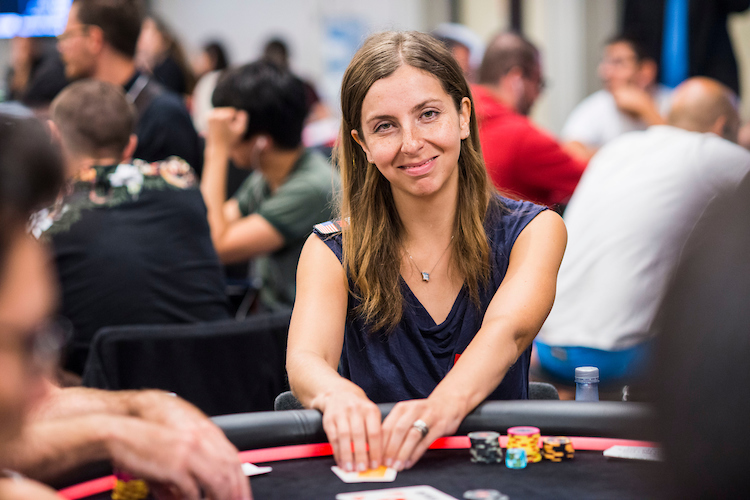 New Yorker Maria Konnikova
3:30pm: Deinum collecting
Level 3 – Blinds 100/200 (BB ante 200)
Dutch pro Foeke Deinum has pushed his stack up to around 75,000 after strong-arming a pot against Daniel Belov. Deinum made Belov make a decision for about 90 percent of his chips on the river and it was too big a risk.
We caught the action from the turn only, with the pair having got about 30,000 in the middle as the dealer offered them the 8♣ 2♣ 8♥ 5♦ to survey. Belov checked but was then faced with a bet of 11,000 from Deinum. Belov called.
Belov checked again after the J♠ river, but he was not going to get a free showdown. Far from it. Deinum moved in for 31,100 and Belov had to ponder a call for almost all of his 36,000 remaining stack.
Belov did the old stutter fold. He picked up his cards and kept intimating that he was about to fold, before eventually he did let them go. — HS
3:20pm: Tough spot for Hu
Level 3 – Blinds 100/200 (BB ante 200)
It's David Hu's job to day to be the filling in a Team Pro sandwich. He is seated between Leo Fernandez and Jeff Gross on Table 62 today, and the three of them just played a pot against one another.
There was about 3,500 in the middle as we pick this up on the turn. The 3♣ J♦ 10♠ Q♠ board was worth three checks. Then the K♥ fell on the river and Fernandez and Hu checked. Gross pushed 1,900 out there, which was enough to get Fernandez to flick his cards back to the dealer.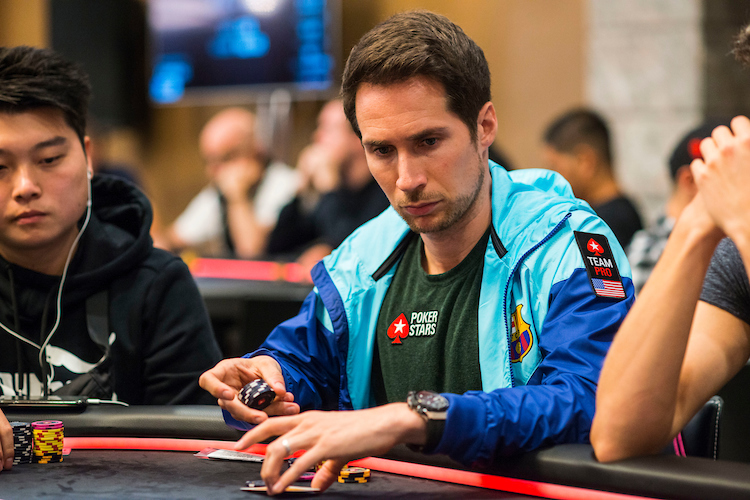 Jeff Gross: Eyes firmly fixed
Hu, however, tank-called and was shown A♠ 7♠ for the rivered straight. Hu could neither beat nor even chop with Gross and flung his holding away too.
Gross now has 34,000. — HS
3:10pm: Staples siphons some off Aristov
Level 3 – Blinds 100/200 (BB ante 200)
Sergey Aristov was on the button and raised to 600 when action folded to him. Jamie Staples called from the small blind and Stephen Bierman did the same from the big blind to make it a late-position party.
The flop came J♠ 6♠ 7♥ and action checked to Aristov, who bet 1,200. Both players called and an A♦ came on the turn. Action checked to Aristov again and he bet 3,000. Staples called but Bierman folded and the two players went to the 7♠ on the river.
"How much you got there, 8K?" Staples asked. Aristov nodded and Staples threw in bet of 10,000. Aristsov shook his head and folded, showing a Q♣ .
Staples said he had a full house and chipped up to 47,000 while Aristov was left with his 8,000.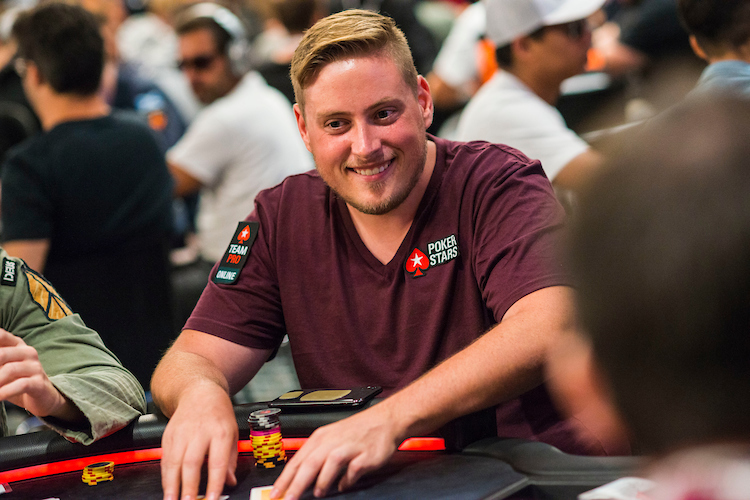 Jamie Staples
3:00pm: Huber hanging on
Level 3 – Blinds 100/200 (BB ante 200)
Stefan Huber was heads-up against Alexandru Papazian and they were faced with a 2♣ 5♥ 7♦ K♠ 8♠ board.
There was about 13,400 in the pot and Papazian bet 7,400 into it. Action went to Huber and he thought for a bit. Then he moved all-in for 14,000. It was too much for Papazian and he let his hand go.
Papazian was left with 24,700 after the hand while Huber rose to 37,000. –AV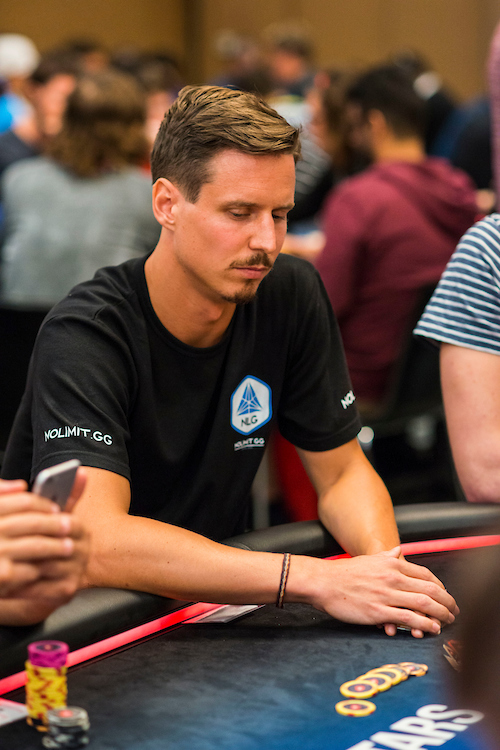 Stefan Huber stays alive
2:55pm: Szwarcberg survives scary board
Level 3 – Blinds 100/200 (BB ante 200)
A board of Q♣ 4♣ J♣ J♠ A♣ is particularly horrifying if you have neither a jack nor a club in your hand. But Argentina's Tomas Szwarcberg managed to secure a full double up with his K♠ Q♥ .
He open-pushed a short stack of 4,400 from the hijack and action folded to Felipe Salgado in the big blind. Salgado didn't need to think too long before calling with 9♠ 9♥ .
The dealer span through that board and the queen on the flop was critical. All the rest was mere details. — HS
2:45pm: Start-of-day prose with Team Pros
Level 3 – Blinds 100/200 (BB ante 200)
Ahead of Day 1B, the likes of Andre Akkari, Maria Konnikova, Daniel Negreanu and Sergio Garcia talk up their plans for the day.
2:35pm: Small movements for Team Pro
Level 3 – Blinds 100/200 (BB ante 200)
Another quick Team Pro update: Andre Akkari is down to 20,500. Jeff Gross has 25,000. Leo Fernandez has 28,000. Muskan Sethi has 32,000. And both Celina Lin and Randy Lew are also in today's field, but I didn't see them so let's put them on their starting stacks of 30,000 too. — HS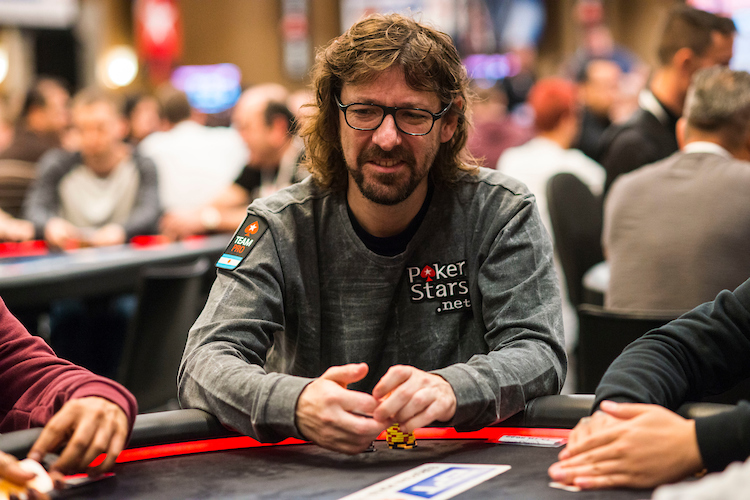 Leo Fernandez: From Buenos Aires to Barcelona
2:35pm: Negreanu plays it cagey
Level 3 – Blinds 100/200 (BB ante 200)
We only picked up the action on the river here, and in actual fact there was no action. Martins Adeniya checked the board of A♠ Q♠ 10♠ A♦ 9♥ over to Daniel Negreanu, and Negreanu pondered then tapped the table too, adding, "Just in case."
"Straight," Adeniya said as he turned over K♣ J♣ .
"No good," Negreanu said as he exposed his 8♠ 7♠ .
They then agreed that the turn card had made both their decisions a touch harder, with this pot having had the potential to be much bigger than it was.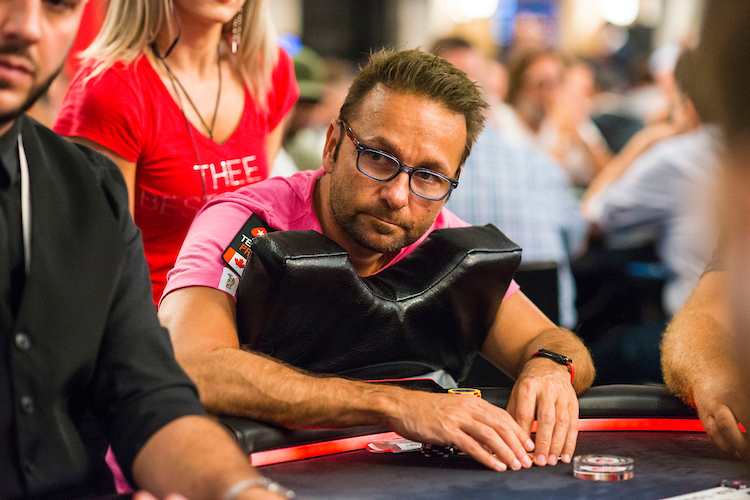 Daniel Negreanu chips up with a small flush
Negreanu's small flush took it, and he is up to about 55,000. He is also applying some characteristic focus to this event, having passed up the chance to play the single day high roller.
Been a while since I cared about a main event vs high rollers. Plan to put on a small ball clinic #EPTBarcelona

30 min in almost doubled up already. #JustHaveIt

— Daniel Negreanu (@RealKidPoker) August 28, 2018
It's working so far. — HS
2:20pm: Back to it
Level 3 – Blinds 100/200 (BB ante 200)
Players from this bumper field are back in their seats and play has recommenced in Level 3.
EPT Barcelona Day 1B field
---
TOURNAMENT BREAK: 20 MINUTES
---
2pm: Raeikkoenen ruin
Level 2 – Blinds 100/100 (BB ante 100)
It wasn't the biggest pot in the world, but it was fairly vital to Simo Raeikkoenen. His A♦ 9♦ never caught up against Christian Nolte's A♣ Q♥ through a board of 5♥ K♠ 4♣ 5♠ 10♠ . They had all the chips in pre-flop and Raeikkoenen's short stack is now with Nolte. Raeikkoenen will need to decide whether he fancies a re-entry. — HS
1:50pm: The incredible Holke
Level 2 – Blinds 100/100 (BB ante 100)
Tom Holke had quads on the first hand of the day and built his stack up a bit, but his seat is now empty. That's the way he plays. Teun Mulder is the big stack at the table, so it's highly likely he was at least the partial assassin of Holke. — HS
1:45pm: Garcia holes out from hazard
Level 2 – Blinds 100/100 (BB ante 100)
Sergio Garcia and Anthony Allan just played a significant pot, which could have pretty much meant the end for either of them. They got the majority of their remaining chips in on a board of 8♠ 2♥ A♣ 4♦ and while Garcia possibly thought he had landed bang in the centre of the green with his 2♦ 2♣ , he was actually deep in the rough. Allan had 3♥ 5♦ . That was a straight.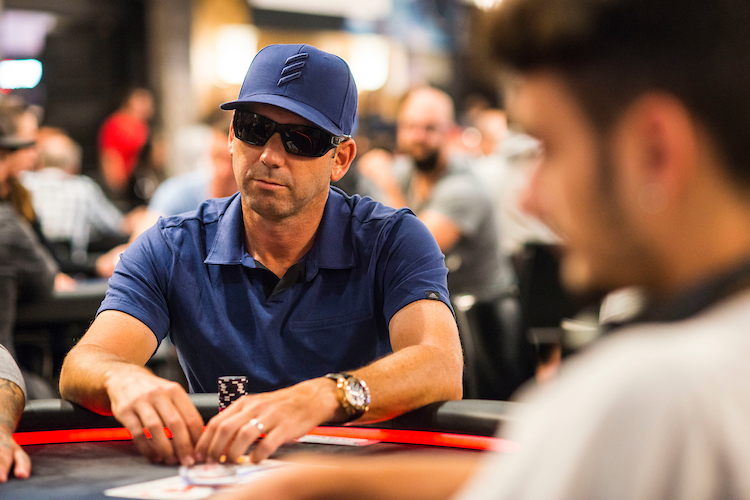 Sergio Garcia: Holing out
All was not lost for the short-game magician, however, and he chipped in from danger when the 8♥ came on the river, making him a full house.
A disgusted Allan headed home (not before shaking his opponent's hand) while Garcia stacked up about 25,000. Had he not hit the river, he'd have been on fumes. — HS
1:35pm: Three way show down goes Glaser's way
Level 2 – Blinds 100/100 (BB ante 100)
There were already a few eyebrows raised when a big bet on the flop by Michele Perego was called by two other players – Franck Makaci and Benny Glaser.
It was the same on the turn. Another bet. Another two callers.
So with the board reading: A♦ 10♠ 4♥ 3♠ there was plenty in the middle to keep everyone's leg bouncing. And everyone wobbled because of it.
Then the river card: [jx]
This time Perego and Makaci checked to Glaser. He bet 9,100. But rather than put anyone off, it was called again.
Glaser immediately turned over 10♥ 10♦
Makaci winced. He'd been the most emotive during the hand and now said "woahwoahwoahwoah…"
Then, before showing his own cards, he asked XXXX what he had. As if there might be a prize for second place.
Perego: 3♣ A♣
At which point Makeci showed his once proud but now diminished A♥ K♦ .
"Not a good call from me," he said by way of confession. I was sure you had a ten. Sure."
Glaser listened patiently. It's easy to be patient when you're stacking up more than 50,000 chips in level 2. — SB
1:10pm: Lots and lots of people
Level 2 – Blinds 100/100 (BB ante 100)
Things happen rapidly here in Barcelona. Not only are we already into Level 2, but there are three players who have already been knocked out and re-entered. The tournament board shows 826 entries, including those three re-entries.
Among them, we have Team PokerStars Pro's Jeff Gross and Leo Fernandez, who have ended up on the same table. And I think it's also a first EPT sighting of Muskan Sethi, our new Indian ambassador. Sethi has a terrific back story, which we found out all about during the World Series this year.
Muskan Sethi: A mirror to your soul
1pm: Putting the decision elsewhere
Level 1 – Blinds 100/100
Noah Novick didn't want to make any tricky decisions in an early pot today, so got his chips in and made Denis Strebkov think for a bit.
The hand began with Novick's open from the hijack and then a raise to 1,100 from Strebkov on the button. Vladimirs Skadins then called in the small blind and action came back around to Novick. Novick four-bet to 4,300 and only Strebkov called.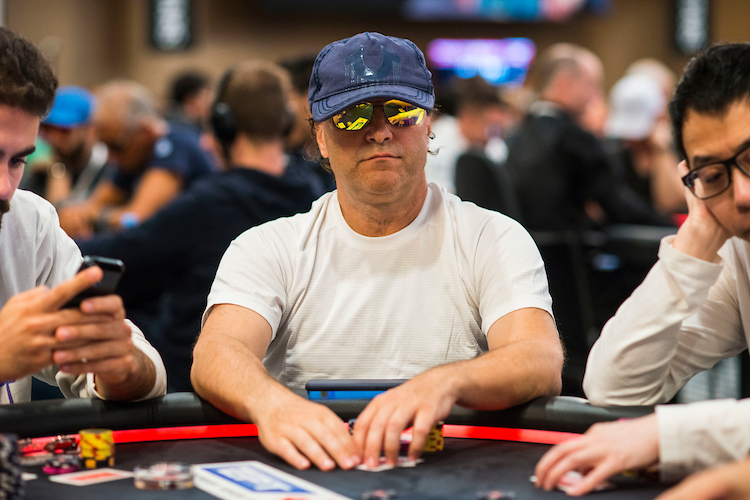 Noah Novick: Chips in
The flop was an innocuous seeming 9♣ 2♥ 8♠ and Novick said that he was all-in for about 24,000. After checking that this was indeed a shove, and watching the dealer putting the all-in triangle in front of Novick, Strebkov let his hand go. — HS
12:55pm: Hotshot Owen
Level 1 – Blinds 100/100
Adam Owen is another player with fond memories of Barcelona. The Londoner finished third behind Sebastian Malec and Uri Reichenstein in 2016 here, for what was then the largest cash of his career (€646,250). Then earlier this year, he surpassed that total with a €1.3 million runner up finish in Casino Barcelona in the "Other Poker Sites are Available" MILLIONS event.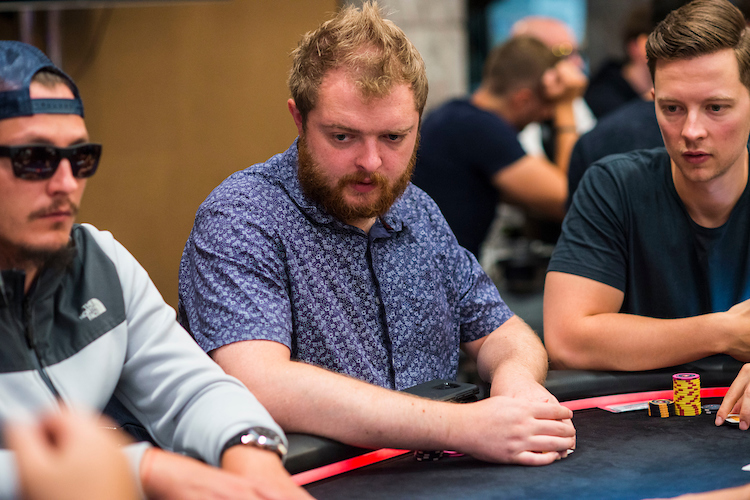 Adam Owen: Loves Barcelona
Not only that, but Owen, who is an avowed Tottenham Hotspur fan and wore a Spurs shirt on the final table in 2016, last night saw his team lay Manchester United to waste 3-0 at Old Trafford. Everything turns to gold when Owen is in this city.
All of that puts this tiny pot into context, but this is a poker report after all. Owen three-bet his big blind to 1,600 after a 300 button open and a call in the small blind from Jose Manuel Nunez. The button raiser departed leaving two of them to a flop of 3♦ 4♥ A♠ . Nunez checked and Owen's 1,000 bet took it down.
It's not quite the poker equivalent of a soaring Harry Kane header, or two sharply finished second-half strikes from Lucas Moura, but it's early. — HS
12:45pm: The stars of Season 2 are back
Level 1 – Blinds 100/100
If you like your poker retro, or if you've followed the European Poker Tour since the early days, there are a few names in the field that will ring some bells.
Yesterday former EPT Champion Ben Wilonofsky bagged up the chip lead.
Today Jan Boubli, who won this event back in Season 2, is in the field. Noah Boeken, another early adopter of all things EPT, was in the field.
It's not just winners.
There's a welcome Scandinavian/ Nordic flourish to the field.
Martin Vallo, who used to terrorize opponents at EPT Copenhagen, has a seat today. And while Theo Jorgensen has not yet taken a seat, he's playing poker somewhere in Casino Barcelona.
The Finn Juha Helppi, who's been around since before the Tour started, plays today, as does Sweden's Johan Storakers, and WPT winner Christian Grundtvig.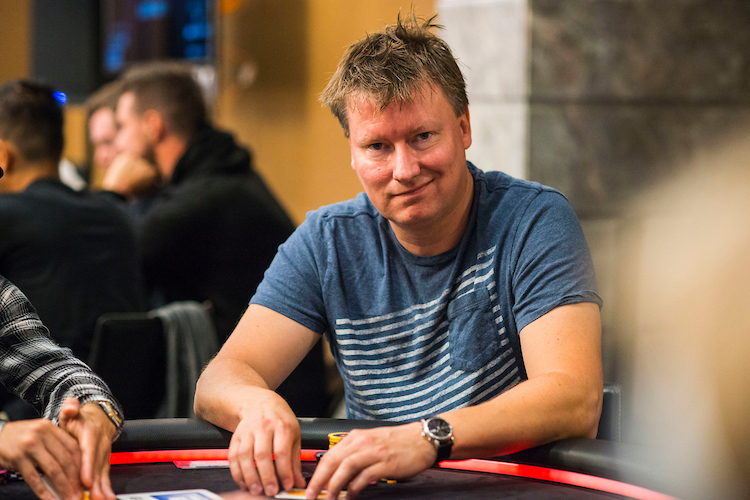 Johan Storakers: A flashback
To put these guys in perspective, if you're in your early twenties, these are the guys who were tearing up the game when you were playing snap.
Seem they're back to tear it up some more. — SB
12:35pm: Friends (foes?) and neighbours
Level 1 – Blinds 100/100
Arguably the greatest ever end to an EPT Main Event came here in Barcelona two years ago, when Sebastian Malec belied his tender years to get all Scotty Nguyen on Uri Reichenstein when the pair were heads up. Malec essentially chit-chatted his way to the title.
Both players are back today, and seated a table apart. I didn't see if they greeted each other as friends or foes (or whether they're indifferent to one another's presence) but it's good that they're both back here to have another stab at a deep Barcelona run.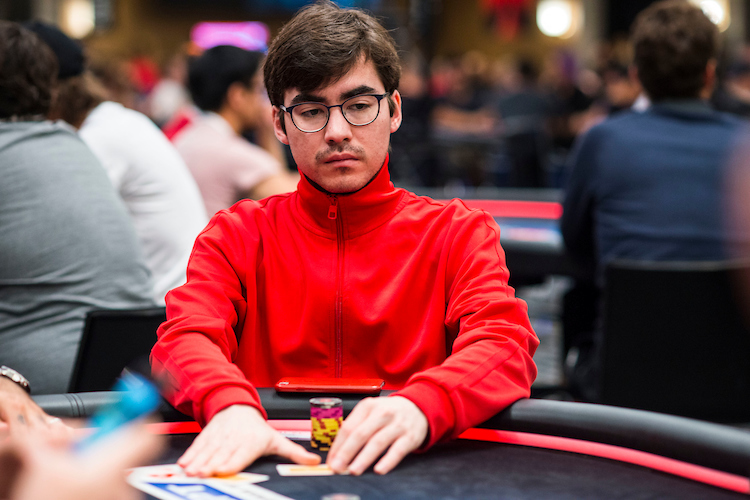 Sebastian Malec: A legendary champion
Reichenstein is playing at a three-handed table right now, and took down a very small early pot from Eric Lenoir. Lenoir raised his button to 300, Reichenstein three-bet from the small blind, making it 1,200 and Lenoir called.
Reichenstein continued for 1,000 on the 8♣ 5♥ 10♣ flop and Lenoir folded. It's not a tournament-defining pot, I'll admit. — HS
12:30pm: How prolific is Ari Engel? Try this experiment
Level 1 – Blinds 100/100
It's hard to explain how prolific Ari Engel is at cashing in (and occasionally winning) live events. So here's an experiment you can do to get the idea.
First go to the Hendon Mob database.
Then find Engel's page (for the purposes of this experiment try not to get distracted by the length of his resume, you'll be scrolling down for some time) and sign up for notifications. It helps get the full effect if you're not following any other players, but feel free to follow whoever you like.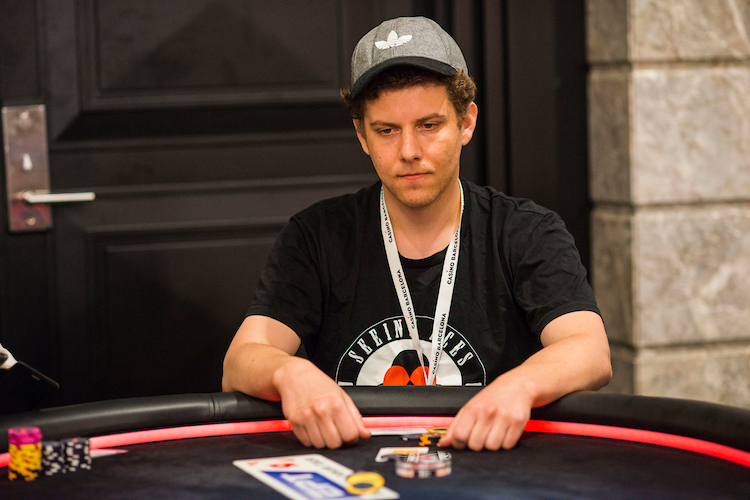 Ari Engel in action in the opening minutes of EPT Barcelona.
Once you've done that, simply wait for your inbox to fill up with notifications.
This must also be a useful way for Engel's loved ones to monitor where in the world he is on a given week.
All of which is the long way of getting to the brief details of a hand he just played against Florian Bethouart. Good for a very early boost.
The board was already dealt: Q♠ J♥ 2♣ 3♣ J♦
Bethouart had bet 1,200 but Engel fired out 4,100 in reply.
Bethouart thought for a moment, then called with his J♣ .
But Engel turned over J♠ A♣ to win the hand. We never saw Bethouart's other card.
If things continue as he started, anyone new Engel followers trying out the experiment should expect an email sometime later this week. – SB
12:20pm: Holke hits big on first hand
Level 1 – Blinds 100/100
A delighted Tom Holke–immediately recognisable thanks to his stetson in the colours of the German flag–halted this reporter on an early sweep of the room. Holke wanted to relay the details of his first hand, in which he flopped a set with pocket twos and rivered quads. What was even better was that his opponent (sadly nameless) turned a straight.
The pot was worth 11,000, which represents a very nice start from the always active Holke.
The distinctive Tom Holke
Holke is sitting at the same table today as Dinesh Alt, the former TCOOP Main Event champion, who also won on the Eureka Poker Tour in Hamburg a couple of years ago. Holke was also prominent in that tournament, leading after Day 1 and cashing in 54th. So this is a reunion of sorts for those two. — HS
12:10pm: Let's play cards
Level 1 – Blinds 100/100
Off we go on Day 1B, on the very stroke of 11 past midday. So far, we have more than 600 players registered for the day, which will only grow and grow.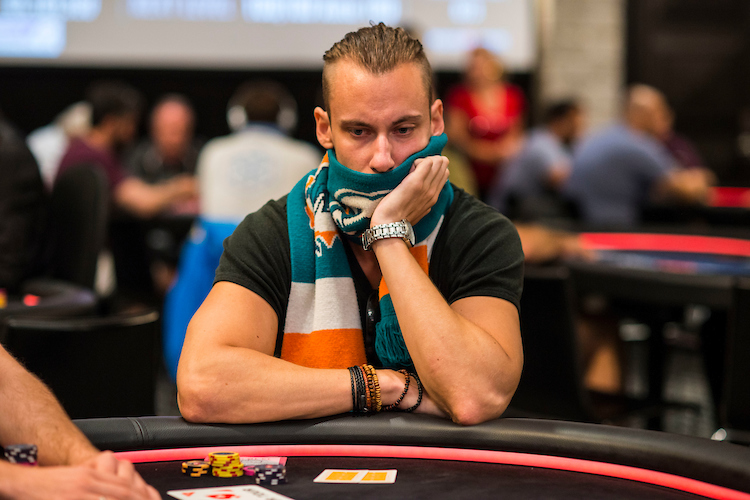 Sebastian Sorensson: Dug back into the bottom draw for the scarf
Players seated early include the defending champion Sebastian Sorensson, who hasn't been seen in a poker room since last year's fairytale triumph, and the Masters (golf) champion Sergio Garcia.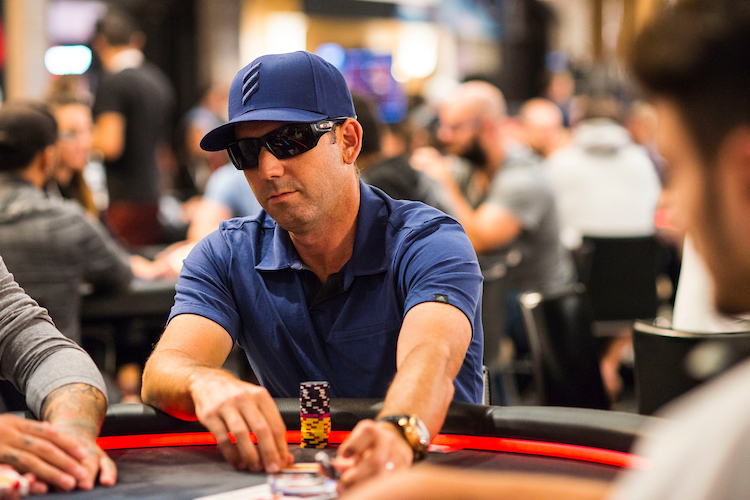 Sergio Garcia: Into Main Event action
We caught up with him earlier in the week. Fore! — HS
11:45am: Take two
As ever, things were hectic here in Barcelona yesterday, and they will be hectic here again today.
Last night, Day 1A of the EPT Barcelona Main Event played through its 10 levels, before bagging with Ben Wilonofsky out in front. That happened a few hours after Mikita Badziakouski won the Super High Roller event, picking up €1.6 million.
Much of the pattern is repeated today, with the Main Event playing Day 1B and the High Rollers heading to play a single-day €50,000 tournament, which is sure to create another bumper prize pool. Rinse and repeat.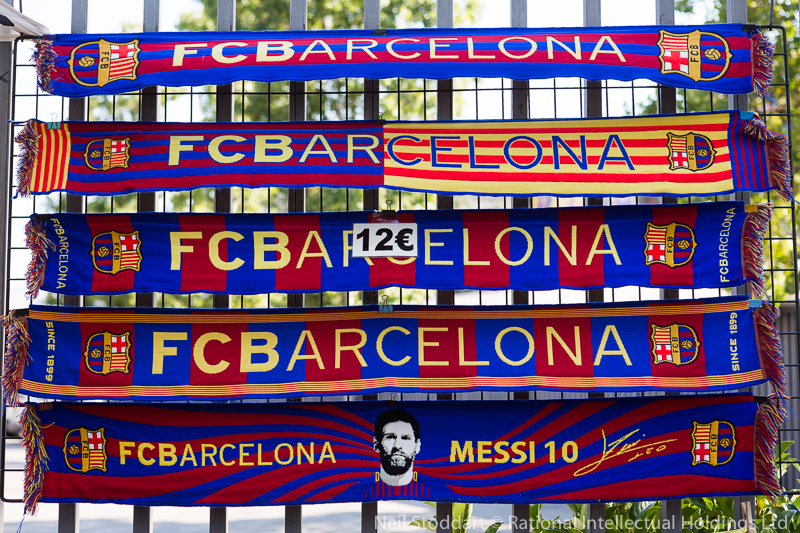 A reminder of where we are
Stick around here for the Main Event coverage, and head over there for the Single Day High Roller shenanigans. It'll be a huge field here, and a huge buy-in there, so take your pick. Why not open two browser windows?
Play begins in the Main Event at 12pm and in the other at 12:30pm.
Buy-in: $5,300 (€5,000 to prize pool, €300 fee)
Re-entry: One re-entry allowed (until start Day 2)
Starting stack: 30,000
Starting blinds: 100/100
Schedule: Ten one-hour levels. Dinner break after Level 6.
Download the PokerStars LIVE! app with all tournament information. Available for IOS and Android.
PokerStars Blog reporting team on the €5,000 Main Event: Stephen Bartley, Jason Kirk, Jack Stanton, Howard Swains and Alex Villegas. Photography by Joe Giron/PokerPhotoArchive and Neil Stoddart.
Back to Top
Study Poker with
Pokerstars Learn

, practice with the PokerStars app

Try our Free Scholars Leader Board to practice your new skills.
Quick Links
Learn
Practice
Chat with us
Watch and share