• CLICK TO REFRESH FOR LATEST UPDATES
• PLAYERS: 6 (of 1,174)
• CHIP COUNTS | PAYOUTS | €10K HIGH ROLLER
• ALL EPT PRAGUE INFO | TOURNAMENT SCHEDULE
• DOWNLOAD POKERSTARS | Follow @PokerStarsBlog on Twitter
---
12:40pm: More for Michaelis, Talbot short
Level 31 – Blinds 8,000/16,000 (BB ante 16,000)
After Artem Kobylinskiy and Laurynas Levinskas each won small ones pre-flop, it was Paul Michaelis limping in from the small blind, Parker Talbot checking from the big, and the pair watching a flop come J♣ A♠ 3♥ . Both checked, then both checked again after the A♣ turn.
The river was the 8♣ and Michaelis checked again. Talbot rechecked his cards, then took a stab for 295,000 and after a short think Michaelis called.
---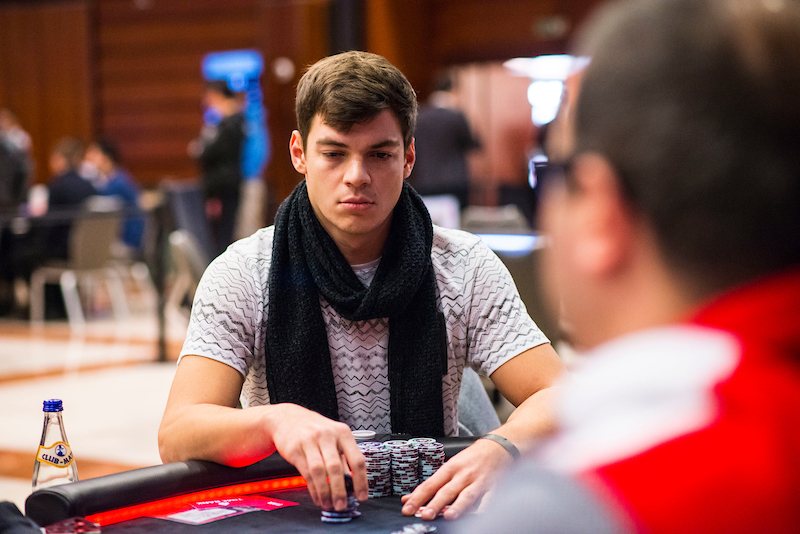 Paul Michaelis: An as yet untouchable leader
---
Talbot showed his cards quickly — 6♠ 2♣ , it appeared — while Michaelis's K♣ 2♠ was better and he took the pot.
Michaelis is up around 13 million now, while Talbot is currently sixth of six with 2.45 million. –MH
12:35pm: Branco's push assault continues
Level 30 – Blinds 60,000/120,000 (BB ante 120,000)
Carlos Branco is doing everything he can to pick up chips right now — and the rest of the table is reluctant to play into his plans.
---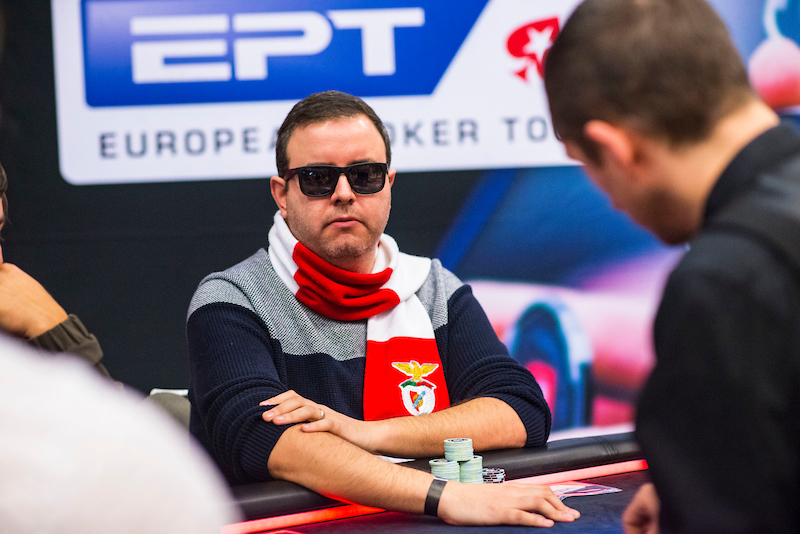 Carlos Branco: Desperate attempts to build the short stack
---
In a four-hand span he open-shoved in the hijack seat with no callers, opened for 240,000 under the gun with no callers, and moved in from the small blind over the top of an Alexandr Merzhvinskii button raise — again without a call. It's not a situation that can persist forever, but there's no telling how long it can go on, either. –JK
12:30pm: Michaelis pushes Kobylinskiy out of pot
Level 31 – Blinds 8,000/16,000 (BB ante 16,000)
It's a new level, and it started with Artem Kobylinskiy trying to limp in from the small blind, but Paul Michaelis wasn't having it, raising from the big blind to 420,000. Kobylinskiy called, then both players checked the all-heart flop, J♥ 6♥ 3♥ .
The turn was the A♦ . Kobylinskiy checked, Michaelis bet 275,000, and Kobylinskiy called. The river then brought the 10♠ and another check from Kobylinskiy. Michaelis kept pressuring, betting 1.025 million, and after taking about 20 seconds Kobylinskiy let his hand go.
Michaelis adds more to his lead and now has 12.4 million, while Kobylinskiy is at 3.3 million. –MH
12:25pm: Branco pushes, gets no callers
Level 30 – Blinds 6,000/12,000 (BB ante 12,000)
The consistently pressuring Paul Michaelis won a couple of hands pre-flop just now, the first by three-betting over an Artem Kobylinskiy open and the second with just a single raise himself.
The next hand saw Carlos Branco open-raise all in from the button, but he got no customers. Branco is still on about 2.2 million. –MH
12:20pm: All quiet on the front
Level 30 – Blinds 60,000/120,000 (BB ante 120,000)
The action is low-key here in the early going. Four hands resulted in just one flop and nothing past that.
Alexandr Merzhvinskii opened on his button and got no callers. Then he opened for 240,000 in the cutoff on the next hand and Artem Kobylinskiy called in the big blind, only to check-fold to Merzhinskii's c-bet on the Q♣ A♣ 8♠ flop.
---
A slow start to the Prague final
---
Laurynas Levinskas took down the blinds with a button raise on the next hand. And then Paul Michaelis limp-folded from the small blind after Parker Talbot made it 500,000 to go from the big. –JK
12:10pm: Michaelis takes from Branco on first hand
Level 30 – Blinds 6,000/12,000 (BB ante 12,000)
There was action on the very first hand today, with the chip leader Paul Michaelis and the shortest stack Carlos Branco battling to the river in the opening hand.
Michaelis opened for 260,000 from the cutoff, Branco called from the big blind, then the flop came 6♦ A♠ A♥ . Branco checked, then called Michaelis's continuation bet to 135,000. Branco checked again after the 3♣ turn, and called once more when Michaelis fired another 330,000.
The river was the 4♠ . Branco checked a third time, Michaelis dug out a bet of 610,000, and this time Branco folded. Michaelis chips up further to about 10.85 million, while Branco is down to 2.3 million. –MH
12:05pm: Your final six
Level 30 – Blinds 60,000/120,000 (BB ante 120,000)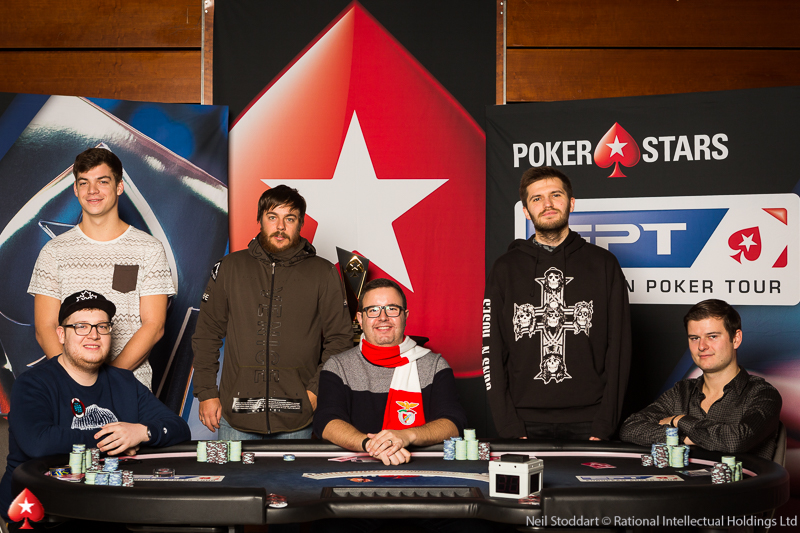 Final six at EPT Prague: (clockwise from top left): Paul Michaelis, Alexandr Merzhvinskii, Artem Kobylinskiy, Laurynas Levinskas, Carlos Branco, Parker Talbot.
12pm: The final preparations
Level 30 – Blinds 60,000/120,000 (BB ante 120,000)
All six of the final table players are present and correct. They are now having their photo taken before we'll get started in a few minutes. Stand by. — HS
---
And so it comes to this. After trips to the Bahamas, Sochi, Monte Carlo, Barcelona and Prague, the European Poker Tour (EPT) of 2018 has only one day left to run. And that's today.
Here in Casino Atrium at the Hilton Hotel, Prague, we're preparing to crown the champion of the €5,000 Main Event and the €10,000 High Roller before bringing down the curtain on another glittering year. We'll be focusing on the Main Event right here, and the High Roller over there, so let's whet your appetite for the day ahead.
From a starting field of 1,174 (including 281 re-entries), only six players now remain. They represent six different countries with Germany's Paul Michaelis leading the pack. Germany has a fine record on the EPT, having crowned 14 champions, but none have lifted the title since Hossein Ensan did so in this room in 2015, so they are overdue.
---
READ THE RECAP OF YESTERDAY'S ACTION
---
Russia's Alexandr Merzhvinskii sits in second place, with Artem Kobylinskiy of Ukraine, and Lithuania's Laurynas Levinskas rounding out the top four. They each have 40 big blinds or more, so will consider themselves well and truly alive. The last of the top six, Canada's Parker Talbot, and Carlos Branco of Portugal, have 31 and 26 big blinds, respectively. But we have all seen short stacks rise to the summit, so it is far from over for anybody.
Play starts at noon, with a few minutes left of Level 30. The mathematics suggests we should get down to heads up within about four levels, so we could well be done before about 9pm. They will reduce the length of the levels from 90 minutes to 45 minutes when three players remain.
And what's in it for the players? Well, the winner is due for a payday of €1.02 million, plus one of the last Platinum Passes to the PokerStars Players Championship. Here's the list of players already going. One of today's final six will be joining them. Here's the full payout schedule for today:
1st: €1,020,000 (plus Platinum Pass)
2nd: €600,810
3rd: €422,600
4th: €316,600
5th: €242,560
6th: €179,360
And here's how they currently line up:
| Name | Country | Chips | BBs |
| --- | --- | --- | --- |
| Paul Michaelis | Germany | 10,060,000 | 84 |
| Alexandr Merzhvinskii | Russia | 7,545,000 | 63 |
| Artem Kobylinskiy | Ukraine | 6,075,000 | 51 |
| Laurynas Levinskas | Lithuania | 4,765,000 | 40 |
| Parker Talbot | Canada | 3,690,000 | 31 |
| Carlos Branco | Portugal | 3,100,000 | 26 |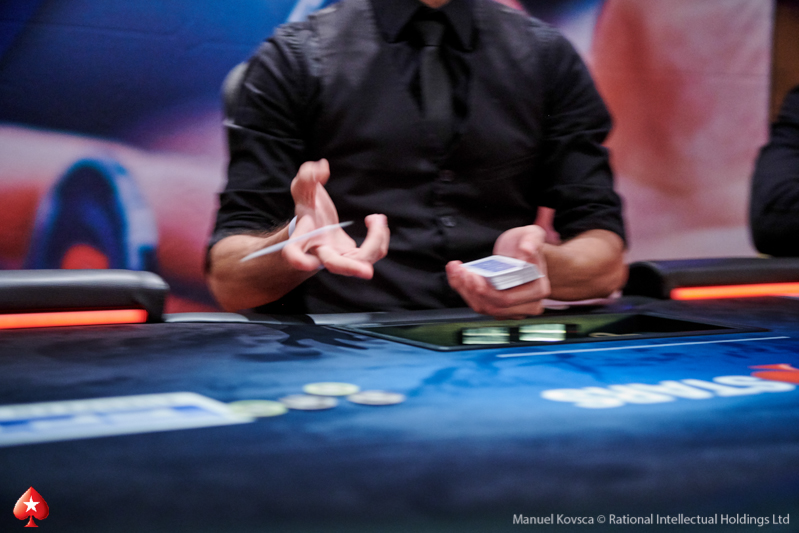 Dealers start please
---
Download the PokerStars LIVE app with all tournament information. Available for IOS and Android.
PokerStars Blog reporting team on the €5,300 Main Event: Martin Harris, Jason Kirk and Howard Swains. Photography by Joe Giron/PokerPhotoArchive and Neil Stoddart.
Back to Top
Study Poker with
Pokerstars Learn

, practice with the PokerStars app

Try our Free Scholars Leader Board to practice your new skills.
Quick Links
Learn
Practice
Chat with us
Watch and share