The PokerStars Players Championship (PSPC) was a crazy idea. A $25,000 buy-in tournament, with a field swelled by 320 players on a total free-roll, had never been tried before. But as we sit surrounded by ticker tape in the Imperial Ballroom at the Atlantis Resort in the Bahamas, we can tell you this: the PSPC was a crazy idea that worked. Moments ago, Ramon Colillas, a 30-year-old former fitness trainer from Barcelona, Spain, won $5.1 million after he outlasted 1,039 players to win the biggest tournament of this kind ever played. But that's not even the most remarkable thing. Colillas was one of those players who earned passage to the Caribbean for free, clasping what has become the most coveted trinkets in poker. Over the past year and a bit, every poker player of any ability has been seeking a Platinum Pass, a sliver of metal the size of a credit card that booked flights, accommodation and a seat in this enormous game. Colillas got his by winning a poker leader board in his native Spain, picking up points for his performances in €500 buy-in tournaments across the country.
---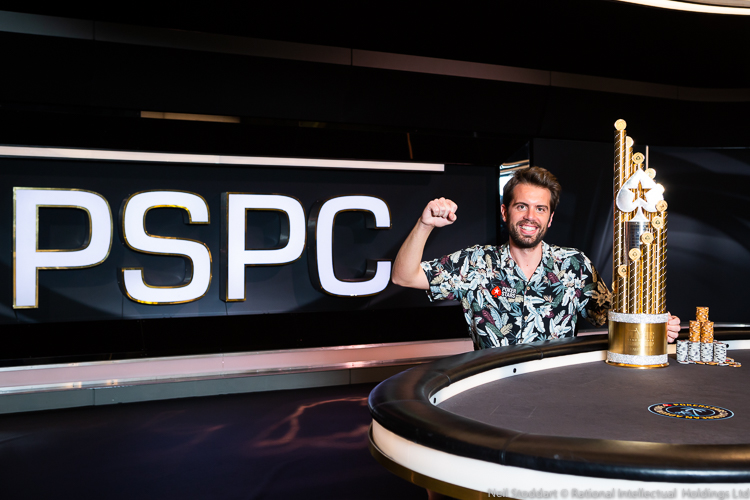 Ramon Colillas: The most celebrated man in poker
---
As a direct result of a passion and a commitment to the game, playing low buy-in events from Alicante to San Sebastian, Barcelona to Madrid, Colillas is now the most celebrated man across the whole of the poker world. He played a fine game this afternoon in the Bahamas, watching patiently as Julien Martini, his beaten heads-up opponent, made most of the early running, but then pouncing when the cards fell in his favour. One huge hand — a flush versus a full house — put Colillas in the lead when it was just the two of them left, and Colillas could not then be denied. "A lot of players were saying this was the most important tournament in history, so now it's only about happiness and enjoying the moment," Collilas said.
---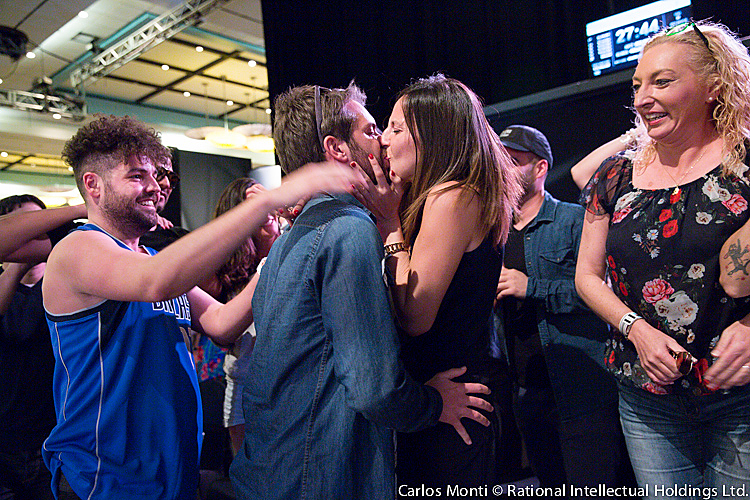 Ramon Colillas: Winner!
---
In addition to Colillas's ultimate triumph, Marc Rivera, from the Philippines, who finished third for $2.168 million, was also the holder of a Platinum Pass. Rivera won his as a freebie when he hoisted the APPT Korea title in April last year. He was also one of those gleeful entrants who came here expecting little, with nothing to lose, and is heading home a millionaire. In all 43 players who earned passage to the Bahamas with a Platinum Pass galvanised their trip of a lifetime with a major payday. The key facts are staggering: with 1,039 players, the prize-pool was $26,455,500, and the usual admin fee was added back in to fund money-back payments for 30 players. This was the largest field ever assembled for a tournament with a $25,000 buy-in, and PokerStars added $1 million to the first-place prize too, no strings attached. It was by some measure the biggest poker tournament PokerStars has ever hosted.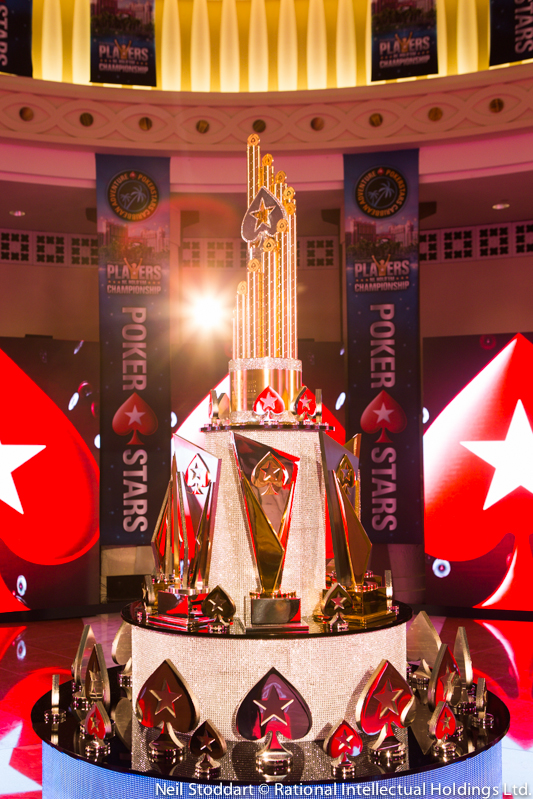 The PSPC trophy
THE FINAL TABLE
Among the many unique appeals of the PSPC was the way in which organisers canvassed players' opinions before deciding on key elements for the tournament. They asked for the preferred number of levels per day, and their length, as well as the size of the ideal starting chip stack. In accommodating all the preferences, we started the final table today with eight players, in Level 32, but with comparatively short stacks. Only two players had more than 40 big blinds, and the rest were already looking for spots to shove or re-shove.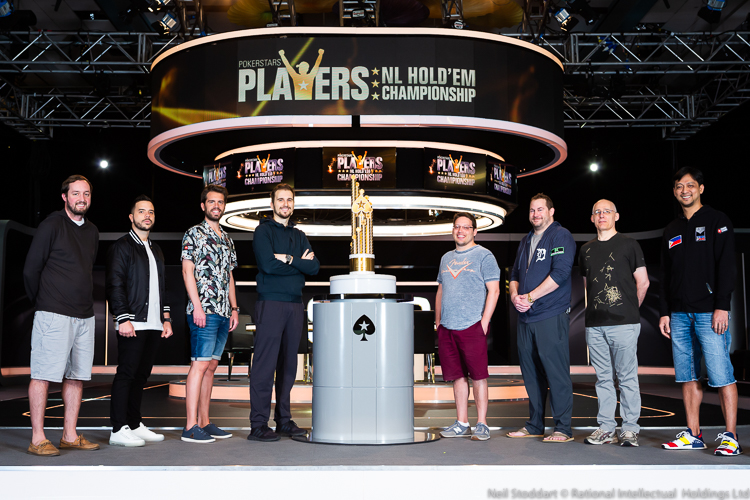 PSPC final table players (l-r): Marc Perrault, Farid Jattin, Ramon Colillas, Julien Martini, Scott Baumstein, Jason Koonce, Talal Shakerchi, Marc Rivera
Marc Perrault found the first chance, and hit to stay alive with his A♣K♦ against Farid Jattin's pocket twos. That shot Perrault up the leader board at Jattin's expense. But when it was Talal Shakerchi's chance to get his chips all-in next, he was likely crying out for a call. He had A♣A♥ in his hand, and all he needed was someone to find something worth calling him with. Or so he thought. Julien Martini, with one of the big stacks, peeked down at A♠Q♠ and made the call. Shakerchi was a 91 percent favourite when the chips went in, but the fact that you now find his name in eighth place on the payouts page tells you all you need to know. Martini went runner-runner flush, and that cleared Shakerchi to head straight to the Super High Roller tournament, with $509,000 to reinvest.
---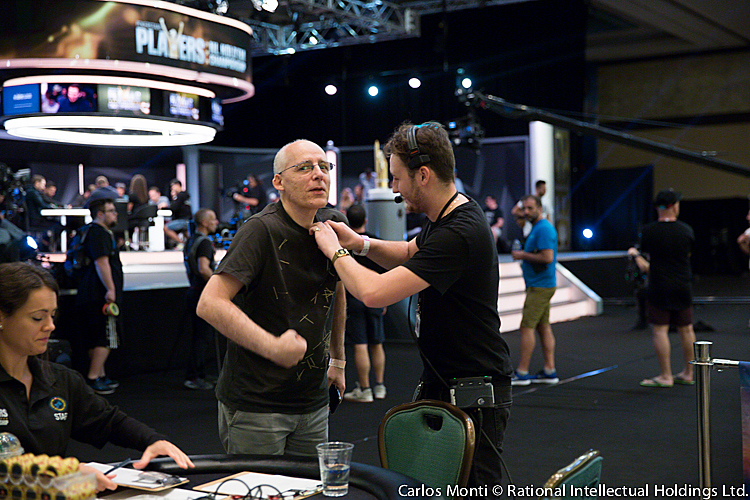 Talal Shakerchi: Unhooked and out
---
In no time at all, we were down to five. Like Shakerchi, Jattin had been overnight chip leader earlier in this tournament, but he too was needing to get something moving at the final table, particularly after his earlier loss in that hand to Perrault. He found A♠J♠ and thought that would just about do it, pushing his 6.2 million stack over Martini's early raise. Though the shove — and Martini sitting behind — was enough to persuade Scott Baumstein to fold pocket eights, Martini went nowhere with his A♥K♣. The flop, turn and river missed both of them and Martini again won a monster and sent a dangerous opponent out. Jattin won $746,000, the last player to leave without hitting a million.
---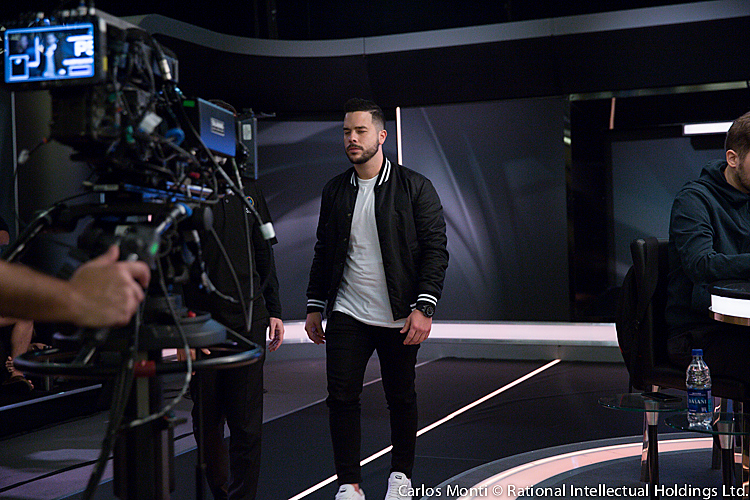 Farid Jattin's day is done
---
No player will have been more happy by Jattin's premature elimination than Canada's Marc Perrault. After his early double-up, Perrault had been on the slide and had only three big blinds. (This too likely informed Baumstein's decision to fold his eights moments before.) His chips had to find their way in the middle regardless of his holding, but he needed a miracle when he took 6♠3♦ up against Ramon Colillas's K♥K♠. He didn't get it. Perrault had lifetime live earnings of a little more than $800,000 before this week, and his outlasting of Jattin meant he more than doubled it. He also became the first player to cash for more than a million bucks at the PSPC. If you'd have told him at the start of the week he was set for $1.012 million, he'd have bitten your arm off.
---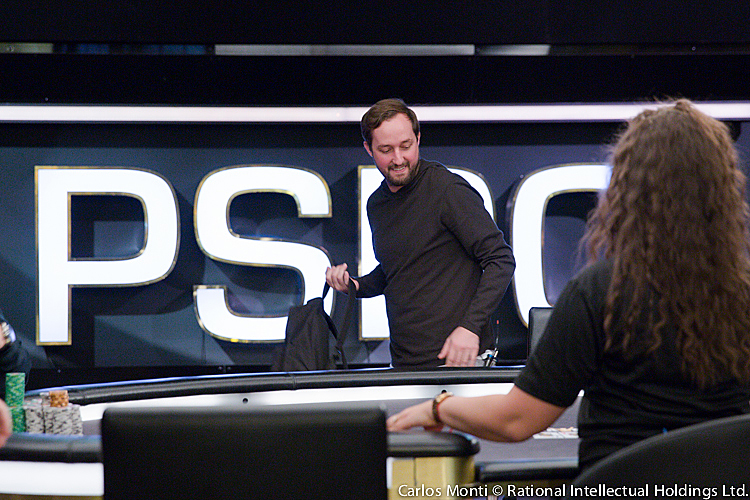 Marc Perrault: Road ends in sixth
---
If Perrault's lifetime earnings seemed meagre, you should check out Jason Koonce's resume. Prior to this week, the sports memorabilia merchant from Michigan had won only $6,000 in live poker tournaments, with his two cashes dating from 2004 and 2009. Even when he arrived in Atlantis this week, he was in the shade of his near namesake and super high roller, Jason Koon. The staff put Koonce in Koon's room and denied entry to the latter. "You're already checked in, sir." Koonce, however, far outdid Koon at the PSPC–as well as 1,034 others. He eventually hit the rail in fifth, when his T♦7♦ couldn't beat Colillas's 5♥5♠. Koonce found himself forced to fold over and over again during his brief spell at today's final, and that was a disappointing way to end a tournament in which he has thrilled all with his creativity. But his $1.304 million payday is going to give him every reason to look back on this week with great pride.
---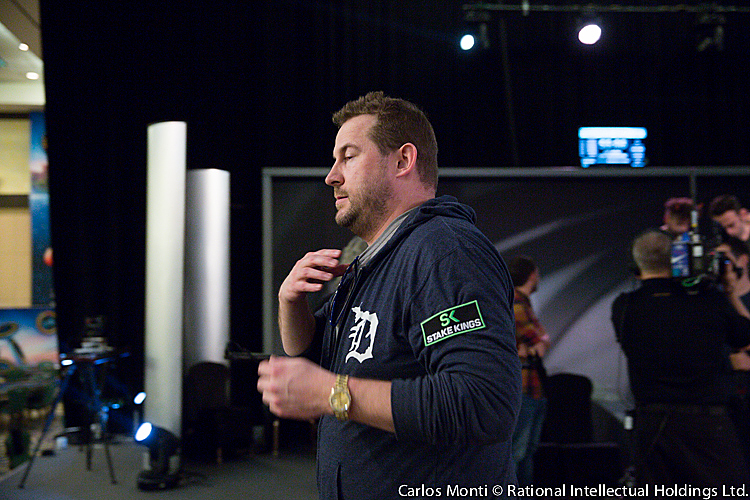 Jason Koonce leaves the action
---
Every day-end chip leader at the PSPC made the final table, but only Baumstein had been in that role twice. He led the field at the end of Days 3 and 4, when when there were only 38 and 8 remaining, respectively. But Baumstein couldn't hold on to raise the trophy. In fact, the New Yorker had little choice but to take a back seat at the final, with Martini shaking and stirring them up the most. The first significant pot in which Baumstein was involved turned out to be his last. Baumstein got it all in ahead, with A♥9♦ to Martini's K♦Q♣. But Martini was in a major hot streak and flopped a king. Baumstein couldn't catch up and was knocked out in fourth for $1.657 million.
---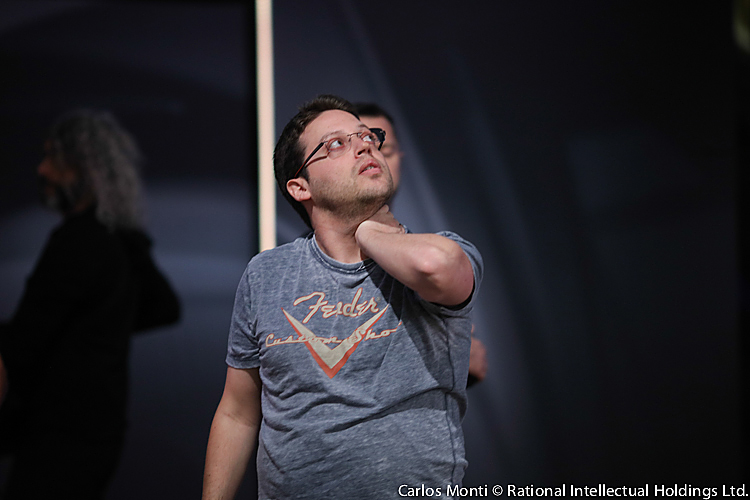 Scott Baumstein: The heavens can't help
---
Baumstein's exit left them with three. The seemingly unbeatable, chip-leading Martini faced off against the last two Platinum Pass winners. And Martini had Rivera first in his sights. Actually, it was the dealer again who played the most significant role, giving Martini A♦K♥ and every reason to raise. Rivera had A♠3♦ and 16 big blinds, which was every reason to shove. But there was no more help for Rivera, whose spectacular run ended there, with $2.168 million.
---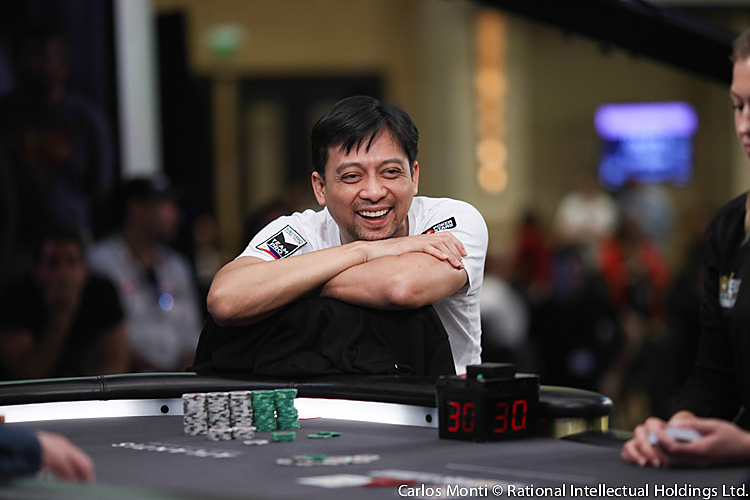 ---
Martini had a significant chip lead when heads-up play started. He had been the most active player at the final, boosted by being dealt some of the best cards too. He won a World Series bracelet in Las Vegas last summer, and surely had every reason to expect he would soon be adding another trophy to his mantlepiece. But Colillas was just getting started. In a huge cooler, Colillas's Q♣5♠ backdoored a full house when Martini had flopped a flush with his 9♥6♥. The first three cards out were the A♥4♥Q♥ but the Q♦ turn and 5♦ river were gin for Colillas. Blinds were big and stacks were short, so the chips were sure to get in the middle again soon. Martini doubled with 3♠3♣ over Colillas's A♦J♥, surviving a frightening paired board. But on the next hand, Colillas closed it out. This time Colillas's A♦5♠ flopped an ace to put it ahead of Martini's J♣9♣. There was also a nine on the board, so it wasn't finally done, but Martini couldn't quite hit another one when he needed it. Martini will need to make do with $2.974 million.
---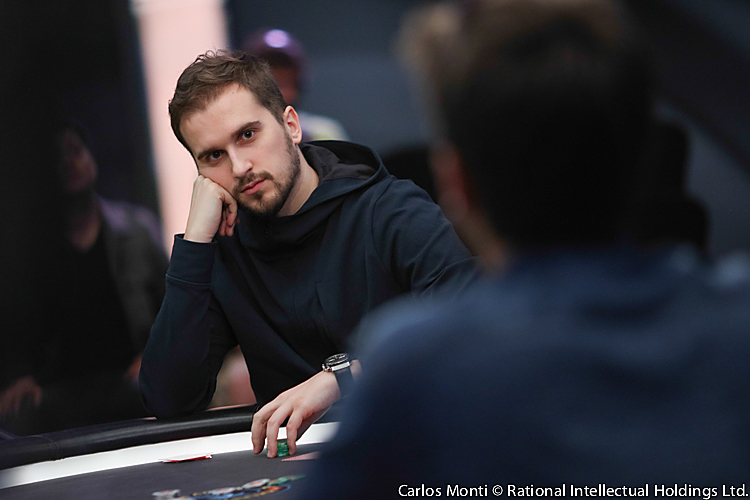 Julien Martini: Forced to settle for second
---
With that Colillas's supporters, led by his girlfriend Nesrine, erupted, and the whole poker world quivered a little. The dream for everyone who plays or watches poker is for something like this: a committed, hard-working, poker player plucked from the millions who play this game for fun, to suddenly be elevated to its absolute summit. Chris Moneymaker — does that name ring any bells? — came to the table to hand over the trophy. What a champion. And what an event.
---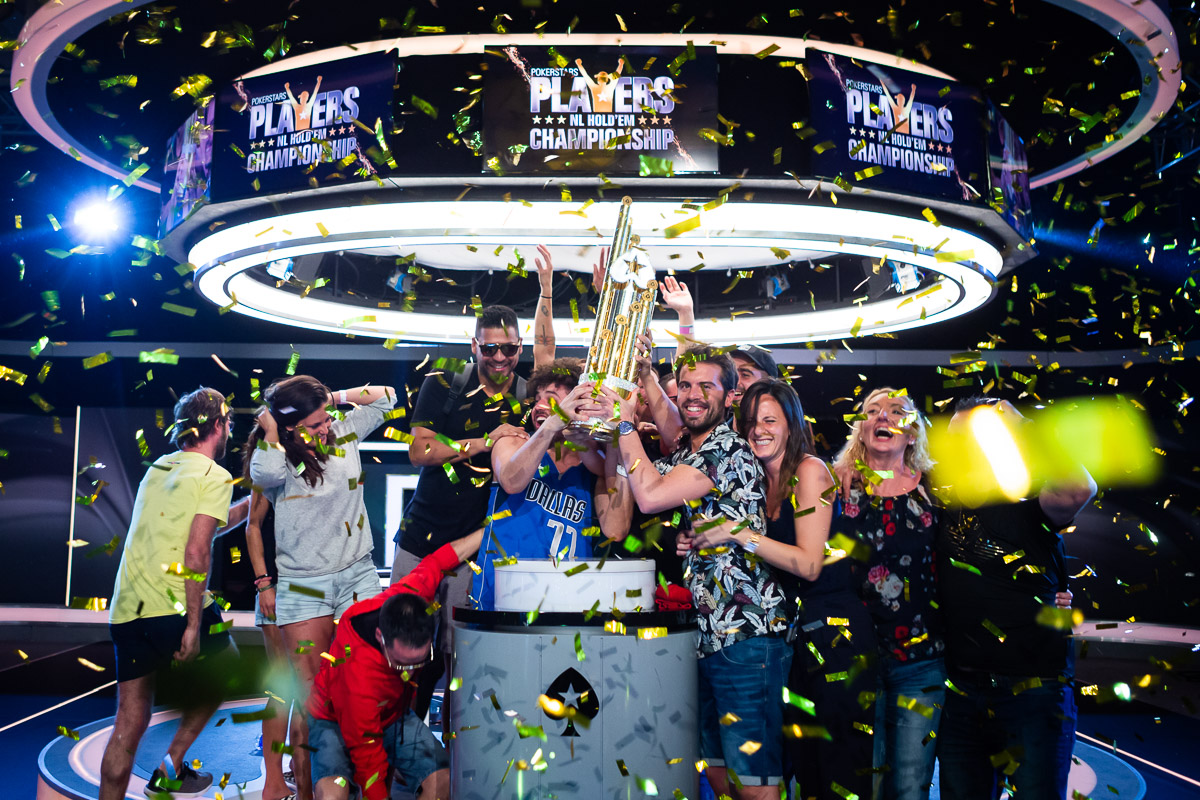 A ticker-tape parade for Ramon Colillas
---
Relive all the action in our blow-by-blow report. And stick around for the remainder of the PokerStars Caribbean Adventure (PCA). There's still another week to come!
---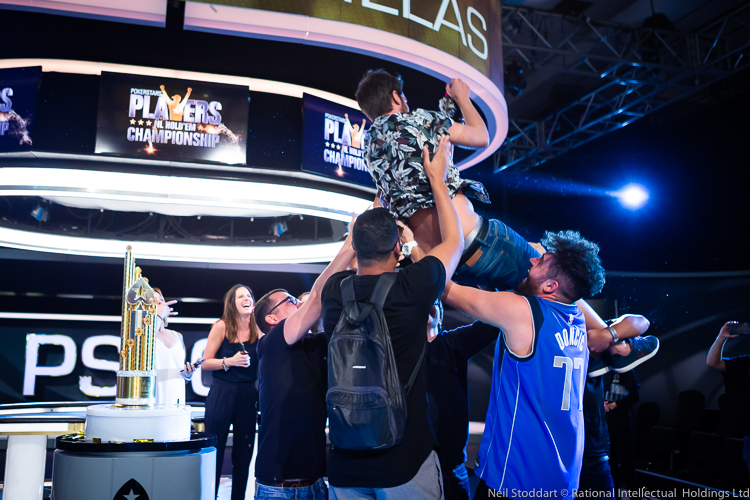 There's still a week of poker left!
---
PokerStars Players Championship (PSPC) Dates: January 6-10, 2019 Buy-in: $25,000 Players: 1,039 Total prize pool: $26,455,500 (inc. $1m added)
| POS | NAME | COUNTRY | STATUS | PRIZE |
| --- | --- | --- | --- | --- |
| 1 | Ramon Colillas | Spain | Platinum Pass winner | $5,100,000 |
| 2 | Julien Martini | France | | $2,974,000 |
| 3 | Marc Rivera | Philippines | Platinum Pass winner | $2,168,000 |
| 4 | Scott Baumstein | USA | | $1,657,000 |
| 5 | Jason Koonce | USA | | $1,304,000 |
| 6 | Marc Perrault | Canada | | $1,012,000 |
| 7 | Farid Jattin | Colombia | | $746,000 |
| 8 | Talal Shakerchi | UK | | $509,000 |
Click for full list of prizewinners Click here now to read an exclusive interview with PSPC champion Ramon Collilas, where he discusses his poker career, how he won a Platinum Pass and just what it feels like to take down the biggest tournament in PokerStars history.
Back to Top