The nine-handed Final Table is set in the Jeju Red Dragon Main Event, with New Zealand's Tae Hoon Han (2.55 million) bringing in the chip lead when play resumes at 2pm tomorrow, Sunday December 9, at the Landing Casino, Jeju Island, South Korea.
There were 26 at the start of the day but within four hours, only nine were still standing. Han had the most tumultuous journey of the day. At one point down to a mere 75,000 (less than five big blinds) after losing an early flip, Han started to make an incredible recovery. One of the defining hands of his tournament was finding aces in the hole and holding against pocket kings, putting him up to 1.2 million.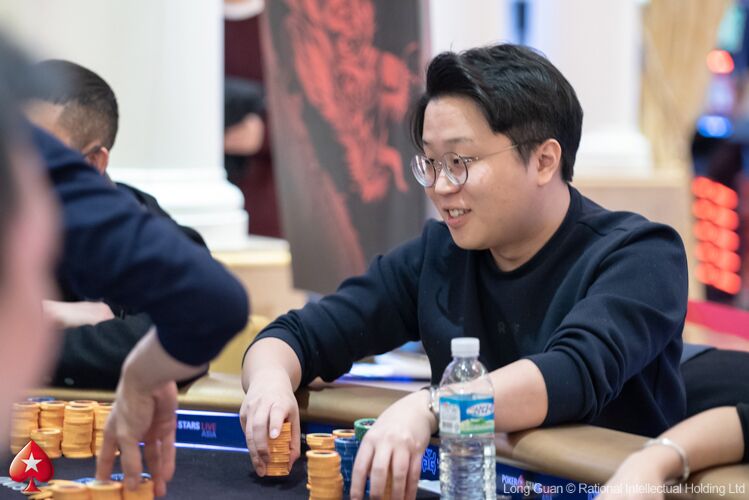 Tae Hoon Han
In the last hand of the day, the 2017 PokerStars Festival Korea champion knocked-out Lu Chen on the final table bubble when Lu three-bet all-in from the big blind and ran into Han's pocket kings, which he'd opened from the button. The pot was worth over 2 million and secured Han's position as the chip leader at the close of play.
Zhenru Xie is another one to watch. A Red Dragon 2014 Champion, Xie is the only player remaining who has a shot of winning a second Red Dragon title. Xie returns second in chips with 2.4 million and joins Han as one of the favourites to take down the tournament. For player profiles, please click here.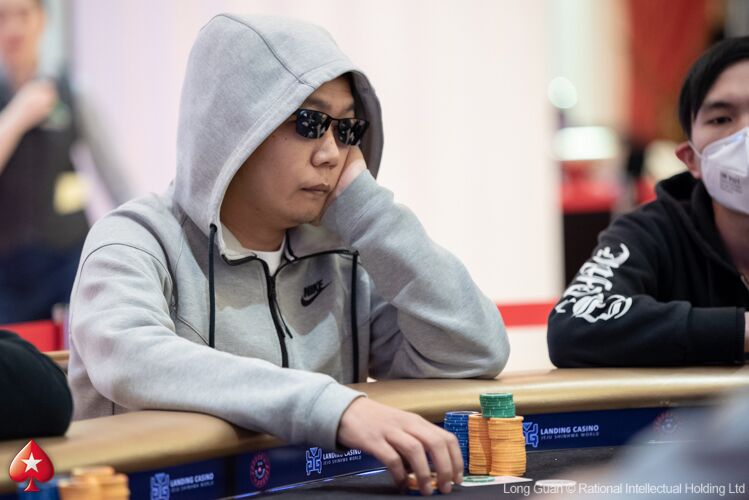 Zhenru Xie
Some notable eliminations were Xuming Qi, 23rd on China's all-time money list, who was unable to spin up his short stack coming into the day, finishing in 24th for ₩7,360,000. Joining him on the rail was Cangsheng Ni. With over $100,000 in recorded tournament results, Ni couldn't progress beyond 18th and took home ₩10,420,000. We also lost our last surviving woman, Wei Zhang. Zhang had a great run througout yesterday but wasn't able to convert it to a final table finish and left us in 15th ₩13,490,000 place for in prize money.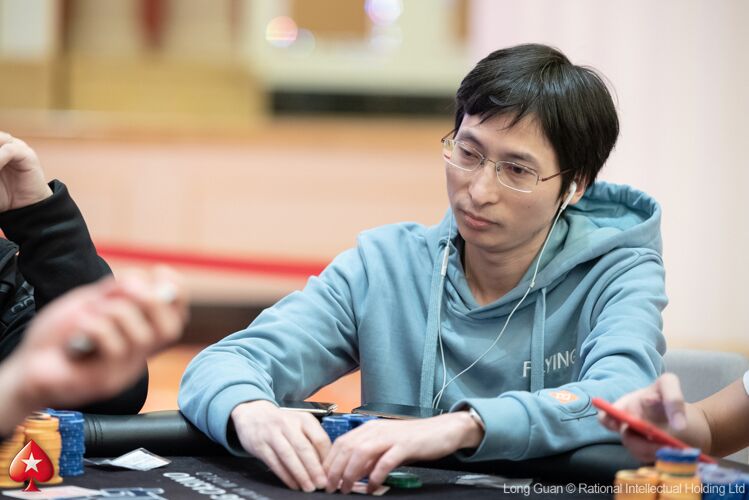 Xuming Qi
With the Final Table promising a 40-big-blind guarantee, the clock will be rolled back to Level 23 with blinds restarting at 15,000/30,000 (4,000 ante) and level length increasing from 60 to 75-minutes. Kick-off is at 2pm, don't miss it.
Click here for the final table seat draw and here for the current payouts list.
---
5:50pm: Nine remain and a new chip leader has emerged
Level 25: Blinds 25,000/50,000 (ante 5,000)
Well that didn't take long. The clock has been paused following a pot that created a new chip leader…Tae Hoon Han. Action folded to Han on the button and made a raise. Lu Chen was sat in the big blind and three-bet jammed for 1 million or so (about 20 big blinds). It was a snap from Han and when the cards were flipped on their backs, it became clear why.
Tae Hoon Han: K♠ K♦
Lu Chen: 4♥ 5♦
The A♣ A♠ A♥ flop gave Han a boat and though the 4♦ turn gave Chen one too, it wasn't enough and the 7♥ river wouldn't be able to save him. Han will start the day tomorrow as our new chip leader with 2.55 million.
A full wrap will follow shortly.
5:40pm: One more out takes the Main Event down to the final table bubble
Level 24: Blinds 20,000/40,000 (ante 5,000)
We are on the final table bubble with just 10 of the 613 runners still in with a chance of becoming the new Red Dragon Champion. Once that happens, it will mark the end of Day 3.
5:25pm: Tse and Qian in back to back eliminations
Level 24: Blinds 20,000/40,000 (ante 5,000)
Kevin Tse has been knocked out in 12th place after running deuces into Qi Wang's pocket kings. Zhiquiang Qian was not far behind him, busting with A♣ Q♣ against Zhibin Zhang's 8♠ 8♦ and failing to connect with the 5♠ 4♥ 6♣ 7♥ 6♦ board. Zhang is in good shape now with 1.5 million.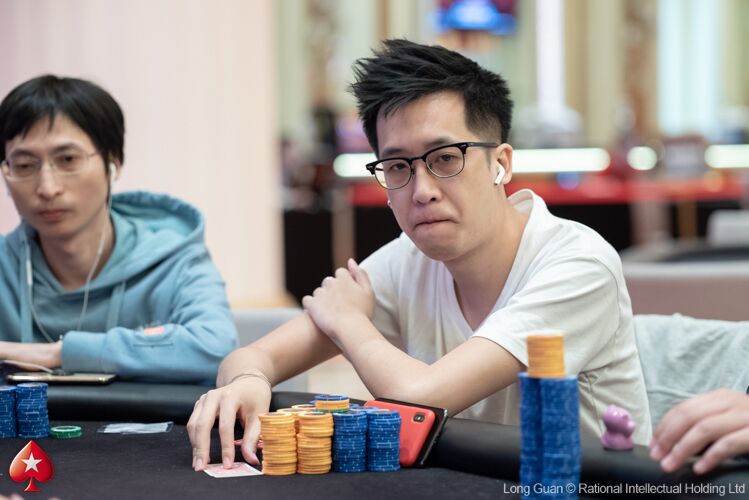 Kevin Tse
5:10pm: Tong out following three-way all-in
Level 24: Blinds 20,000/40,000 (ante 5,000)
Three players got it just now and all the chips flew into the middle preflop.
Tsz Fai Tong: 8♦ 8♠
Qi Wang: Q♦ Q♣
Guangliang Xiao: A♦ K♠
Wang had the shortest stack, followed by Tong and Xiao had them both covered. In the end the board came 9♣ 9♦ J♥ 3♥ 5♦ and Wang won the main pot, which sees him up to 1.385 million in front. Tong, though winning the side pot, is down to just 65,000 and Xiao has 400,000.
The Day 2 chip leader was so delighted with the result he shouted "Yes!" whilst hitting the table. It was enough to knock Kevin Tse's chips all over the place but he didn't seem to mind, laughing when it happened.
Tong busted the very next hand in 13th place with the last of his chips going to Xiao.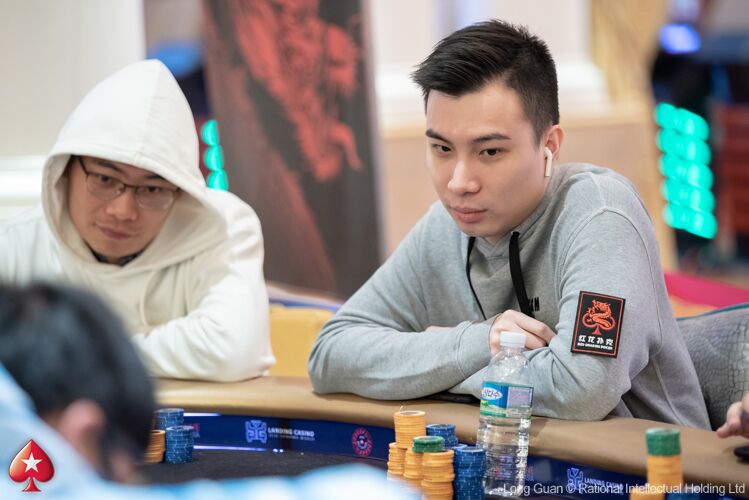 Tsz Fai Tong
4:55pm: Xie chips up at the expense of Park
Level 24: Blinds 20,000/40,000 (ante 5,000)
The flop was already down and it read 3♣ 3♥ 8♦ when we got to the table. Former Red Dragon Champion Zhenru Xie and Christopher Park got it in at this point and Xie was in the danger zone with his tournament life on the line.
Christopher Park: A♥ 3♦
Zhenru Xie: J♠ J♥
Park was a long way ahead and needed to dodge two jacks, and two jacks only, to win a 1.7 million pot. The turn crushed his hopes immediately with a J♦ and Park was drawing dead, rendering the 9♦ river meaningless. Park is down to 365,000 now but Xie is up near the top with 1.7 million.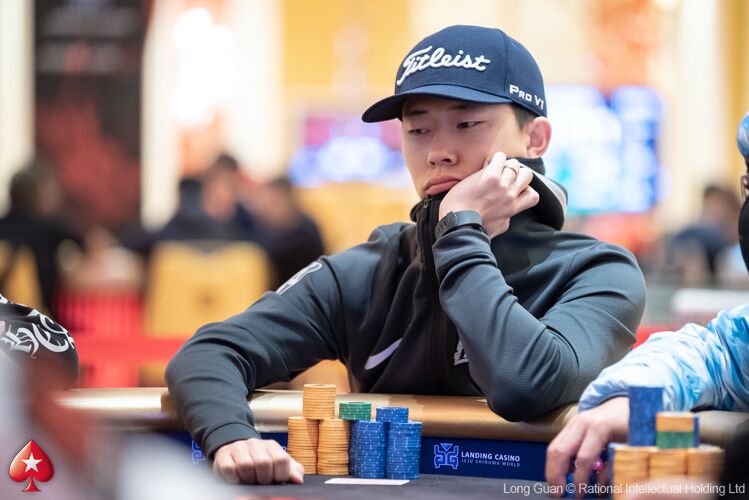 Christopher Park
4:40pm: Back for some more
Level 24: Blinds 20,000/40,000 (ante 5,000)
The first two hours or so of play have been frantic. We have lost 12 players already – a little over half what we started the day with.
4:30pm: Break time
Level 23: Blinds 15,000/30,000 (ante 4,000)
4:25pm: Huang out in 14th
Level 23: Blinds 15,000/30,000 (ante 4,000)
Bing Huang has been knocked out in 14th place just before the first break of the day. He has earned ₩13,490,000.
4:15pm: Last woman has fallen in double elimination
Level 23: Blinds 15,000/30,000 (ante 4,000)
Wei Zhang was chip leader for a signifiant part of Day 2 and kept a big stack to the end, starting today second in chips. Today has fared quite differently though and she committed the last of her chips on the flop in a dramatic three-way hand, involving Jun Qian and Bin Di.
Qian was down to 59,000 and moved all-in pre. Three players called and the dealer laid out a 6♥ 2♣ 3♥ flop. Bi bet 125,000 at this point and Zhang shoved for 554,000. When the action came back to Bi he called the rest and they turned over their cards.
Jun Qian: 8♥ 9♥
Wei Zhang: 9♦ 9♣
Bin Di: A♥ 4♥
The turn came Q♥ and that was the end for both Qian and Zhang, as Bi had hit the nut flush. The 2♦ river was irrelevant and Bi scooped 1.7 million in chips, for the new chip lead, whilst knocking out two players. That takes us down to 14 left.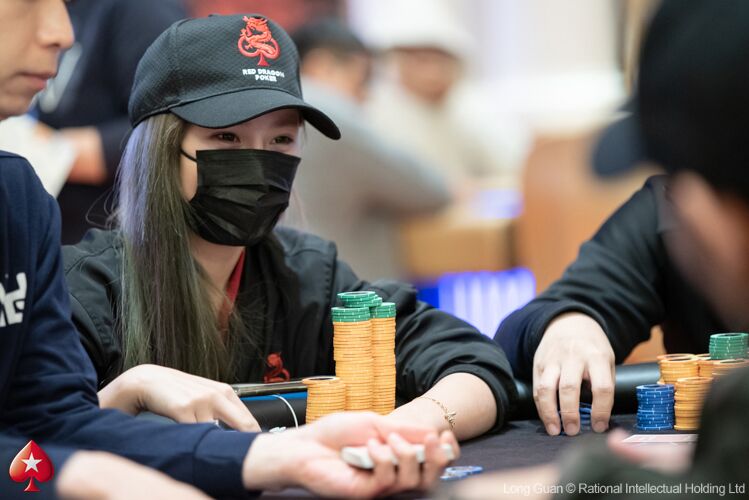 Wei Zhang
4:05pm: Han makes a remarkable comeback
Level 23: Blinds 15,000/30,000 (ante 4,000)
After losing an early flip and dropping to just 75,000 chips, Tae Hoon Han has made an incredible recovery. Just now he got it all-in preflop monster vs monster and he had the best of it with aces vs kings. With the rockets holding, Han has chipped up to 1.2 million, which is a long way above the 900,000 average.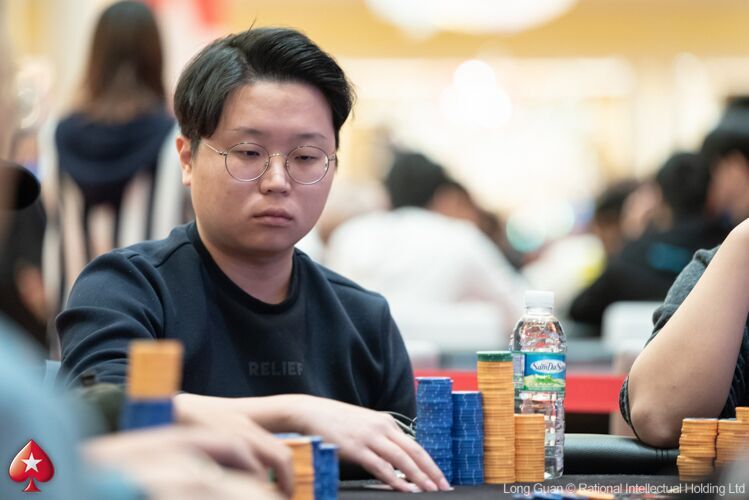 Tae Hoon Han
3:55pm: Chen unable to go the distance
Level 23: Blinds 15,000/30,000 (ante 4,000)
Ziming Chen had a fantastic run yesterday but ran into trouble during the first couple of hours of play today. Just now he lost the last of his stack after opening pocket kings and getting one call from Zhibin Zhang, who defended his big blind.
When an ace flopped Zhang opted to lead out of position, setting his opponent all-in. Chen, unsure what to do, went into the tank before deciding to make the call. Zhang turned over ace-five and our Day 2 chip leader only had two outs to hit in order to stay in the game. The turn and river didn't oblige him and he is out of the running.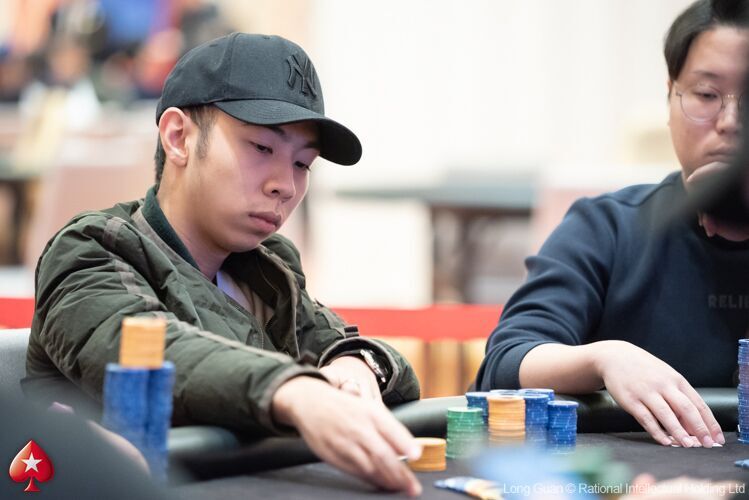 Ziming Chen
3:45pm: Ni out in 18th
Level 23: Blinds 15,000/30,000 (ante 4,000)
The fast and furious pace of the day continues with another hopeful eliminated. This time it was Cansheng Ni who was last seen heading towards the payout desk for his ₩10,420,000 in prize money.
3:35pm: Two more fall before a table redraw
Level 23: Blinds 15,000/30,000 (ante 4,000)
Yong Qiang Tian (20th) and Yinhan He (19th) have been eliminated, cashing for ₩8,580,000 apiece. This means the clock will pause whilst there is a redraw for the final two tables.
3:25pm: New chip leader emerges
Level 23: Blinds 15,000/30,000 (ante 4,000)
There was a late position tussle between Christopher Park and Liang Xu. Park had opened 45,000 on the cutoff and Xu three-bet to 118,000 on the button. After tanking for some time, Park went all-in over the top and Xu didn't need long to think, making the call.
Christopher Park: J♦ 10♦
Liang Xu: A♠ K♦
The board came out 2♦ 8♣ J♥ 9♦ 6♠ , making a pair for Park and sending Xu to the rail in 21st. Park is the new chip leader with 1.4 million in front.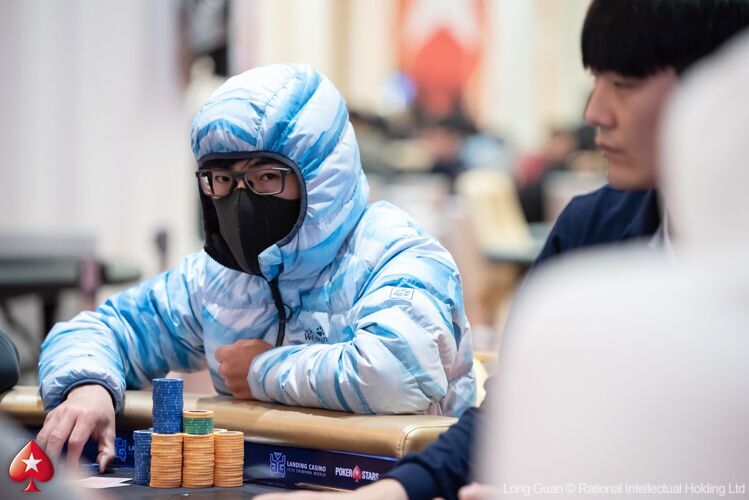 Liang Xu
3:15pm: Some more eliminations
Level 23: Blinds 15,000/30,000 (ante 4,000)
Play is still relatively short-stacked and that has led to a couple more eliminations. First Chi Chung Ho finished in 23rd place for ₩7,360,000. Ho was closely followed by Hui Huang in 22nd, also taking home ₩7,360,000.
That leaves 21 left – three more to go before there is a final 18 table draw.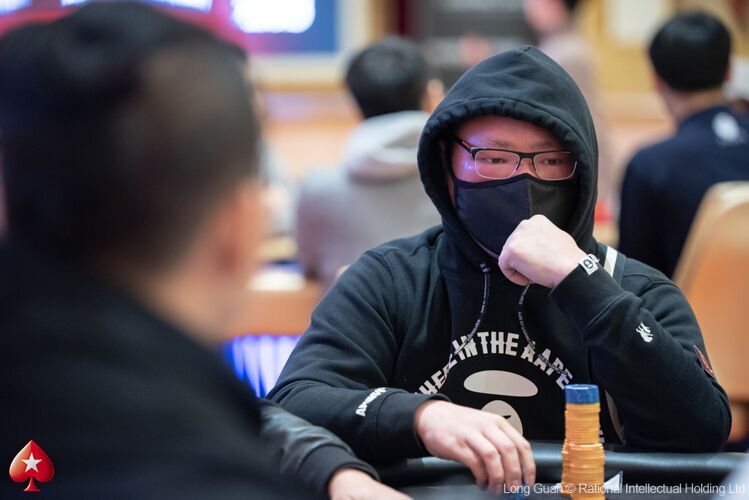 Hui Huang
3:05pm: Qi out
Level 23: Blinds 15,000/30,000 (ante 4,000)
Xuming Qi, who began the day with the fewest number of chips (128,000), is the latest casualty. Qi, who is 23rd on China's all-time money list, managed to get one ladder in before hitting the rail in 24th and will receive ₩7,360,000.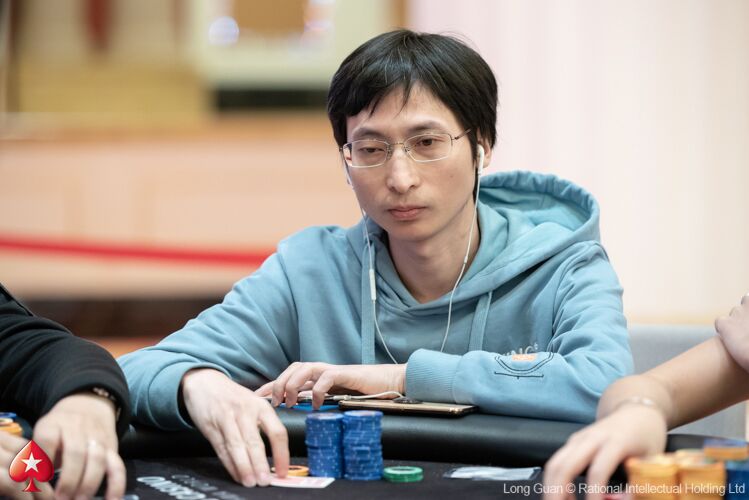 Xuming Qi
2:55pm: Shi doubles versus Di
Level 23: Blinds 15,000/30,000 (ante 4,000)
Yuechun Shi found a double after getting 262,000 A♣ Q♦ in preflop against Bin Di's Q♣ Q♠ . The J♥ 3♦ A♦ 10♦ 3♠ board favoured the underdog this time and Shi got a much-needed double to 550,000. Meanwhile that outdraw has taken Di down to 605,000.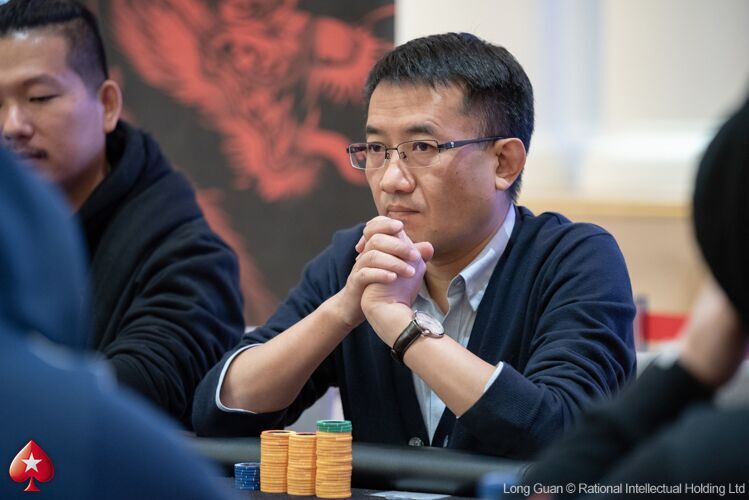 Yuechun Shi
2:50pm: Chen takes from Wang
Level 22: Blinds 10,000/20,000 (ante 3,000)
After nabbing the chip lead from Jiming Chen at the end of the evening yesterday, Chen has now taken back a fair chunk of what he lost to Qi Wang. The turn was out and the board read 7♠ A♥ 4♥ 10♦ A♠ and there was a pile of chips, too many to count, but our best guess is that there was around 400,000 up for grabs.
Chen checked to Wang and after thinking for a while, he opted to check it back. "Open" said Wei Zhang, giving Chen a nudge when he didn't realise they'd reached a showdown. He turned over A♦ 6♦ and it was good, with Wang sending his cards into the muck. Our Day 2 chip leader is down to 735,000, whilst Chen is up to 900,000.
2:40pm: Jiang narrowly misses out on a ladder
Level 22: Blinds 10,000/20,000 (ante 3,000)
Lingyun Jiang narrowly misses out on the next pay jump after busting in 25th place and will home ₩6,740,000 in cash. Starting the day with less than 10 big blinds, Jiang's stack had dwindled even further once play reached Level 22, which didn't give him a lot of time before he needed to make a move.
2:30pm: Song the first to fall
Level 22: Blinds 10,000/20,000 (ante 3,000)
Wen Long Song is the first player to head to the payout's desk. Starting the day one of the shortest with 313,000, the increased blind levels meant that his stack was worth not much more than 15 big blinds. He was unable to spin up and will have to settle for a ₩6,740,000 cash.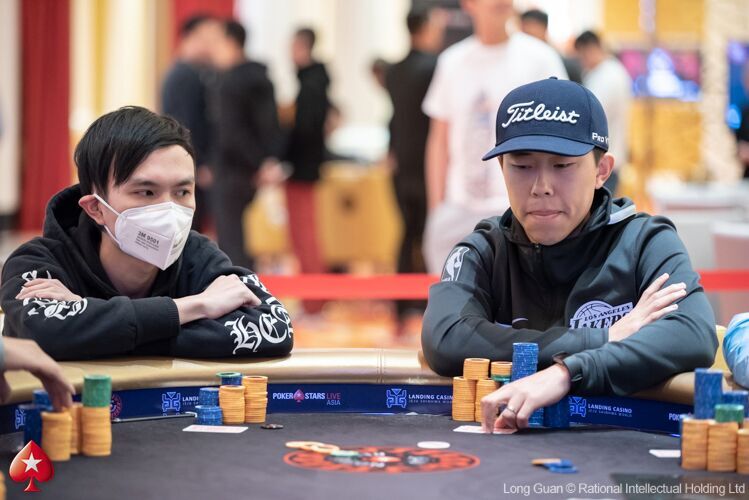 Wen Long Sun (left) and Christopher Park
2:20pm: Han gets a reprieve
Level 21: Blinds 8,000/16,000 (ante 2,000)
The very next hand, Kevin Tse opened from under the gun. Tae Hoon Han was in middle position and got the last 72,000 in. It was a quick call from Tse and the pair were heads up.
Kevin Tse: A♦ J♠
Tae Hoon Han: 8♠ 8♥
The board ran out 3♦ 4♣ 9♠ Q♣ 4♦ and Han's pair was good this time. He moves up to 180,000 and Tse still has 478,000 in play.
2:15pm: Han down to the felt
Level 21: Blinds 8,000/16,000 (ante 2,000)
Not long out of the starting blocks and we have already seen an all-in preflop between Tae Hoon Han and Jun Qian. Han opened the action to 36,000 and Qian three-bet to 76,000 on his direct left. Everyone else moved aside and Han four-bet all-in. Qian made the call and they were off to the races with Han holding a pair of 4s and Qian ace-king.
Qian connected with the board and Han has dropped to 74,000. The pot put Qian up to 812,000, which is in the top five stacks.
2:05pm: Day 3 is underway
Level 21: Blinds 8,000/16,000 (ante 2,000)
Day 3 is upon us and today we will go play down to the final 9. There are 15 minutes left of this level.
---
After two Day 1s earlier in the week and Day 2 yesterday, there are just 26 players in with the chance of becoming the new Red Dragon Champion, taking home the ₩266,060,000 (~US$237,700) top prize.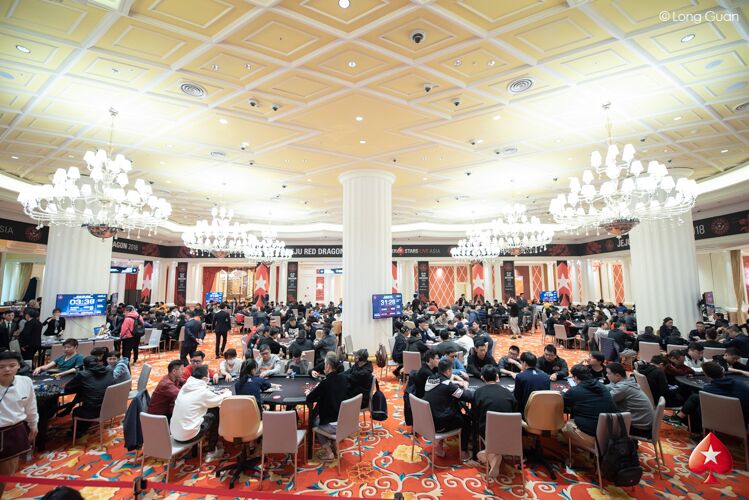 Landing Casino, Jeju Island, South Korea
After almost 10 hours of play yesterday, Qi Wang will start the day in front, with a 1.015 million stack. His closest rivals are Wei Zhang (866,000) and Liang Xu (795,000) but with notables Christopher Park (538,000), Tae Hoon Han (460,000) and Xuming Qi (128,000) still in, there are plenty of challengers for Wang to watch out for. Not only that but there is still one Red Dragon Champion still in contention, Zhenru Xie, who won his title back in 2014. He takes forward a 502,000 stack.
That brings us to today, where Day 3 kicks off at 2pm local time. Blind levels are still an hour and today we play until we reach the final table (9 players). There is still 15 minutes left of Level 21 on the clock and then as before, a break will take place every two hours.
All the action will be covered right here, with live updates taking you through from the moment cards are in the air, until the last chip has been bagged. If you want to catch up on yesterday's action, click here for the Day 2 wrap and live updates.
Back to Top
Study Poker with
Pokerstars Learn

, practice with the PokerStars app

Try our Free Scholars Leader Board to practice your new skills.
Quick Links
Learn
Practice
Chat with us
Watch and share