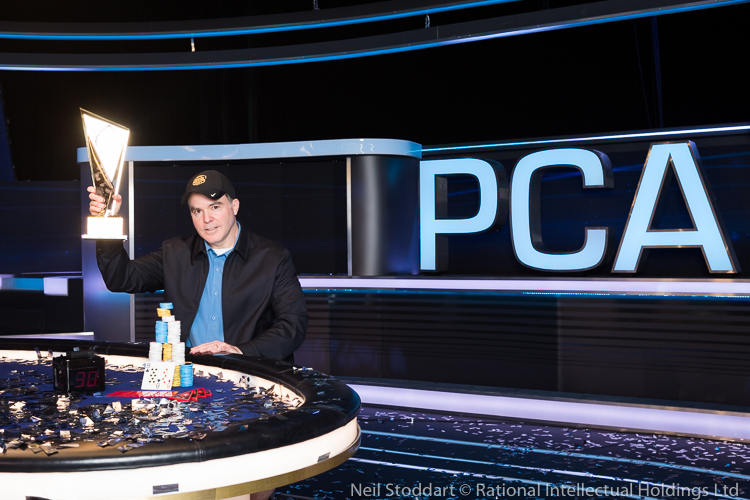 Cary Katz: The PCA's first flagship champion
You may have been led to believe over the past couple of years that to win a Super High Roller poker tournament you have to be German. But not in these parts.
Today at the PokerStars Caribbean Adventure (PCA), three American players pulled off a 1-2-3 clean sweep from a final table at which six North Americans battled a lone Argentinian for a $4.7 million prize pool.
And when they climbed the podium at the end of the evening, the man at the top was by some distance the least expected: businessman Cary Katz is the new PCA Super High Roller champion, turning an overnight short stack into $1,492,340 winner's check.
What's more: Katz only bought in at the start of Day 2. He did this whole thing in around 14 hours. That's good business.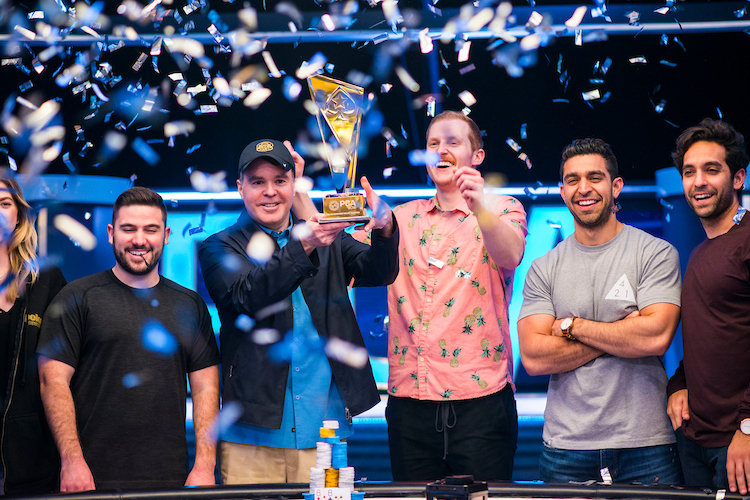 Cary Katz: Super High Roller champion
Katz is hardly a stranger to the highest level of competition. He regularly crosses swords with all of poker's leading lights, and has a winner's ledger of more than $12 million already. But Katz needed all of his nine lives today, as well as the patience of a saint to outlast one of the toughest fields ever assembled.
He had to survive a whirlwind named Bryn Kenney, and a flash of pink-haired brilliance named Justin Bonomo. Oh, there was the small matter of poker's brightest star Daniel Negreanu too. But Katz was at the very top of his game, and laid them all to waste, completing the third seven-figure triumph of his career.
"I still consider myself a recreational player," Katz, the 47-year-old CEO of College Loan Corporation, said. "I'm a businessman and a family man, that's it."
---
Fancy joining us at the PCA? Sign up for PokerStars and begin your journey. Click here to get an account.
---
Kenney, a former PCA Super High Roller champion, had to settle for third despite being the odds-on favourite with an eight-to-one chip lead over any of his rivals four-handed. Bonomo knocked out Kenney, shifting himself into the heads-up box seat. (By that point, Negreanu was already long gone.)
But none had accounted for the brilliance of Katz.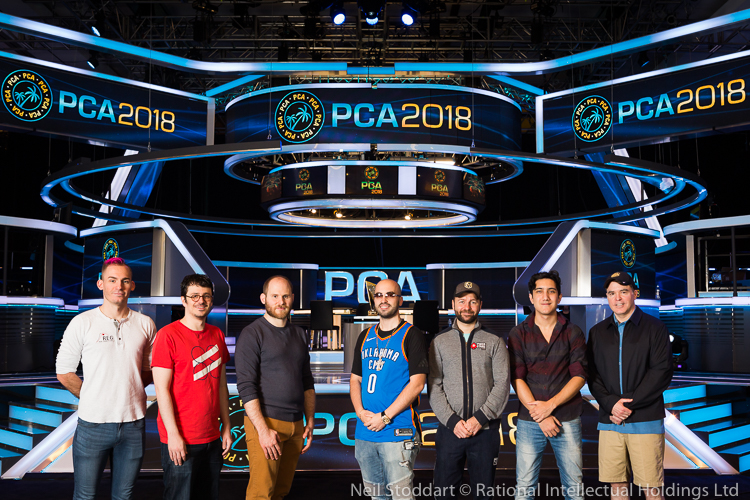 PCA Super High Roller final players (l-r): Justin Bonomo, Isaac Haxton, Sam Greenwood, Bryn Kenney, Daniel Negreanu, Ivan Luca and Cary Katz
With seven left at the start of the day, all guaranteed at least a quarter of a million dollars, Katz had the shortest stack in the room while Ivan Luca, the lone South American, Bonomo and Negreanu led the way. However there was a major shake-up in the opening two levels, which set a tone for much of what was to come.
In short, Kenney got the engine started on his steam-roller and nobody was able to do anything about it.
First up, Sam Greenwood got his chips in with pocket kings. But Kenney had aces and that was the end of Greenwood's ride. Luca then ended Isaac Haxton's topsy-turvy final table in a blind-on-blind battle that never looked good for Haxton's Q♥ J♥ against Luca's A♥ 4♥ . Greenwood took $248,720 and Haxton $307,940, while Luca and Kenney boosted their big stacks.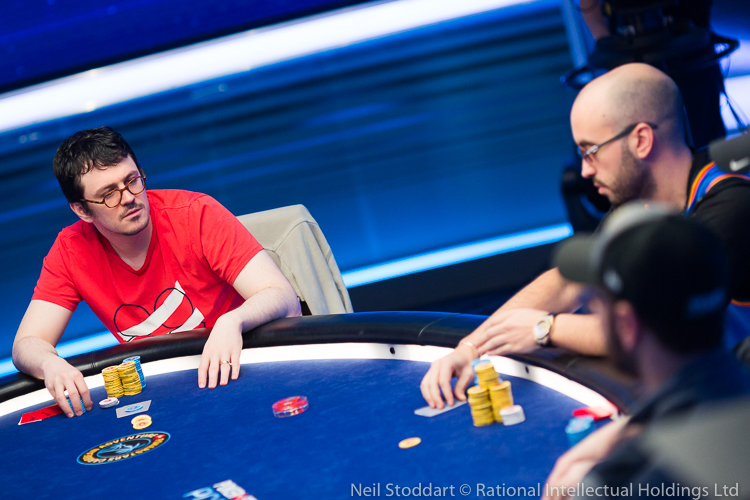 Isaac Haxton: Out in sixth
But what happened next was the kind of thing that table short stacks dream of seeing: a massive pre-flop collision between first place and second, with a major challenger being reduced to dust.
Kenney was raising a lot of hands, applying the pressure to the short stacks, which is probably why Luca thought his A♥ J♣ might be good after Kenney made a three-bet. Luca went with it, jammed his 3.1 million stack into the middle, but soon learnt some very bad news.
Kenney had A♣ K♣ and a covering stack. The board was dry and Luca was licked in fourth, banking $402,700. That was scant consolation. Kenney not only still had a seat in the game, he also had 8.1 million chips, when nobody else had more than 1.3 million.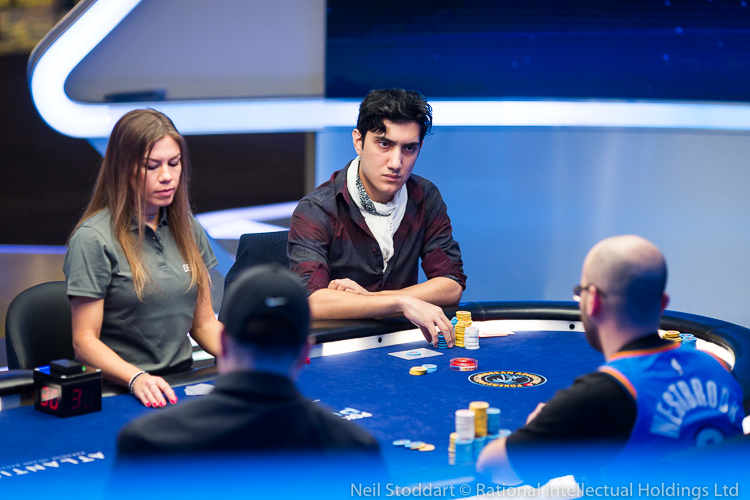 Ivan Luca – 5th place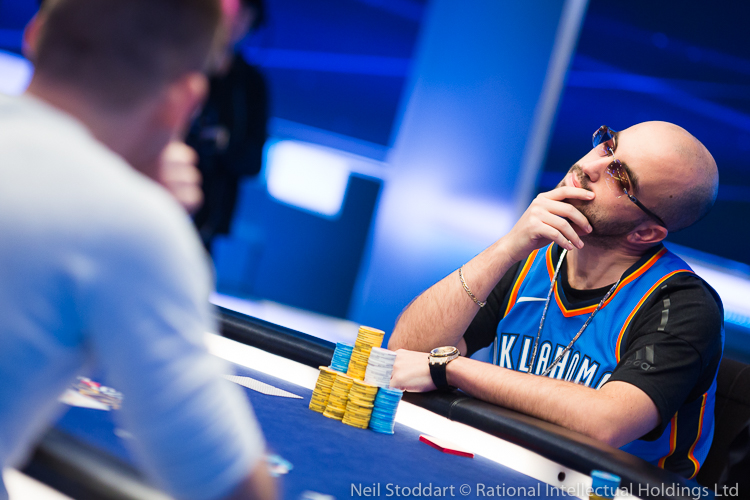 Bryn Kenney: Leading the way
Nevertheless, the removal of Luca meant a ladder jump for the shorties. Daniel was delighted; Bonomo was boosted; and Cary was grinning like the Cheshire Katz.
Despite the huge reputations of everyone at this final (everyone in the tournament, if we're honest) Negreanu was obviously still the star attraction. The Team PokerStars Pro always draws the biggest rail, both in the room and on the live stream, and his presence at 2018's first major final packed them in.
And Negreanu put on a show, even if fate decreed that he would be the next to depart. A series of tough spots contributed to Negreanu slipping to two big blinds, but then tripled, doubled and doubled in three consecutive hands. That brought him back to 33 big blinds and right back in the hunt.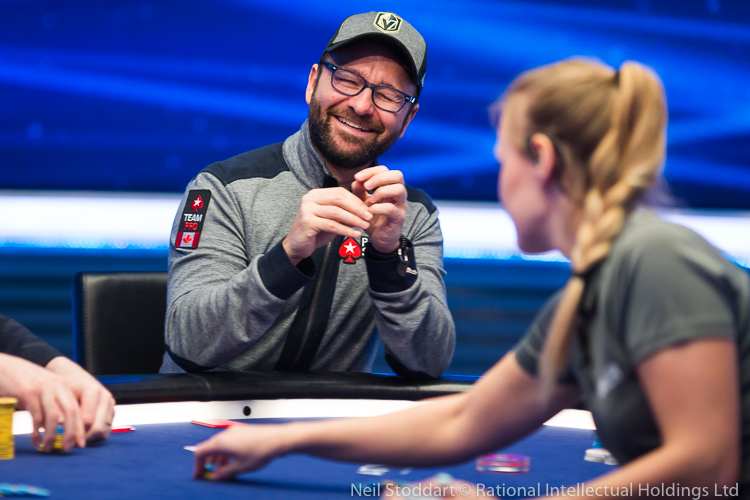 Daniel Negreanu: Reasons to be cheerful
But shortly after that, he slipped again, and was clinging on with a short stack. But he found another double through Kenney before looking to double once again when he had pocket kings against Bonomo's A♣ J♥ . Kenney had folded an ace, so Negreanu was in a good spot for once. However the A♦ on the flop ended any bold ideas.
Negreanu, who was in for two bullets, took a cash of more than half a million, beginning 2018 very brightly. He wasn't there when the biggest portions of the prize pool were handed out, but he was happy with his performance.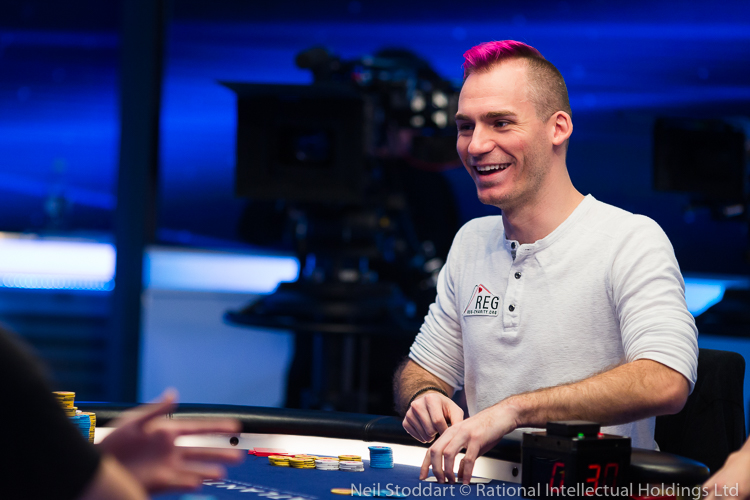 Justin Bonomo: Ending Negreanu's day
At this stage it still seemed remarkable that Katz was still in. Pretty much the only time he had a top-three stack was when only three players remained. But again he was happy to look on as Bonomo and Kenney locked horns, picking up whatever he could.
Cary Katz, wielding the short stack like a master
The wheels suddenly came off for Kenney as he couldn't get much to stick, and Katz really began to scratch. He got Kenney to lay down a small pair with a big bluff, leaving Kenney the short stack. Then Bonomo ended up knocking Kenney out when Kenney called all in with K♥ 9♦ and lost to Bonomo's Q♠ 10♦ . This time Kenney had to make do with $686,960 and third.
Bonomo may have expected a 55-44 big-blind heads-up chip lead would be enough for him to finish the job on Katz. But the businessman had found his range and the heads-up battle was actually one-way traffic in Katz's direction. Shortly before 9pm, it was all over–the small matter of quad sevens, then a pocket eights versus ace-king finale.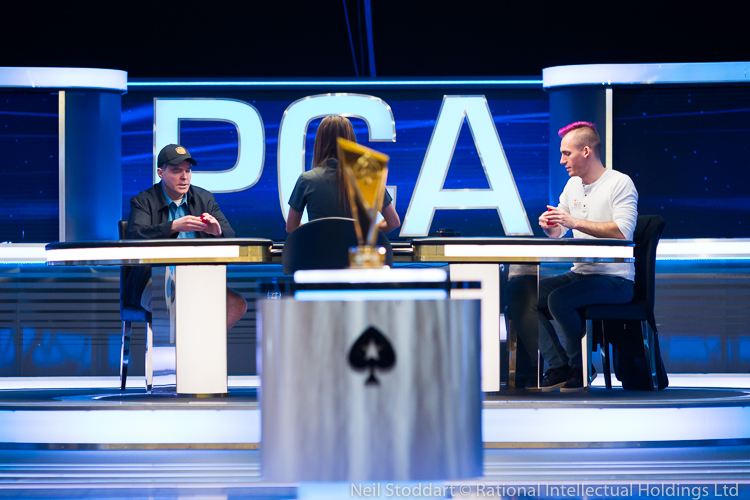 Heads up between Cary Katz and Justin Bonomo
You can read through how it all played out on our live updates page, and you can also watch a full cards-up replay of the final table in the video below, plus a special highlights reel from the entire three-day affair below that.
Congratulations Cary Katz! The 2018 PCA is up and running.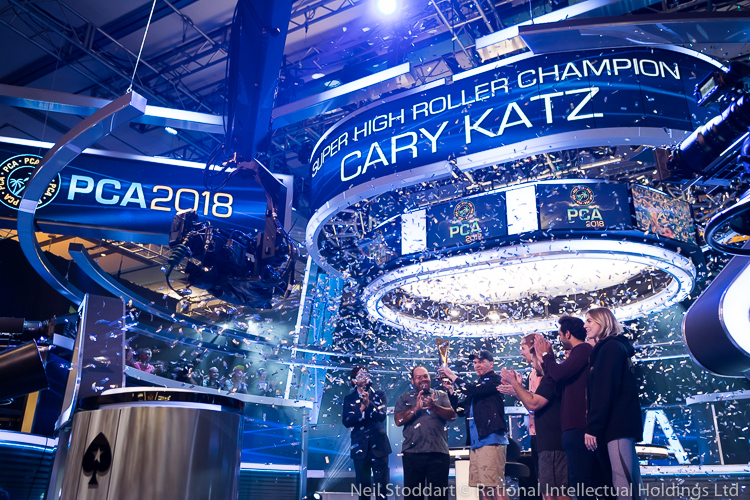 Cary Katz's name in lights
2018 PokerStars Caribbean Adventure $100,000 Super High Roller
Date: January 6-8, 2018
Entries: 48 (including 12 re-entries)
Prize pool: $4,737,600
| POS | NAME | COUNTRY | STATUS | PRIZE |
| --- | --- | --- | --- | --- |
| 1 | Cary Katz | USA | | $1,492,340 |
| 2 | Justin Bonomo | USA | | $1,077,800 |
| 3 | Bryn Kenney | USA | | $686,960 |
| 4 | Daniel Negreanu | Canada | Team PokerStars Pro | $521,140 |
| 5 | Ivan Luca | Argentina | | $402,700 |
| 6 | Isaac Haxton | USA | | $307,940 |
| 7 | Sam Greenwood | Canada | | $248,720 |
Back to Top
Study Poker with
Pokerstars Learn

, practice with the PokerStars app

Try our Free Scholars Leader Board to practice your new skills.
Quick Links
Learn
Practice
Chat with us
Watch and share