We have a champion in Korea.
Michael Soyza overcame a field of 449 entries and a tough final day to win his first APPT title, ₩158,700,000 (~US$150K) and a Platinum Pass. Just today, Soyza had to beat the reigning champion in Korea, a Team PokerStars Online Pro, a former APPT champion, and a player who won two APPT tournaments in one day.
"I tried to play solid, not make any mistakes," Soyza said. "I got a pretty good table draw in the beginning, but it got worse on the final table with Bryan [Huang] on my left and Eric [Wasylenko] as well. They're both good players so it would've helped to have them on my right.
"But you know, just run good, catch some cards, make some full houses and, BOOM, shipped."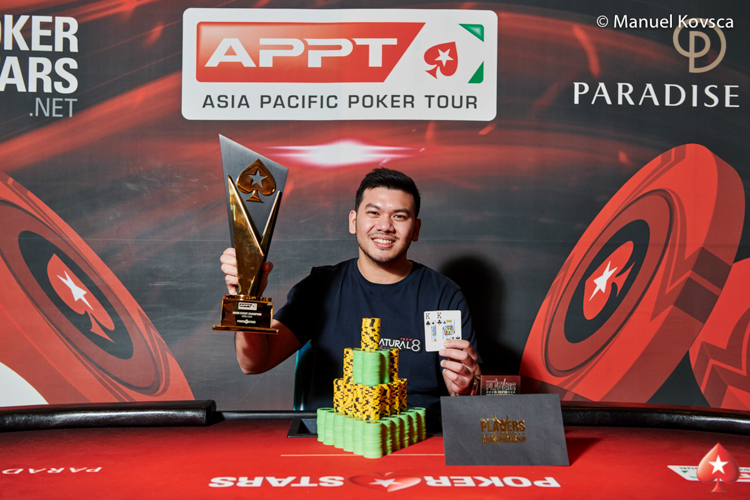 The 2018 APPT Korea Main Event Champion, Michael Soyza
Soyza also had to beat one Mitsuhiro Shiga to get the win.
Whether it's his flashy clothes (today's outfit consisted of a grey tracksuit, red shirt, and sparkling white shoes emblazoned with letters and sparkly things), entertaining antics (at one point Shiga put his cards in his mouth while he thought), or seemingly-random betting style; Shiga sticks out in a poker tournament.
He also knocked out Bryan Huang in third and started the heads-up match against Soyza with a massive lead.
"Shiga is a very very tricky player who put me in a lot of tough spots," Soyza said. "In the end I got kings though."
Soyza came into this final day with a commanding lead and it just kept growing after we reached the final table.
Things got a bit dicey for him when we reached four-handed play though. Soyza was constantly clashing with Bryan Huang and Huang took the lead a few times, but then there was also the wild card: Mitsuhiro Shiga.
The Japanese player jostled for the lead with both four and then three players left, but took a massive lead during heads-up play.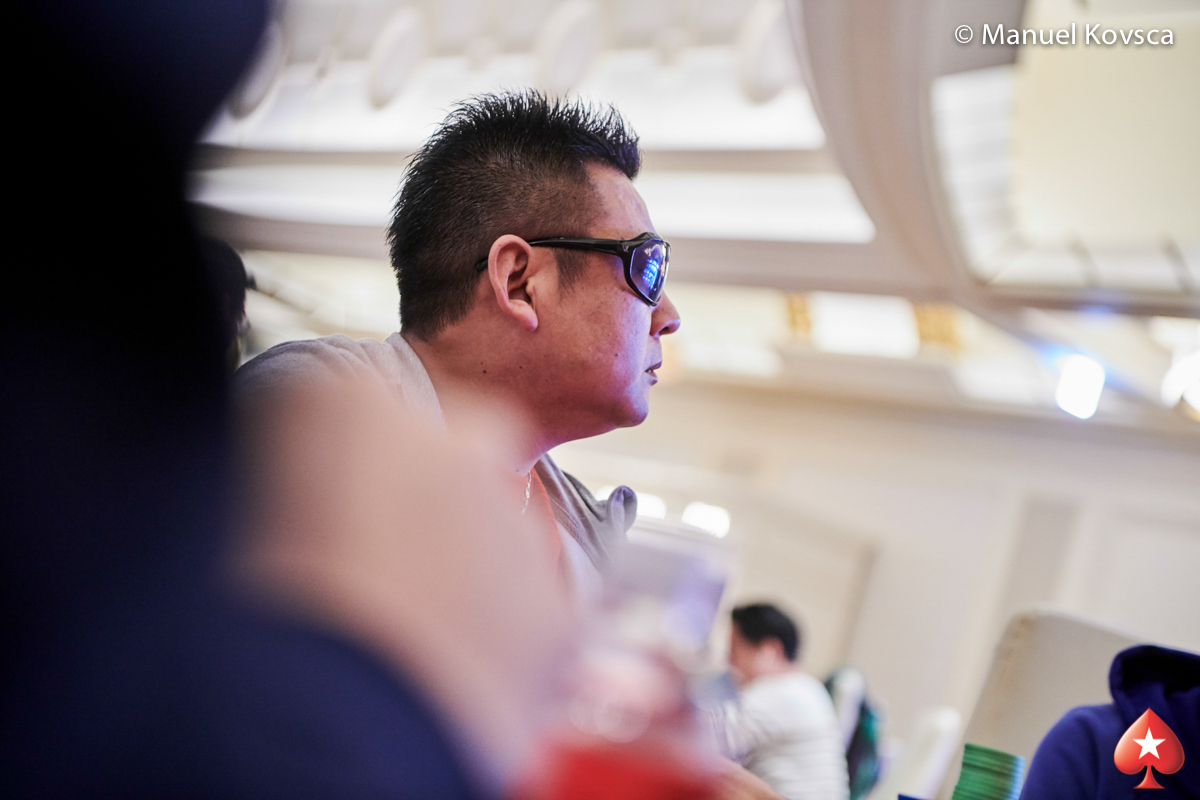 Mitsuhiro Shiga, looking for more shenanigans in the distance
Soyza nearly had a 5-to-1 chip deficit at one point. But then he doubled up, closed the gap and took the lead in less than a level. Soyza ended things shortly after the break with two key hands.
First, Shiga bet into a limped pot on a 9♠ Q♦ 7♠ flop. Soyza more than doubled that bet after the 3♣ came on the turn. Shiga called and the river brought a 10♣ . They checked again and Soyza took it down with Q♣ 4♦ while Shiga showed 9♥ 2♦ .
Then Soyza ended it the following hand.
Soyza raised preflop, continued on the flop but checked the turn of 10♠ 10♥ 5♣ 9♣ board. Shiga called the bets but snap-shoved after the check. Soyza called with K♠ K♣ and Shiga was hoping for a straight after he showed J♠ 8♣ .
The river didn't give him one though. It brought a 9♥ instead and gave Soyza the pot, the title, and the Platinum Pass.
"WE'RE GOING TO BAHAMAS, BABY! WOO!" said Victor Chong, Soyza's fellow Malaysian and friend. They sure are.
---
You can win your seat to one of countless PokerStars live events around the world. Click here to open an account and get started.
---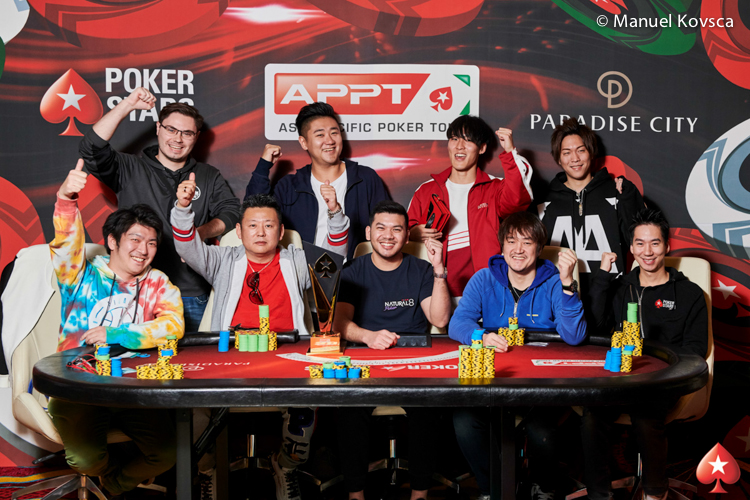 The final nine
Soyza was able to overcome a powerful contingent of players that came back for the final day. The final 14 players that came back for the final day included the defending champion, Taehoon Han; former APPT champion Team PokerStars Online Pro Randy Lew; Yuki "Two-for-One" Ko, who won the National Championship and the Single-Day High Roller in the same day earlier this festival; and 2015 APPT Seoul Main Event runner-up and Singaporean poker phenom, Bryan Huang.
Han was the first of those players to go. He started the day as the short stack and ran ace-four offsuit into pocket tens. Han's attempt at a repeat victory was halted in 12th and then Shiga quickly brought us down to a final table with back-to-back eliminations.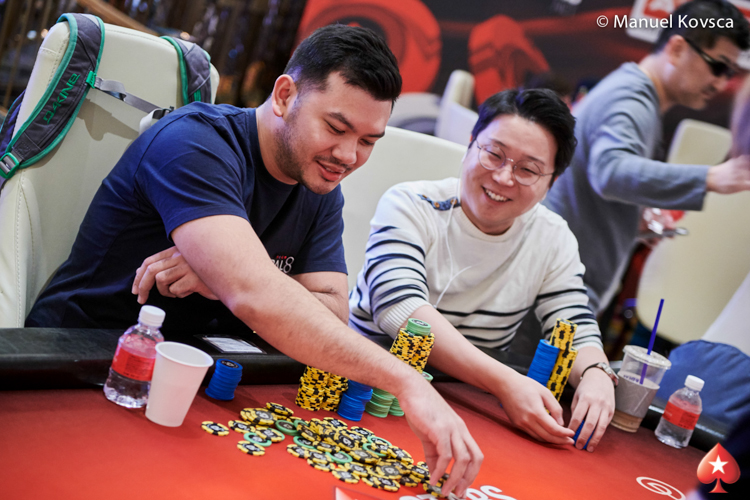 Han (right) with Soyza
The breakneck speed that brought us five eliminations in the first 50 minutes of play slowed down a bit once we reached the final nine. But the thing still moved fast. While we had a few short stacks at the final table, Eric Wasylenko –who started the final table fourth in chips– was the first to go.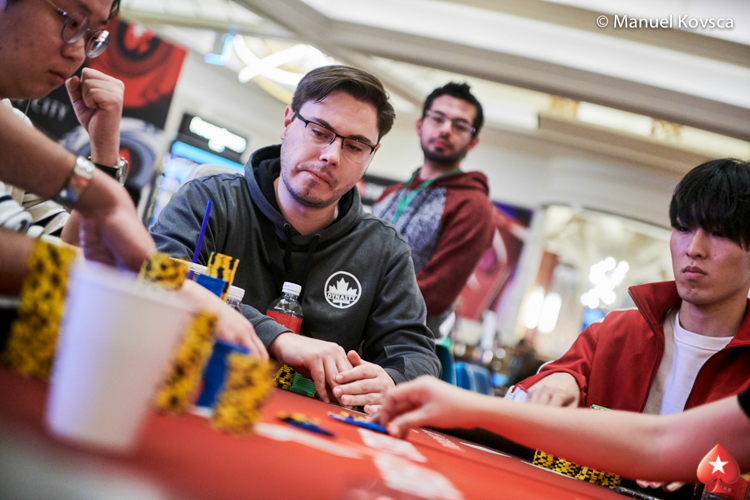 Eric Wasylenko
First Wasylenko doubled up Toru Wakamatsu. Wasylenko lost a flip with J♦ J♠ to Wakamatsu's A♣ K♠ that hand and then picked up ace-king himself just a few hands later. Unluckily for him, Bryan Huang woke up with aces. The board brought all low cards and Wasylenko won ₩14,110,000 for finishing 9th.
Then Yuki Ko was denied his third APPT Korea trophy this trip. Ko made the final table as a short stack and moved all-in with 5♣ 5♠ . Soyza called with A♣ 10♥ and hit an ace on the flop and a ten on the river. Ko won ₩17,640,000 for finishing 8th and then Kojiri Mizukami joined him on the rail a few minutes later.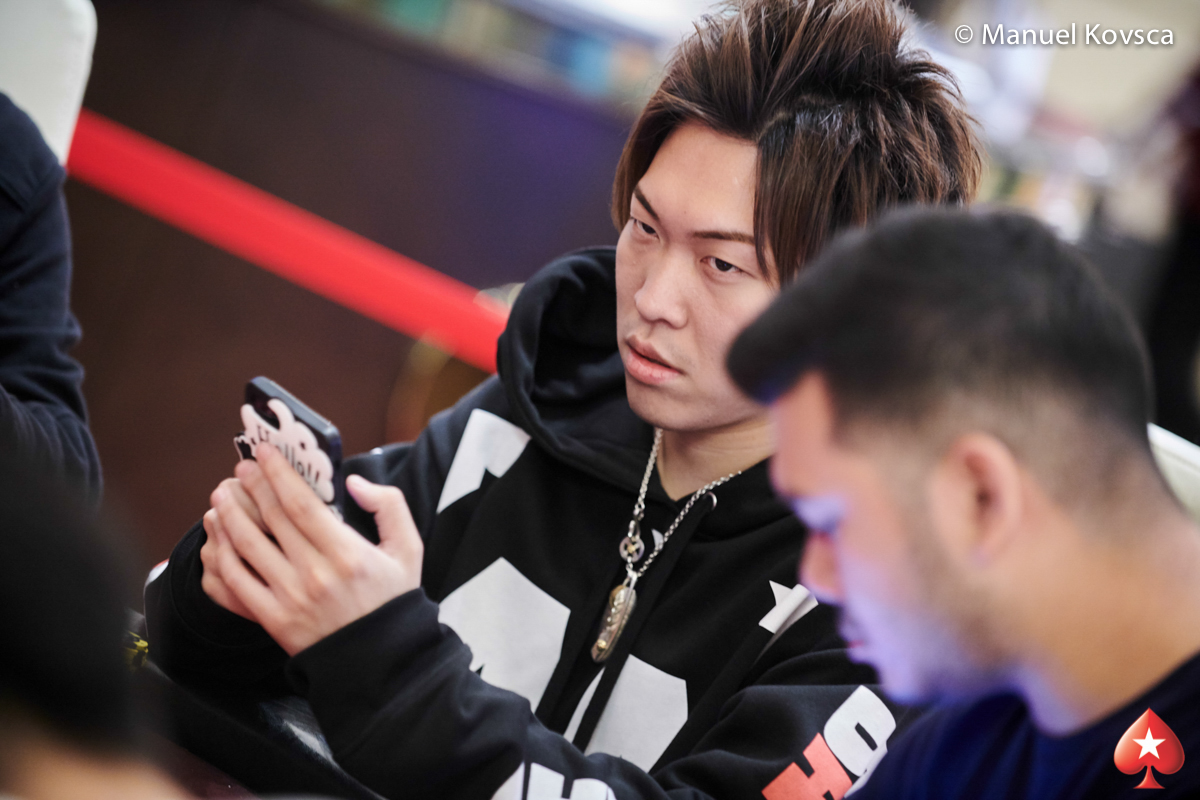 8th-place finisher Yuki Ko has had an incredible APPT
A short-stacked Mizukami tried to double up with Q♥ 10♥ , but Bryan Huang had a dominating K♥ Q♠ . Huang hit a king and Mizukami hit the rail. Mizukami's 7th place finish was worth ₩21,170,000 and then we got down to six.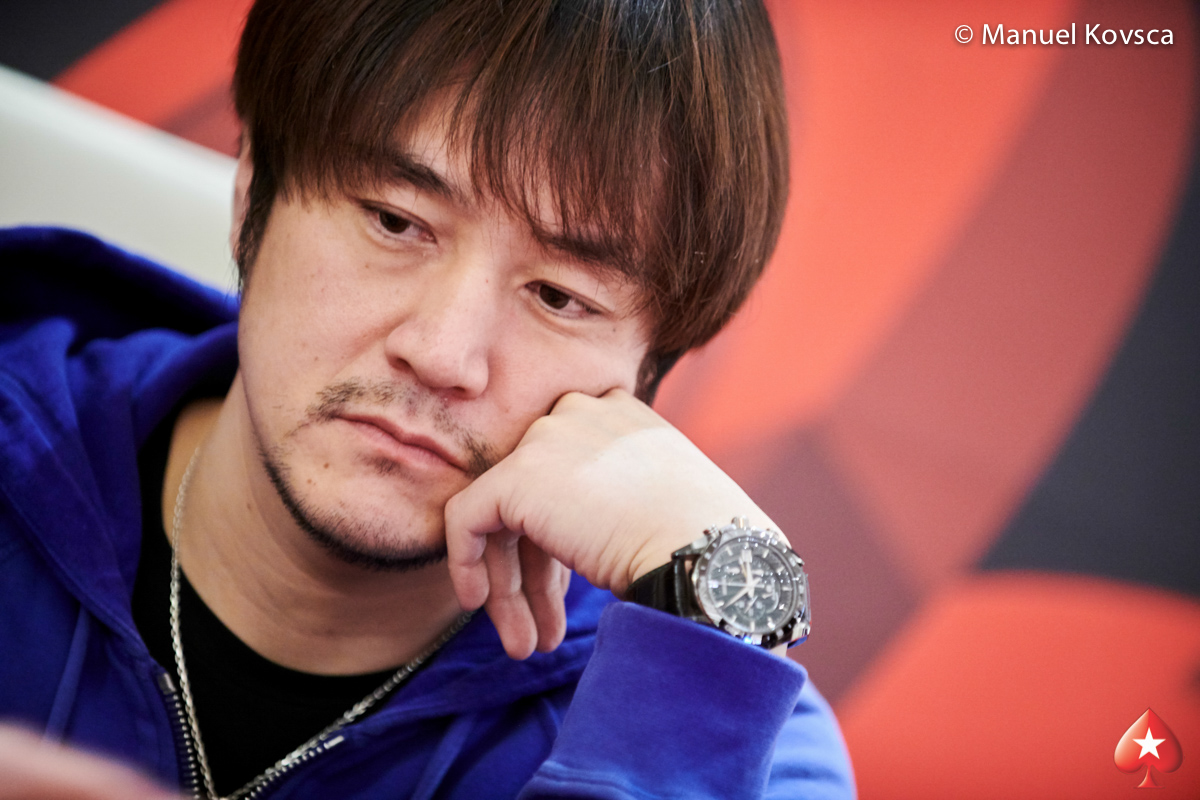 Kojiro Mizukami
Toru Wakamatsu was the first player at the final table to go all-in on the turn. Wakamatsu raised from the button and got called by Tomita Ryo on the big blind. There was a 2♦ 4♥ A♥ flop and Wakamatsu continued. A K♥ came on the turn after Ryo called and then Wakamatsu moved all-in. Ryo snap-called with 10♥ 9♥ for a flush and Wakamatsu was still drawing live with Q♥ 7♦ . But the river didn't give him a flush and Wakamatsu won ₩26,810,000 for his 6th-place finish.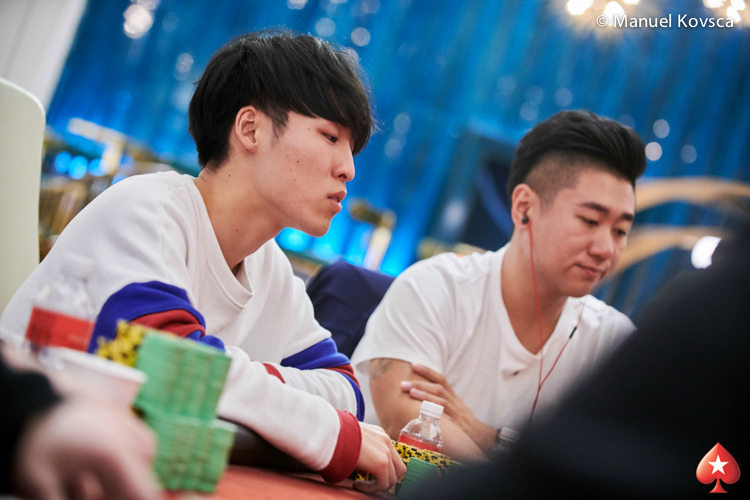 Toru Wakamatsu
Then we lost our last red spade in the field. Team PokerStars Online Pro Randy Lew's Q♠ J♥ couldn't survive going up against Soyza's dominating stack and hand. Soyza showed A♣ Q♥ and both players hit a queen on the Q♦ 7♥ 6♦ 4♥ 2♦ . Soyza had the better kicker though and Lew won ₩33,870,000 for finishing 5th.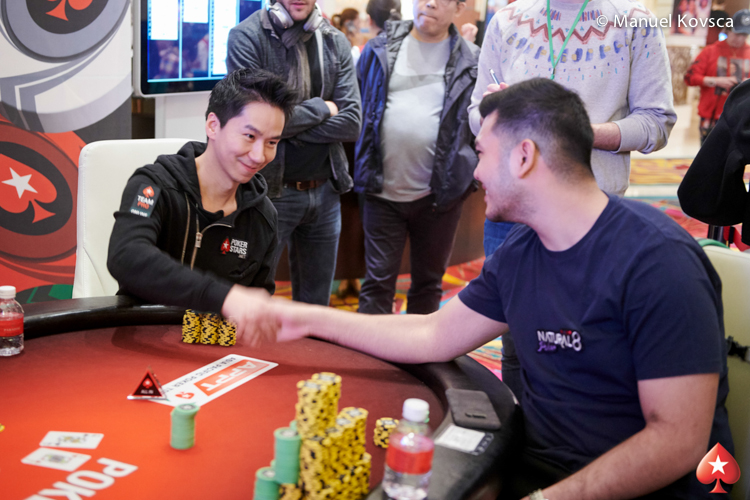 Lew and Soyza
Four-handed play lasted a while, but it finally came to an end thanks to some lucky eights. Ryo moved all-in for his final million with K♠ 9♣ and Shiga called with pocket eights. Shiga then hit an eight on the flop and Ryo got a ₩46,570,000 consolation prize for finishing 4th.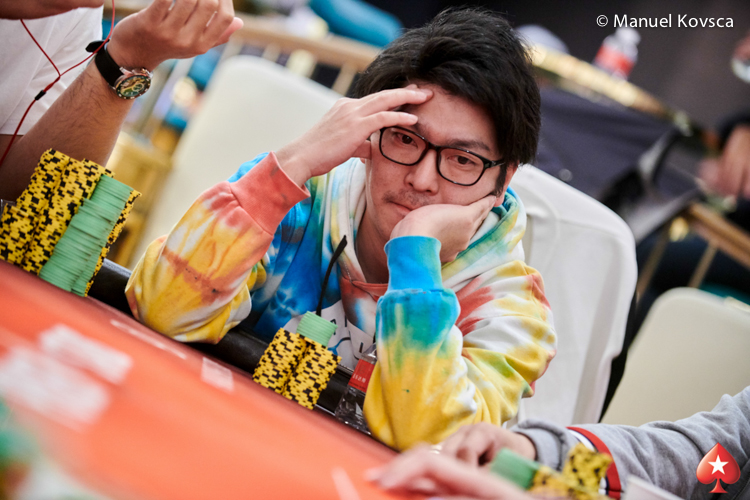 Tomita Ryo
It was the Shiga show after that. Shiga had flirted with the lead up to that point, but then he pulled away and started the heads-up match with a massive lead after he took out Huang. Huang was the shortest of the three and tried to double up with pocket tens, but Shiga woke up with pocket aces.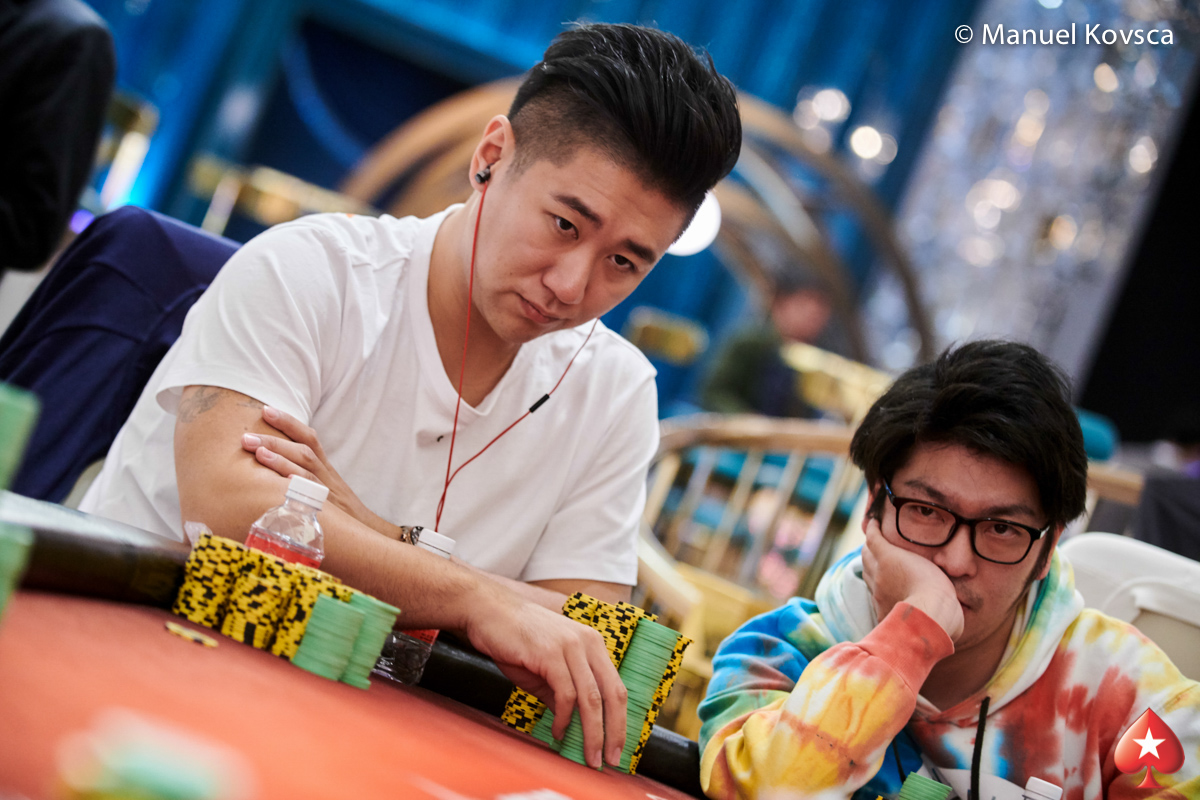 Good run for Huang
Huang was in 3rd and won ₩61,380,000 while the tournament went heads-up. Shiga started the match with 9.35 million while Soyza had less than half that with 4.1 million.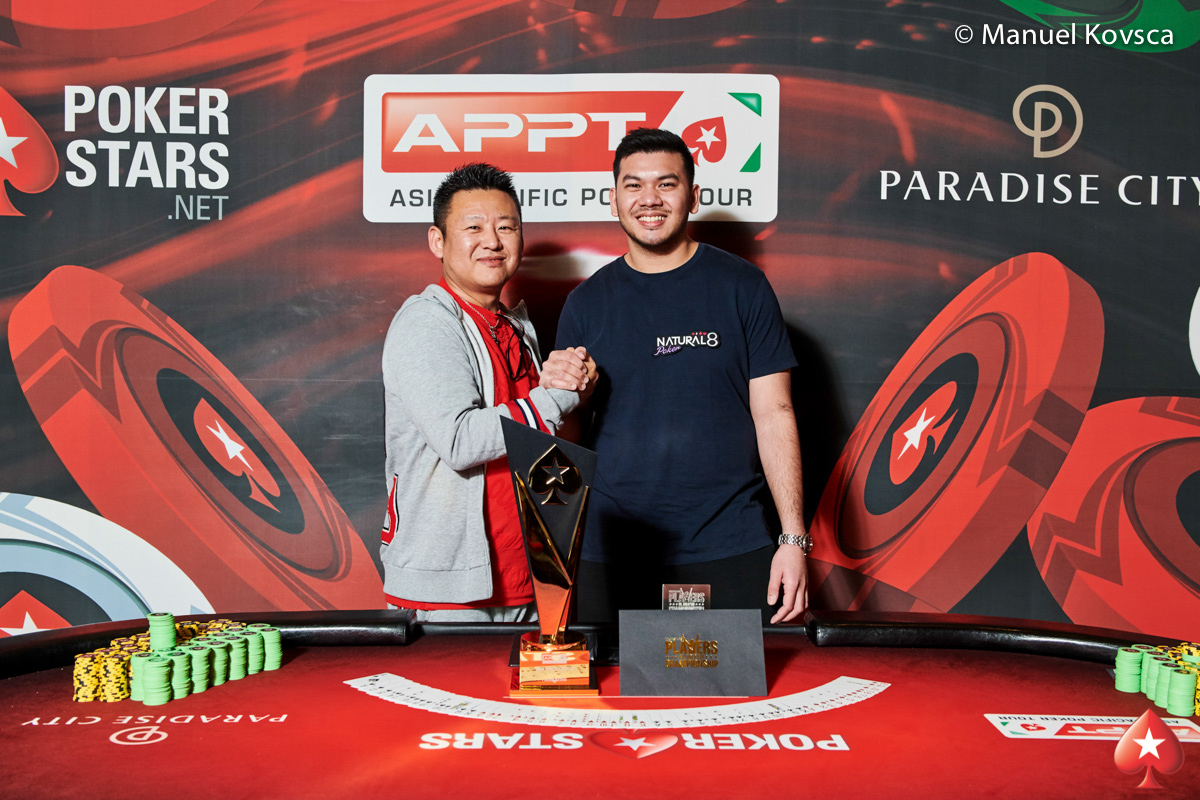 Mitsuhiro Shiga (left) and Michael Soyza (right) heads-up for the title
Then we had our heads-up battle that ended with Soyza taking the title and the Platinum Pass. Chances are we would've seen Soyza in the Bahamas anyways, but now we'll get him there at full strength.
"I was going to sell one of my kidneys, I heard you can live with one, and was gonna play [the PokerStars Players Championship] anyways," Soyza said. "But now I saved $25k I guess. Looking forward to it."
Check out some highlights from the festival:
APPT Korea Main Event Results

KRW300,000,000 Guarantee – Unlimited Re-Entries
Date: April 12-15, 2018
Buy in: ₩1,800,000 (1,620,000+320,000)
Entries: 449
Prize Pool: ₩705,558,600
*Plus PSPC Platinum Pass worth US$30,000
| Place | First Name | Last Name | Country | Prize |
| --- | --- | --- | --- | --- |
| 1 | Michael | Soyza | Malaysia | ₩158,700,000 |
| 2 | Mitsuhiro | Shiga | Japan | ₩99,468,600 |
| 3 | Bryan | Huang | Singapore | ₩61,380,000 |
| 4 | Tomita | Ryo | Japan | ₩46,570,000 |
| 5 | Randy | Lew | USA | ₩33,870,000 |
| 6 | Toru | Wakamatsu | Japan | ₩26,810,000 |
| 7 | Kojiro | Mizukami | Japan | ₩21,170,000 |
| 8 | Yuki | Ko | Korea | ₩17,640,000 |
| 9 | Eric | Wasylenko | Canada | ₩14,110,000 |
Photos by Manuel Kovsca.
---
Opening a PokerStars account is easy. Click here to get an account in minutes.
---
Back to Top
Study Poker with
Pokerstars Learn

, practice with the PokerStars app

Try our Free Scholars Leader Board to practice your new skills.
Quick Links
Learn
Practice
Chat with us
Watch and share