In a PokerStars Caribbean Adventure (PCA) that's riding the wake of an historic $25,000 PSPC, Rainer Kempe is making an early play to be the champion. Ahead of what could easily be a Day 2 bubble, Kempe finished Day 1B with 214,000, which is good for today's chip lead. (But it's still a long way from Alexander Kharkov's 350,000 at the finish of Day 1A.)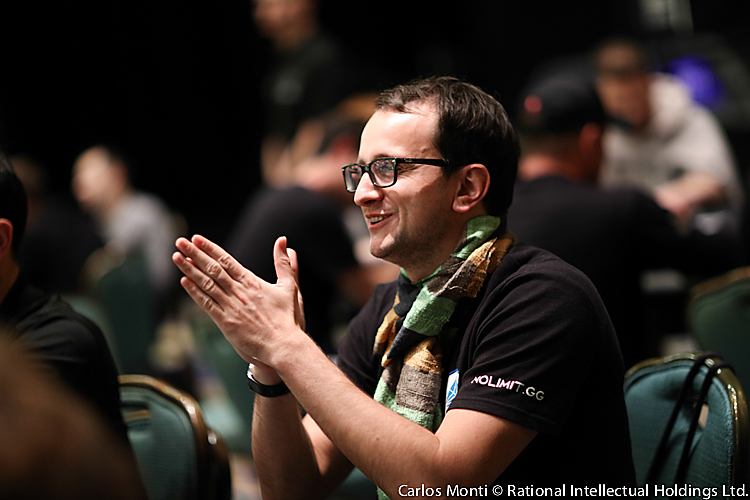 Rainer Kempe, just warming up
There was a school of thought among some casual observers that the PSPC and its eventual conclusion could suck the air out of the Imperial Ballroom at Atlantis. It was, after all, the biggest $25,000 tournament in poker history, and almost anything is going to pale by comparison.
If you were a subscriber to that theory, know this: the PCA Main Event isn't joking around this year. After two Day 1 flights, we have seen more than 800 $10,000 entries, good for a prize pool more than $8 million. And registration is still open for another 12 hours. It's possible we could see another few entries before the start of play on Sunday's Day 2. As it stands this will be the biggest Main Event prize pool since 2014.
At this point, it would be silly to tell you who is in and who is out, because everyone as the opportunity to buy back in one time. There could still be an influx of those in the morning.
We watched Chino Rheem play throughout the day, during which time he spent most of the afternoon and evening as the chip leader. He would have overtaken Kempe's lead at the end had he managed to win a massive pot just before the end of the night. Facing an all-in bet from Jonathan Roy for around 75,000, Rheem correctly folded queens on a jack-high board, correctly identifying that Roy had two pair, jacks and nines. Rheem still finished the day on 197,900, while Roy had 121,400.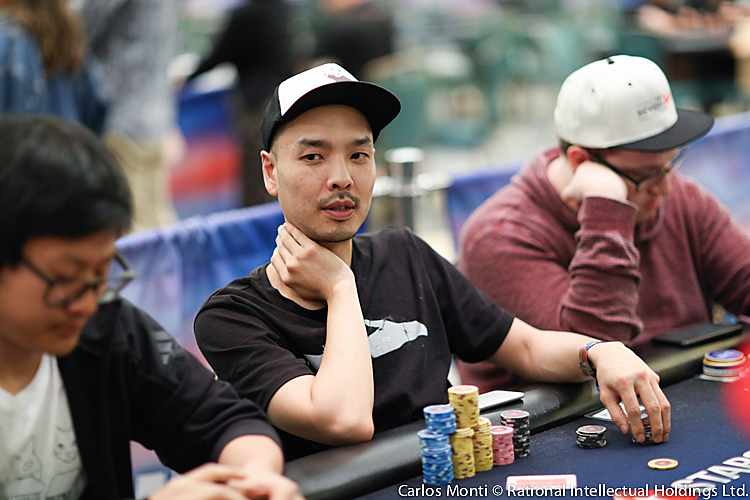 Chino Rheem
Other big stacks include Niall Farrell on 202,000 and Charles Furey on 200,900. PokerStars ambassadors Barry Greenstein and Aditya Agarwal both bagged, Greenstein for 71,000 and Argarwal for 52,000. Randy Lew had 43,500 and Daniel Negreanu's second bullet is worth 56,700. Maria Lampropulos, 2018 PCA Champion, record 59,600 to end the day.
We'll return for Day 2 action Sunday at 12pm. The tournament staff expects we'll hit the money bubble sometime tomorrow night. We'll post a full chip count and seat draw when it's made available to us. In the meantime, here are some big stacks:
Rainer Kempe – 214,000
Niall Farrell – 202,000
Charles Furey – 200,900
Chino Rheem – 197,700
Matt Moss – 180,700
Lawrence Bayley – 177,600
Scott Wellenbach – 155,400
Luke Marsh – 141,400
Michael Gathy – 130,600
Marc-Andre Ladouceur – 130,100
Jonathan Roy – 121,400
You can read all of our live updates below.
Until then, goodnight from Paradise Island. –BW
---

• ENTRIES: 200 of 486 tbc (135 of 356 on Day 1A)
• MAIN EVENT: PLAYER LIST | PAYOUTS | SEAT DRAW
• $100K SHR: FINAL TABLE UPDATES | LIVE STREAM
• ALL PCA INFO | TOURNAMENT SCHEDULE
• DOWNLOAD POKERSTARS | Follow @PokerStarsBlog on Twitter
---
12:10pm: Four more hands
Level 10 – Blinds 600/1,200 (BB ante 1,200)
Each table is going to play four more hands before bagging up for the night. We'll be back with a wrap-up of the day shortly after that.–BW
11:55pm: Nitsche pushing 100K
Level 10 – Blinds 600/1,200 (BB ante 1,200)
As always, Dominik Nitsche has played everything here this week, but has whiffed the lot, leaving the Main Event his best hope for yet another big score. (Well, there's always the $25K High Roller, and however many single-day events they all want to cram in. But right now, he's in the Main Event.)
Nitsche is doing just fine too, with right around 100,000. The latest few just came from a hand in which Nitsche's early-position open to 2,700 was called in four spots, including Simon Kaiser in the cutoff and the two blinds.
The dealer put the J♣8♦9♠ flop out there and both blinds checked. Nitsche checked too. Kaiser bet 4,500 and the small blind only called. Nitsche then raised to 25,000 and Kaiser instantly folded, as did the other player.
"Show one?" Kaiser said.
"Yep," Nitsche said immediately and turned over the T♣. — HS
11:51pm: Blind vs blind…vs blind?
Level 10 – Blinds 600/1,200 (BB ante 1,200)
Stoyan Obreshkov sat in the small blind with Eric Baldwin on his left. By the time we'd walked up to the table, the pre-flop raising had gotten big and both men had put in more than 12,000 apiece. It seemed like somebody was going to get their money in, which made it weird when they checked down the whole board 8♠Q♠[A♣5♣Q♣. The weirder thing was Obreshkov tabled two red tens and they were good against whatever Baldwin pushed forward facedown…which wasn't that weird, actually, until the dealer pushed the pot to Baldwin. "Um…he wins," said onion else. The dealer looked at the board, at the tens, and then sort of shrugged and pushed the pot in Obreshkov's direction. It's been a long day.–BW
11:45pm: Mr Sandman
Level 10 – Blinds 600/1,200 (BB ante 1,200)
It's all a bit soporific here in the Imperial Ballroom. Pots seem to be taking much longer to play out as the day draws to a close. And they aren't always all that interesting either. Case in point:
Gauthier Brugnooge opened to 2,700 from the cutoff seat and John Engledow called on the button. Maria Ho also called in the big blind and the three-way nature of the hand raised hopes for some action. The hopes died a little after three checks of a K♣8♣4♥ flop.
The 6♠ turn brought a bet of 7,600 from Ho, which only Brugnooge called, and then the K♠ completed the board. Ho checked and, after a long time thinking, Brugnooge bet 17,000.
Ho took a little while over her decision too, but in the end she threw her cards away. — HS
11:35pm: Talbot vs. Roy vs. Glaser
Level 10 – Blinds 600/1,200 (BB ante 1,200)
Day 1B is definitely entering its final stages now, with 225 players seated heading into Level 10. That's from a starting field of 483 entries (including 57 re-entries). Among those to be eliminated late on: Thi Nguyen, Christian Harder, Daniel Rezaei, Jack Sinclair, Leonardo Balague, Walter Treccarichi, Tim Reilly, Stefan Huber, Ian Simpson, Thomas Muehloecker, Brian Rast, James Chen, Demosthenes Kiriopoulos, Helio Neto, Mei Siu, Gautam Lillaney, Corey Hochman, Ole Schemion, Lester Edoc, Sosia Jiang, Warren Sheaves, David Yan, Peter Akery, Aymon Hata, Michael Vela, Peter Traply, Yiannis Liperis, Vicente Delgado, Martin Finger, Parker Talbot, Henrik Hecklen, Tony Gregg, Leo Margets, Justin Bonomo and Sergio Aido. — HS
11:25pm: Century Club grows
Level 10 – Blinds 600/1,200 (BB ante 1,200)
A quick scan of the room shows a number of folks north of the 100,000 mark. Chino Rheem is likely still the chip leader, but Charles Furey is making a late-night run to challenge him. Meanwhile, these folks are all sitting behind stacks of more than 100,000: Niall Farrell, Marc-Andre Ladouceur, Noah Schwartz, Simon Kaiser, Victor Choupeaux, and Luke Marsh.–BW
11:15pm: Talbot vs. Roy vs. Glaser
Level 9 – Blinds 500/1,000 (BB ante 1,000)
The following hand took an age to play out, but we knew some measure of gratification would come given that Parker Talbot was all-in for peanuts pre-flop, so we would definitely get to see at least two hands.
We very nearly saw three because Jonathan Roy and Benny Glaser played the side pot all the way to the river. Only then did Glaser make a long and agonised fold.
It looked as though it was an open push for 8,000 from Talbot, which was then called in both the blinds. Roy was in the small blind and Glaser the big. The dealer pushed the main pot to Talbot's end of the table — "Thank you," Talbot said — as the others waited to play the rest of the hand.
The 8♣4♥3♥ flop appeared and Roy checked. Glaser bet 8,200 and Roy called. They both then checked the 5♣ turn.
After the 8♠ came on the river, Roy led for 24,200 and this placed the heat on Glaser. He had 45,000 behind and thought for long enough that a jovial Talbot called the clock. About 15 seconds into his countdown, Glaser flicked his cards away, and Roy tabled his A♠A♦. Glaser gave no indication whether he could have beaten that or not (one suspects not) but it was actually Talbot's A♥2♥ that was best.
"That was a great flop," Talbot said, as he raked in the main pot and now has a whisker shy of his starting stack. Roy has about 110,000 and Glaser has 45,000. Chino Rheem still leads them all, however, with about 195,000. — HS
11:13pm: Hope, statistics, and the Dallas Cowboys
Level 9 – Blinds 500/1,000 (BB ante 1,000)
The loudest conversation in the entire room right now is the one underneath the giant display of the Dallas Cowboys vs LA Rams playoff game. At issue, down by nine, having just scored a touchdown, whether the Cowboys should go for a two point conversion or kick for one point. The conversation was already growing heated when Joe Cada called to Brian Rast (not currently playing in the Main but hanging out nonetheless). Cada asked Rast what the right play is.
"Well, I don't know shit about football," Rast began, but then said the correct answer was to go for two.
Chris Hunichen, seated just to Cada's left, was incensed. "He started by saying he didn't know shit about football. He finished by proving he didn't know shit about football," Hunichen said.
Hunichen had an ally in Maurice Hawkins at the next table over. Hawkins had been arguing that the correct answer was to go for one, get within eight points, and not kill any hope of catching up.
Cada smirked, "I'm basing my position on statistics, not hope."
The Cowboys ultimately chose to go for the extra point kick.
"Oh!" Hunichen said to Rast. "Look what the NFL coach decided!"–BW
10:55pm: Can't argue with results
Level 9 – Blinds 500/1,000 (BB ante 1,000)
Yiannis Liperis opened to 5,100 under the gun from a stack of 5,700. None of the above is wrong, not the blind levels, not the size of the raise and not the size of Liperis's raise. He opened 5x leaving himself 600 behind.
Pierre Calamusa called in the hijack seat and the rest of the table left them to it. The dealer then deposited the 4♥5♠6♠ flop. Liperis tossed in his 600. Calamusa called.
Difficult to know what were the motives here — a live misclick maybe, or perhaps it was all by design — but you can't argue with results. Liperis tabled his 4♣5♣, which had flopped two pair, while Calamusa's A♠J♠ was in trouble. The 8♥ turn and 2♣ river changed nothing, and Liperis doubled up. — HS
10:52pm: Bradley breaks Dannenmann
Level 9 – Blinds 500/1,000 (BB ante 1,000)
While I'd like to say I spotted this myself, I've gotta give full credit to Pocket 5s' Lance Bradley who just sidled up into the tournament area and pointed out that 2005 WSOP Main Event runner-up Steve Dannenmann just walked in the room. He's carrying a drink and talking to folks on the rail, but doesn't seem like he intends on playing. There's still time, Steve! Get in while the gettings good! By the way, since Bradley broke the news, I feel compelled to tell you he and Donnie Peters are doing a great podcast over at their site from the Bahamas. Give it a listen. –BW
10:45pm: A weird spot
Level 9 – Blinds 500/1,000 (BB ante 1,000)
Ryan D'Angelo opened to 2,300 from mid-position and Krissie Bicknell three bet to 6,600 in the cutoff. Rainer Kempe then four-bet to 14,500 from the big blind and D'Angelo quickly got out of the way.
Bicknell then went deep into the tank, counting and re-counting her stack (it was about 38,000, not including what she had already invested). She also told her table-mates that they could call the clock on her. "It's a quick table, it doesn't matter," Tobias Peters, her near neighbour, said.
Eventually Bicknell said she was all-in and Kempe took a moment before calling. Are you ready for the anti-climax?
Bicknell showed J♠J♥ and Kempe had J♣J♦. Kempe had predicted this already. He said something along the lines of, "You have jacks" before Bicknell tabled her cards.
"It's a really weird spot with jacks," Bicknell said, and Kempe instantly agreed, having possibly determined exactly Bicknell's cards by how difficult a decision she had.
"It's very close," Kempe said. "I didn't expect you to jam with jacks."
But jam she did, and a rainbow flop meant they were chopping it up.
Kempe still has about 105,000. — HS
10:41pm: Playing it slow and easy
Level 9 – Blinds 500/1,000 (BB ante 1,000)
Yiannis Liperis is among the people who have bought in twice today, and he's not faring much better this time around. Moments ago, Liperis min-raised to 2,000 and got action out of the big blind from Marc-Andre Ladouceur. On a flop of 8♦A♥A♦, Ladouceur checked and then called Liperis 1,500 bet. Both players checked through the 9♠ turn, but when the K♣ came on the river, Ladouceur checked and Liperis upped his bet to 4,000. Ladouceur wasted no time in his calling, quickly tabling A♠Q♠ for the win. –BW
10:30pm: Eye-rolling
Level 9 – Blinds 500/1,000 (BB ante 1,000)
There are so many ways you can get unlucky in poker, and not all of them are routinely noted. Obviously we hear a lot about out-draws and big hands getting cracked, or players running the second nuts into nuts. But sometimes it's just the small things that can make this game infuriating. For instance, this:
Both Nikita Lebedev and Christopher Johnson were fairly short and sitting in the blinds. Lebedev peeked down at A♠K♠ and, with plenty of big stacks around the table, must have been praying for an open from one of them so he could rip it in. Instead, they all folded around to him and he only had Johnson left behind him.
He had a premium hand, but everyone had passed to him, and there was only one more short stack to contend with. What to do? Lebedev played it straight, raising to 2,300. Johnson called.
They then saw the Q♣3♣4♠ flop and both checked. Then the 5♣ came on the turn. Lebedev checked again and Johnson bet 2,000. Lebedev called.
The 8♦ completed the board and both players now checked. Lebedev turned over his hand, but it was heading to the muck when Johnson tabled J♦5♥. Lebedev rolled his eyes. He was given the cards he was surely praying for, but he ended up losing to jack-five. Such is poker.
Lebedev now has 11,600 while Johnson has 19,000. — HS
10:08pm: Last break of day
Players are now on a 20-minute break.
10:08pm: Busto
Level 8 – Blinds 400/800 (BB ante 800)
The following players were knocked out in the last level. We happen to know that Daniel Negreanu re-entered, and I daresay some of the others did too. But at least one bullet for this lot was a misfire:
Dorian Rios, Luke Reeves, Justin Ouimette, David Thompson, Calum Deas, Jack O'Neill, Javier Icaza, Cliff Josephy, Toby Joyce, Edward Holyoke, Rob Hollink, Roberly Felicio, David Llacer, Luis Dono, Martin Lourido, Preben Stokkan, Juan Pastor, Maria Konnikova, Nicolas Cardyn, Scott Stewart, Shawn Buchanan, Martin Jacobson, Gustavo Lopes, Diogo Cardoso, Martin Raus, Thiago Nishijima, Chris Moorman, Kilian Kramer, Daniel Negreanu, Maria Lampropulos, Henrik Hecklen, Yuriy Kudrynskyy, Adam Hendrix, Joao Valli, Uwe Ritter, Ajay Chabra, Ole Nergard, Dmitry Ponomarev, Paolo Greco, Lawrence Samuel, Roman Zakharov, Julius Schamburg. — HS
10:07pm: Lampropoulos making use of time
Level 8 – Blinds 400/800 (BB ante 800)
A board of 2♠3♠T♠T♥
The action was on last year's PCA Main Event champion Maria Lampropoulos, who had checked, and was now facing a bet. But according to some she was taking too long over it.
Time was called. Lampropoulos moved all-in (for about 20,000), and got a call. She sent the player to the rail with T♦9♦.
Time or no time, she's up to 58,000. — SB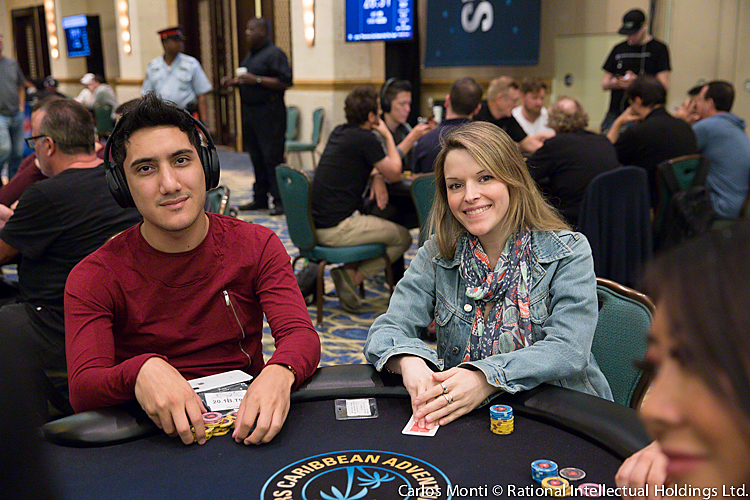 Ivan Luca And Maria Lampropulos during a brief reunion at the table
10:06pm: Queens fail Reeves
Level 8 – Blinds 400/800 (BB ante 800)
Lucas Reeves is out. He had a good last hand with Q♥Q♣ to compete with Maxim Toldin's 9♦9♠. But the 9♣K♠7♣8♣J♠ runout messed up that idea royally, sending Reeves to the exits.
Toldin has 48,000 now. As do many. –MH
9:57pm: Rast busts Josephy
Level 8 – Blinds 400/800 (BB ante 800)
Cliff Josephy, playing his second entry today, was just all in and at risk with K♦T♦ versus Brian Rast's A♦J♥.
The 3♣7♠J♦ flop paired Rast's hand, then the 6♣ turn and Q♥ river sealed it.
"Can we have one more card?" asked Josephy of the dealer, eyeing the open-ended straight draw that would necessarily remain just a draw. That sixth community card (a home game variant) is sometimes called the "ocean." The table laughed, and with a "good luck fellas" Josephy departed, perhaps to enjoy the actual ocean tomorrow.
Rast has 67,000 now. –MH
9:55pm: Ho in no hurry
Level 8 – Blinds 400/800 (BB ante 800)
Maria Ho looks focused, and just took chips off of Marc-Andre Ladouceur to prove it.
On a flop of Q♣8♣5♥ Ladouceur, in the small blind, bet 8,000. Ho, on the button, waited a full two minutes without moving, before she tossed out a raise to 20,000.
Ladouceur was now the one under pressure, but didn't need as long to think about it. He passed. Ho up to 95,000. – SB
9:48pm: Count this as a warning. Negreanu is fired up
Level 8 – Blinds 400/800 (BB ante 800)
Daniel Negreanu is fired up. He just lost a pot, which took 10K from his stack, and now he wants to double up. The whole table knew this.
So arguably, they were on notice when he opened for 2,000, a bundle of energy.
The action was folded to Nicolas Cardyn, who paused.
"He's going to do the jamming move," said Negreanu. It was an uncanny prediction. Cardyn did the jamming move.
Negreanu called in a flash.
Negreanu: Q♠Q♣
Cardyn: J♠J♥
The board came A♣7♦K♣6♦7♥
That made Negreanu happy. Cardyn took the defeat well, telling the dealer he was covered.
Negreanu was in a good mood again, up to 35,000. He turned to the player sitting alongside.
"You're next!" he said, then laughed. – SB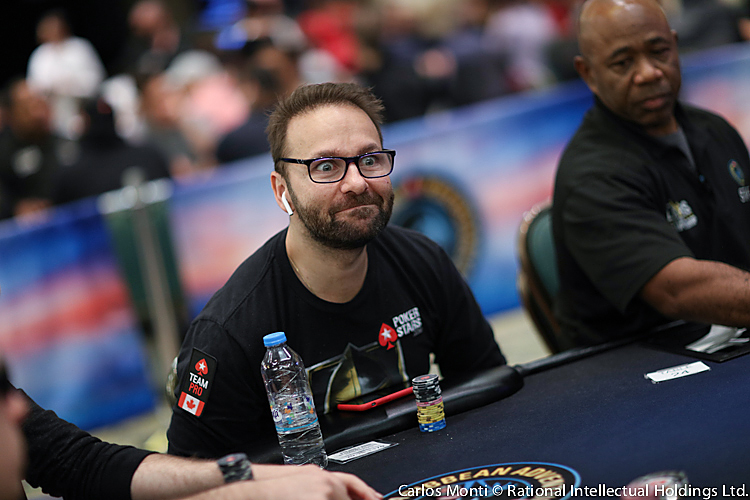 Daniel Negreanu, fired up
9:47pm: Hunichen has a hunch that kings are good
Level 8 – Blinds 400/800 (BB ante 800)
Chris Hunichen picked up $627,340 for his fourth-place finish at today's Super High Roller final table. Hunichen is trying his luck in the Main Event now, and just knocked out Feizal Satchu for the second and final time.
Satchu's A♥Q♥ couldn't catch against Hunichen's K♣K♠, with the dealer putting the 9♣K♥6♣4♠8♥ board out there. The same dealer then scooped Satchu's chips and gave
them to Hunichen. Even after that, Hunichen still has only about 38,000, so it can't have been a huge shove from Satchu. — HS
9:45pm: From Argentina to the Atlantis
Level 8 – Blinds 400/800 (BB ante 800)
Last year's PokerStars Caribbean Adventure Main Event champion Maria Lampropulos recently busted her short stack and re-entered.
I recall first seeing Lampropulos on the Latin American Poker Tour many years ago, where the Argentinian would be at events with Ivan Luca. Back then Luca had already picked up numerous titles and cashes on his way to earning nearly $6.3 million over the course of his career, though Lampropulos was the first between the two to win a silver spade at LAPT Chile in 2015.
Since then Lampropulos has won over $3 million in tournaments, including two seven-figure scores, one coming last year here in the Atlantis for winning the PCA Main Event.
When Lampropulos bought back in just now, she happened to draw the seat right next to Luca, though the table has broken now. We'll follow both to their new seats, though, and see how far they can go in this year's Main Event. –MH
Maria Lampropulos
9:35pm: Selbst shoves, loses, with six high
Level 8 – Blinds 400/800 (BB ante 800)
Victor Choupeaux has emerged as a serious contender here today, with a stack of around 140,000. Lots of it just came in a massive pot against Vanessa Selbst where Selbst proved that she hasn't lost it, despite her recent absence from poker. And by "it", we mean a propensity for hugely gutsy bluffs.
Choupeaux was on the button and Selbst in the big blind and Choupeaux told me afterwards that they got the vast majority of the money in on the river, with the board reading 8♣9♣A♥7♠K♦. Selbst's hand had been mucked already by the time I arrived, but there was a lot that would have lost to Choupeaux's A♠A♦, which were still exposed.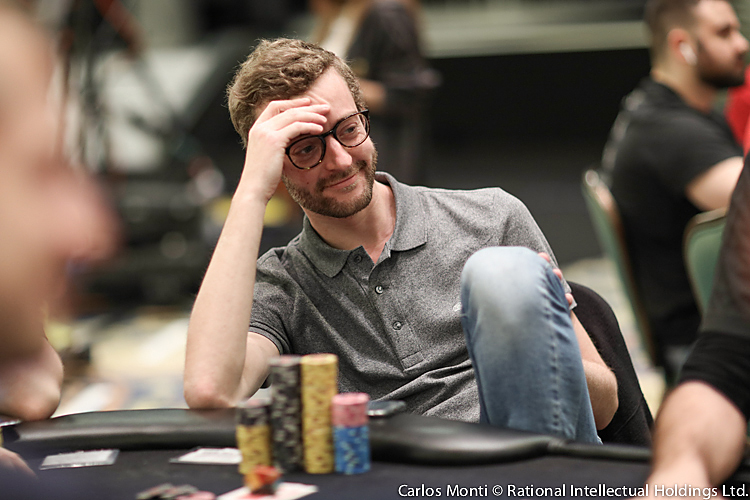 Victor Choupeaux
"What did Vanessa have?" I asked.
"She had six high like a boss," Choupeaux revealed.
Selbst apparently pushed with her busted straight draw — it was six-three to be precise — and Choupeaux picked her off. "I heard she's not crazy anymore," Choupeaux said. Never believe rumours, Victor. — HS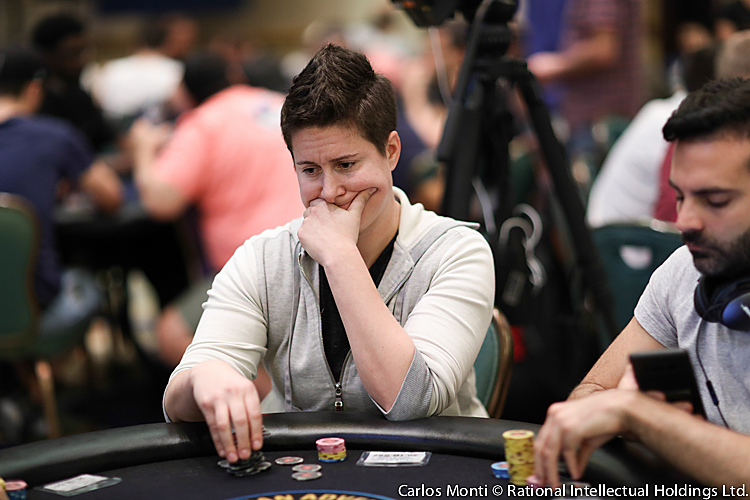 Vanessa Selbst
9:33pm: Ladouceur reduces field by one
Level 8 – Blinds 400/800 (BB ante 800)
Igor Tregoubov is on the way to the rail after an all in against Marc-Andre Ladouceur.
Tregoubov shoved behind a bet from Ladouceur, and Ladouceur called.
Ladouceur: Q♠Q♦
Tregoubov: A♥9♥
The board ran T♣J♦7♥T♠K♠
Ladouceur is up to around 90,000. – SB
9:28pm: Kiriopoulos collects from Sheaves
Level 8 – Blinds 400/800 (BB ante 800)
"That was the one hand I didn't want to see."
So said Warren Sheaves at the showdown with Demosthenes Kiriopoulos after the latter had gotten his chips in on a 2♠7♠5♣J♥A♠ board. Sheaves had A♥5♥, having rivered two pair, but that fifth community card had given Kiriopoulos a flush as he tabled J♠9♠.
Sheaves, winner of Jennifer Shahade's #MyChessPokerGame Platinum Pass and casher in the PSPC, slips to 62,000, while Kiriopoulos moves up to 56,000. –MH
9:27pm: Welcome…you'll never leave
Level 8 – Blinds 400/800 (BB ante 800)
Once you find a seat on today's table of death, it appears you never leave. In a poker context, that's a good thing, of course, but it must be damaging to ones stress levels sitting there today.
Dario Sammartino just did all he can to get knocked out, shoving for 8,400 over Sean Winter's 1,600 button open. Winter called and watched with a chuckle as Sammartino turned over his 5♣5♠. He let everyone else in on the joke as he turned over 5♦5♥.
A rainbow flop later, and this one was chopped. — HS
9:26pm: Peukert gets some back from Kanit
Level 8 – Blinds 400/800 (BB ante 800)
Stefan Peukert got his own back a little on Mustapha Kanit, who'd taken chips from him earlier today.
On a flop of T♥7♦Q♠ Peukert checked to Kanit who bet 3,800. Peukert called.
On the A♦ turn Peukert did the betting, making it 6,900. Kanit called for the T♣ river card.
A check from Peukert, and another from Kanit.
Peukert showed J♦K♦
Kanit looked at his cards for a good ten seconds, which is a long time when you're waiting for a man to fold (and in circumstances like this they're never going to turn over a winner).
Kanit drops to 44,000. Peukert is above where he started, up to 36,000. – SB
9:21pm: Life returns to Carey
Level 8 – Blinds 400/800 (BB ante 800)
Irene Carey just doubled up after she open pushed her 10,900-strong stack from early position and Dimitar Yosifov called in the small blind. Carey's A♠Q♠ was ahead of Yosifov's A♦9♣ right from the start and it stayed that way through the 2♠4♠K♦5♦4♣ board.
Yosifov still has 55,000, while Carey is also back in business with about 23,000. — HS
9:20pm: First entry runs out for Negreanu
Level 8 – Blinds 400/800 (BB ante 800)
Daniel Negreanu joined the game late, but he's in danger at present of losing his starting stack after calling off most of his chips in a hand versus Upeshka De Silva.
The board showed 2♥K♠9♣5♠7♦ and De Silva had already gone all in by the time I got there. In fact, Negreanu had just about reached the end of his thinking out loud about what to do when I saw him set down the calling chips right on top of the all-in triangle.
De Silva quickly showed his 2♣2♠ and Negreanu gave him a "good hand" before showing he'd had king-queen. That pumped De Silva up around 50,000 while knocking Negreanu down to just 700.
He won one all-in after that, but lost another and has exhausted his first stack.
"I'll be back," he said and so we'll surely see more of Negreanu tonight. –MH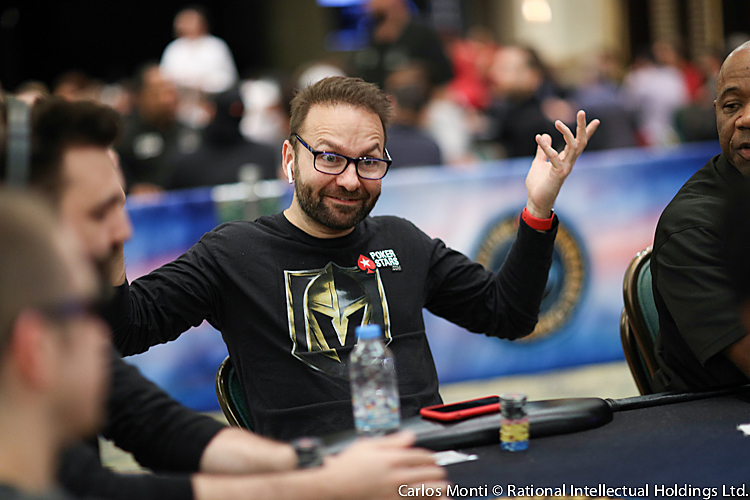 Kid Poker down one buy-in
9:08pm: Rheem roasts Ritter
Level 7 – Blinds 300/600 (BB ante 600)
There's no stopping Chino Rheem today and his stack now sits at 151,000 having just added Uwe Ritter's final chattels to the pile.
Rheem opened the button, making it 1,400, and Ritter moved in for 6,700 from the small blind. The big blind folded and Rheem figured he might as well call. He could certainly afford it. And when the cards went on their backs, he was in a race.
Rheem: J♠Q♣
Ritter: 2♦2♠
The board favoured Rheem. It came 6♠J♥6♣K♣Q♦ and Ritter departs. Rheem, an original November Niner, is having one of those days. — HS
9:02pm: Don't dare Deyra
Level 7 – Blinds 300/600 (BB ante 600)
Level 7 is almost over, a level during I saw Ivan Deyra knock out multiple people, the latest being Justin Young. He's got 75,000 now. –MH
9:01pm: Have we met?
Level 7 – Blinds 300/600 (BB ante 600)
Krissie Bicknell just got the fright of her life. She has only recently moved to Maria Konnikova's table, where she is two seats away from the big-stacked Timo Kamphues. I didn't hear precisely what Bicknell said to Kamphues as the two began a pot against each other, but it seemed to be a query about whether they had played before, or whether Kamphues had a brother.
Kamphues said he did have a brother. He had a twin brother. An identical twin brother. "He should be over there," Kamphues said, pointing a few tables away. "Shut. Up," Bicknell said as she turned around from Kamphues No 1 to look at Kamphues No 2, who goes by Lars. And, yes, they are very, very identical. — HS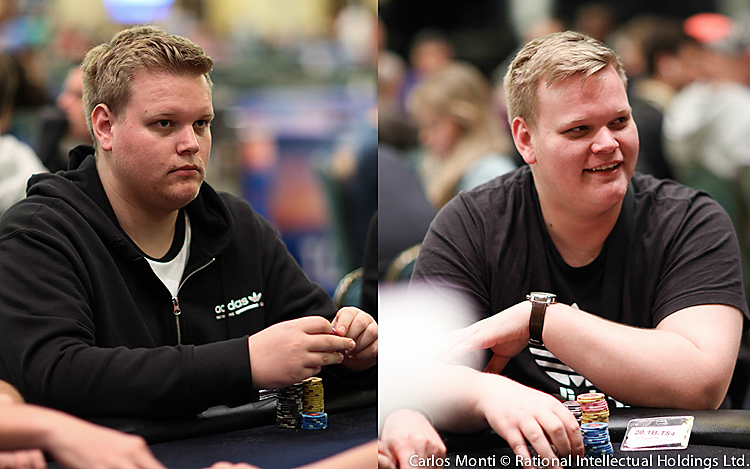 Timo and Lars Kamphues
9pm: Backdoor straight saves Li
Level 7 – Blinds 300/600 (BB ante 600)
I can't say exactly how Frank Ditz and Yan Li got all of the latter's chips in the middle with Ditz holding A♥9♥ and Li J♦7♦. It could have been either before or after the 9♣3♠4♥ flop, but in either case Li was already starting to get up from her seat at the sight of Ditz's pair of nines.
But the turn was the T♦ and river the 8♠, adding up to a backdoor straight for Li who sat back down in her chair. She's got a stack of 120,000 now, while Ditz is on 106,000. –MH
8:54pm: Romano continues to collect
Level 7 – Blinds 300/600 (BB ante 600)
Jay Romano has 125,000 now after just winning a pot from Julius Schamburg. The board was already dealt all the way — 6♠9♦A♠7♦6♣ — when Romano called his friend over from the rail to watch. "Big hand!" Romano said. Romano had also bet 12,000 into a pot of about 25,000 and Schamburg indicated a call as he tossed in one chip. "Ace-queen!" Romano said, and showed his A♦Q♠.
Schamburg mucked, then listened as Romano offered a back-handed compliment. "I'm not going to bluff you," Romano said. "You're too good."
Schamburg smiled as he handed over the chips, leaving him with around 31,000. — HS
8:48pm: Bayley over Benger
Level 7 – Blinds 300/600 (BB ante 600)
Lawrence Bayley is motoring along nicely, and just pushed Griffin Benger out of a recent pot to build his stack beyond 80,000. The two were at a flop of J♥J♣3♥ with about 8,000 in the middle already, and Bayley (UTG+1) checked it over. Benger (cutoff) bet 3,700 and Bayley called.
The 9♣ turn prompted two checks, but then Bayley shoved on the T♣ river. Benger had the effective stack, with 27,500 left behind. Benger thought about it (while also watching a hockey game on his iPad — presumably the Bruins/Maple Leafs game taking place right now) before folding. — HS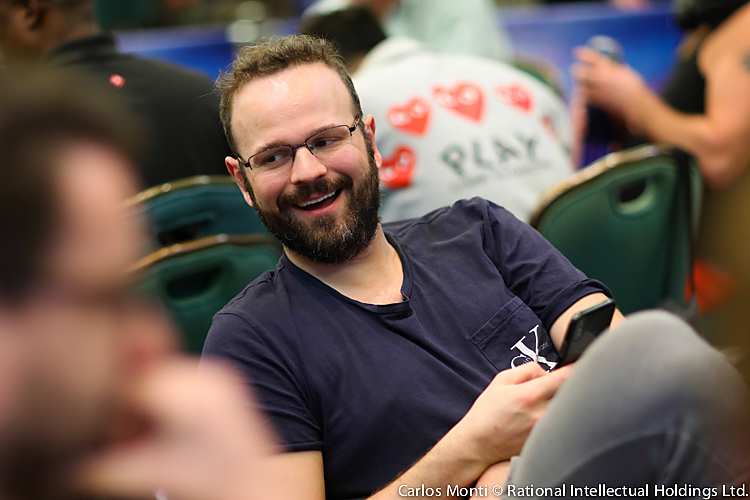 Griffin Benger
8:45pm: Recent eliminations
Level 7 – Blinds 300/600 (BB ante 600)
Markus Durnegger, Ivaylo Sininov, Michael Sklenicka, Sparrow Park Yu Cheung, Yiannis Liperis, Ji Zhang, Ike Haxton, Eoghan Odea, Bartosz Stasiewicz, Patrik Antonius, Rodrigo Carmo, Walter Treccarichi, Russel Dohan, Vegard Olavsrud, Joshua Turner, Roger Tondeur, Duco Haven, Robin Hegele, Chris Kruk, Sean Lengendre, Antoine Sout, Thomas Boivin, Diego Palma, Sam Chartier, Aaron Olshan, Tzai Wei Phua, Yin Liu, Amir Shomron, Tianle Wang, Juan Pastor, Felix Bleiker, Charles La Boissonniere, Connor Drinan, Peter Traply, Marius Conan, Luiz Ferreira, Eric Baldwin, Jussi Nevanlinna, Danut Chisu, and John Mooney.
8:45pm: Winter is coming
Level 7 – Blinds 300/600 (BB ante 600)
Remember that tough table we were talking earlier? Sean Winter (yes, the one with $11 million in earnings) has just sat down.–BW
8:42pm: Tang takes from Ho
Level 7 – Blinds 300/600 (BB ante 600)
Danny Tang just put Maria Ho to a decision on the river in a hand between them.
The board was 8♠7♣2♠A♥2♣, and it appeared as though Tang had checked from the cutoff, then Ho bet 11,200. That's what she had in front of her when Tang pushed all in for 68,200, and after some time in the tank Ho let her hand go.
Tang has 96,000 now, while Ho has 46,000. –MH
8:39pm: Deyra takes out Treccarichi
Level 7 – Blinds 300/600 (BB ante 600)
Walter Treccarichi looked down at A♦3♦ and chose to open-push his last 7,800, and Ivan Deyra called from the next seat over with K♣Q♣.
The flop came 4♥Q♥7♥ to pair Deyra's queen, and after the J♥ turn and 5♠ river Treccarichi wished the table good luck and exited. Deyra chips to 55,000 with that pot. –MH
8:32pm: Kid Poker arrives; dodges toughest table
Level 7 – Blinds 300/600 (BB ante 600)
Daniel Negreanu has joined the Day 1B field, taking a seat on the same table as Upeshka De Silva. De Silva is a very good player, but Negreanu can consider himself lucky to land there. There's another table with two empty seats that is otherwise extremely tough indeed. Its line-up is as follows:
Seat 1: Jake Cody (70,000)
Seat 2: Joao Barbosa (120,000)
Seat 3: Joao Vieira (9,000)
Seat 4: Steffen Sontheimer (71,000)
Seat 5: empty
Seat 6: Sosia Jiang (21,000)
Seat 7: empty
Seat 8: Paul Newey (13,800)
Seat 9: Dario Sammartino (9,500)
That could, in all seriousness, be a high roller line up. — HS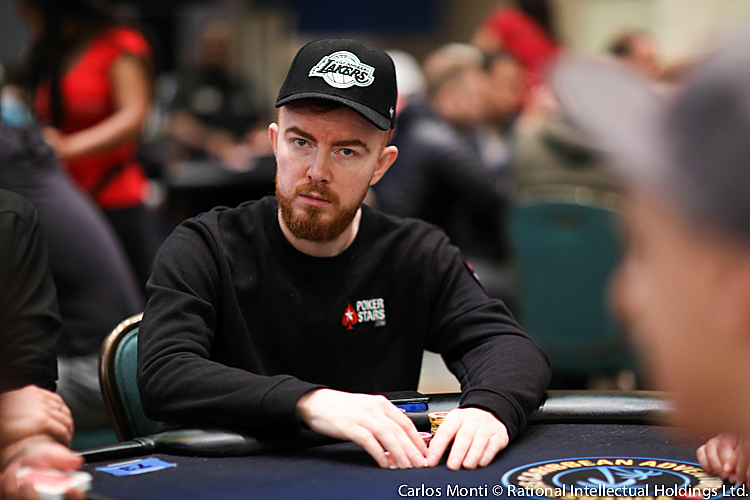 Jake Cody
8:30pm: Kowal KOs Haven
Level 7 – Blinds 300/600 (BB ante 600)
Duco Haven is out. The Dutch player got his short stack all in with A♦Q♣ versus Canadian Graydon Kowal's Q♠Q♣, and the runout of 3♦J♠T♠3♥Q♥ added up to a full house for Kowal and an exit for Haven. Kowal has about 38,000 now.
After the hand, Tim Reilly noted how he would have been in trouble if he had gotten involved, as he had folded T-3 and would have had a full house.
"Yeah, but my heart would have stopped on that river, so you would have gotten my chips, anyway," cracked Kowal with a grin, earning a laugh at his end of the table. –MH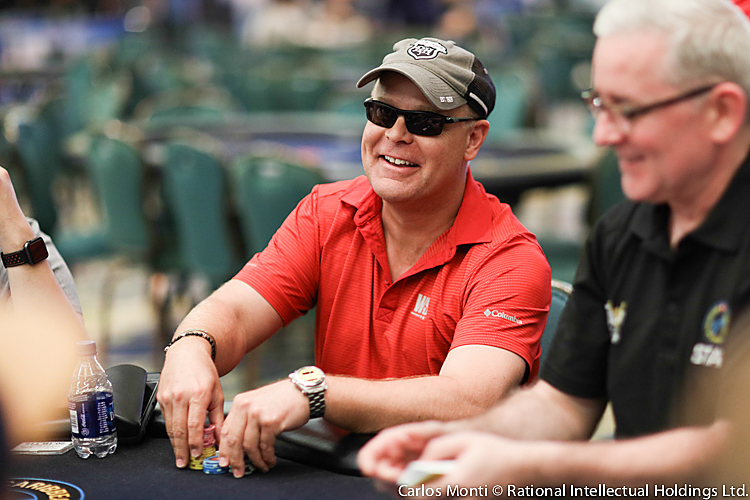 Graydon Kowal
8:21pm: Konnikova all in
Level 7 – Blinds 300/600 (BB ante 600)
Ji Zhang opened in early position only to watch Maria Konnikova move all-in from the small blind for about 11,000. Jiang had about this amount behind.
He couldn't call, making this a useful win for Konnikova. – SB
8:19pm: A Canadian in the Caribbean
Level 7 – Blinds 300/600 (BB ante 600)
A few years ago, Feizal Satchu gained some national attention when he made the final table of the Canada Cup when it was held right here in the Bahamas. The local press up there loved the idea of their countrymen sunning themselves in the Caribbean in January as the mercury froze in their thermometers back home.
He's been coming back to the Atlantis pretty much ever since, and here he is again in the PCA Main Event. What's more, he just doubled up to about 40,000. And he did it through a former World Champion.
In the hand in question, Jorge Martinez opened from the button, making it 1,200 to play. Satchu then pushed his last 17,700 in from the small blind and Joe Cada then re-shoved from the big blind, presumably to push Martinez out. That bit worked, but the second half of Cada's plan — winning the pot — did not.
Satchu had A♦T♥ and hit on the board of A♦7♦4♣5♣6♠. Cada's 9♥9♠ went into the muck.
Cada is now down to about 12,000 as it's hotting up for Satchu. — HS
8:16pm: Kruk knocked out
Level 7 – Blinds 300/600 (BB ante 600)
In one of the first hands after the break, Christopher Kruk and Dan Shak were in an all-in situation in which the pair had nearly even stacks with Kruk only slightly having Shak outchipped.
Down to just 300 after that, Kruk was all in from the small blind whether he liked it or not, up against Shak in the big blind and Ariel Celestino who had raised from middle position.
The latter two checked the A♦K♥8♣ flop, and Shak checked again after the Q♥ turn. Celestino bet into the side pot and Shak folded his K♦J♠ face up, and it was a good idea as Celestino had K♣Q♦ for two pair.
Kruk then showed his hand — J♦9♣ — which meant he was drawing live to a straight, but the 2♠ river ended it and he departed. Celestino has 55,000 now, Shak 42,000. –MH
8:10pm: Rheem racking it up
Level 6 – Blinds 300/600 (BB ante 600)
Chino Rheem opened for 1,800 on the button. Guilherme Campos was in the big blind and called for a flop of J♣8♠2♥
Campos checked to Rheem who immediately bet 1,500, as if he'd thought about it, and knew that this was exactly what he was going to do. Campos called.
Now they saw the K♠ turn card.
Another check from Campos. Rheem bet again, but slower this time – 2,300 in total. Again Campos called.
On the 3♠ both players checked. Campos showed A♠2♣ with a look that half-heartedly asked "any good?" Rheem turned over an unlikely, but victorious T♦8♣, and now has around 140,000. – SB
8:07pm: Leckey cuts Chartier loose
Level 7 – Blinds 300/600 (BB ante 600)
Sam Chartier lasted no more than a couple of hands after the restart. From the small blind, he jammed for about 10,000 over Paul Leckey's early position 1,500 open. Leckey called in a flash and then won the race with his J♠J♥ against Chartier's A♦K♥. The dealer put the J♣ in the window and the rest was largely irrelevant. — HS
8:02pm: Full bellies, four hours to go
The Day 1B players are back from dinner break and ready to play the final four hours of the night. –BW
6:45pm: Break time!
There are 324 players still seated, with the board now showing 433 entries, including 22 re-entries. And with that: food. We'll be back, along with the rest of the field, in 80 minutes' time. See you then. — HS
6:40pm: Big stacks heading to dinner
Level 6 – Blinds 200/500 (BB ante 500)
The dinner break is imminent, and these are some of the biggest stacks in the room:
Mazin Khoury: 125,000
Joao Barbosa: 120,000
Sebastiaan De Jonge: 115,000
Pierre Calamusa: 105,000
The following have recently been knocked out: Corey Hochman, Harry Lodge, Marshali White, Rodrigo Presutti, Hye Park, Matthew Wantman, Antoine Saout, Corentin Ropert, Jussi Nevanlinna, Aliaksei Boika, Benjamin Pollak and Max Silver.
6:30pm: Kings trouble again for Konnikova
Level 6 – Blinds 200/500 (BB ante 500)
Maria Konnikova was knocked out yesterday holding pocket kings, and she has just lost another huge pot with them. This time it was Ben Yu who outdrew the PokerStars Ambassador.
Arriving on the turn, the board showed J♦9♥2♣8♠ and there was at least 55,000 already in the pot. Yu moved all-in for 14,800 and Konnikova, with only about 26,000 in her stack, knew any call might have a significant impact on her participation in this tournament.
After a few minutes, Konnikova eventually called and showed her K♦K♥. They were still alive against Yu's J♣9♣, but Yu now had the advantage. The T♦ was a blank.
That was another huge hit for Konnikova, who is left with about 12,000. — HS
6:20pm: Sir, you've won.
Level 6 – Blinds 200/500 (BB ante 500)
PSPC winner Ramon Colillas opened to 1,200 under the gun and got a call from Canada's Igor Tregoubov in the UTG+1 spot and Martin Lourido in the blinds. The flop was T♣A♥5♥.
Lourido and Colillas checked, so Tregoubov stabbed at it for 2,100. Lourido elected to come along, but Colillas folded.
The turn paired the board with the T♦. This time, both players checked through. The river brought the Q♦. This time Lourido came out firing for 7,000, nearly a pot-sized bet. Tregoubov, relatively short stacked, thought for about a minute before shrugging and called.
Lourido seemed confident he'd won as he flipped up the T♥9♦. Even Tregoubov seemed to balk for a second before realizing the card for which he'd called the flop had finally come in. He tabled K♠J♦ for Broadway and the win. –BW
6:15pm: Kanit gives thanks for double up
Level 6 – Blinds 300/600 (BB ante 600)
A double up for Mustapha Kanit through a frustrated looking Stefan Peukart.
On a board of J♥T♠K♣2♦Q♦ Peukart was all-in. Kanit would have to move all-in to call.
He did. Peukart showed K♥T♣ but Kanit topped that with Q♥A♣. Peukart had flopped well but so had Kanit, who now has around 70,000.
"Thank you," Kanit said. It wasn't clear whether this was aimed at the dealer, or at Peukart. – SB
6:10pm: Ramdin busts to Cikinas
Level 6 – Blinds 200/500 (BB ante 500)
Victor Ramdin is out after getting his short stack of about 10,000 in the middle preflop in a three-way situation and coming out third-best.
Matas Cikinas had opened and another player called, then Ramdin jammed from the blinds with 9♣9♠ only for Cikinas to reraise all in with K♠K♥ and the third player to call all in with Q♣Q♥.
The board came J♥8♣5♥3♣8♥ and Cikinas scored two knockouts to move up to 55,000 while Ramdin departed. –MH
6:05pm: Bahamas Vice
Level 6 – Blinds 200/500 (BB ante 500)
In an effort to protect the privacy of the folks in this conversation, we'll just leave the names out of it. There came a moment in which a player struggled to make a huge call but eventually did so. At the other end of the table, a man with a few years on the two players in the hand said, "I think if you'd stayed still, he wouldn't have called. It was all that moving around."
"No weed," the other guy said.
The guy who beat him expressed his empathy. "Same. I'm out of weed."
"I actually quit smoking a couple of days ago," said the defeated guy.
The older man at the other end didn't miss a beat.
"Might want to start back up," he said.–BW
6:02pm: Rojas doubles through Bicknell
Level 6 – Blinds 200/500 (BB ante 500)
Kristen Bicknell raised to 1,100 and saw Joseph Di Rosa Rojas reraise-push for about 5,000. Action back on Bicknell, she thought a while before calling, tabling 9♣8♠ versus her opponent's A♠T♦.
The flop favored Bicknell, coming 6♦4♥9♥. But the T♠ turn hit Rojas's hand, and after the 6♥ river he doubled to about 11,000. Bicknell meanwhile still has about 40,000. –MH
6pm: Good call from Greenblatt
Level 6 – Blinds 200/500 (BB ante 500)
Another board already dealt, and another decision to be made.
In this case Alex Greenblatt bet 3,600 on a board of T♥A♦2♥3♠Q♥; Anthony Gregg raised to 12,000 and Greenblatt was deciding what to do next. He called.
Gregg turned over Q♠J♥ but Greenblatt had that beaten with A♣9♥.
Greenblatt is now up to 36,000. – SB
5:55pm: Big stack report
Level 6 – Blinds 200/500 (BB ante 500)
With the start of Level 6 (Level 6 begins!), they've crossed the halfway point of this second and last Day 1 flight, which struck me as a good time to scout the room for the big stacks to this point.
Reaching 100,000 by now — more than three times the starting stack — distinguishes you. I found five players who've done that so far. Actually four, but Thi Xoa Nguyen was close enough to make me want to include her and make the list five.
Narcis Nedelcu – 128,000
Mazin Khoury – 125,000
Tobias Peters – 104,000
Sebastian Von Toperczer – 100,000
Thi Xoa Nguyen – 95,000
–MH
5:48pm: 2018 champ returns
Level 5 – Blinds 200/400 (BB ante 400)
Though we had already seen her in the PSPC, we figured we'd see her here today, too. Maria Lampropulos has just sat down in the Day 1B field. Last year, Lampropulos won more than $1 million. Since then she's racked up about 20 more cashes around the world. Earlier this week, Lampropulous scored a small cash here with a 46th place finish in the $2,200 NLHE event for $5,600.–BW
5:45pm: Louis fought Sherif and Sherif won
Level 5 – Blinds 200/400 (BB ante 400)
Louis Salter is out after getting his stack in on the turn against Sherif El-Messiri. Salter had a set, holding 6♠6♣ on a 7♦6♦3♠8♦ board, but El-Messiri had a flush with A♦4♦. The J♣ river didn't help Salter and he's gone, while El-Messiri is now on 70,000. –MH
5:40pm: Kobylinskiy makes call against Rheem
Level 5 – Blinds 200/400 (BB ante 400)
It was an unhappy ending to the hand for Chino Rheem. He mucked his cards with force before saying "nice hand," and all while looking at something in the distance.
It came after Artem Kobylinskiy called Rheem's bet to win a hand that leaves him with around 85,000.
The board read 7♥9♣5♥4♥3♦
Kobylinskiy had bet 2,500, which Rheem had raised to 7,000. Kobylinskiy took his time but eventually called, turning over 6♠8♠. That brought Rheem's response. – SB
5:35pm: You win, Yu
Level 5 – Blinds 200/400 (BB ante 400)
Tobias Peters opened for 1,000 from the cutoff seat and Timo Kamphues called from the button. Ben Yu then three-bet to 5,100 out of the big blind, forcing out Peters but Kamphues stayed in.
Following the K♣9♠A♦ flop, Yu continued for 3,000, and Kamphues was already done with it as he tossed his cards.
Yu has about 33,000, while Kamphues has more than doubled the starting stack with 75,000. –MH
5:30pm: Showers redux
Level 5 – Blinds 200/400 (BB ante 400)
Scott Stewart zipped across the tournament floor to the water cooler only to find the five-gallon jug had run dry. He muttered an expletive and left thirsty. Minutes later, Benjamin Yu, who just minutes earlier had been discussing showers with Maria Konnikova, took matters into his own hands.
Thirsty himself, Yu arrived to find the dry jug. He reached under the table, grabbed a new full five gallon jug, and expertly loaded it into the dispenser.
This was impressive, as Stephen Bartley and I tried to do the same thing a couple of days ago and spilled at least a gallon all over the table. That full jug is heavy and unwieldy. Yu, meanwhile, looked like he'd been doing it for years.
"That's probably the fifth one I've done," he said. When I told him I was impressed, he admitted it hadn't always gone so well. "I've had some bad landings," he said.
Nevertheless, almost immediately, a steady stream of thirsty players lined up for their own refreshment. Scott Stewart, meanwhile, is presumably still parched. –BW
5:25pm: A sorrowful goodbye
Level 5 – Blinds 200/400 (BB ante 400)
The following players are now also out:
Taylor Black, Stoyan Obreshkov, Goran Mandic, Yen Han Chen, Andreas Gann, Eddy Sabat, Brian Wilson, James Stewart, Ray Medlin, Wender Oliveira, Thiago Nishijima, Marc Etienne Mclaughlin, James Romero, Chenbei Li, Chris Furbert, Josh Reichard, Martins Adeniya, Alex Keating, Feizal Satchu, Scott Margereson, Shyam Srinivasan, Mike Takayama, Oliver Weis, Tom-Aksel Bedell, Jean Ferreira, Marius Gierse, Andrea Benelli, Ram Ilani, Kevin Quinlan, Uri Reichenstein, Andrey Kotelnikov and Timur Margolin.
5:20pm: Medic needs aid
Level 5 – Blinds 200/400 (BB ante 400)
Nenad Medic has busted once already today, and on his second entry he's already tumbled down from the starting stack.
Just now he bet 8,800 on the river holding A♠J♣ on a T♠2♣A♥Q♣K♣ board for a Broadway straight, but his opponent called and showed T♣8♣ for a backdoor flush to take the chips away from Medic.
The Canadian player is down to about 11,500 now. –MH
5:15pm: Showers!
Level 5 – Blinds 200/400 (BB ante 400)
The word "showers" has taken on its own life in the poker world, usually to indicate someone is busto and ready to hit the showers. Game over. Today, Benjamin Yu, Maria Konnikova, and Ryan D'Angelo explored some of the other possibilities.
If we eavesdropped correctly, the conversation began when Konnikova asked Yu if he'd ever been showered in confetti. This came a few minutes after Sam Greenwood won the Super High Roller and took his requisite shower under the confetti cannon. Yu said he hadn't and, maybe apropos of the confetti thing asked Konnikova if she had ever been showed in champagne. Konnikova said she hadn't and asked Yu if he had.
"Ummmm…no," Yu responded.
D'Angelo laughed. "That's usually a hard yes or no!" he said.
Yu had his own shower story, but in deference to the characters involved and common decency, we'll let him tell that one another time.–BW
5:10pm: Two hands lift Ho up to 60,000
Level 5 – Blinds 200/400 (BB ante 400)
Maria Ho just won two pots in a row to take her stack up to around 60,000.
In the first hand, the board was already dealt A♣4♣Q♠5♥8♥. After a bet of 2,100 Ho raised to 15,000, winning the pot there and then.
In the next hand Kilian Kramer opened for 900 in the cut off which Ho called, as did Danny Tang in the big blind.
All three players checked the 2♦9♣K♠ flop, which led to the T♠ turn. Ho led the betting, making it 2,200, which got a call from Tang only.
On the 8♠ river card Ho bet again, another 4,100 this time. Tang didn't like it, but folded, leaving Ho with the pot, and those 60,000 chips. – SB
5pm: No hanging around for Li
Level 5 – Blinds 200/400 (BB ante 400)
Another elimination, with Chengbei Li on his way to the rail.
He was all in with 3♠3♦ against the J♣J♠ of Stefan Peukert.
The board came 2♥6♥2♣T♠4♦ to bust Li, and leave Peukert with around 50,000. – SB
4:55pm: Ho takes from Moorman
Level 5 – Blinds 200/400 (BB ante 400)
New players keep arriving, among them Brian Rast, Joe McKeehen, and Ivan Luca in the latest wave.
Also playing now are Chris Moorman and Maria Ho, and those two were just now involved in a hand against one another.
It started with Ho raising to 900 from early position, with Moorman defending his big blind with a call. The flop came Q♥7♣6♠, and Moorman check-called a bet of 800 from Ho. On the 4♦ turn, Moorman led for 2,000, and Ho called his bet. Both players then checked the A♦ river.
Moorman showed 9♥8♣ for a busted straight draw, while Ho won the pot with her K♥K♦. Ho is up around 50,000 now, while Moorman has 35,000. –MH
4:50pm: The resumption
Level 5 – Blinds 200/400 (BB ante 400)
Players have re-taken their seats and are strapped in for another two 60-minute levels before they will take an 80-minute dinner break. At time of writing, there have been 408 entries, including 12 re-entries, and 350 players remain. — HS
4:28pm: Out before the second break
Level 4 – Blinds 100/300 (BB ante 300)
The latest list of eliminated players includes: Douglas Souza, Sharman Olshan, Usman Siddique, John Krpan, Stefan Huber, Sven McDermott, Marc Rivera, Rex Alarcon, Julien Martini, Gavin Cochrane, Florian Duta, Jhon Monroy, Calvin Anderson, Peter Fellows, Rui Ferreira, Mohammed Lahlou, Rob Hollink, James Chen and Alexis Urli. — HS
---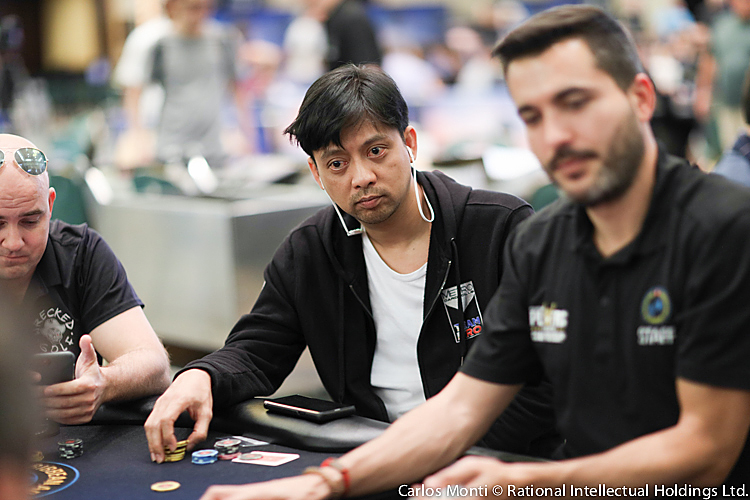 Marc Rivera: Platinum Pass winner busto from Main Event
---
4:27pm: A non-average situation for Mooney
Level 4 – Blinds 100/300 (BB ante 300)
With the board showing A♠T♦Q♥2♠9♠ and about 15,000 in the middle, John Mooney checked and then Fablo Freitas pushed all in for his last 11,100. That sent Mooney into the tank, and at one point he turned his head around to get a look at the tournament clock as he thought about what to do.
Typically we'll see players do that sort of thing when the bubble is getting close or after they are in the money and pay jumps are approaching. Here, though, Mooney was primarily interested in seeing what the average stack was — right now just under 34,000.
At last Mooney called, and when Freitas tabled T♠3♠ for a backdoor flush, Mooney saw his A♥Q♠ for two pair was beaten.
With that Freitas bumps up over 36,000 or just above the average, while Mooney slips to a little over 16,000 or less than half the average. –MH
3:26pm: Jenkins flops good, but second best
Level 4 – Blinds 100/300 (BB ante 300)
"Six players," the dealer said, referring to the number of players heading to the flop as a pot brewed on one of the furthest distant tables. Only four actually had a significant role to play after that, and only two went all the way. For one of them, it was all the way out the door.
There wasn't enough in the pot to represent anything more than one raise, probably from Ronald Jenkins, who was under the gun, and calls all the way around. The dealer put the K♠5♥4♦ flop out there and Jenkins bet 2,000. Jorge Martinez called and Marius Gierse, in the next two seats, both called and the field thinned around to Sergio Aido, in the small blind.
Aido then raised to 9,500 and Jenkins asked for the all-in triangle. He only actually had 7,500 back, so this was an under call. Regardless, it was too rich for both Martinez and Gierse, who stepped aside.
Jenkins had A♦K♥ and had hit top pair. But Aido had 4♠5♠ and was persuaded to go to the flop by all the calls in front of him. Aido's two pair remained good through the 2♣ turn and 4♥ river and that was the end of that for Jenkins. — HS
4:22pm: Mizrachi makes his move
Level 4 – Blinds 200/400 (BB ante 400)
The scene was already set. Robert Mizrachi was all-in and quite a lot had happened to get to this point.
Piecing things together it appeared Mizrachi had opened, and then Michael Azzaro had raised to 3,000 on the button.
Joao Valli was on the big blind and four-bet 7,500. And when the action got back to Mizrachi he shoved, for about 27,000 total.
That gave Azzaro a decision, which he fretted over for a while before folding. Valli didn't take anything like as long, and mucked immediately. Mizrachi is back up to 40,000. – SB
4:12pm: The tale of Barry and the bubble
Level 4 – Blinds 100/300 (BB ante 300)
Poker Hall of Famer Barry Greenstein is of course one of the great storytellers in poker, with a lot of tales dating back many decades from which to draw. Just now he was sharing with his table a more recent story, and one of particular interest to them as PCA Main Event players — the story of his exciting final day in last year's PCA Main Event.
If you recall, Greenstein very nearly bubbled the event. They were one away from the cash on Day 3 when he had his short stack all in with pocket eights versus pocket aces and memorably caught an eight on the river to survive. As he explained to the table, he managed to double again a few times and linger well into the evening before finally being knocked out in 47th.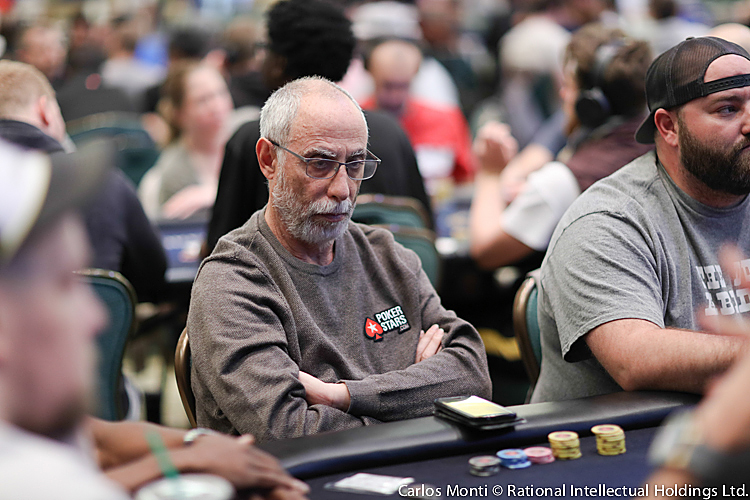 Barry Greenstein, happier than he looks here
Greenstein has about 42,000 right now. –MH
4:05pm: Benelli bounced by Castrillon
Level 4 – Blinds 200/400 (BB ante 400)
Andrea Benelli is out of the Main Event. He shoved with ace-king but was undone by the pocket queens of Paul Castrillon.
A king found it's way to the turn, but so too had a third queen on the flop.
Benelli didn't look happy as he left the tournament room. Castrillon meanwhile is up to around 45,000. – SB
3:55pm: I'm the Dude man
Level 4 – Blinds 100/300 (BB ante 300)
Scott Stewart has traded the Pabst Blue Ribbon bandana in which he made his deep PSPC run for a Big Lebowski T-shirt declaring "The Dude Abides". He's got his vibe and he wears it well.
He also just won a small pot from Maurice Costigan in Level 4 of the Main Event. Action folded all the way to Stewart in the small blind and he opened to 1,200. Costigan called. They then saw the 4♠K♣Q♦ flop and Stewart bet 1,300. Costigan called.
The turn was the Q♣ and they both checked. They similarly checked the 3♦ river and Stewart showed his A♦K♠. It was good. — HS
3:51pm: Bianchi puts on the brakes
Level 4 – Blinds 200/400 (BB ante 400)
Chase Bianchi, in a Washington Wizards cap, opened for 800 and got a call from Rony Halimi on the button.
The flop came 4♥5♦J♠
Bianchi bet 900, which Halimi called for the 7♣.
Bianchi now seemed to slam on the brakes. He checked (as did Halimi) and then checked the 3♠ on the river too.
Halimi bet 2,300. Bianchi wasted no time folding. – SB
3:45pm: Martini out, Colillas in
Level 4 – Blinds 100/300 (BB ante 300)
PokerStars Players Championship runner-up Julien Martini has lost his starting stack. He's still within view, and so may be looking to buy back in.
We mentioned before how the man Martini lost heads-up to, Ramon Colillas, is part of today's field as well. He has maintained a starting stack to this point, while also engaging in some conversation with his neighbor on his left. His tablemate asked him a question, which I wasn't sure I'd heard correctly until Colillas responded to confirm.
---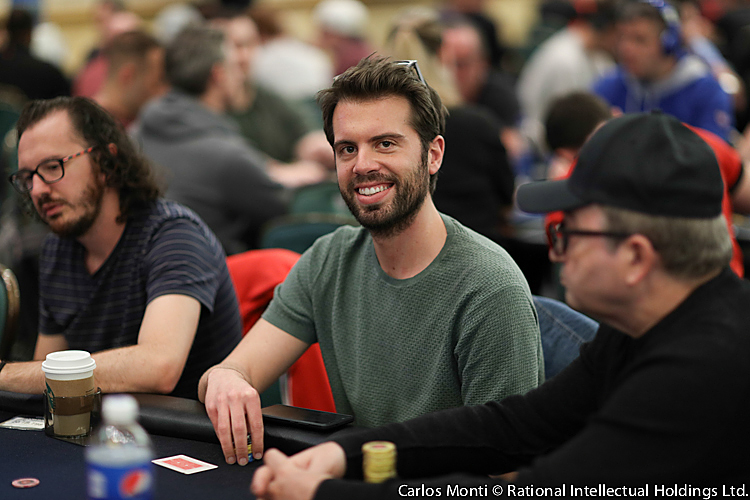 Ramon Colillas: Did he play?
---
Did he play the $25K? Colillas smiled.
"I won," he said. –MH
3:44pm: Sinclair shoves, collects
Level 4 – Blinds 100/300 (BB ante 300)
After being checked to, Dragos Trofimov fired a big bet of 8,200 on the turn with the board showing 9♠J♠T♦2♥, and Jack Sinclair called the bet.
The river brought the K♦, and when Sinclair — winner of the World Series of Poker Europe Main Event late last year — announced he was pushing all in, Trofimov quickly released his cards.
Sinclair has 52,000 now, while Trofimov still has a healthy 68,000 at this stage. –MH
3:31pm: Dutu dun and dusted
Level 3 – Blinds 100/200 (BB ante 200)
Florian Duta made a deep run in the PSPC last week, busting in ninth for $405,000. Regardless of what happened in this PCA Main Event, that represents a decent profit from this trip the Bahamas, and that's just as well. Duta has now been knocked out of the $10K buy-in tournament for the second and final time.
The last of his chips went to Joao Vieira, who was fortunate enough to combine three things: a reputation for aggression, the button and a big hand. That was enough to ensnare Duta.
Vieira raised to 500 from the button and Duta called in the small blind. Juan Pastor raised to 2,400 from the big blind and that triggered a response from Vieira. He four-bet to 5,600.
Duta, lurking, then sprang into action too. He pushed for a little less than 25,000. Pastor quickly folded, but Vieira quickly called. Duta's pocket nines were no match for Vieira's K♥K♦ and the 5♠T♣A♥T♦2♥ board changed nothing.
Duta departs as Vieira chips up to 45,500. — HS
3:25pm: Rheem on a roll
Level 3 – Blinds 150/300 (BB ante 300)
On a flop of K♦Q♥A♠ Chino Rheem seemed to mean business.
He was up against Gustavo Lopes of Brazil. For his part he checked the flop, then called Rheem's bet of 2,600.
On the 8♠ turn Lopes checked again. Rheem then bet 5,000, apparently without thought. As if there were plenty more of those where they came from.
It had the desired effect. Lopes counted some chips, but folded all the same. Rheem up to around 50,000. – SB
3:24pm: Doing the blinds bump
Level 3 – Blinds 100/200 (BB ante 200)
Uri Reichenstein busted once already today. He's back in now, and a moment ago he three-bet to 1,300 from the button over a min-raise from middle position.
Reichenstein got less enthused about his hand, though, after Athanasios Polychronopoulos made it 3,100 to go from the small blind and Ole Schemion bumped it up to 7,000 from the big blind, both the original raiser and Reichenstein decided it wasn't worth it and skedaddled.
Polychronopoulos paused, though, and when he regathered the chips he'd bet looked for a moment like he was ready to keep this one going. But then employing some faux dramatics he jokingly slid his chips to his neighbor on the left, then slid his cards to the dealer on his right to fold. He and Schemion fist-bumped afterwards as the latter collected the pot.
Schemion just sat down, but he's got 45,000 already while Polychronopoulos and Reichenstein are both around 25,000. –MH
---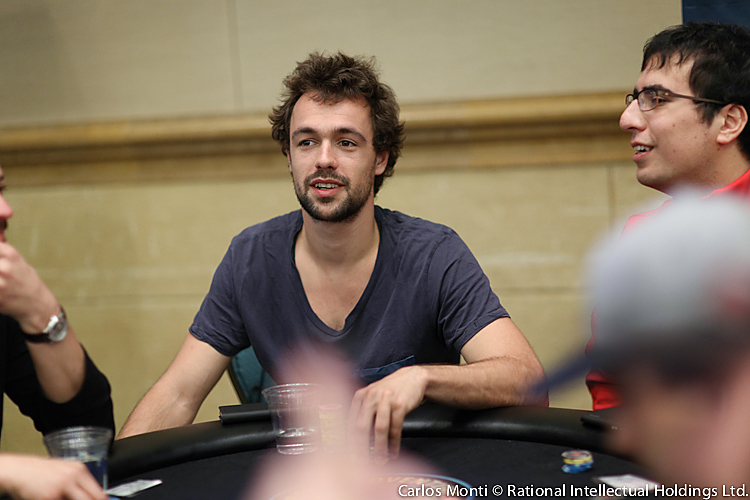 Ole Schemion
---
3:18pm: Search for the hero inside yourself
Level 3 – Blinds 100/200 (BB ante 200)
Michael Esposito nearly made a very good fold. A hero fold. A super hero fold. But nearly is not quite close enough. He actually called. And lost.
I only picked up the hand from the turn, with about 4,300 in the pot and Esposito facing off against Eric Baldwin. The four community cards were Q♠7♣K♠J♦ and it looked as though Baldwin had bet, Esposito had raised to 8,000 and Baldwin had then moved in for 24,800. Those last two bet sizes are the only ones I saw.
After a long time in the tank, during which Esposito determined that calling and losing would cost him about 70 percent of his stack, he called and lost.
Esposito had K♥Q♣ but it wasn't as good as Baldwin's 7♦7♥. The 8♦ river was a blank.
Baldwin now has about 58,000. — HS
3:11pm: Top pair good for Ioli
Level 3 – Blinds 150/300 (BB ante 300)
Sharman Olshan opened for 500. She got callers in Mark Ioli in the cut off, and Robert Mizrachi in the small blind.
The flop came 2♦9♠K♠
Mizrachi checked to Olshan who bet 600. Only Ioli paid to see the turn.
That came the J♣, and Olshan checked to Ioli, who bet 1,200. Olshan paused, then called for the 7♦ river card.
Another check from Olshan. Ioli wasted little time in betting another 2,200.
Olshan tanked for a minute, eventually calling. We'd never see her cards though. She mucked after Ioli turned over K♥Q♠. – SB
3:08pm: Aces benefit Barbosa
Level 3 – Blinds 100/200 (BB ante 200)
Joao Barbosa and Florian Duta were just locked into a hijack-versus-button postflop battle. On each street Barbosa stared intently at the board while Duta primarily looked at Barbosa, only stealing quick looks at the community cards once per street as the hand played out.
Duta saw the flop come Q♦8♠J♦, and after Barbosa led for 1,100, Duta made it 3,200 to go and his opponent called. Duta watched Barbosa again as the turn brought the A♥, and after checking the board, Duta fired 5,400 and Barbosa called once more.
Both checked the 6♠ river, then Barbosa revealed his hand — A♠A♣ for a set of aces. That was best as Duta mucked, and now Duta is looking at Barbosa stacking his chips.
Barbosa bumps up to 42,000 with that pot, while Duta is on 21,500 now. –MH
---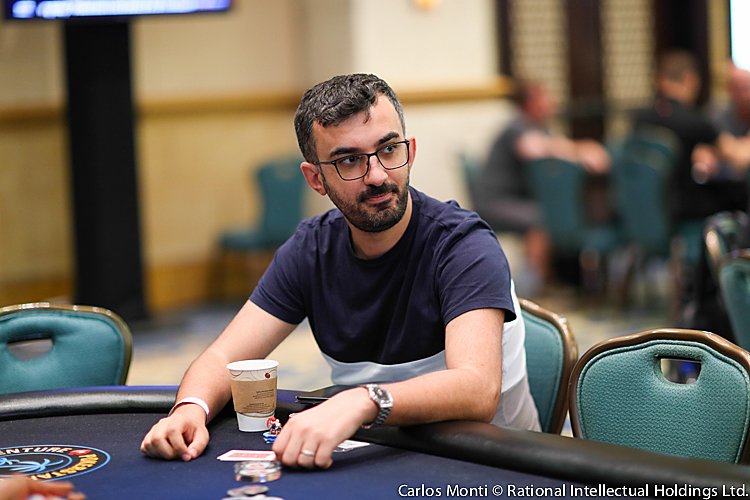 Florian Duta
---
3:00pm: How big will it get?
Level 3 – Blinds 100/200 (BB ante 200)
By the way, the big board shows 354 entries so far already today, which put together with yesterday's total means they've already surged past the 700-entry mark.
Which also means last year's total field of 582 was beaten long ago. Last year's winner Maria Lampropoulos earned $1,081,000 for her triumph, the largest share of last year's total prize pool that totaled $5,645,400. –MH
2:56pm: More arrivals (and a departure)
Level 3 – Blinds 100/200 (BB ante 200)
Players keep arriving. A recent sweep of the some of the newer tables finds Jean-Noel Thorel, Marc-Andre Ladouceur, Leo Fernandez, Thomas Muehloecker, Eoghan O'Dea, and Sergio Aido all in action now.
I was about to tell you multi-COOP man Calvin Anderson had returned for a second try today, too, but he just busted his final entry in a hand versus Konstantin Maslak. –MH
2:56pm: Mizrachi making Valli pay
Level 3 – Blinds 150/300 (BB ante 300)
It appeared that Robert Mizrachi had already decided that his opponent, Joao Valli, would have to pay to play a hand against him.
So on a flop of 3♣7♦T♥, when Valli bet 600, Mizrachi made it 1,700. Valli called.
Then on the 3♦ turn, Mizrachi made it 2,700 to carry on. Valli saw this as a good moment to fold, and did. – SB
2:52pm: Buchanan takes on Josephy (again)
Level 3 – Blinds 150/300 (BB ante 300)
Shawn Buchanan opened for 600, which his old PCA foe (from two years ago) Cliff Josephy called from the button.
The flop came 5♥Q♥8♠
Both checked for the 9♠ on the turn. After Buchanan checked, Josephy tossed out a bet of 1,300, enough to force a fold. – SB
2:51pm: Robinson fades river to double
Level 3 – Blinds 100/200 (BB ante 200)
Colin Robinson and Jay Romano reached the turn with the board showing J♠8♠5♦7♥, at which point Robinson pushed all in for his last 12,100. Romano stood and looked over the table as he contemplated what to do, then finally deciding calling was the play.
Robinson had 8♦6♣ for a pair of eights plus a straight draw, while Romano had 7♠6♣ for the same straight draw plus a flush draw.
The river brought the T♦, keeping Robinson in front and ensuring he kept his seat. He's back to about 33,000 now, while Romano has 67,000. –MH
2:42pm: Dealing cards, chips, information
Level 3 – Blinds 100/200 (BB ante 200)
Ken Aldridge is here, sporting his usual bright yellow jacket and cap as well as his World Series of Poker bracelet. Just now he was involved in a blind-versus-blind hand with his neighbor, also a new arrival, Charles La Boissonniere.
The pair had reached the river with the board showing 4♦3♥T♦7♣J♦ at which point Aldridge had fired a bet.
"If I show will you show?" queried La Boissonniere, indicating he was about to fold but wondered if his opponent would be willing to exchange a little information, anyway, and Aldridge readily agreed he would do so. La Boissonniere revealed he was letting go of K♣T♠ for top pair, and Aldridge showed he had that beat with a set with 3♣3♦. Both are still hovering around the starting stacks. –MH
2:10pm: Romano takes 65,000 into first break
Level 2 – Blinds 100/100 (BB ante 100)
Jay Romano ends the level with a decent sized pot.
Three players saw the 4♣8♥A♥ flop, the 4♠ turn and the 2♣ river, but it was Romano betting on the end.
Julius Schamburg of Germany had stuck around long enough to have a decision. Eventually he called.
---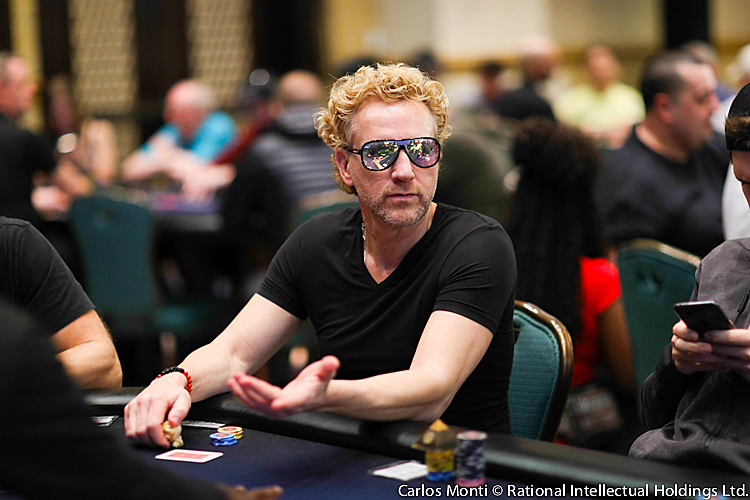 Jay Romano
---
Romano slammed down his 6♠4♦, Schamburg looked at the board, then his cards again, and mucked.
Romano up to around 65,000. – SB
2:05pm: Five down before first break
Level 2 – Blinds 100/100 (BB ante 100)
Another five players are out: Pascal Hartmann, Pavel Ignatov, Guy Cruickshanks, Uri Reichenstein, and the unfortunate man who flopped two pair with his A♦5♦ at the same time that Fabiano Kovalski flopped a set of fives with his 5♠5♥. (The full board was 9♠5♣A♣8♣T♥ and they got it in on the turn.)
---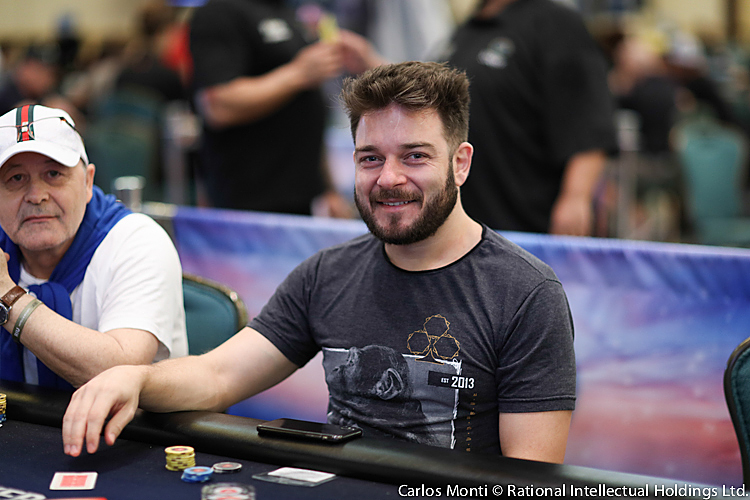 Fabiano Kovalski: Early leader
---
Kovalski is one of the early leaders with about 70,000. — HS
2pm: Colillas among latest to arrive
Level 2 – Blinds 100/100 (BB ante 100)
The number of players participating on Day 1B is approaching 300 now, which means they've opened up the tables on the far side of the room.
Sitting over there at present are several recent arrivals, among them Team Online's Randy Lew and Martins Adeniya (who finished 24th in the PokerStars Players Championship). PSPC champion Ramon Colillas is seated as well, able to carve out of his $5.1 million first prize a $10K brick to buy his way into this one.
Also taking part now are more re-enterers, including Dan Shak, Christopher Kruk, and Ariel Celestino. –MH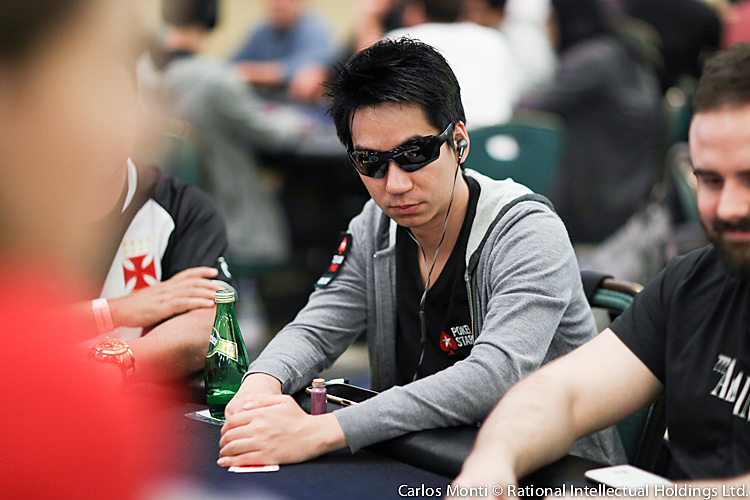 Randy Lew
1:50pm: Three way to the river
Level 2 – Blinds 100/100 (BB ante 100)
Barry Greenstein opened for 300 which Scott Stewart called next to him, before the player in seat 8, playing from the blinds, made it 1,500.
Both players called for a flop of K♦5♦J♠.
The seat 8 player bet 1,500. Again, both Greenstein and Stewart called for the Q♦ turn card. This time Greenstein led the betting, making it 3,000 to play.
Again, it was called both ways for the K♠ on the river, although that was checked three ways.
Greenstein: A♥K♣
Seat 8: A♣J♦
Stewart: T♦9♦
Stewart's flush was good to win the pot. – SB
1:40pm: Baldwin collects with aces
Level 2 – Blinds 100/100 (BB ante 100)
Gustavo Lopes opened for 300, then Eric Baldwin three-bet to 1,000 from the hijack seat. Alexis Urli called the reraise from the big blind, Lopes called as well, and then all three players checked the 4♣9♠T♠ flop.
The turn was the 2♦, and Urli led for 1,400. Lopes, who has won an event on the Brazilian Series of Poker tour and made multiple LAPT final tables, called the bet. Then Baldwin, winner of two WSOP bracelets, called as well.
The river K♦ was checked around to Baldwin who bet 4,800, and while Urli got out, Lopes called. Baldwin tabled A♠A♥, and that was good as Lopes mucked.
Baldwin has 35,000 now, Urli 28,000, and Lopes 15,000. –MH
1:30pm: Swell field swells some more
Level 2 – Blinds 100/100 (BB ante 100)
Who else is here? Niall Farrell, Mark Radoja, Alex Keating, Antoine Saout, Florian Duta, Gustavo Lopes, Noah Schwartz, Davidi Kitai, and Ognyan Dimov, that's who. Plus more than 260 others so far. –MH
1:20pm: Phua jams, Selbst scrams
Level 2 – Blinds 100/100 (BB ante 100)
You don't often see the all-in triangle during the first couple of hours of a tournament, so when it comes out it tends to seize a person's attention when walking about the tables.
That's what happened just now when the triangle appeared before Tzai Wei Phua alongside all of his chips. The board showed 2♦2♣3♥8♣J♦ and with 5,700 in the pot, it looked as though Vanessa Selbst had checked and Phua had jammed his stack of 40,000-plus.
Selbst took some time before folding, and now Phua is up around 50,000 while Selbst is a bit below the starting stack of 30,000. –MH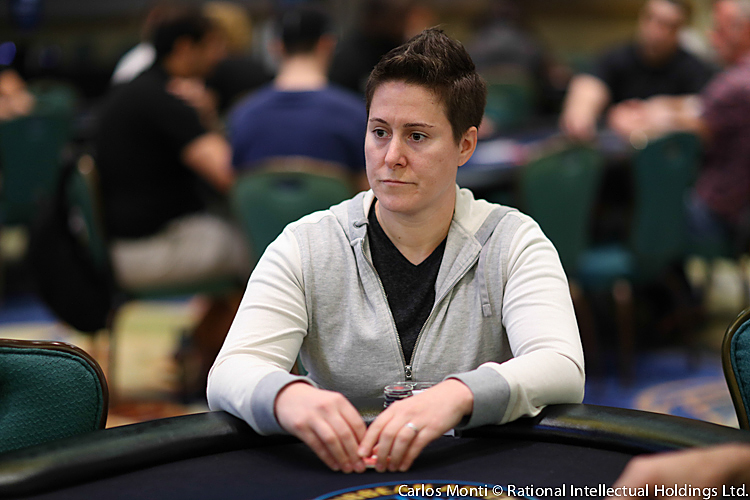 Vanessa Selbst
1:05pm: The Buddy System
Level 1 – Blinds 100/100
Chino Rheem opened for 300 in early position. The action was folded back around to Conor Drinan who raised to 2,000.
"Buddy," said Rheem. "That's like 6.2 ex, bro."
He folded this time, but managed to see a flop of 4♦Q♣6♦ in the next hand against Alexis Urli, and turn that into a small win with pocket tens. – SB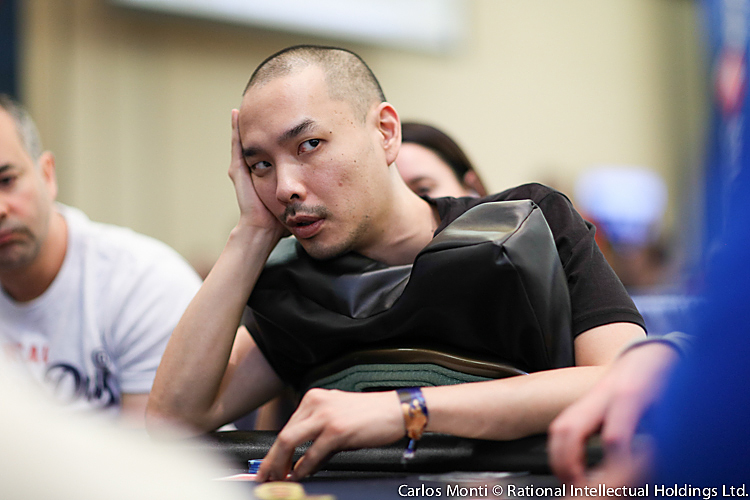 David Chino Rheem
12:55pm: Neves busts Missalla
Level 1 – Blinds 100/100
There has been at least one knockout here in the first level of the day. Sebastian Missalla lost his stack to Helio Neves in a blind-versus-blind confrontation.
Per Uri Reichenstein (also at the table) Missalla flatted a four-bet preflop with pocket kings, then ended up all in versus a Neves who had a big combo draw with jack-ten suited and got there.
The Brazilian Neves now has approximately twice the starting stack with 60,000. –MH
12:45pm: More arrivals
Level 1 – Blinds 100/100
The big board is showing almost 200 have registered already, a number that will surely grow and grow over the next several hours.
Sosia Jiang (28th-place finisher in the PokerStars Players Championship) and Warren Sheaves (who cashed in the PSPC in 121st) are both here. So are Lee Markholt, Anthony Gregg, Uri Reichenstein, David Rheem, and Russell Crane.
Juan Martin Pastor of Argentina is here. He took fifth in the PCA Main Event back in 2015. So is John Dibella, who won the PCA Main Event in 2012. –MH
12:35pm: Siu starting well
Level 1 – Blinds 100/100
Mei Siu opened for 300, which was called by Maxim Toldin. That brought a flop of 3♠8♦A♦.
Siu bet again, making it 400 to play. Toldin called again.
That brought a turn card 4♠, which both players checked for the J♠ river.
Siu bet again, 1,600. Too rich for Toldin. – SB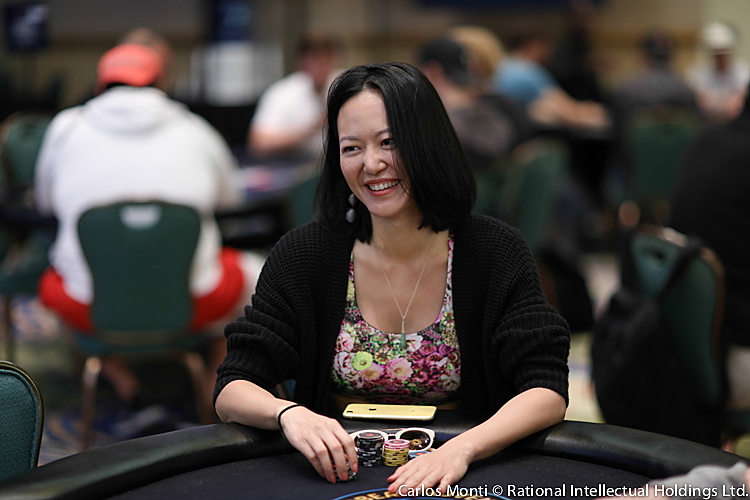 Board suits Siu
---
12:25pm: La-la-la-la live for today
Level 1 – Blinds 100/100
"What if there is no tomorrow? There wasn't one today."
So says Phil Connors in Groundhog Day, once he comes to realize he has for some reason been doomed to live the same day over and over again.
There's always a slight Groundhog Day element to the second Day 1 flight, given how the tournament goes back to Level 1 to run through the same schedule as the first one. Players re-entering adds to that impression, of course. So far I've already seen a few in that category, including Alin Grasu, Paul Newey, Connor Drinan, and Maria Konnikova who are back for a second try today.
---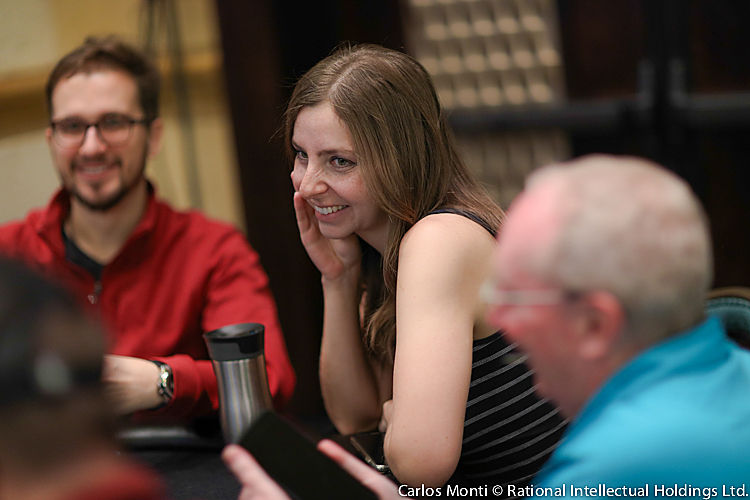 Maria Konnikova
---
Of course, only those busting a second time can say there will be "no tomorrow" for them, at least as far as the PCA Main Event is concerned. –MH
12:15pm: Good start for Santos
Level 1 – Blinds 100/100
A good start for Alexandre Santos. He picks up a couple of thousand in a hand against Thomas Boivin.
On a board of 6♥T♣K♣T♥ Santos made it 1,600. Boivin called for the 2♠ river card.
Another bet from Santos did it, 3,600 this time. Boivin thought about it, but couldn't call. – SB
12:10pm: Welcome… and welcome back!
Level 1 – Blinds 100/100
The first hands of Day 1B are being dealt, on tables with three or more players present, that is. Among the familiar faces here for the start are Barry Greenstein, Eddy Sabat, Leo Margets, Justin Young, and Vanessa Selbst.
Also here to begin are a couple of players we were watching play yesterday, Cliff Josephy and Athanasios Polychronopoulos, both of whom busted on Day 1A. Remember, this is a single re-entry event, meaning anyone who gets knocked out and hasn't re-entered already will have a chance to do so all of the way up through the start of Day 2 tomorrow. –MH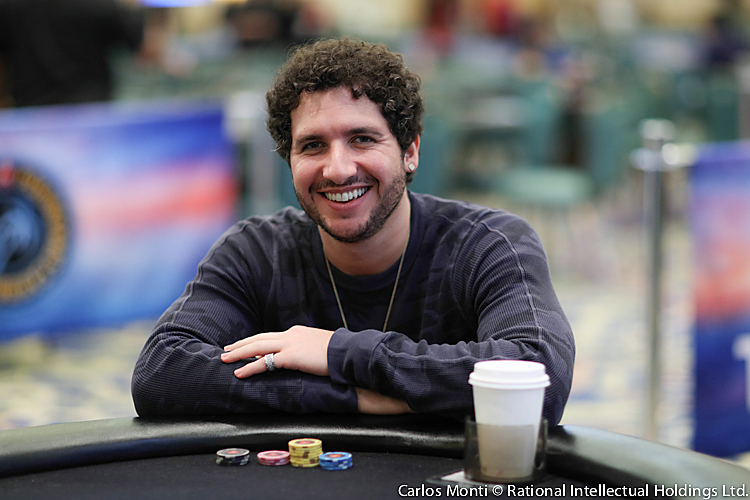 Eddy Sabat
12:05pm: Shuffle up and deal
Level 1 – Blinds 100/100
Day 1B is underway! –MH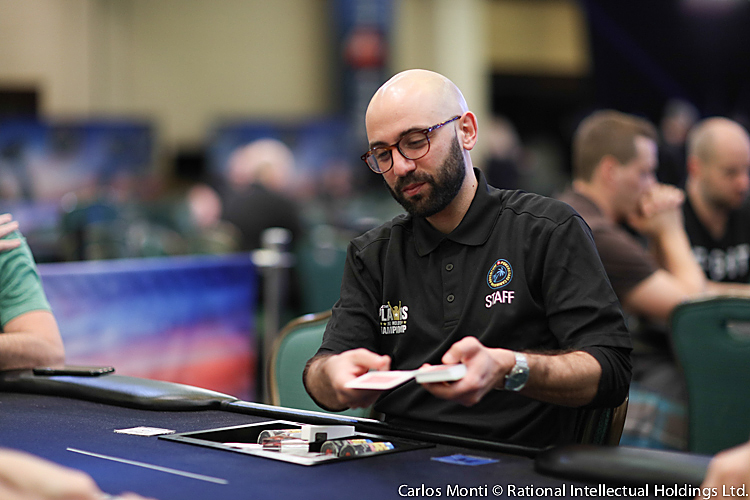 Cards in the air
---
11am: Welcome back to Day 1B of the Main Event
Welcome back to the PCA Main Event. Today is Day 1B, which means we expect a slightly larger contingent to take seats.
The Main Event kicked off yesterday with a field of 356 players. That number was reduced to 135 players by the close of play (including 27 re-entries).
By comparison last year's Main Event, won by Maria Lampropoulos, had 582 runners. So we're 226 away from that first milestone of the day.
The plan is the same one used yesterday.
We'll play ten one hour levels, with an 80-minute dinner break after six of them. That means players will bag up chips at around 12.30am ET tomorrow morning, which makes it seem like an awful long way away.
---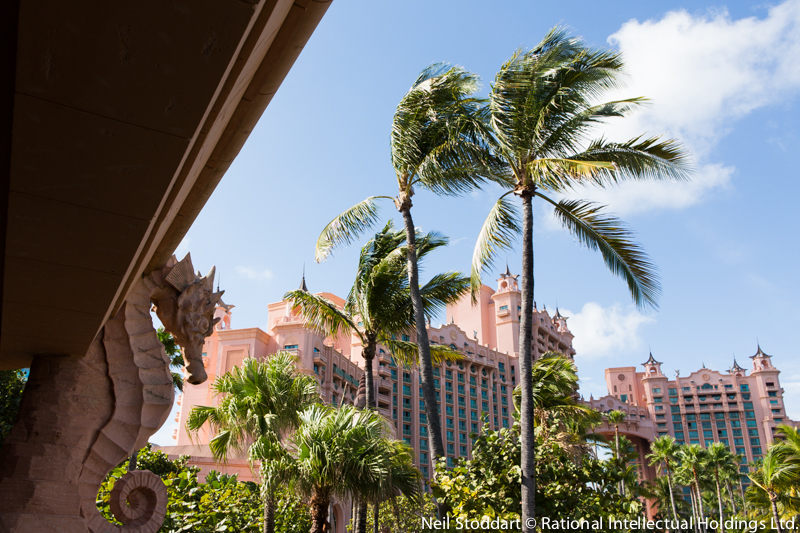 The view of Atlantis
---
In between all of that you can follow live updates from the day's play right here. You can also watch the conclusion of the Super High Roller event. The live stream, with cards up coverage, starts later this afternoon.
Catch up on the action from that using the links above. That's also where you'll find your way to all the information about the day's action from Atlantis. – SB
KEY FACTS:
PCA Main Event — Day 1B
Buy-in: $10,000 +$300 fee
Re-entry: Single re-entry allowed
Registration: Open for new players and re-entries until start Day 2
Schedule: 10 x 60-minute levels
Breaks: 20 mins after Levels 2, 4 & 8.
Dinner: 80 mins after Level 6
Starting stack: 30,000
Starting blinds: 100/100 (BB ante from Level 2 onwards)
---
Download the PokerStars LIVE! app with all tournament information. Available for IOS and Android.
PokerStars Blog reporting team on the $10,300 Main Event: Stephen Bartley, Martin Harris, Howard Swains and Brad Willis. Photography by Neil Stoddart and Carlos Monti.
Back to Top