Sam Greenwood had a great year at the tournament tables in 2018, collecting more than $5.7 million in cashes around the world and earning a few Super High Roller titles along the way. Today he carried that trend into the 2019 calendar year, topping the PCA $100,000 Super High Roller in a dominating performance worth more than $1.77 million.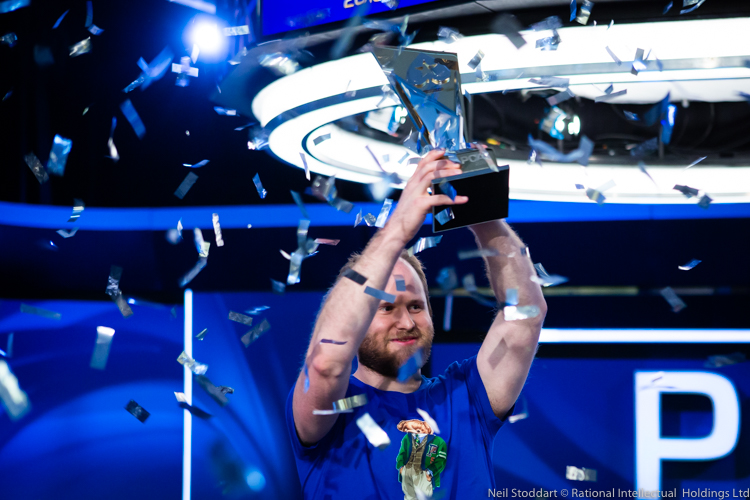 Sam Greenwood hoists another Super High Roller trophy
With his mother, father, and twin brother Luc in the stands watching the action, the Canadian crusher was well-positioned to start the day. But it was Chris Hunichen who entered the final stretch of play with the chip lead. Hunichen told the PokerStars.tv crew that he felt he was in a good spot with five players remaining. Then the second hand of the day turned his tournament upside down, giving him A♦K♠ on the same hand that gave Sam Greenwood A♠A♥. All the chips went in before the flop and after the runout Greenwood had moved north of 7.3 million chips.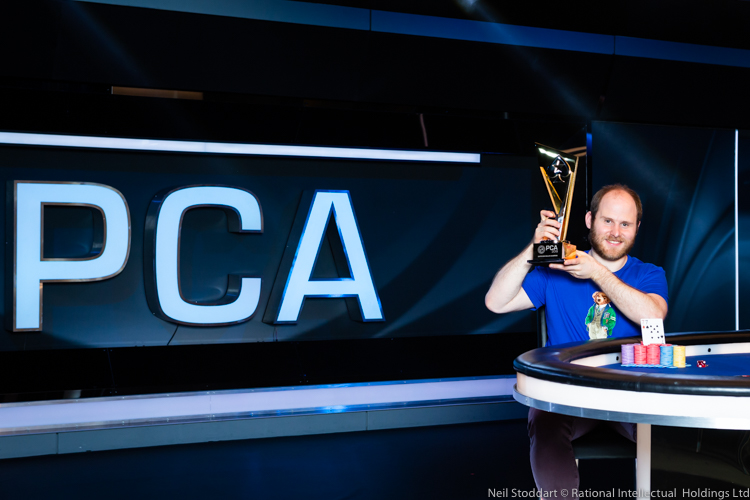 Sam Greenwood
Hunichen could have been the first out after that debacle but Talal Shakerchi beat him to the day's first payout 40 minutes later. Greenwood had been raising plenty of pots with the chip lead and Shakerchi decided to take a stand with his J♠9♣. Unfortunately for him Greenwood had opened the button with Q♥Q♦. The board gave Shakerchi a sweat but no help in the end, sending him out in fifth for $485,300. That's his second six-figure score of the last three days, after his eighth-place finish at the PSPC final table.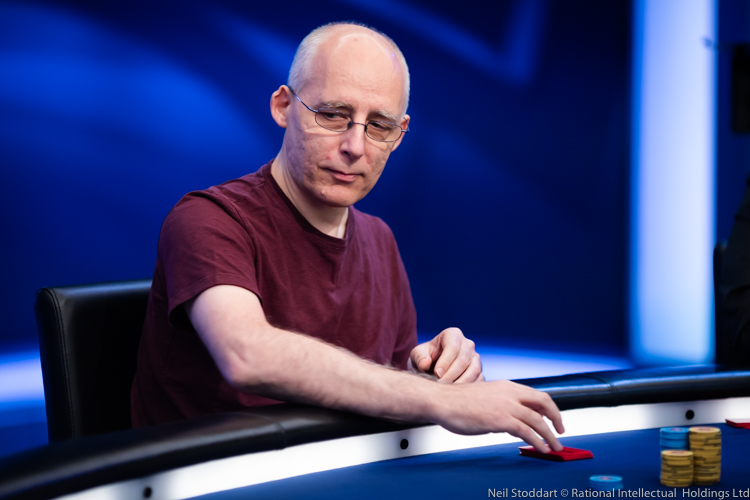 All in and all out for Shakerchi
Four-handed play lasted for most of an hour. The shorter stacks battled with one another multiple times while Greenwood maintained his advantage by pressuring those nearest to him, particularly Henrik Hecklen. Eventually, though, short-stacked Chris Hunichen's time was up. He lost a pot with T♠7♠ against Greenwood's T♥8♦ to leave him with six big blinds. He ended up all-in a few minutes later with A♥6♦ against Hecklen's A♣J♥ and missed the board completely, sending him to the rail in fourth place for $627,340.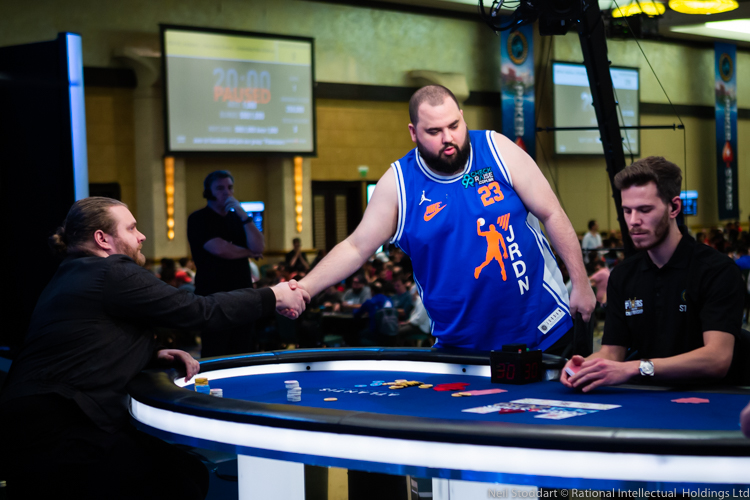 Huni handshakes Hecklen
Greenwood's stack represented 60 percent of the chips in play by the time he was three-handed against Cortes and Hecklen. With a $400K pay jump between second and third places and both of his opponents' stacks so short compared to his, there were plenty of opportunities to exploit.
Greenwood kept the pressure up for an hour before opening with J♣T♥ on the button and making the nut straight on the same flop that gave Jesus Cortes a set of queens with his Q♦Q♣. Cortes' chips didn't go in until he was already drawing dead on the river, knocking him out in third place for $828,560 — an impressive result given the seven-year gap on his tournament resume.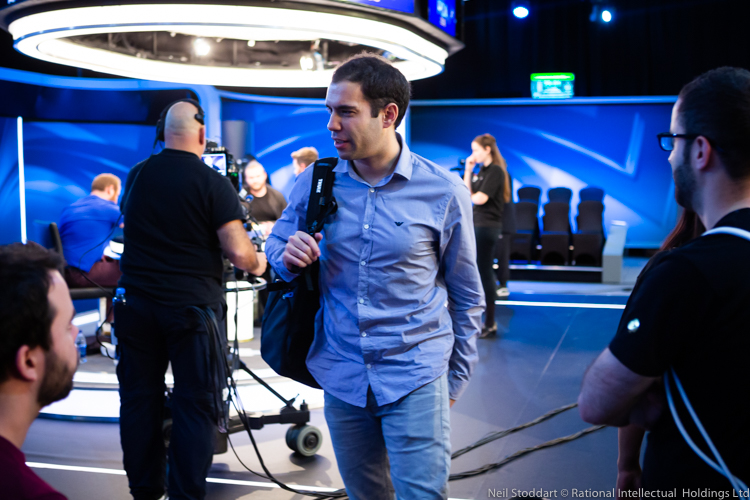 And then there were two
The departure of Cortes left Greenwood heads-up with Hecklen, holding seven times more chips than the EPT Prague €10K High Roller champ. Any aspirations Hecklen had for a big comeback were foiled within minutes when Greenwood limped in with pocket sevens and Hecklen looked down at A♦6♦. All the money went in and Hecklen's hand failed to connect with the board, knocking him out in second place for a $1,284,260 prize. With his Prague score factored in he's cashed for more than $1.86 million in the last month.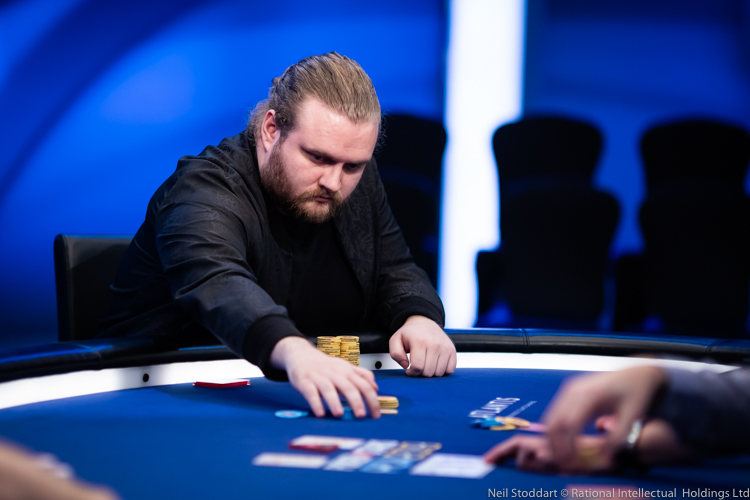 Another great result for Hecklen
Greenwood's win today here is the second-largest live cash of a career that dates back more than a decade. And he's already back at the tables looking to continue his winning ways, joining the field of the $50K Single-Day High Roller event here in the Imperial Ballroom. Congratulations to him on carrying on his winning ways. Here are a few quotes from the champion:
On having a short day compared to his lengthy heads-up battle with Christoph Vogelsang at EPT Monte Carlo last year:
"In Monaco, Christoph had me out-chipped at the beginning. If this one went long it probably would've meant that Henrik had made a comeback. So in Monaco I was glad that it took a long time, and here I was glad it was short. I think there were just a couple of big pots today that were unavoidable. In Monaco there was a big hand where Christoph folded queens correctly to Ole Schemion's aces. If he calls there I bet that shaves off some time. But it's great when it ends quickly."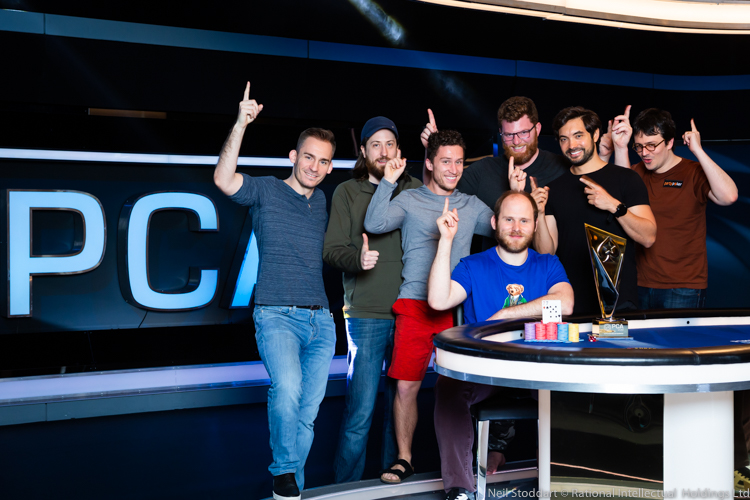 Sam Greenwood and his super high-rolling friends
On last year's incredible success:
"It's funny, because last year all my success was kind of in one two-week span. I won the Barcelona Super High Roller, the Amsterdam High Roller, and the Monaco Super High Roller. Then I had a stretch where if you look at my Hendon Mob profile it looks like I took like six months off because between Jeju and here I didn't have a single live cash. Last year started off great and then I went into a lull and I guess that's just how it goes. But in that stretch I thought, "You're going to go on a downswing and you'd better remember this week." It helped me to roll with the punches or whatever cliché you want to use."
On having his family in the stands to witness his win:
"It's great because I recognize that playing these things, eventually I'm going to have some big finishes in them. Just because I won the tournament doesn't mean I played the best tournament. The guy who played who played the best tournament might have finished in 40th place or something, you know? But to my parents, it's nice that they're here and they get to witness what is a clear positive accomplishment, and they can see it and appreciate it and I get to show them something positive instead of me walking back to my hotel room or something."
PCA 2019 $100K SUPER HIGH ROLLER
Dates: January 10-12, 2019
Buy-in: $100,000
Entries: 61 (including 13 re-entries)
Total prize pool: $5,918,220
| POSITION | PLAYER | COUNTRY | PRIZE |
| --- | --- | --- | --- |
| 1 | Sam Greenwood | Canada | $1,775,460 |
| 2 | Henrik Hecklen | Denmark | $1,284,260 |
| 3 | Jesus Cortes | Spain | $828,560 |
| 4 | Chris Hunichen | USA | $627,340 |
| 5 | Talal Shakerchi | UK | $485,300 |
| 6 | Igor Kurganov | Russia | $378,760 |
| 7 | Steffen Sontheimer | Germany | $301,820 |
| 8 | Stephen Chidwick | UK | $236,720 |
Check out the live updates from Day 1, Day 2, and the final table to relive how Greenwood got to this point. And be sure to keep tabs on Day 1B of the PCA $10K Main Event, which is still underway.
Back to Top