It's been a period of change for the European Poker Tour, which has returned in 2018 with events already played in Sochi, Russia, and most recently Monte Carlo.
With these new events come new faces. Or familiar faces in the case of Danny McDonagh, who takes up his new role as Executive Tournament Director for PokerStars this week.
Many players will be familiar with McDonagh, from his instrumental work in Australia and the Aussie Millions, as well as in Macau and across Asia. He brings a unique energy as well as infectious enthusiasm to poker tournaments, all of which make him a popular choice.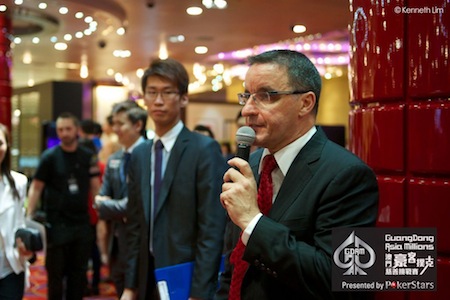 Danny McDonagh becomes Executive Tournament Director at PokerStars
We spoke to McDonagh about his career in the game, what he's looking forward to most about the new role, and the future of the EPT.
Can you talk about what you've done before taking on this position, and how you got into poker?
Danny McDonagh: My start in poker came as part of the initial poker team of the Crown Melbourne Poker Room back in 1997. Early on I became the Tournament Director there for all events including the Aussie Millions. 10 years later it was time for a change and I joined PokerStars as APPT Tournament Director for the tour's first event back in August 2007 in Manila, currently my home base. This ultimately lead to me becoming Director of Live Events in Asia Pacific for PokerStars, responsible for APPT, ANZPT and both PokerStars Live Macau and Manila over a 9 year stint. I currently have an ongoing role with the WPT in relation to their Asia Pacific events.
What exactly will this new role involve?
The new role will be as Executive Tournament Director for PokerStars. There are some obvious duties involved such as overseeing Tournament Rules and Regulations, reviewing schedules and structures. I will also be a point of reference for our players to have a voice about our events, whether chatting to me in person at events or connecting to me via social media. And another important aspect will be the ongoing review of PokerStars' live poker offerings and being part of the team effecting exciting changes and innovations to our events.
What are you looking forward to most?
There are two things actually.
Firstly being involved with major EPT events and building on the tremendous history of this tour. While I did visit EPT London a few years ago and EPT Prague more recently, this will be the first time I will have a direct involvement with the EPT.
And secondly, the PokerStars Players Championship at the Bahamas in January. In Macau it was always exciting at PokerStars LIVE to be hosting big buy-in events for Asian businessman and the best poker pros, however, the PSPC takes it to the next level with upwards of 320 regular poker players getting the opportunity to play a USD25k buy-in event with the world's best poker players and a multitude of recreational big buy-in players.
And what can players expect from you?
For those who don't know me I am a very approachable person and always look forward to mixing with our customers whether they be recreational or professional players. That's one good way I can get a good cross section of players opinions about our events.
Also a fresh perspective towards the flagship events of PokerStars from the experience I have gained in Asia Pacific.
You're not tournament directing as such, but players will be familiar with the energy and spirit you bring to events. How would you describe your approach to poker?
It's definitely about making poker events more fun for the players whether on or off the felt. On the felt while we of course need to adhere to tournament rules, my approach is to promote a happy atmosphere amongst staff and the players which I believe leads to poker played in good spirits and less problems being encountered.
Adding one or two fun events definitely appeals to a proportion of players. In PokerStars Asia Pac events there have been a variety of games organised at parties or as a separate event including Beer Pong, Darts, Pool, Frisbee Golf and Lawn Bowls. And on the Felt Flip-outs have been very popular in Macau.
So I hope my energy and spirit can make a difference at flagship events of PokerStars such as PCA and the EPTs.
Finally, how do you see the future for the EPT?
For me I foresee and exciting future for the EPT. An EPT to be an event all players will aspire to attend with a wide variance of buy-ins. New formats are already being trialled with the BB ante and Shot Clock in Monaco and there is the push from the top for the Live Events team to introduce new innovative events.
Most importantly the future is bright given the recent commitment from PokerStars to give more back to the players at Live Events as is very evident already not only with the creation of the PSPC and awarding of Platinum Passes, but also everyday items for all our players such as food vouchers.
EPT has built a great history as a major global tour. Toby Stone and his EPT team have built an enviable reputation for running great events and I very much look forward to be working with them. The challenge as I see it is to lift the bar to new heights and deliver even more for the players, making them not to be missed events for any poker player. I intend to give it my best to help Toby and his team achieve this objective.
Back to Top
Study Poker with
Pokerstars Learn

, practice with the PokerStars app

Try our Free Scholars Leader Board to practice your new skills.
Quick Links
Learn
Practice
Chat with us
Watch and share