Cao is crowned new baby Dragon at MPC28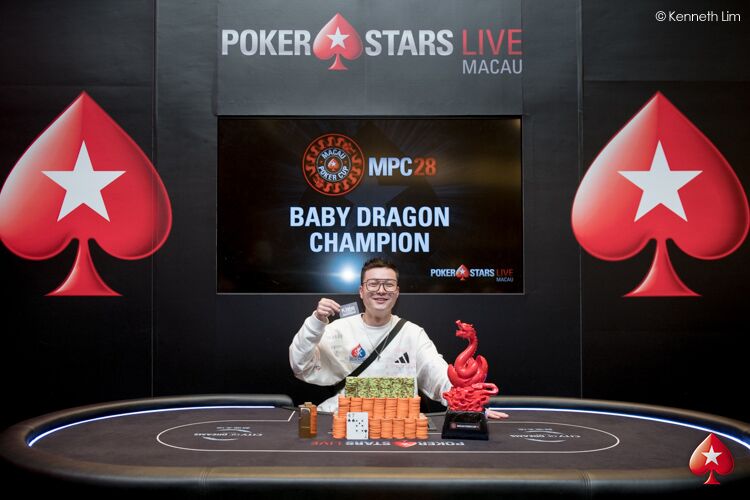 Congratulations to Sìyou Cao who has secured the Macau Poker Cup "Baby Dragon" title here in The PokerStars Live card-room at the City of Dreams, Macau. In collecting the title, Cao didn't just win the hefty HK$1,200,000 first prize money complete with unique red dragon trophy but in addition he collects one of the four coveted $30,000 Platinum passes being given away by PokerStars this week.
"As a poker player, the prize is not the most important thing. You just want to win!" offered Cao merrily following his victory over plucky runner-up Mike Takayama.
The journey to hatch the latest Baby Dragon began two days ago – 818 players registering their entry over the two starting days, each paying HK$8,000 for the privilege. This created a healthy HK$5,712,912 prizepool and once the 99 players returning for Day 2 had been shorn to the final 9, it was no surprise that the final table was contested so fiercely given the alluring prizes on offer.
The structure was pacy, which kept players on their toes throughout. With the blind pressure a permanent threat, there was no option to shy away from the spotlight and in general the players' willingness to keep their stacks ticking over with controlled aggression led to some entertaining poker playing out.
First to fall in this melee was Ono Tomomitsu, whose adventure ended in 9th place, losing a flip to collect HK$97,100. Bing Wang had entered the final table as chip leader but his elimination in 8th(HK$114,312) showed how swiftly the chip hierarchy was apt to change on this turbulent evening.
Mike Takayama was a composed and threatening presence throughout, playing hands with expert sang-froid and he took Feng Zhou's scalp in 7th (HKD131,900) with no less a hand than quad queens. No one man was able to assert complete dominance in the final however, the chip lead changing hands with surprising frequency.
Kepeng Li (6th HK$171,000), Chendi Zhang (5th HK$223,000) and Vinay Boob (HK$331,000) all fell to different vanquishers, meaning by the time we reached three-handed, the chips were evenly distributed.
Guangcheng Chen had looked highly capable of securing the title at various stages – running his stack up to the chip lead on several occasions – his boisterous rail keeping Chen energised throughout with a diet of ear piercing screams and a bank of willing hands ready for him to high five whenever variance smiled upon him.
Ultimately though, his challenge faltered just short of the summit – falling out in third with a dominated ace for HK$457,000. His fans were disappointed but the crowd barely thinned as Philippino Mike Takayama took on Chinese Sìyou Cao, whose cautious but effective brand of poker saw him take a chip lead into the heads-up contest.
It was a lead he would eventually use to leverage himself the title – Takayama's stiff resistance finally broken as Cao found him short enough to take a chance with a suited hand – and fortune saw him home.
The full payouts from the final are listed below:
Thanks for following, congratulations once more to Sìyou Cao for his winning exploits. We'll be back tomorrow for the start of The Red Dragon Day 1A at 2:00pm. We hope you'll join us as the journey to discover the latest dragon and award the next Platinum Pass begins. See you there! –RS
| Place | First Name | Last Name | Country | Prize (HKD) |
| --- | --- | --- | --- | --- |
| 1 | Siyou | Cao | China | $1,200,000 |
| 2 | Mike | Tamayama | Philippines | $743,000 |
| 3 | Guangcheng | Chen | China | $457,000 |
| 4 | Vinay | Boob | India | $331,000 |
| 5 | Chendi | Zhang | China | $223,000 |
| 6 | Kepeng | Li | China | $171,300 |
| 7 | Feng | Zhao | China | $131,900 |
| 8 | Bing | Wang | China | $114,312 |
| 9 | Tomomitsu | Ono | Japan | $97,100 |
PokerStars MPC28 Baby Dragon
Dates: February 2-4, 2018
Entries: 818
Buy-in: HK$8,000
Prize pool: HK$5,712,912
Day 2 Coverage Archive:

• PAYOUTS
• ALL MPC INFO | DOWNLOAD POKERSTARS
• Follow @PokerStarsBlog on Twitter
5:20am: Mike Takayama Finishes 2nd (HK$743,000)
Level 32: Blinds 150,000/300,000 (40,000 ante)
Poker tournaments have a funny way of ending when you least expect it.
Both Mike Takayama and Siyou Cao seemed prepared to bunker down for an extremely long night but this is, indeed, No-Limit Hold'em. Takayama took a few hits over the last 10 minutes of play and decided to make a play with 1.4m left in the chamber.
The Philippine player looked down to find K♠ 9♣ on the button and decided to crank it all-in.
Cao thought for a second or two but decided to make the call with a paltry 7♠ 4♠ .
The flop came J♦ 4♣ 3♣ and Cao suddenly had the lead with potentially just two cards left to come in the tournament.
It turned out that Cao didn't even need that many as the turn peeled off 7♥ , which was enough to give him the decisive checkmark.
A meaningless 3♥ rolled off the river and the tournament was finished.
Takayama had a wild ride at the final table but his journey ends in second place this time around. He will receive a hefty HK$743,000 for his efforts in this one.
Stay tuned for a full recap of the final table and a closer look at our newest Baby Dragon winner Siyou Cao.
–AC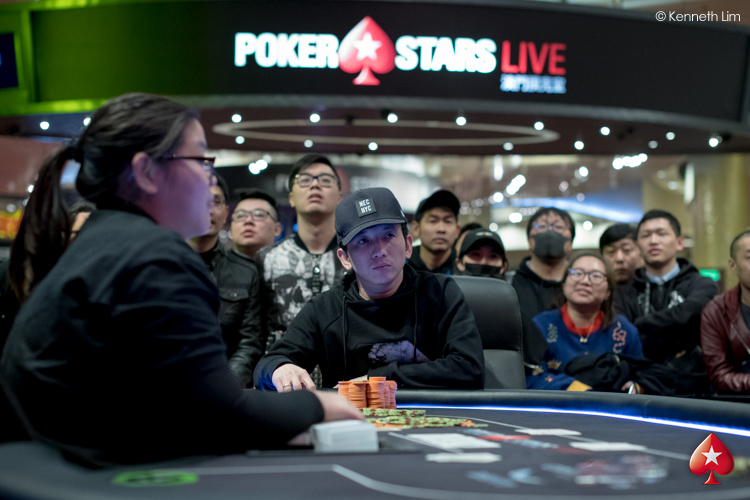 Runner-up finisher Mike Takayama.
5:10am: The heads-up grind continues
Level 32: Blinds 150,000/300,000 (40,000 ante)
It's now been nearly an hour of heads-up play and neither player is willing to give up an inch.
The majority of pots aren't seeing flops but the ones that do also get a large amount of checking to the river.
We just had a rare all-in from Mike Takayama after Siyou Cao bet 625,000 from the button but no call from Cao.
Cao has also moved all-in a couple times but we've yet to have our first all-in and call.
Cao currently has a slight chip lead over Takayama with an approximate count of 4.2 million to Tamayama's 3.8 million.
It's still anyone's game as we move deeper into Level 32. –AC
4:30am: Siyou Cao, Mike Takayama go blow for blow
Level 31: Blinds 100,000/200,000 (30,000 ante)
Our heads-up competitors Siyou Cao and Mike Takayama seem incredibly evenly matched thus far.
We've played about 20 minutes of heads-up play and neither player has been able to strike a decisive blow with very few showdowns.
Takayama started off hot and grinded his way to 4.8m but right when it appeared the Philippine player might run away with it, Cao came barreling back.
Cao found two diamond flushes against Takayama, which helped him re-take the chip lead but it could have been even worse for Takayama if hadn't been on his toes.
We've reached the first break of heads-up play and Cao is the chip leader by a relatively small margin. This one might go for awhile.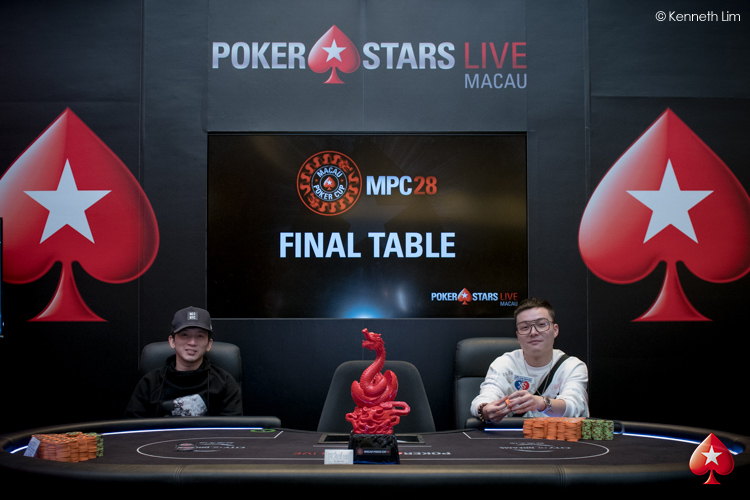 Mike Tamayama (L) & Siyou Cao (R) heads-up
Here are the chip counts at the break:
Siyou Cao: 4,315,000
Mike Takayama: 3,865,000
— AC
4:10am: Guangcheng Chen can't escape Siyou Cao, finishes 3rd (HK$457,000)
Level 31: Blinds 100,000/200,000 (30,000 ante)
At certain points of the final table it appeared that Guangcheng Chen might run away with the whole thing. Unfortunately for Chen the only thing he's running for right now is the exit.
Chen had been getting shorter and shorter for the last 20 minutes but decided to finally make his stand with A♥ 8♠ . He shoved for 1.05 million from the button.
Siyou Cao looked down at his cards, thought for a couple seconds, and then opted to make the call with A♣ J♥ .
Chen was in big trouble.
The board ran out A♠ 9♥ 5♦ 10♠ K♠ to give Cao the checkmark and eliminate Chen from the tournament.
Chen picked up a sizable HK$457,000 for his effort but will have to wait another day for his chance at heads-up glory.
Cao will take a considerable lead into heads-up play with that all-important $30,000 PokerStars Platinum Package looming in the background not to mention the HK$1.2m first-place prize.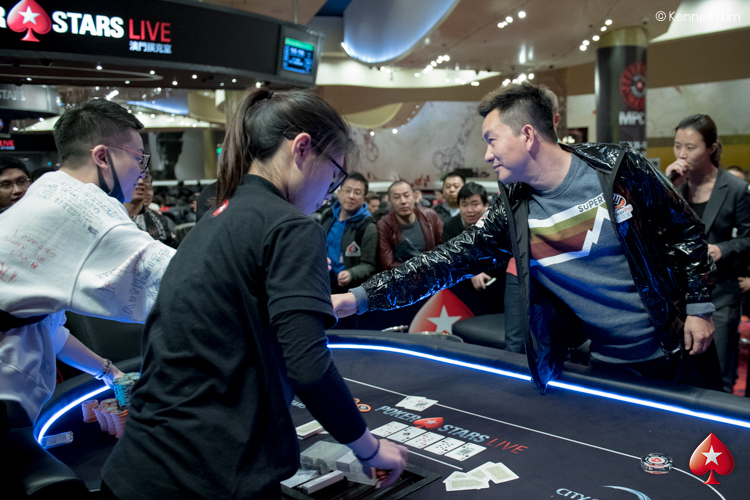 Guangcheng Chen (right) saying his goodbyes
Here's a look at the counts to start heads-up:
Siyou Cao — 5,215,000
Mike Tamakayama — 2,935,00
–AC
3:55am: Mike Drop
Level 30: Blinds: 80,000/160,000 (ante 20,000)
These three are locked in a seemingly inseparable embrace right now. The shortest stack of the three seems destined to get it in, survive the showdown and rise to the chip lead summit before passing the mantle over to the new shortstack at the next showdown.
Siyou Cao was the latest man flirting with elimination, having seen his stack reduced to around 1.5 million before chip leader Mike Takayama moved all-in on his big blind.
With around 8 big blinds, Cao was in the mood to gamble with J♥ Q♦ and called his stack off but although Takayama was nominally ahead with K♣ 8♣ , the board was in no mood to let that stand in the way – peeling off J♦ 7♦ 6♣ 10♦ 7♣ to double Cao to over three million – establishing him as the new chip leader.
Will this pattern continue? Something has to give sooner or later. — RS
3:35am: Mike Takayama doubles twice to take huge chip lead
Level 30: Blinds 80,000/160,000 (20,000 ante)
Nothing is guaranteed at this final table and Mike Takayama just proved that with two giant hands, one of which dethroned chip leader Guangcheng Chen.
Takayama started things off by doubling through Siyou Cao by hitting a lucky river but that was just a warm up for the following heavyweight hand against Guangcheng Chen.
Chen opened for a sizable 320,00 bet and that led to Cao releasing his small blind.
Takayama called from the big blind and the dealer put out a 9♣ 9♦ 8♣ flop.
Both players checked and the turn came K♦ .
Once again Takayama checked but this time Chen fired for 300,000.
Takayama re-popped it to 700,000 and Chen moved all-in. Takayama, who had 1.2m total, made the call.
Takayama flipped over 9♥ 10♦ while Chen could only offer for the A♦ 3♦ for the draw.
The river came 3h and the Takayama crowd went wild.
The Philippine player is now up to 3.8m and is likely starting to think about that $25k Platinum Package that's attached to first place. –AC
3:15am: Boob falls out in 4th place (HK$331,000)
Level 30: Blinds 80,000/160,000 (ante 20,000)
Heartbreak for Vinay Boob, who was on the verge of the most unlikeliest of comebacks, spinning half a big blind back into 2.1 million chips and was set to deliver a fairytale story of redemption to the final table.
It wasn't to be. The brutal nature of poker variance was in evidence as he went from second in chips to out in the space of two hands.
Chen was the beneficiary in both, first shoving with K♥ 7♣ and winning when Boob made the correct move to isolate with A♣ 9♣ . A board of K♣ 8♥ 4♥ 7♥ 5♣ saw Chen scoop with two pair.
Boob then looked down at A♠ Q♠ – more than good enough to shove his sub ten big blind stack into the middle. Chen was in the big blind with pocket jacks and once more he got the rub of the green, swerving all those dangerous overcards to win unimproved on a 10♣ 5♣ 5♠ 8♦ 4♥ board.
Boob's day was done but the HK$331,000 he receives for his 4th place run will be a great consolation we're sure.
That hand leaves Chen, complete with his deafening and highly enthusiastic rail out in front with over three million, Mike Takayama not far behind and Siyou Cao a touch off the pace with 1.8 million as they battle three-handed for the Baby Dragon title! — RS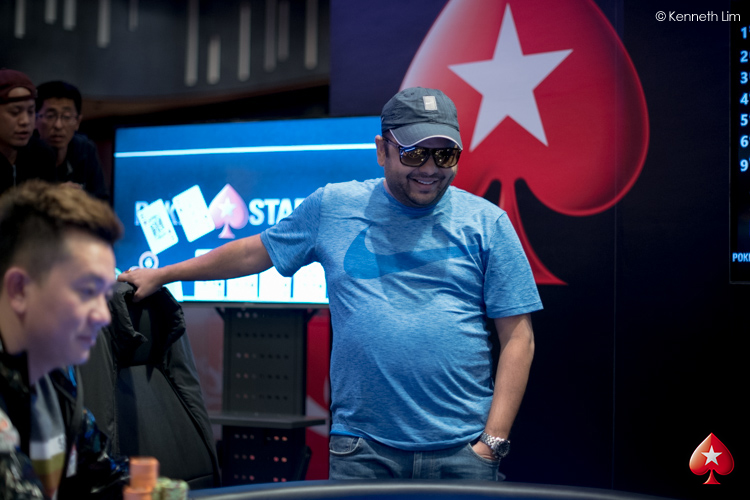 Vinay Boob – 4th place
2:45am: Chendi Zhang runs into surging Vinay Boob, finishes 5th (HK$223,000)
Level 29: Blinds 60,000/120,000 (20,000 ante)
Indian player Vinay Boob has gone from the doghouse to the penthouse in the last 20 minutes.
At one point Vinay seemed all but eliminated. Now, thanks to that miracle 2-7 hand, he's the one sending players to the rail.
In the latest hand Vinay moved all-in from late position with 5♥ 5♦ and a short-stacked Chendi Zhang with only 300,000 chips to his name opted to make the call from the big blind with Q♠ 2♦ .
The board ran out J♦ 7♥ 2♣ 3♠ 9♣ and that was enough to end Zhang's journey in fifth place. The Chinese player picks up HK$223,000 for his efforts in this one.
Meanwhile Vinay is up past 1.5m chips and looks downright unstoppable at this point. Is a miracle comeback win in the cards? –AC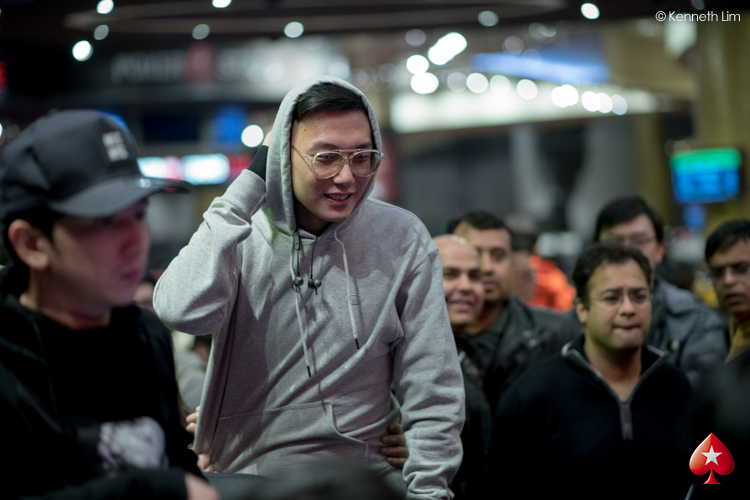 Chendi Zhang -5th place
2:20am: Chen served a double by the cowboys
Level 29: Blinds 60,000/120,000 (ante 20,000)
Pocket kings are a beautiful hand at any time in poker. Here, in this shortstacked format, with blinds so precious, they look every inch their regal majesty.
Guangcheng Chen, then, must have been doing mental cartwheels when he was not only dealt poker kings, but saw his 240,000 raise met by an all-in for 1.2 million from Vinay Boob on his left.
He quickly called and tabled his monster, Vinay's shoulders drooping as he discovered his pocket jacks were no match for his opponent's hand.
The rail had some advice for the dealer. "NOTHING, NOTHING!" shouted Chen's vociferous support. Vinay had his own chant. "Jack, jack, jack."
The rail won out, kings holding over the 10♥ 5♣ 5♠ A♠ 8♠ board. "Yes!" shouted Chen, his normally reserved mask slipping for a moment, celebrating with a quick showboating high-five session on the rail. Vinay meanwhile was down to dust – his stack less than one big blind.
He wasn't quite done however, winning two quick all-ins with 7-2 off suit and then incredibly king-high three way to leave himself with around 7 big blinds. Can he make an unlikely recovery? If his broad smile is anything to go by, he's certainly enjoying this last minute renaissance. — RS
2am: Kepeng Li can't keep up, finishes 6th (HK$171,300)
Level 28: Blinds 50,000/100,000 (10,000 ante)
Kepeng Li has been one of the quiet but effective players at the final table but he couldn't escape a tournament-ending collision with Cao Siyou.
Li was in early position and action folded to him but he was on his phone and hadn't even looked at his cards. The dealer motioned to Li that action was on him.
Li put down his phone, took one look at his cards and immediately shoved all-in.
Cao Siyou was on the big blind and decided he couldn't pass this one up and made the call with A♣ K♦ .
Li flipped over 9♠ 9♣ and we had another race on our hands.
Unfortunately for Li the A♦ 3♦ 3♣ flop was not exactly inspiring.
Li starting gathering his things to head for the exit and the board finished with the 6♠ and then 2♥ .
Li used his phone to take a quick photo of the tournament clock to mark his finish and then went to pick up his HK$171,300 payout. –AC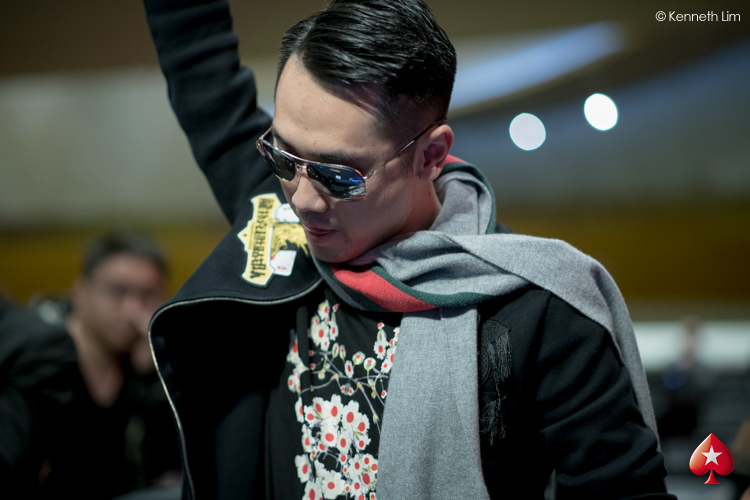 Kepeng Li – 6th place
1:35am: Takayama leads at the break
Level 27: Blinds 40,000/80,000 (10,000 ante)
Level 27 is over and the players can take a quick breather after that whirlwind of action. We'll be back in 15 minutes for the resumption where the chip standings will look exactly like this.
| Name | Chip Count |
| --- | --- |
| Mìke Takayama | 2,285,000 |
| Sìyou Cao | 1,575,000 |
| Guangcheng Chen | 1,480,000 |
| Kepeng Lì | 1,240,000 |
| Vìnay Boob | 905,000 |
| Chendì Zhang | 685,000 |
— RS
1:25am: Feng Zhao runs into quad queens to finish 7th (HK$131,900)
Level 27: Blinds 40,000/80,000 (10,000 ante)
A series of rough hands has taken Feng Zhao from the top of the counts to the rail.
In the first hand Siyou Cao, who was sitting around 850,000 chips, opened for 180,000 from middle position and Zhao thought for a couple seconds and then shoved.
Cao snap-called with A♣ A♥ . Zhao could only shake his head as he tabled K♠ Q♦ .
The board ran out A♠ 10♥ 3♣ 7♠ 2♦ to give Cao the emphatic check mark.
Siyou moved up to 1.6m thanks to his aces but Zhao tumbled all the way down to a scant 280,000.
On the very next hand Mike Takayama, perhaps looking to isolate Zhao, bet 240,000.
Feng didn't take long to fire his last 280,000 into the pot and Takayama called.
Takayama flipped over A♥ Q♠ while Feng could only offer J♠ 10♠ .
Takayama was already in the lead but the board was particularly kind to the Philippines-based player as it came A♣ Q♣ 6♥ Q♦ Q♥ for quads.
Zhao was one of the most exciting players at the final table and didn't have a problem making big plays when he needed to.
He'll take home HK$131,900 for his efforts. –AC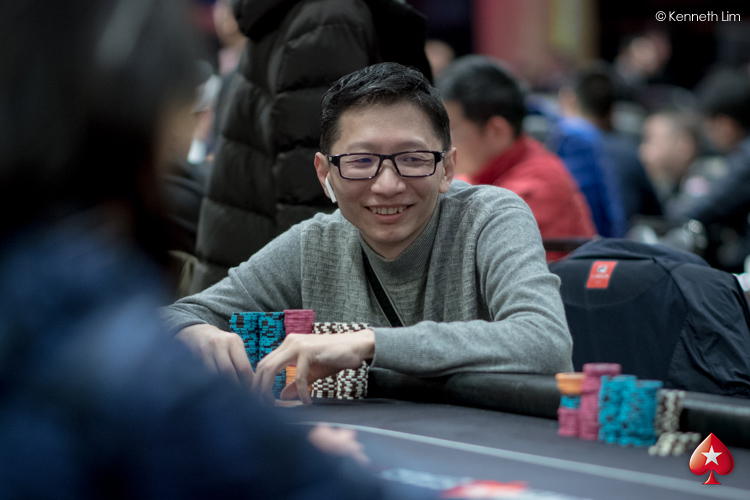 Feng Zhao – 7th place
1:20am: Broken Wang grounded – 8th HK$114,312
Level 27: Blinds 40,000/80,000 (10,000 ante)
There's no room for error for the players with many of them in the vicinity of ten big blinds or fewer. Numbered in the short stack ranks was Bing Wang who found the pretty J♣ Q♣ in middle position and pushed his 375,000 or so into the middle.
Vinay Boob was in the big blind however, lurking with intent and more importantly a dominating A♥ J♥ – far too strong a holding to fold at this point.
He called and a board of J♦ 5♦ 4♠ K♣ 8♠ wiped clear any equity remaining for Wang, who departs eighth for a respectable HK$114,312. Meanwhile, Vinay's hopes of Baby Dragon glory take a meaningful boost as he rises to 1.2 million — RS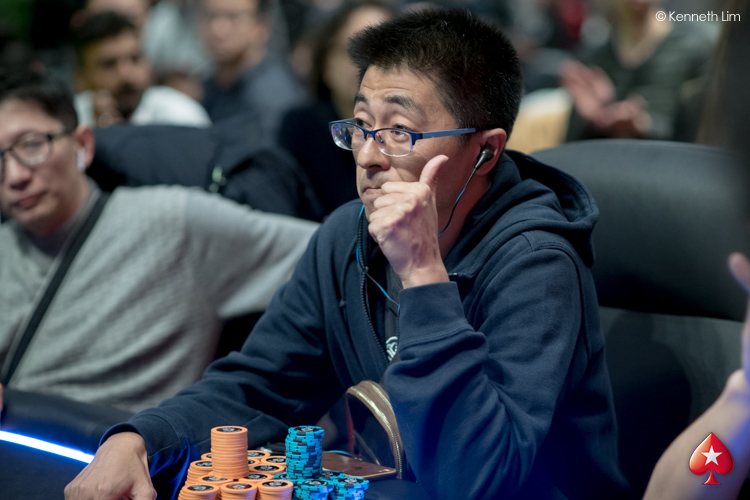 Bing Wang – 8th place
1am: Zhang cripples Wang in pre-flop tussle
Level 27: Blinds 40,000/80,000 (10,000 ante)
Action had slowed for the last few orbits but Chendi Zhang got the room buzzing with a recent double up.
Zhang open shoved for 600,000 from the cutoff and action folded to Bing Wang on the button.
Wang decided to make the call and flipped over K♣ J♥ . It turned out he was in a tough spot against Zhang's A♣ Q♣
The board ran out 8♦ 8♥ 4♣ 8♠ A♠ to give Zhang the hand.
Wang stumbled all the way down to 320k while Zhang is looking to be a contender at this action-packed final table. –AC
12:45am: Triple Zhang feels the fours
Level 26: Blinds 30,000/60,000 (Ante 10,000)
With the blinds looking ever more threatening, Chendi Zhang looked down at Q♦ 4♦ in early position and decided it was time to move it or lose it, jamming all-in for his dwindling stack of 314,000.
He can't have been overjoyed at the next sequence of actions – first giant chip leader (2.1 million) Feng Zhao re-shoving and then Guangcheng Chen cold-calling the bet for his 900,000 stack behind!
No surprise he was shown two strong hands – 9♦ 9♣ for Zhao and J♠ J♦ for Chen and it looked like elimination was to be Zhang's fate. Then it all changed in the blink of an eye.
The board fell 6♥ 4♥ 4♣ 6♦ K♣ to provide an escape route and instead of commiserating with his fans on the rail, he was high-fiving, cheering and re-stacking his new 1 million chip stack proudly.
Zhao however drops to just over a million whilst the huge over pot was shipped to Chen, who looked pleased as punch to have burnished his stack to the tune of over 2 million. No surprise he is our new chip leader. — RS
12:30am: Feng Zhao scoops monster three-way pot to snag chip lead
Level 26: Blinds 30,000/60,000 (10,000 ante)
It's a good time to be a Feng Zhao fan.
The Chinese just won a massive pot that we may look back on as the pivotal hand of the final table.
Action began with big stack Bing Wang opening for 115,000 from UTG.
Vinay Boob opted to call from middle position. The rail started buzzing when Zhao also decided to make the call from the big blind.
It felt like something big was brewing.
The flop came 8♦ 6♣ 5♥ and Zhao immediately checked. Wang decided to fire a bet of 150,000.
Boob called quickly but Zhao turned the hand on its head by shoving all-in for 510,000.
Wang thought for a few seconds but decided to re-shove all-in having Zhao covered by a significant margin.
By this point Boob had enough and threw his cards into the muck.
Zhao tabled 10♠ 8♠ for the lead while Wang could only muster 7♦ 7♥ .
The turn came K♠ and a meaningless 3♣ to give Zhao an absolutely gargantuan pot worth nearly 2 million.
The normally somber Zhao gave a fist pump and shouted "Yeah!" as he stacked his chips to 1.85 million. –AC
12:10am: Ono Tomomitsu fades in 9th Place for HK$97,100
Level 25: Blinds 25,000/50,000 (5,000 ante)
We have our first casualty at the final table.
Japan's Ono Tomomitsu didn't have the best start to the final table and decided to make a move.
Tomomitsu shoved for 542,000 from late position with K♦ Q♥ but got called down by Siyou Cao with J♦ J♥ .
The board ran out 8♦ 7♠ 4♦ 10♣ 8♣ to give Cao the checkmark.
Tomomitsu hits the rail in ninth place to receive HK$97,100.
It's still anybody's game at the final table (well, besides Tomomitsu) as Cao ascended to just over 1.2m and is now amongst the chip leaders. –AC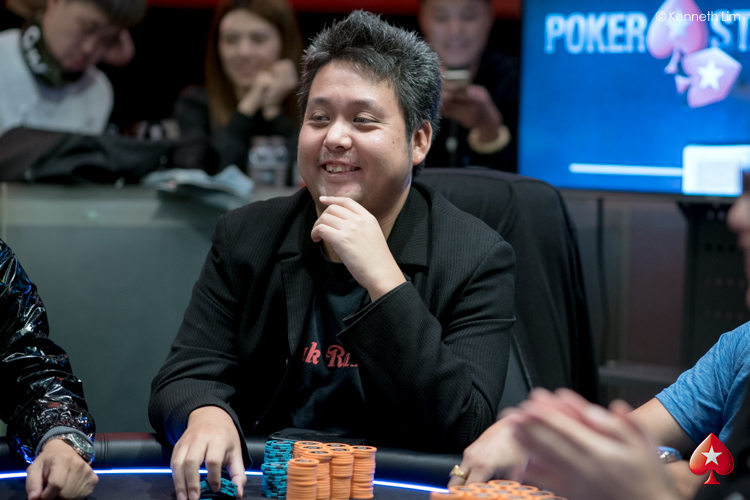 Ono Tomomitsu – 9th place
11:55pm: Wang hits gin
Level 25: Blinds 25,000/50,000 (5,000 ante)
It looks like it's going to be a fiery contest here in the Baby Dragon. Everyone wants to win that iconic Dragon trophy and no one is going to give up their berth easily.
For several orbits, we saw caution prevailing, raise and fold the order of the day before finally a large showdon took place.
Chendi Zhang raised from under the gun to 121,000 – only for Bing Wang to apply some pressure – three-betting to 300,000. Zhang rubbed his temple before calling to create a giant pot of over 700,000 preflop…
The board fell J♥ 6♥ 2♣ and both players tapped the table to check.
Turn: K♠ …again the action checked back.
River: 4♦ …Zhang checked from for the third time and Wang took a few moments of pause, only to emerge from this brief sabbatical with a decisive move. He jammed all-in for 700,000…
A nonchalant Zhang threw a few chips in to call as casually as you could imagine, though his speedy thought process didn't work out for him as he was shown A♥ K♥ for top, top and mucked his own holding.
Wang and his supporters on the rail celebrated his leap up the chip counts to just under 1.7 million whilst Wang takes a big hit – in the danger zone with 430,000. — RS
11:40pm: Chendi Zhang scores an early double
Level 25: Blinds 25,000/50,000 (5,000 ante)
After a few tentative hands, Chendi Zhang just hit the first double up of the final table.
Takayama opened to 80,000 from the cutoff, which led to Bing Wang immediately moving all-in for 525,000 from the button.
The cards were on their backs and we had a classic race on our hands with:
Wang: A♣ 10♣
Zhang: 9♠ 9♦
The flop was an interesting one (for Zhang at least) as it came Q♥ 9♥ 6♦ to give him trip nines.
The board bricked out with the 8♥ and then the 10♠ .
Zhang doubled up to just over 1m chips and is off to a fast start at the final table. –AC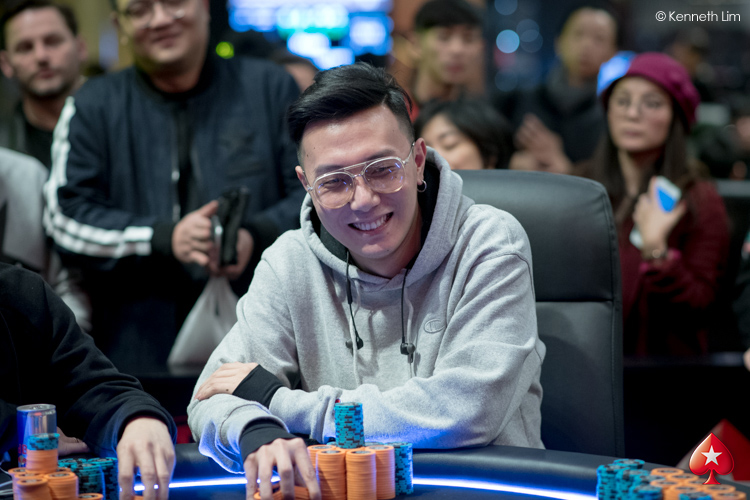 Chendi Zhang starts off with a bang
11:30pm: Welcome to Macau!
Level 25: Blinds 25,000/50,000 (5,000 ante)
Welcome to the PokerStars blog for the first of eight days of coverage from the Macau Poker Cup (MPC). This is the 28th time the MPC series has taken place and it may just be the most special one yet. That's because PokerStars have added USD$120,000 in Platinum Passes to the winners of four events. To read all about the amazing promotion click here.
Here at The PokerStars Live card-room at the City of Dreams, Macau we're getting straight into the action with the final table of event 13, the HK$3 million guarantee Baby Dragon where the first Platinum Pass will be handed out to the winner. Dang Jiwei is current "Baby Dragon" after he bested a 793-player field five months ago to take home HK$942,000.
This event's guarantee was smashed – it fact is was record-breaking – as 818 players stumped up HK$8,000 entry fee to generate a HK$5,712,912 prize pool. The top 99 players receive a minimum payday of HK$16,000 and that moment was passed earlier on today when Shang Lu of China busted in 100th place after losing a flip versus Anthony Wong. –MC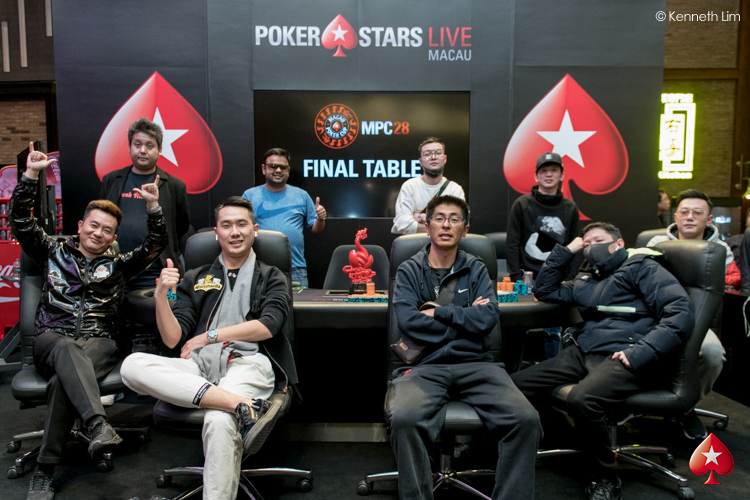 Baby Dragon finalists
Here's how the final nine line up:
| First Name | Last Name | Country | Chips |
| --- | --- | --- | --- |
| Siyou | Cao | China | 603,000 |
| Mike | Takayama | Philippines | 735,000 |
| Chendi | Zhang | China | 647,000 |
| Feng | Zhao | China | 874,000 |
| Bing | Wang | China | 1,395,000 |
| Kepeng | Li | China | 1,242,000 |
| Guangcheng | Chen | China | 795,000 |
| Tomomitsu | Ono | Japan | 738,000 |
| Vinay | Boob | India | 1,151,000 |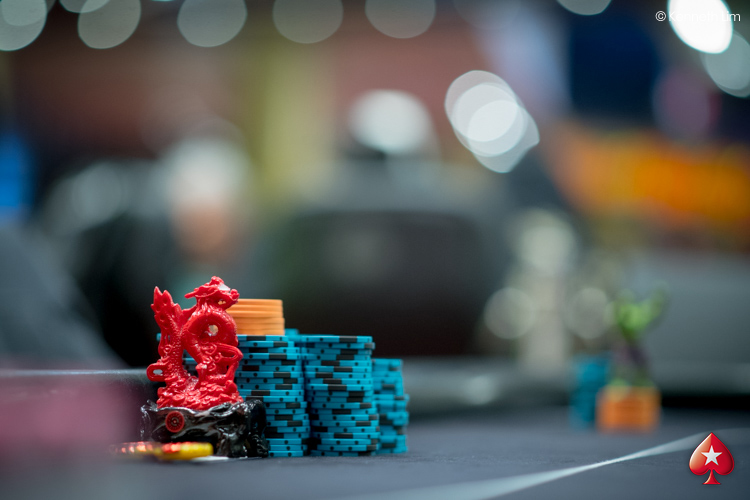 PokerStars Blog reporting team at the MPC: Marc Convey, Arthur Crowson and Rod Strizaker. Photography by Kenneth Lim Photography. Videos by Alex Pinkett of 23 Digital
---
Opening a PokerStars account is easy. Click here to get an account in minutes.
---
Back to Top