The HK$80,000 High Roller at PokerStars Macau Poker Cup 28 gave players one last chance to grab a $30,000 Platinum Pass and a truckload of cash. Day 1 attracted 87 entries with everyone trying to take advantage of that extra value offered by PokerStars. England's Matt Moss was on a warpath on Day 1 and took the overnight chip lead with over 534,000 chips.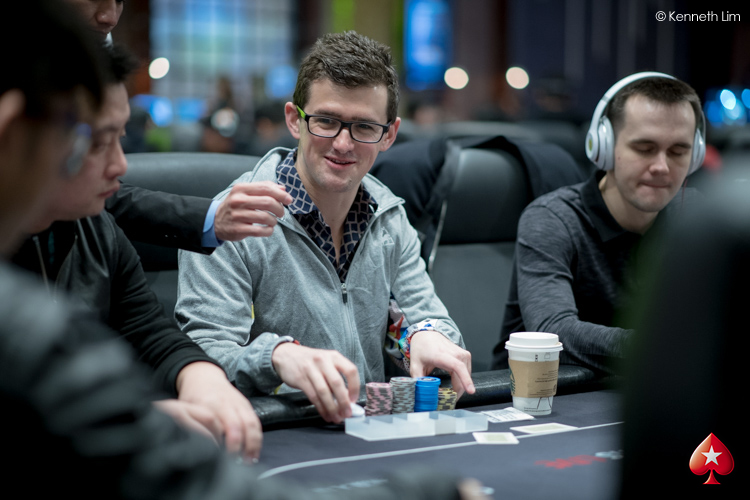 Matt Moss
Moss should be familiar to anyone who followed coverage of the Macau Poker Cup 28 as he finished 20th in the Red Dragon Main Event. Moss will look to out-do that finish in the high roller. Hong Kong's Ben Lai finished close behind over 450,000 chips.
You can view the full, final day chip counts here.
You never know just who will show up for this high roller events and this edition proved to be no exception with North American crushers JC Alvarado, Ari "BodogAri" Engel, Scott Davies making the long journey to play.
Some of the other notable players in the field included Spain's Sergio Aido, Canada's Elliott Smith, Belgium's Michael Gathy and Australians Martin Kozlov and Daniel Laidlaw.
Of course there was plenty of local talent on the display with Sparrow Cheung, Dong Guo, Wenling Gao and Quan Zhou.
Belarusian tournament-obliterating machine Makita Badziakouski also showed up to try and add yet another high roller title to his resume.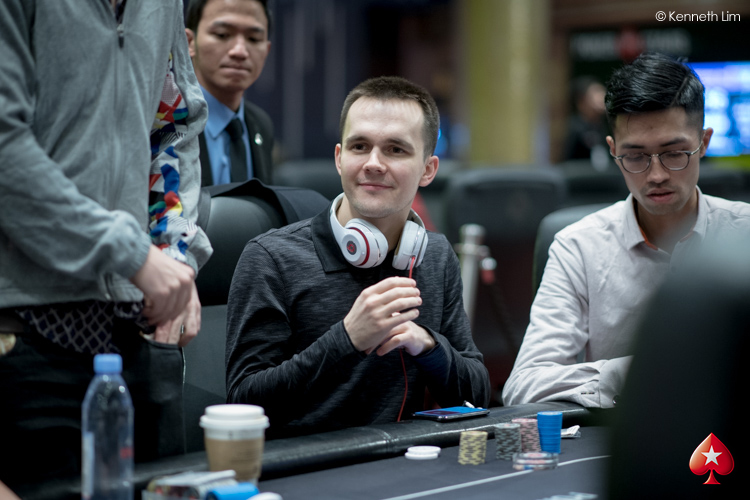 Mikita Badziakouski
Play ended with about 57 players still in the hunt for the high roller title and the $30,000 Platinum Pass.
Day 2 kicks off tomorrow at 3 p.m. and registration is still open for the first two levels of play. This is a re-entry event so we may see a few players who fell on Day 1.
Tomorrow should prove to be an interesting one as we'll be playing all the way to a winner. There's some serious extra value for the eventual winner in the form of a $30,000 Platinum Pass.
The Platinum Pass will provide entry to the ultimate high roller tournament: the $25,000 buy-in PokerStars Players Championship in the Bahamas in 2019. We'll be posting complete chip counts later in the evening. We'll see you all tomorrow at 3 p.m. –AC
Archived live coverage
• CLICK TO REFRESH FOR LATEST UPDATES
• PLAYERS: TBA
• END OF DAY 1 CHIP COUNTS
• RED DRAGON FINAL TABLE UPDATES
• ALL MPC INFO | DOWNLOAD POKERSTARS
• Follow @PokerStarsBlog on Twitter
---
1:40am: Moss the boss as end of day approaches
Level 9: Blinds 1,500/3,000 (ante 500)
With the end of level 9 approaching, the TD has announced just five more hands will be played out. The players will be bagging and tagging up after this and right now, it's still Matt Moss heading the pack with 540,000. Can anyone catch him before the close? Better make it quick! –RS
1:16am: Matt Moss flexes, up past 450,000 chips
Level 9: Blinds 1,500/3,000 (ante 500)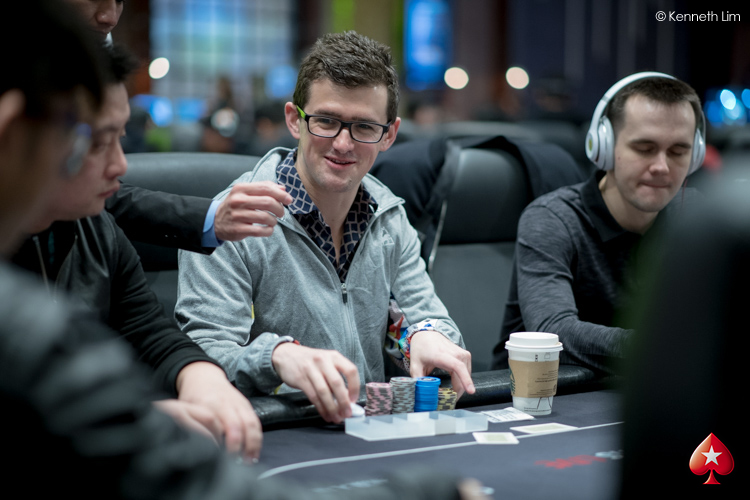 More chips for MM.
Action folded to Matt Moss who was on the small blind. Moss opted to complete but the big blind came in for a big 11,000 bet over the top.
Moss thought for a few seconds but then calmly threw a call into the pot.
The flop came 9♥ 4♥ 3♣ and Moss checked but his opponent fired 18,000 into the middle. Moss called and the turn came 2♠ .
The river finished with the K♣ and Moss immediately fired 39,000 into the pot. Moss' opponent thought for two 30-second time banks but eventually opted to fold.
Nice snag for Moss with no showdown and the English pro is now up to 460,000 chips. –AC
1:07am: Makita Badziakouski finds a double
Level 8: Blinds 1,200/2,400 (ante 400)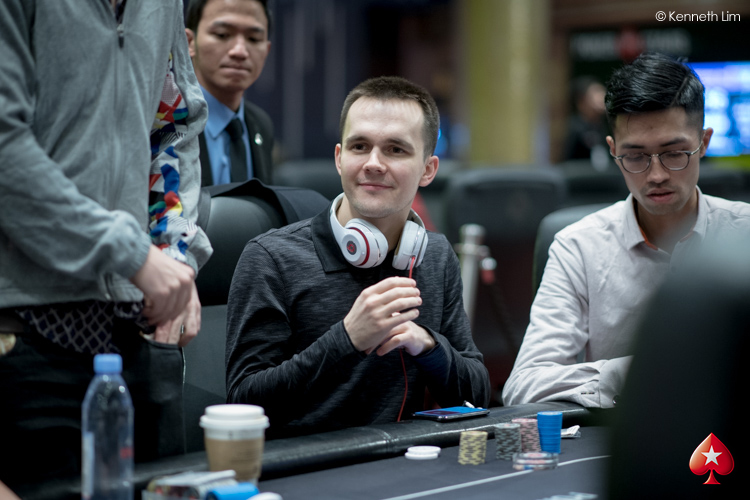 Mikita Badziakouski
Belarusian crusher Makita Badziakouski has doubled up. Be afraid.
Xing Biao Zhu bet 5,000 from the hijack and Badziakouski popped it up to 15,000. Zhu wasn't going anywhere and immediately moved all-in.
Badziakouski called and flipped over A♠ K♦ while Zhu showed Q♦ Q♣ . We had ourselves a pure race situation.
The flop came A♥ 7♣ 6♦ and Badziakouski was suddenly the huge favorite in the hand. The board finished out with the 3♠ and then the 8♣ .
It appears Badziakouski is going to stick around for a bit longer in this one. –AC
12:55am: Couple of crushers
Level 8: Blinds 1,200/2,400 (ante 400)
Two players who have the wind in their sails right now are Raul Martinez Gallego, who's sitting pretty with a 200,000 stack and Matt Moss, fresh from his Red Dragon exploits. He looks like he couldn't be more in his comfort zone, picking up a series of pots to move to 390,000. –RS
12:20am: Quan Zhou Kai-boshed
Level 8: Blinds 1,200/2,400 (ante 400)
We're sorry to have missed the action in this hand as it looked like it would have been fun to analyse but we joined Quan Zhou and Kai Man on the river of a 3♦ J♣ 3♠ 10♥ 3♥ board – all of Zhou's chips in the middle and most of Man's.
In front of the pair were [AS]Q♠ for Zhou and K♦ K♠ for Man, meaning Man was the recipient of the 140,000 pot. Zhou meanwhile had played his last – unless he takes advantage of the re-rentry facility of the tournament.
As Shakespeare once said "to re-buy in or not rebuy, that is the question." Only Zhou and his wallet can answer that one… — RS
12:05am: Chips escape from Zhu
Level 7: Blinds 1,000/2,000 (ante 300)
Xingbiao Zhu just saw around 70,000 of his stack stampede away from under his control and take refuge under the auspices of Mikita Badziakouski.
We didn't see exactly when all the chips were put into the middle but given Badziakouski held pocket aces and Zhu pocket queens and there was a board of 8♣ 3♠ 6♠ 6♦ A♥ showing, it could really have been any point, including pre-flop.
A bit of a cooler for Zhu – he drops to 27,000 whilst a surging Badziakouski has hit 145,000. More aces versus queens please!
11:45pm: Lai stacking 'em high"
Level 7: Blinds 1,000/2,000 (ante 300)
Ben Lai is looking pretty comfortable at the table – one of, if not the, chip leaders right now.
His stack is somewhat comical, as around 120,000 of its 330,000 total is comprised solely of 500 chips, meaning he has six huge 40 strong stacks of chips as part of his collection. No one in sight has anything near as big as these monstrous stacks of "relatively" small denomination chips. Change em up someone! –RS
11:15pm: Chen An Lin gets whamboozled on the turn
Level 6: Blinds 800/1,600 (ante 200)
Chen An Lin had a fantastic run in the MPC28 Red Dragon, eventually finishing 16th for HK$102,100 but his high roller just derailed in nasty fashion.
In the hand a UTG player opened for 3,500 and both the button and the small blind called but Lin came over the top for 15,100.
The initial bettor went all-in and the small blind folded. Lin was all-in for his tournament life but he was in good with K♥ Q♥ to his opponent's K♣ J♣ .
The 9♥ 8♠ 6♣ flop was clean for Lin but the J♥ turn was not. The board finished with an inconsequential 2♣ and Lin is out of the tournament. At least for now. We'll have to wait and see if he utilizes his re-entry. –AC
11:05pm: Break time X2
Level 6: Blinds 800/1,600 (ante 200)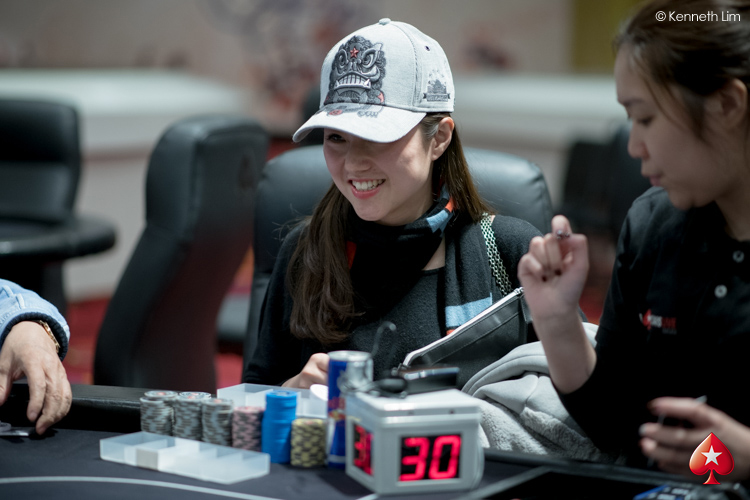 Players are out for their second 15-minute break of the evening. Time to get some sustenance and then set about finishing Day 1 strong. –AC
10:45pm: Matt Moss gets back to business
Level 6: Blinds 800/1,600 (ante 200)
We just told you about Ben Lai's rather impressive 400,000-chip stack and it still looks to be the biggest in the room but Matt Moss is making a run of his own.
The British player is up to around 370,000 and looking especially dangerous as head towards our second break of the day.
Moss' game seems to be on point over the last few days as he managed to finish 20th in the Red Dragon Main Event for HK$87,500. Moss was particularly dominant on the last two days of the tournament so he's certainly working at a high level.
Moss has around $665,415 in lifetime living tournament earnings and even final tabled an APPT Macau event back in 2016 for HK$296,000. He'll be looking to beat that finish in this event. –AC
10:31pm: Ben Lai smashing, crosses 400,000-chip mark
Level 6: Blinds 800/1,600 (ante 200)
There aren't that many notable stacks out there thus far but Ben Lai certainly counts as one of them.
In a recent hand we joined the action on the flop of Q♥ J♦ 5♠ with Lai, Gerald Karlic, Eric Wasylenko and one other player in the hand.
The unidentified player who was first to act bet out 5,000. That got calls from Karlic, Lai and Wasylenko.
The turn came J♣ and everyone checked. The river finished with the 8♣ and the first player to act once again bet, this time for 11,500.
Everyone got out of the way except for big-stack Ben Lai who eventually made the call after a pained couple minutes. It was a good thing he did because his K♦ Q♣ narrowly bested his opponent's K♣ 10♣ .
Lai is soaring here on Day 1 and looks to be close to the chip lead with 400,000 chips. –AC
10:15pm: Field hits 68, Daniel Laidlaw joins the fun
Level 6: Blinds 800/1,600 (ante 200)
We're nearly halfway through the day and the field is already up to 68 entries. Australian Daniel Laidlaw is the latest player to join the action.
Laidlaw has had some very big scores in Macau over the years with the most recent being third place in the PokerStars Championship Macau event last spring.
The Aussie took home HK$1.7 million for coming in third place. Of course the overall winner of that event, Elliott Smith, is also in the field today. –AC
10:02pm: Kai Kwong Man takes stack off Guo Dong
Level 5: Blinds 600/1,200 (ante 100)
Guo Dong made a sizable bet of 4,500 pre-flop and got three callers including Kai Kwong Man.
The flop came J♦ 3♠ 2♠ and Dong led out for 4,300. Man called but that chased the other two players in the hand.
The turn came 4♣ and Dong checked but Man bet 7,000. Dong called and the board finished with the 9♥ .
Both players checked and Dong flipped over Q♠ J♣ . He was narrowly bested by Man's K♣ J♠ .
Dong took a hit with the hand but is still well above average with approximately 160,000. –AC
9:45pm: You're on the clock
Level 5: Blinds 600/1,200 (ante 200)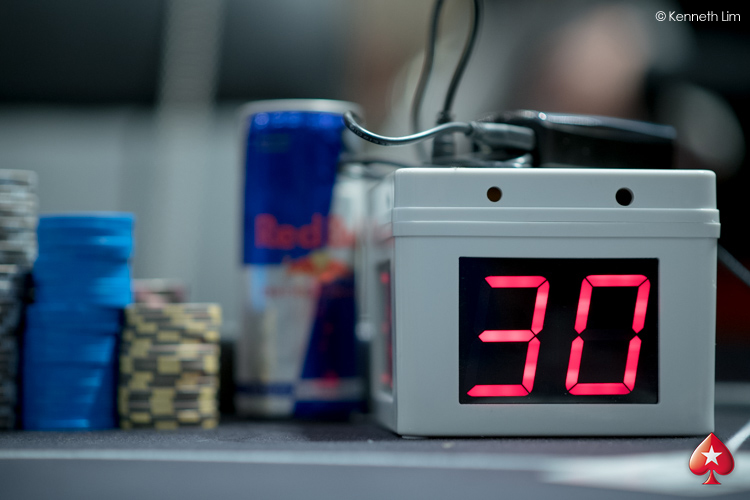 Shot clock city
If you're actually in Macau watching the HK$80,000 High Roller you may have noticed the odd clocks next to the dealers on each table.
Those are the fabled "shot clocks" for high roller events here. Players are on a 30-second timer that they can extend with 30-second time bank chips.
Players who survive Day 1 of the contest will be rewarded with two additional time bank chips for Day 2.
It's a format that's utilized for many high rollers around the world and it does a fantastic job of speeding up the action. –AC
9:31pm: Bodog Ari no more
Level 4: Blinds 500/1000 (ante 100)
We just did a quick tour of the tournament area and Ari "BodogAri" Engel was nowhere to be found.
He could just be taking a break from the table but it looks likely that he's busted the tournament. As a reminder each player is allowed a re-entry so Engel can buy back into the tournament if he wants. –AC
9:19pm: Pocket aces no good for Shan Huang
Level 4: Blinds 500/1000 (ante 100)
We have an early casualty here on Day 1 of the MPC28 high roller.
We picked up the action on a flop of K♠ Q♣ 3♦ with about 55,000 already invested into the pot. It was heads-up between Shan Huang and Dasheng Chen.
Huang was first to act and fired 28,000 into the middle. Chen made the call and that brought a 8♣ turn.
Huang immediately announced he was all-in for his last 39,000. Chen carefully weighed his options as he contemplated his next move. Eventually he decided to make the call and showed A♠ K♦ .
Chen was utterly crushed by Huang's A♣ A♥ and would need a miracle to win the hand. As it turned out that's exactly what he got when the river spiked K♥ .
"YES," shouted Chen as he slammed his fist on the table. Huang was surprisingly good natured about the beat and just laughed at getting two-outed and then headed for the exit. –AC
9:10pm: Break time
Level 3: Blinds 400/800 (ante 100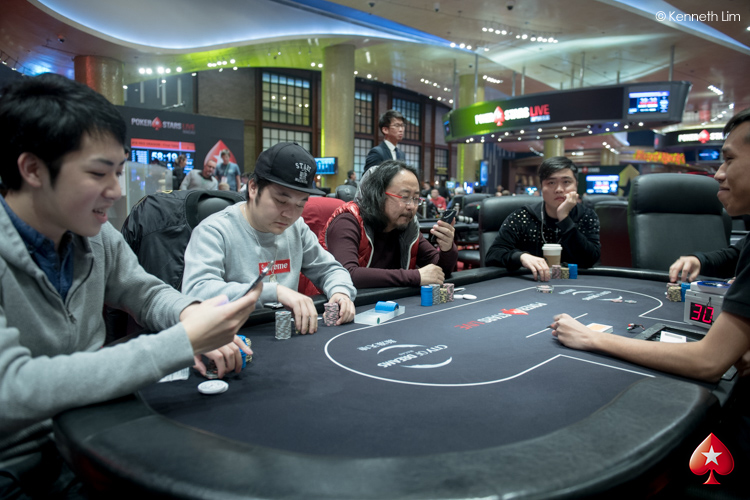 We've reached the first scheduled break of the evening and players are headed out for their first 15-minute break of the evening. Day 1 of the high roller is a fairly short affair and there are only two more breaks scheduled for the day. –AC
8:57pm: JC Alvarado, Elliott Smith boost field to 56
Level 3: Blinds 400/800 (ante 100
There is still plenty (and we mean plenty) of time to register for this event but we're already up to 56 players.
North American pros JC Alvarado and Elliott Smith are the latest players to saunter into the PokerStars LIVE Macau poker room.
Smith has some very fond memories of Macau considering last time he was here for the PokerStars Championship Main Event last April he won the whole thing for $370,00. The Canadian is up to $2.1m in lifetime earnings and definitely a player to keep an eye on in this competition. –AC
8:45pm: Scott Davies, Sergio Aido join the field
Level 3: Blinds 400/800 (ante 100)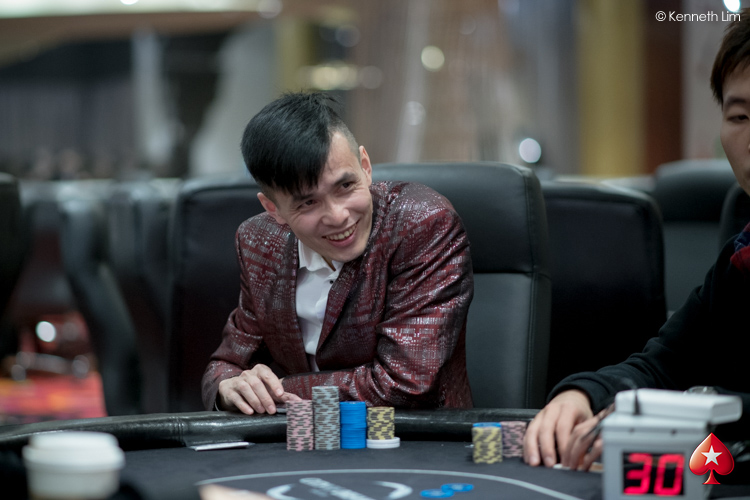 Quan Zhou
We're into Level 3 and the tournament board is telling there are 56 high rollers in the field.
Among the recent entries are Spain's Sergio Aido and India's Raghav Bansal as well as locals Wengling Gao and Sai Wu.
Gao went deep in the Red Dragon Main Event and was one of the most exciting players to watch so we're hoping for a deep run for her in this one. –AC
8:23pm: Ari "BodogAri" Engel enters the fray
Level 2: Blinds 400/800
Macau is a long ways from Brooklyn, NY, but that hasn't kept Ari "BodogAri" Engel from making an appearance in today's high roller.
Engel is the epitome of a globe-trotting grinder and has been cashing events since 2006. For many years Engel was known primarily for his consistent low-stakes results (he has 244 recorded cashes) but was thrust into the spotlight when he won the 2016 Aussie Millions Main Event for $1.1 million.
Since then Engel has played considerably higher stakes and found success around the world.
Engel very nearly made a return journey to the Aussie Millions final table last month when he finished 10th in the Main Event for $96,983. –AC
8:14pm: Mikita Badziakouski looks to pad incredible results
Level 2: Blinds 400/800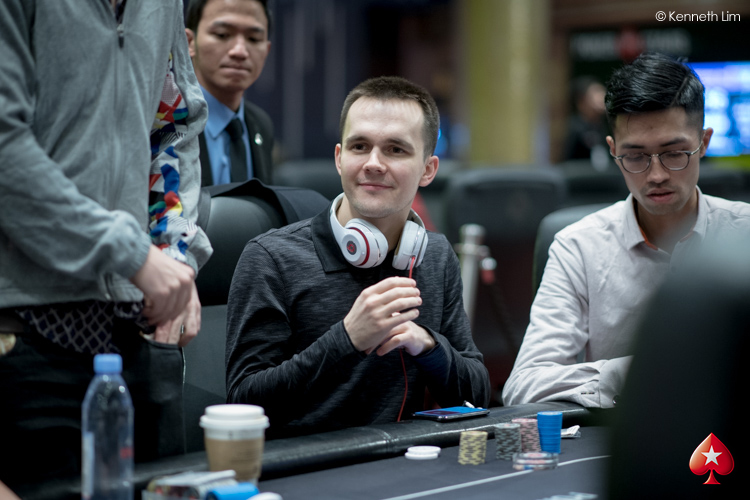 Mikita Badziakouski. Yep, he crushes.
There are some top-tier sharks in the field today but if you're looking for the biggest overall earner than look no further than Mikita Badziakouski.
The often miss-spelled Belarusian (see also: Nikita Bodyakovskiy) has been on a no-holds barred tear over the last few years that's includes a staggering $6+ million in earnings.
Badziakouski's run last fall was truly spectacular with four separate high roller final tables including runner-up in the ACOP single-day high roller for $516,536, third place in the WSOPE €111,111 High Roller for One Drop for $1.7m, second place in the WSOPE €25,000 high roller for $451,000 and finally runner-up again in the PokerStar Championship Prague €50,000 super high roller for $451,007.
It's jaw-dropping stuff but that's not even Badziakouski's biggest claim to fame in the poker world.
That would instead be his win in the 2017 HK$500,000 MBP Spring Challenge Super Roller in Macau when he beat none other than Tom Dwan to take the title and $420,255.
Impressive stuff, to say the least. –AC
8:01pm: Field swells to 41 players
Level 1: Blinds 300/600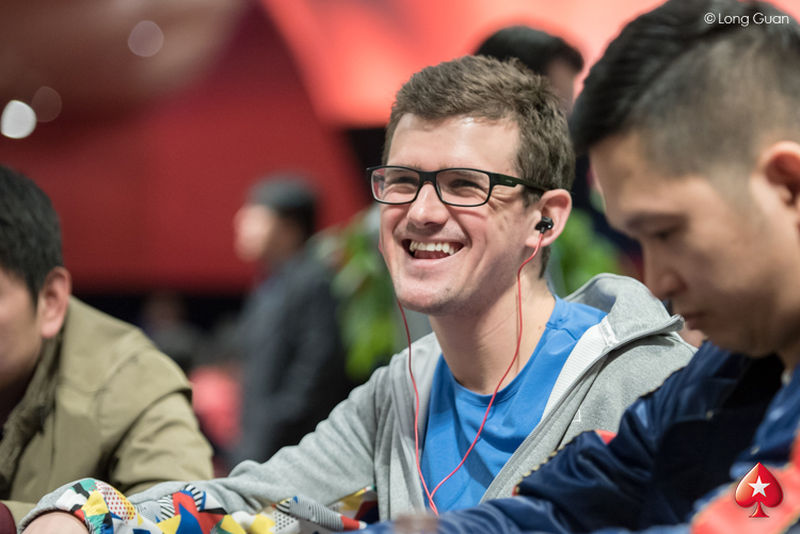 Matt Moss is back for more.
It may still be early but we've got some Grade-A certified high-stakes pros in the form of Mikita Badziakouski, Quan Zhou, Michael Gathy and Johan Schumacher.
Schumacher came seventh in the Aussie Millions Main Event last month for a tidy payout of $189,926. The Belgium pro will be looking to ride that momentum to a high roller title here in Macau and a $30,000 Platinum Pass.
Matt Moss is also in the field. You might remember Moss from our coverage of the Red Dragon Main Event. Moss had a very deep run that saw him finally succumb to the rail in 20th place for HK$87,600 yesterday.
Hey wouldn't you know it, $87,600 that's just enough to buy into today's high roller. Time to spin it up. –AC
7:39pm: Up to three tables, enter Guo Dong
Level 1: Blinds 300/600
We're already up to three tables as entries continue to flock through the doors.
One player that's been in the field since the very beginning is Guo Dong. Dong is easily one of the best Chinese players in the world and has accumulated over $1m in lifetime earnings.
Dong is a frequent player of the Macau Poker Cup and back in the 26th edition he made two separate final tables.
It's a slower MPC this time around for Dong with zero cashes but he could more than make up for that by taking down the high roller. –AC
7:31pm: It begins
Level 1: Blinds 300/600
And just like that action has begun in the MPC28 $80,000 High Roller. Blinds start at 300/600. Players start with 100,000 chips. Right now there are only 11 players but with registration open all the way until two levels into Day 2 we expect a lot of late entries in this one. The plan is to play six hours today. –AC
HK$80,000 High Roller Set to Rock, $30k Platinum Pass for Winner
Once again another edition of the Macau Poker Cup is set to conclude with a high-stakes showdown. The HK$80,000 High Roller has attracted some of the biggest names in poker over the years thanks to the hefty buy-in and even bigger payouts. This year's edition of the tournament gets some added cache from the inclusion of a $30,000 Platinum Pass. The pass provides entry to what's set to be the biggest $25,000 tournament in the world: The 2019 PokerStars Players Championship. It's difficult to imagine a poker player that wouldn't jump at the opportunity to play such a tournament.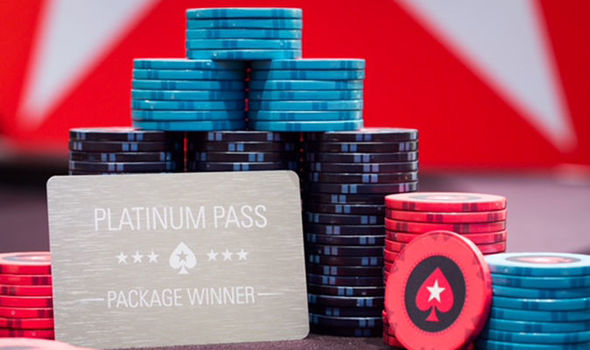 Platinum Pass time!
The last edition of the HK$80,000 High Roller, held during MPC27, saw Malaysian Michael Soyza assail 119-entry field to win a HK$2 million first-place prize. Soyza had the added obstacle of vaunted German high roller pro Martin Finger who made it to heads-up. Somehow Soyza was able to defeat Finger and claim the prestigious title for himself.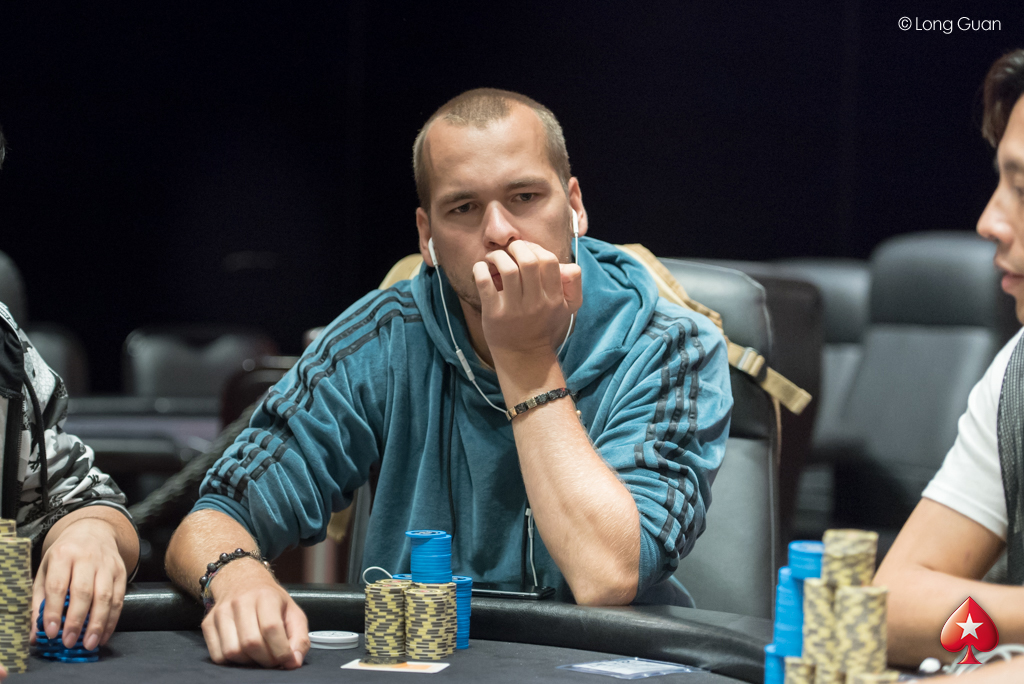 Martin Finger came second last time around
There's no telling who will show up for this year's edition but there's a good chance the cadre of Team PokerStars in Macau for the rest of the series will take a shot. Celina Lin, Randy Lew and Aditya Agarwal played the Red Dragon Main Event but only Agarwal made it into the money.
The HK$80,000 High Roller has existed in its current form since 2014 and has proven to be a highlight reel of a competition with Henrik Tollefsen, Juicy Li and Wayne Yap among the many champions.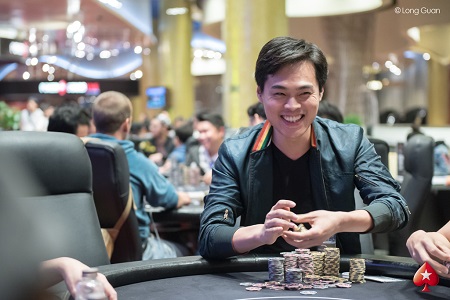 James Chen has owned the Macau Poker Cup high roller
No one plays the event quite like James Chen, however, who won it in September of 2015 and then again in September of 2016.
It's going to be an interesting day of action as the Red Dragon final table is still being played out in the centre of PokerStars LIVE Macau poker room. The high roller is a two-day affair with the final table scheduled for tomorrow.
Action for the MPC28 High Roller kicks off at 7:30 p.m. today and we'll be updating it all day so be sure to keep checking back to see how it all plays out. –AC
PokerStars Blog reporting team at the MPC: Marc Convey, Arthur Crowson and Rod Stirzaker. Photography by Long Guan & Kenneth Lim Photography. Videos by Alex Pinkett and James Beer of 23 Digital
Back to Top
Study Poker with
Pokerstars Learn

, practice with the PokerStars app

Try our Free Scholars Leader Board to practice your new skills.
Quick Links
Learn
Practice
Chat with us
Watch and share