The PokerStars Macau Poker Cup Red Dragon Main Event has been steadily staking its claim as Asia's preeminent poker event over the last few years but there's something truly special about this year's edition. That something special? An extra $30,000 Platinum Pass to the inaugural $25k buy-in PokerStars Players Championship set to take place in the Bahamas in 2019. That package won't be claimed until Friday or early Saturday but hundreds of players flooded the PokerStars Live Poker Room at City of Dreams to start their individual quests.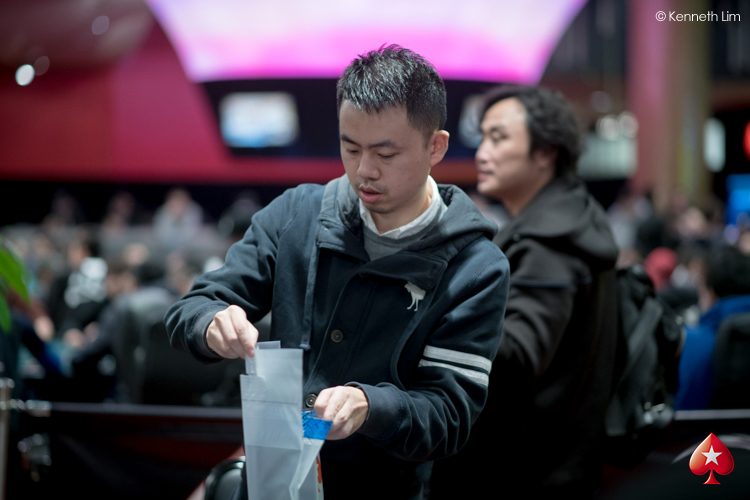 Bag and tag!
A total of 280 players registered for Day 1A of the Red Dragon but the time the smoke had cleared just 90 players still had chips in front of them. Some of the notable players to join in on the action included JP Kelly, Shuchi Chamaria Agarwal, Martijn Gerrits, Danny Tang, Gab Yong Kim and former back-to-back Baby Dragon winner Kwok Chun Lai.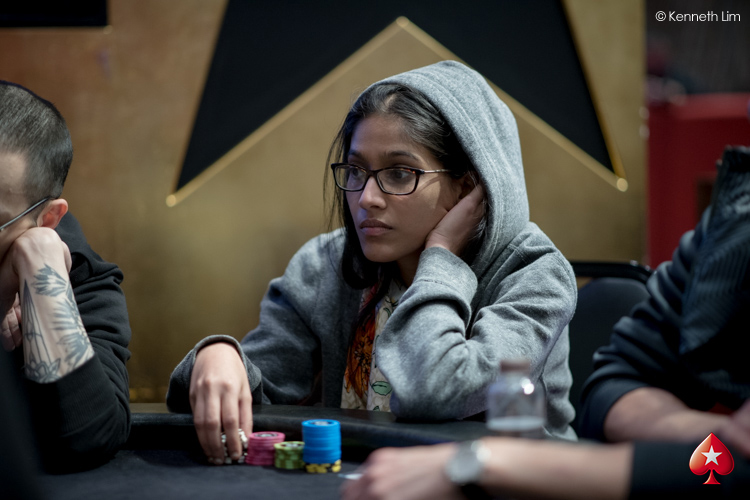 Shuchi Chamaria Agarwal
By the time the final hand was played China's Chunhui Ji stood atop the chip counts with 171,800. Ji barely edged Dong Qi Lin who accumulated 170,200 by the end of play. Some of the other big stacks belong to Sinwoo Kim (126,500), Quang Huy Pham (125,600) and Hao Tian (120,600).
Two-time WSOP bracelet JP Kelly was one of the players to watch on Day 1A as he grabbed a massive stack in the first few levels of play. Unfortunately the Brit faded in the later stages of play and finished with a paltry 32,000. He'll have to move fast on Day 2 if he wants to progress much further in this tournament.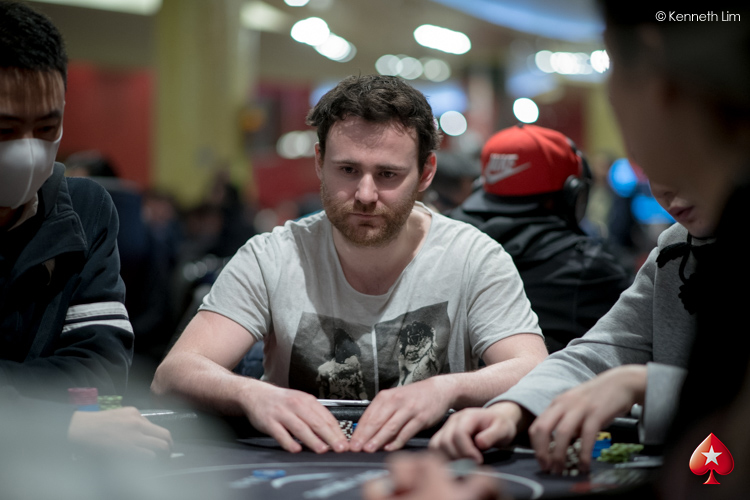 JP Kelly
There's still plenty of time to get in on the Red Dragon HK$15,000 buy-in Main Event with two more starting days yet to come.
The last edition of the Red Dragon Main Event awarded a staggering HK$2.6m but this one will have a serious perk with PokerStars adding a $30,000 Platinum Package. The value in winning a seat in the 2019 PSPC is hard to comprehend with an extra $1m for the eventual winner in the Bahamas.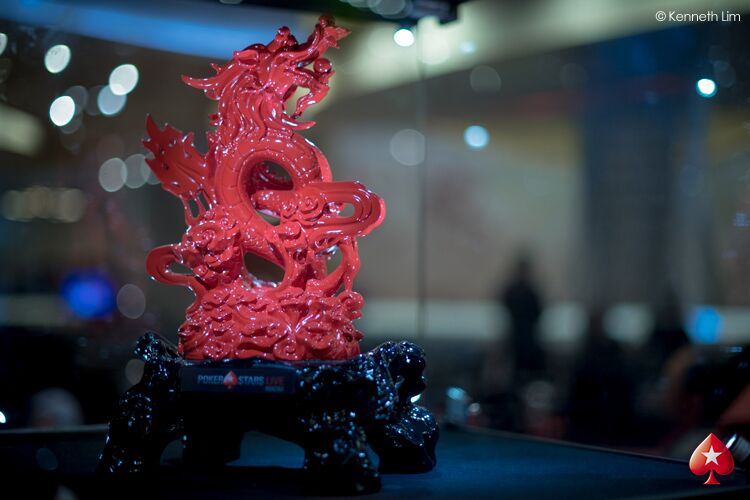 Fortune favors the bold
Day 1B of the Red Dragon kicks off tomorrow at 2 p.m. We're expecting a much bigger field as the bulk of the players hit the felt over the next two days. Thanks for joining our coverage today and we'll see you back here tomorrow. –AC
---
Day 1A coverage archive

• END OF DAY 1A CHIP COUNTS
• REFRESH THE PAGE FOR THE LATEST UPDATES
• PLAYERS: 107 (of 280)
• ALL MPC INFO | DOWNLOAD POKERSTARS
• Follow @PokerStarsBlog on Twitter
---
10.45pm: End of Day 1A
Level 12: Blinds 800/1,600 (ante 200)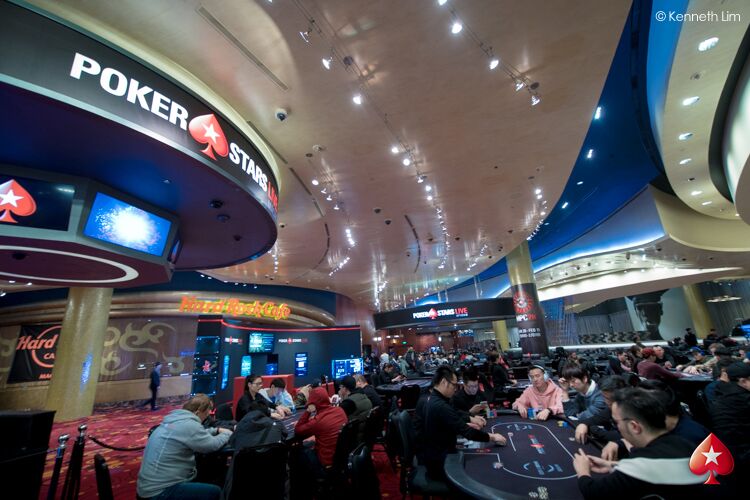 Room full of wannabe dragons.
Level 12 has played to a finish and the remaining players are bagging and tagging their stacks ready to return in two days' time for Day 2. Following shortly, we'll have news of the chip leader and a summary of the days' action. In the meantime, thanks for following. We'll be back to do it all again tomorrow – same time 2:00pm – in Day 1B where we'll meet another batch of poker hopefuls. –RS
10:35pm: Final five hands
Level 12: Blinds 800/1,600 (ante 200)
As level 12 draws to a close, the TD has just announced they will be playing out the final five hands of the day. There's just over a hundred players left from the initial batch of entrants. Will we get down to double figures in the last few hands? –RS
10:22pm: Su far, Su good
Level 12: Blinds 800/1,600 (ante 200)
Su Tianhong caught our eye as we passed his table, making a significant min raise on the river of a 10♥ J♣ 10♦ 6♠ 2♣ board – his opponent leading for 17,000 and Su making it 34,000!
Incredible action. Sadly his opponent tanked before flicking his cards into the muck so we weren't granted the pleasure of a reveal.
As we assessed Su's stack he picked up a couple of other, smaller pots to bring his stack up over the 100,000 mark. A few of his tablemates started grumbling in jest to Su about his fortune and their own lack of it. He laughed it off – probably a fair bit easier to do when you are sitting on a hoard of chips like a real poker dragon. Could Su be a man to watch as we go deeper into the tournament? — RS
10:05pm: JP Kelly thwarted by aces
Level 11: Blinds 600/1200 (ante 200)
JP Kelly just had the misfortune of smashing into his opponents pair of aces.
Zhiyong Yan opened the pot for 3,000 from late position and Kelly raised to 8,000 from the button.
Yan didn't waste any time and moved all-in for his last 25,000. Kelly thought for a second and then made the call. Both players tabled their cards:
Kelly: Q♦ Q♣
Yan: A♠ A♦
The board ran out K♥ J♣ 8♦ 5♦ 4♦ to give Yan the checkmark.
Kelly fell down to right around average after the hand, which currently sits at 42,000 chips. –AC
9:54pm: Li Qi pot sees Zigiang chances drain away
Level 11: 600/1,200 (ante 200)
Zigiang Li just moved all-in preflop for about 15,000. The table gasped as Yiming Qi moved in behind him. Everyone else chose to muck and quite a crowd gathered as people leaned forward, bustling each other out of the way to see the two holdings. They were reasonable enough at showdown…pocket 9's for Li, pocket kings for Qi.
The board of A♥ J♣ Q♣ A♣ 2♥ confirmed Li's exit in routine style – a small commotion breaking out from the other side of the table as someone regretted folding what we assume was an ace!
Another one bites the dust to leave just 126 players remaining. Qi gets a timely boost, now up over 50,000. – RS
9:35pm: Yao Bai, Baby!
Level 11: Blinds 600/1,200 (ante 200)
Yao Bai is buzzing after winning a pivotal double up through Jie Su.
We picked up the action with nearly 85,000 in the pot pre-flop and Su having Bai just covered.
Bai had 9♠ 9♦ while Su had A♥ K♠ , which meant we had a pure coin flip on our hands.
The flop came J♥ 4♠ 3♠ which meant that Bai had taken a significant lead. Things went from bad to worse for Su when the turn came 9♣ . The river was a meaningless 5♦ and Bai gave a triumphant shout as he raked in his new 85,000 stack.
Su fell all the way down to a meagre 6,000.
The story wasn't over for Su, however, as he picked up queens on the very next hand and doubled through Dutch pro Martijn Gerrits.
"That's poker," observed a player at the table. –AC
9:16pm: Devastation – field ripped up
Level 11: Blinds 600/1,200 (ante 200)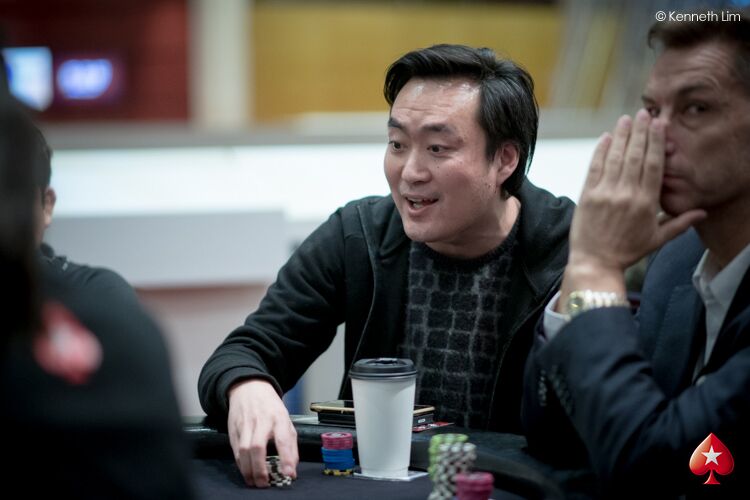 Frenzy of action!
You wouldn't want to live in the danger zone at the best of times, but right now might be the nut worst time. It's heavily overpopulated – numerous stacks in that 5-15 BB zone where your preflop moves are restricted to just one legitimate option. As a result we've seen player after player hitting the rail in a maelstrom of action.
It's carnage, there's blood in the water and the sharks are circling. Expect this level of mayhem to continue right to the finish. There's just under two levels to go…hang on tight folks! — RS
8:54pm: Beautiful Sun set leads to Sun rise
Level 11: Blinds 600/1,200 (ante 200)
Sun Jing had seen his stack depleted to close to four figures, but he just played out an enormous hand to swing him back into the safety zone, if not genuine contention.
We joined the hand on the river of a K♠ 10♣ 10♦ A♥ 6♠ board – showing down pocket kings to his opponent's pocket fours to get a full double-up for 26,000. We aren't sure where the money went in but Jing had a lock on it on virtually every round.
Feels good to be back in the game. — RS
8:45pm: JP Kelly Slipping
Level 10: Blinds 400/800 (ante 100)
JP Kelly has cooled off considerably from his hot start to Day 1a.
In a recent hand JP Kelly called a pre-flop bet of 2,000 from middle position and the small blind came along for the ride.
The flop came K♠ 6♠ 3♦ and all three players checked.
All three players in the hand also checked the 3♣ turn.
The river peeled off the deck as the J♦ .
Both players checked to Kelly who decided to finally fire for 4,500. The player who opened the pot pre-flop decided to look him up and Kelly instantly mucked.
The British pro is hovering around 45,000 chips. –AC
8:25pm: Hey, Take a Break
Level 9: Blinds 400/800 (ante 100)
Players are out on another 15-minute break.
This will be our last break of the day with players trying to steel their resolve and make Day 2 with a healthy stack.
Blinds will be going up momentarily.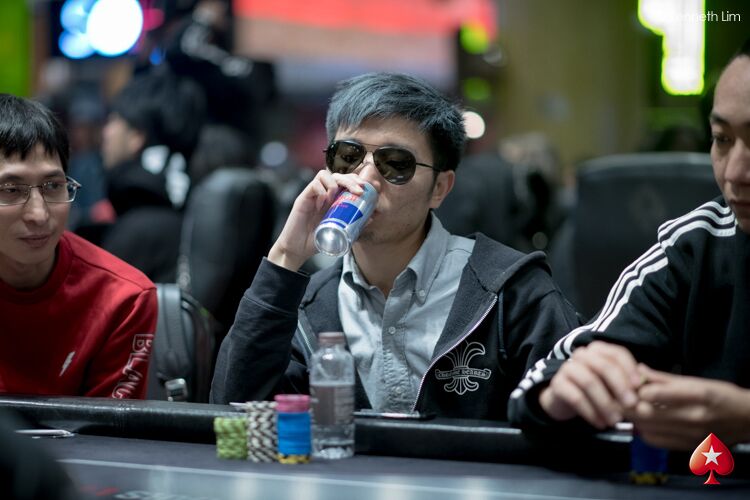 Do what you gotta do.
8:06pm: Under Pressure
Level 9: Blinds 400/800 (ante 100)
You can imagine Queen's infamous hit playing out as background music to many of these players' poker journeys right now. The blinds are a hefty 400/800 and coupled with the 100 ante, those 10-15k stacks, of which there are many, are being compelled to quickly find spots to chip up before the blinds take some vicious bites out of them,
As a result we're seeing an increase in the frequency of shoves. This is starting to take its toll on the field….now down to just 179.
The next level will definitely tear a huge chunk of participants out of the field and establish a few obvious chip leaders. The players will shortly have a 15 minute break to form a plan to ensure they aren't one of the vanquished… – RS
7:45pm: A new challenger enters
Level 8: Blinds 300/600 (ante 100)
There are a few more familiar faces that have snuck into Day 1a of the Red Dragon including Dutch pro Martijn Gerrits.
Gerrits has been an absolute tear in Macau with over 11 cashes in the region since September with approximately $100k in earnings.
His biggest score came in October when he took down an ACOP Deepstack Championship for $53,930.
Gerrits has been holding steady in this one with a slightly above-average stack. We'll be keeping our eyes on him as this one progresses. –AC
7:42pm: Kelly's dilemma
Level 8: Blinds 300/600 (ante 100)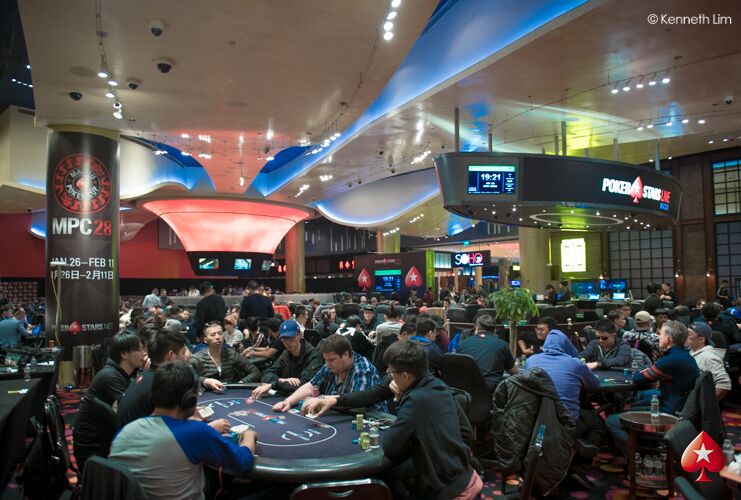 JP Kelly's problems have little to do with the poker. He's progressing well today. "I was up to 80,000 right off the bat but I've lost a few since then." He's down to a "mere" 60,000 right now, still enough to put him in the upper ranks of the chip counts, with the average count sitting around 30,000.
Kelly's dilemma mainly revolves around whether he watches the NFL game involving the Eagles later at a somewhat poker-unfriendly time. Those players currently sweating 10BB stacks are probably thinking "first world problems JP!" — RS
7:30pm: Qiang cherry picking
Level 8: Blinds 300/600 (ante 100)
There are various food options available in and around the PokerStars Live cardroom – noodles, dumplings, coffee, sandwiches can all be purchased. However we've yet to see an outlet selling cherries and Qiang Liu has decided he can't do without his fix. He's brought his own solution – a large tupperware container full of giant cherries accompanying him round the tables.
He's hungrily devouring them and it seems to be working well for him as he's got an above-average stack sitting next to a pile of discarded stems and cherry stones.–RS
7:25pm: Jack the lad Zhang
Level 8: Blinds 300/600 (ante 100)
Chao Zhang flopped a set of jacks versus Zhenhua Lu and got paid to rise to 65,000.
We picked up the action on the turn with a board reading 4♦ A♣ J♥ 3♥ . Lu checked from the big blind and called after Zhang bet 5,550 from second position. The 6♥ completed the board and Lu checked once more. Zhang tanked for a couple of minutes and then bet 6,600. Lu sat back in his seat and pondered before flicking in a call before mucking wen Zhang opened J♣ J♠ . –MC
7:10pm: Player registration tops out at 280 entries on Day 1a
Level 8: Blinds 300/600 (ante 100)
Registration is officially closed for Day 1a of the Red Dragon and the board tells us there are 280 entries on the day.
That's down slightly from the 328 that showed up for Day 1a of the last edition of the Red Dragon five months ago but don't let that confuse you. This tournament is going to be massive.
The first starting day is always the smallest and the next two days promise to be enormous.
Also of note is that out of the 280 players that started the day only 198 remain. Expect to see that number cut significantly by the time play ends tonight around 11 p.m. –AC
6:45pm: Masato Horiuchi on right side of AA vs. KK
Level 7: Blinds 250/500 (ante 75)
When you get aces it's usually not a bad thing when your opponent gets kings.
Japanese player Masato Horiuchi just experienced that first hand when he picked up A♣ A♥ on the button.
Even better, there were a couple raises ahead of him.
Facing a bet of 900 and a call, Horiuchi bumped it all the way up to 4,400. He got one caller and that brought a 9♦ 6♣ 4♦ flop.
Horiuchi's opponent checked but he fired 5,500. The other player called and brought a 8♥ turn.
The other player in the hand moved all-in and Horiuchi made the call. The other player flipped over K♣ K♥ which was in terrible shape against the aforementioned aces.
The river was a meaningless Q♥ , which eliminated Horiuchi's opponent.
Who says pocket aces never win? –AC
6:33pm: Luo kicker scuppers Tang
Level 7: Blinds 250/500 (ante 75)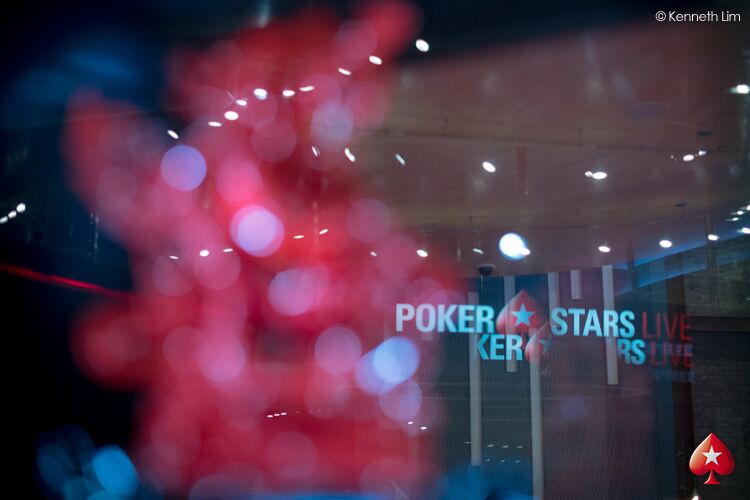 Xiang Tang just became embroiled in a button versus small blind battle. Holding A♦ 7♠ and a shortish stack, Tang watched Luo raise on the button and decided he wasn't going to let this late position aggression pass untested. He three-bet preflop from the small blind, committing himself.
Tang was happy to take on Luo for the shorter man's stack with A♠ Q♠ and his dominant hand held on a flop of bricks.
Tang's day was over but Luo rises up to 38,000, enthusiastically relating his recent boon to a friend who'd come to rail whilst chewing on his dinner. — RS
6:20pm: Break-a-licious
End of Level 6
Six levels are in the bag, meaning the players have earned the right to a 15 minute rest to get away and stretch their legs.
We'll be back shortly to take up the mantle for levels 7 and beyond. See you then. — RS
6:12pm: Shuchi Chamaria in the hunt for another Agarwal Score
Level 6: Blinds 200/400 (ante 50)
Yesterday well-known Indian pro Aditya Agarwal made a deep run in the Baby Dragon and appeared primed for a final table appearance but fell out of contention in 92nd for a min-cash.
Aditya isn't playing on Day 1a of the Red Dragon but that doesn't necessarily mean an Agarwal won't finish with a large stack of chips.
Aditya's wife Shuchi Chamaria Agarwal is in the field today and looking to record a big score of her own.
Aditya has been instrumental in the Indian poker boom thanks in part to his role as a Team PokerStars Pro but it would be especially nice to see a female Indian player make some noise here in Macau.
Chamaria definitely has the benefit of receiving Aditya's tutelage over the last year. –AC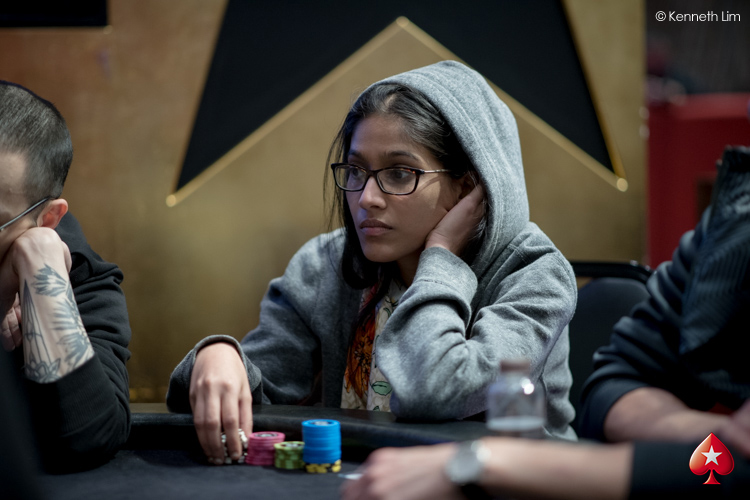 Shuchi Chamaria Agarwal
6:10pm: Meng the master of a cooler
Level 6: Blinds 200/400 (ante 50)
Yao Meng's stack has swelled to 65,000 after she busted two opponents in a massive cooler.
We heard cries of "Whoa" from her table and rushed over to see what all the fuss was about.
A huge pot pot for this stage of the tournament was playing out with Meng and two other players committing their stacks preflop. The cards were all on their backs:
Yao Meng: A♦ A♥
Song Ya: K♠ K♦
Yichen Shi: K♣ K♥
The board ran Q♣ 8♠ J♥ 8♥ J♠ to send Ya and Shi on their not so merry way. –MC
6pm: Last chance to reg Day 1a
Level 6: Blinds 200/400 ante: 50
We've officially into Level 6, which means blinds of 200/400 and an ante of 50 but it's also the last level that players will be allowed to register for Day 1a.
The field is already up to 278 runners, which means we're going to get very close to last year's total of just over 300.
There will likely be a few more players who saunter in over the next 30 minutes so we'll have a final count after the break at the end of the level.
5:47pm: Zhao can't find seven from heaven
Level 6: Blinds 200/400 (ante 50)
We joined a hand on the flop of a 10♣ 7♠ 6♣ board being contested five ways.
Post-flop, the action was checked to Qiang Zhao in position who led out for 2,200, called by one player before one of the original checkers, Qi Wang, tried to make it 4,000. His underraise was quickly corrected to 4,400, although this show of strength did little to discourage Zhao who committed himself by three-betting with two large 5,000 chips.
The player sandwiched in the middle of all this aggression made a judicious fold, and we were left with Wang, who went all-in himself.
Quick call from Zhao and the cards were on their back revealing a rather harsh cooler.
Third nuts for Zhao who held pocket sevens for second set, but it was Wang who had the dominant hand – his pocket tens a huge favourite.
Zhao needed to spike the sole remaining seven in the deck but the board ran out with two bricks and he gave a large sigh of capitulation, gathering his coat and leaving the table. A flurry of activity and chatter drew him back as his tablemates explained he had his opponent outchipped.
He returned glumly with a small stack. Although there's a variety of languages being spoken here in Macau, the international language of sympathy was unmistakable. "Set over set," commiserated his tablemate, shaking his head.
Zhao's misery contrasted with Wang's joy – he cut an animated figure, bouncing joyfully out of his chair as he stacked up his new 45,000 stack with a wolfish grin. — RS
5:35pm: JP Kelly on a warpath
Level 5: Blinds 150/300 (ante 50)
With nearly $3m in lifetime live tournament earnings JP Kelly is easily one of the most well-known players in today's field and he's already scored a huge pot.
We picked up the action on the turn of a 5♦ 2♠ 2♦ 5♠ board.
Kelly was first to act and had fired 8,300 into an already sizable pot.
Kelly's opponent Mehmet Yilmaz, of Turkey, thought for a minute but eventually decided to go-all in for approximately 20,000.
The English pro wasn't going anywhere and snap-called flipping over 6♦ 5♣ for the boat. Yilmaz could only shake his head as he revealed A♦ K♠ .
The river was an unnecessary 6♠ to give Kelly an even bigger boat and eliminate Yilmaz.
After the hand Kelly was up to a massive 75,000 stack. –AC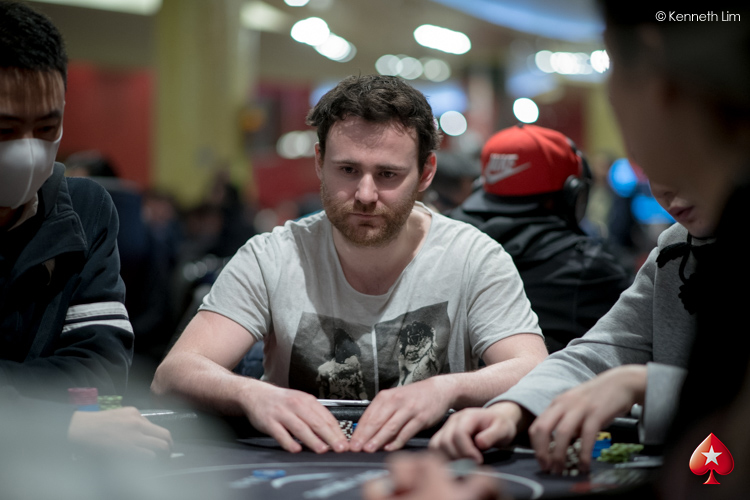 JP Kelly is breathing fire in the Red Dragon.
5:15pm: A couple of big name Brits in the house
Level 5: Blinds 150/300 (ante 50)
The Red Dragon is dominated by players from Asia, as one would expect but there are a few familiar faces from further afield dotted around the field.
Two of Britain's best are in attendance, JP Kelly and Danny Tang. Yes, I know Tang could also be from Hong Kong but he was born in Salford, Manchester I believe so we're claiming him, for now.
Kelly has been crushing tournaments and cash games for over a decade now, whereas Tang has emerged in the last couple of years. Last year was a his best year by far to date, one that saw his break into the upper echelons of the live MTT poker scene. He cashed no less than 33 times, saving the best to last when he took down the prestigious €10,300 High Roller event the PSC Prague for €381,000 – a career high score. –MC
5:05pm: Gu in sticky spot
Level 4: Blinds 100/200 (ante 25)
Ip Seng Long just opened for 525, called by Huidong Gu on the button before a player we can only identify for now as Mr Wang applied a squeeze tax from the big blind, raising to 1,850.
Initial raiser Long mucked but Gu was in no mood to disappear, making the call after a few moments.
The board fell A♦ 9♥ 4♣ . Wang tapped the table and Gu fired out 3,000 aggressively. Call.
The 6♣ on the turn saw Wang check back once more. Gu quickly picked up all his remaining 6,000 or so and plonked all his chips over the line confidently. Wang snap-called, instantly turning over pocket aces for the nuts.
Gu laughed at the situation. He'd been well-trapped, showing down K♠ Q♣ for a drawing-dead king-high. The dealer completed the formality of a redundant river card and Gu's day was done.
Wang meanwhile rises to near 30,000. — RS
5pm: Huang Hammers Chien
Level 4: Blinds 100/200 (ante 25)
Jiancong Huang is making the most of the early levels here on Day 1a.
In a recent pot Huang opened for 550 from mid-position and action folded to Jen Yen Chien on the small blind who decided to raise to 1,675.
Huang wasn't going anywhere, however, and re-popped to 3,600.
Chien thought for a minute but eventually called. The dealer laid out a flop of K♠ 8♦ 5♥ and Chien checked.
Haung fired 2,500 into the pot and Chien decided to call. The turn came 9♥ and once again Chien checked.
This time Huang fired a hefty 5,100 bet at the pot and that was enough for Chien who folded.
After the hand Huang was up to well over 30,000 chips and trending very well here on Day 1a of the Red Dragon Main Event.
–AC
4:45pm: Four-way three-pot goes Leow's way
Level 4: Blinds 100/200 (ante 25)
Seng Yen Leow has gotten his stack back above starting (20k >> 24k) after winning a four-way three-bet pot.
The action started with an under the gun open to 525 from Hao Zheng before Zhuojie Mao three-bet to 1,225 from middle position. A player in the cutoff, Leow on the button and Zheng all called to a 10♣ 3♠ 10♦ flop that was checked around. It looked as if the 3♣ turn was going to get the same treatment but Leow then bet 2,800 and all three opponents folded. –MC
4:20pm: Back at it
Level 4: Blinds 100/200 (ante 25)
Players have returned from their first break of the day and will now have to contend with new blinds of 100/200 and the first ante of the time, which weighs in at a reasonable 25.
Game on!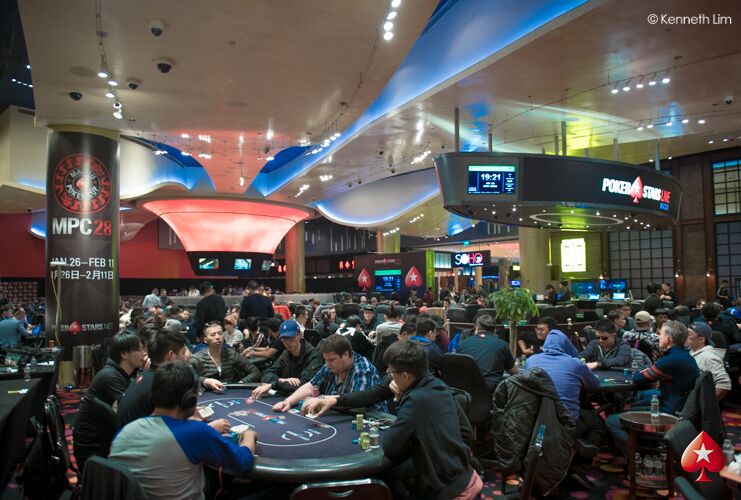 4:05pm: Players head out for first break
Level 3: Blinds 75/150
We've made it to the first break of the MPC28 Red Dragon Main Event.
Players continue to flock into the tournament and we're now up to over 250 runners.
Registration will be open until Level 6 so we'll likely have a few more competitors join the action today before the smoke clears.
When players return from their 15-minute break they'll have to contend with Level 4, which has the first ante of the day.
3:32pm: APPT – Mark your diaries
Level 2: Blinds 50/10

Many of the players involved in the MPC cut their teeth on the famous Asia Pacific Poker Tour. It's been a fertile breeding ground for developing young poker talent in Asia and this year's schedule will be taking place March 14th to March 25th.
There are a range of buy-ins from cheap, affordable satellites offering the opportunity to parlay a modest sum into a giant prize through to High Roller Events for those who want to test their skills against stiffer opposition.
The full schedule can be found here. You can find online satellites available on PokerStars, for example the $530 Qualifier (1 Seat GTD) taking place today (Sunday, Feb 4) at 8.30pm HK time (7.30am EST.)
As it is here at the MPC, there will be 4 Platinum Passes up for grabs, so an additional $120,000 adding a honey-like dollop of value to the tour's schedule. See you in the satellites!
3:21pm: Digging out diamonds
Level 2: Blinds 50/100
With such a bumper field, it's easy to get lost in the crowd of faces packing the poker room, but we've scanned the room with the able assistance of media coordinator Ben Wilson to track down some of the notable players secreted away.
First we have Kwok Chun Lai, known in many circles as "Derx." Derx achieved the almost impossible task of winning back-to-back Baby Dragons in 2016 – an unbelievable feat. Derx poker chops have netted him an impressive US$308,000 in his poker career thus far – a figure that we imagine is likely to swell significantly over the coming years.
Next up in our roll-call of talent is Gab Yong Kim. This Korean player has a long string of APPT cashes, his best result a US$50,000 win in the 2017 APT $3,000 High Roller. If the winds of variance fill his poker sails, we could well see Kim navigate his way into contention for the title.
Xilei Li is back for more, having finished just shy of the Red Dragon title in September 2017. He'll be looking to employ all the experience he gathered in finishing 4th for US$114,257 then into a challenge for the title here in 2018. — RS
3:05pm: Re-live Siyou Cao's Platinum-clad win in the Baby Dragon
Level 2: Blinds 50/100
Yesterday marked a first for the PokerStars Macau Poker Cup.
Siyou Cao won the Baby Dragon for HK$1.2m but he also received a $30,000 Platinum Pass to 2019 PokerStars Players Championship in the Bahamas.
It was the 17th Platinum Pass that has been awarded since the tournament was announced but the first one handed out in Macau.
Cao was understandably thrilled about the prospect of freerolling the $25,000 buy-in massive tournament.
"When I found out the Platinum Pass was worth US$30,000 and not HK$30,000, I was very excited!," he said.
Check out this video done with Cao after winning the whole shebang:
Congrats to Siyou Cao, our latest Platinum Pass winner. Want to know how you can win one yourself? Find out more information here.
–AC
2:37pm: Adopt a dragon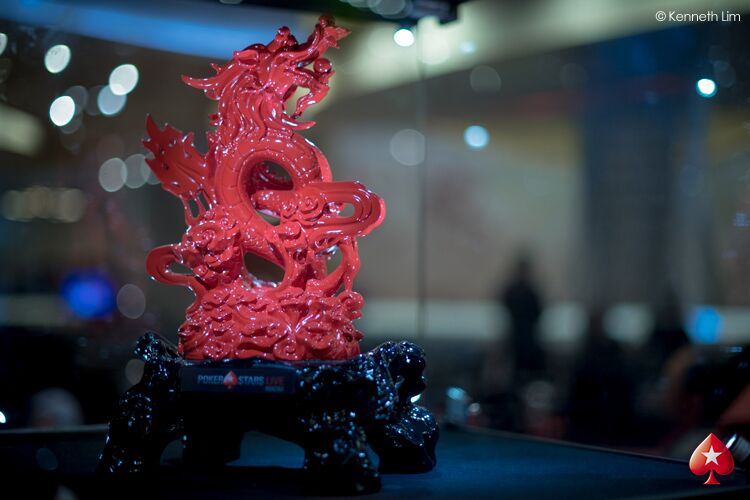 Do you have a sparsely decorated mantelpiece or dusty shelf at home, adorned perhaps with a lone family photo or a couple of droopy Rhodedendra that have seen better days languishing in a dusty vase?
It needs sprucing up but you can't quite think of the right ornament to bring it to life. Don't spend another moment worrying about it. We have the answer right here.
The Red Dragon trophy is the kind of unique piece that will transform that humdrum shelf into a real talking point. No longer will that mantelpiece go unnoticed as your friends glide by it without a second glance. This eye-catching trophy demands your attention and when visitors comment on it, it will neatly kick off an interesting anecdote about the day you conquered Macau and won the $10,000,000 guaranteed Red Dragon poker tournament.
No easy task of course but dare to dream and you never know. You might walk away on February 9th with your very own incredible pet dragon. — RS
2:30pm: Bing Wang back for more
Level 1: Blinds 25/50
Last night's Baby Dragon final table didn't end until roughly 6 a.m. but that hasn't stopped at least one of the contestants from checking in for today's action.
Bing Wang, who went out in eighth place, is quietly accumulating a sizable stack over at table 23.
Wang had the unfortunate distinction of being the final table chip leader but finishing in eighth thanks to getting crippled in a massive three-way pot against Indian player Vinay Boob and China's Feng Zhao.
It was a particularly tough beat considering the extra $30,000 Platinum Package that was on the line for first place.
Perhaps the early exit from the Baby Dragon will motivate Wang for a deep run in this year's Red Dragon Main Event, which also offers a Platinum Package for 1st place.
Regardless Wang has already locked up HK$114,312 for his final-table appearance yesterday.
–AC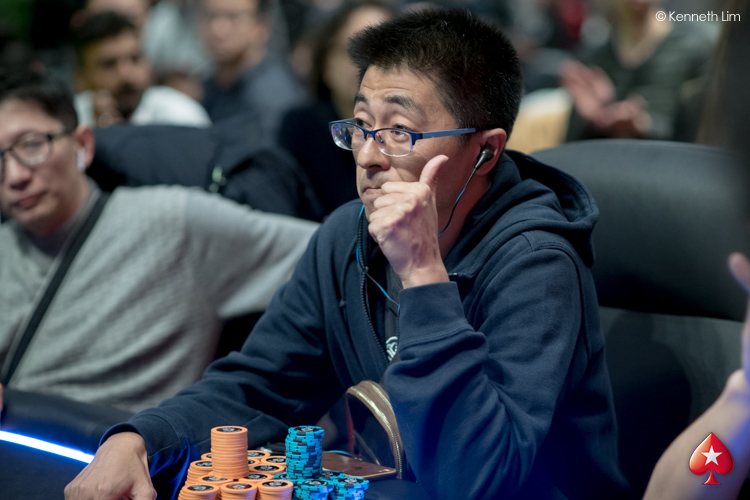 Can't keep Bing Wang down.
2:17pm: Just how high will this year's Red Dragon soar?
Level 1: Blinds 25/50
The Macau Poker Cup's Red Dragon Main Event has been somewhat of an underrated gem in the poker industry (unless you live in Macau) with impressive growth over the last 10 years that shows no signs of slowing down.
These are simply the biggest freezeout tournaments in Asia and they keep getting bigger.
Last time around Qiuming Qiu outlasted a record 1,308 entries to win the Macau Poker Cup 27 Red Dragon for HK$3.14 million but there's no telling how many players this year's event will draw. Could 1,500 be within the realm of possibility? Dare to dream.
Just last night Siyou Cao won the Baby Dragon, which broke records of its own with 818 entries.
Siyou had the added bonus of winning a $30,000 Platinum Pass to the 2019 PSPC. That equates to roughly HK$234,646 so it's definitely no joke.
Players in the Red Dragon will have the same opportunity as first place in the competition takes home another pass to the inaugural PSPC in Bahamas (not to mention a rather sizable first-place prize in all likelihood).
–AC
2:02pm: Red Bull Boost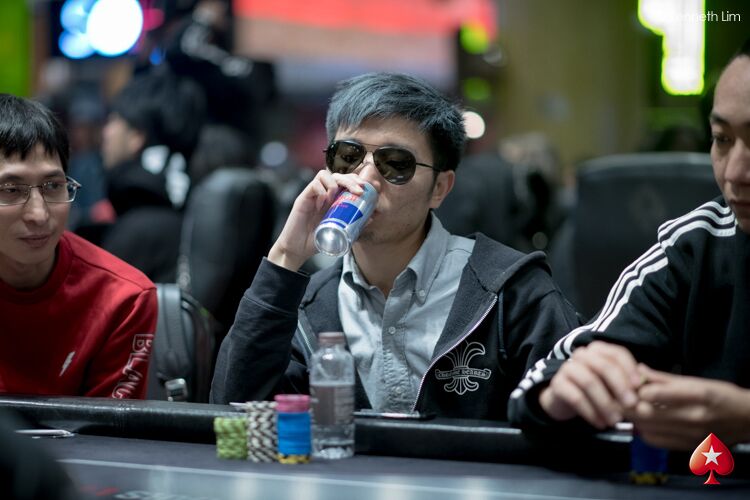 With a bumper field expected, running deep will involve some lengthy poker sessions. As Red Bull is the exclusive energy drink provider for PokerStars LIVE Macau, you might want to grab a can or two to give you that extra boost to stop your concentration wavering toward the end of the day. — RS
1:55pm: Red Dragon Prepares to Roar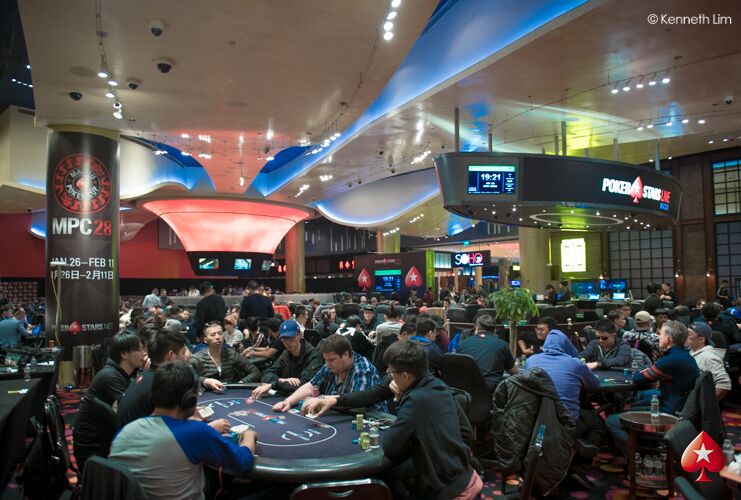 Welcome to The PokerStars Live card-room at the City of Dreams, Macau as we prepare to kick off Day 1A of the much anticipated Red Dragon event here at the Macau Poker Cup. The HK$13,500 + 1,500 event has a sizeable HK$10,000,000 guarantee which should mean a juicy array of payouts once the full turnout is ascertained at the end of the three starting days.
Aside from the normal prizepool distribution, the tournament has an added sweetener in the form of the US$30,000 PokerStars Platinum Pass that will be awarded to the winner. This package is entry, accommodation and expense money for next year's $25,000 PCA event. You can peruse the full details here – it promises to be a special occasion.
Back to the Red Dragon though. As mentioned, the event will be taking place over three starting days, followed by a Day 2 with the final table due to play out on the 9th February. This is just the start of the journey and we're looking forward to seeing how things develop over the coming days. If the Red Dragon's smaller sibling competition is anything to go by, we're in for a treat as yesterday's Baby Dragon winner Siyou Cao will no doubt heartily agree with.
We're moments away from the start, the card room is buzzing and we're ready to go. Good luck everyone. May the best dragon win… — RS
PokerStars Blog reporting team at the MPC: Marc Convey, Arthur Crowson and Rod Stirzaker. Photography by Kenneth Lim Photography. Videos by Alex Pinkett of 23 Digital
Back to Top